There are now 31 billion-dollar fintechs in Europe, with ten new 'unicorns' materialising so far this year — and more on their way.
Among the newcomers are SaltPay and Lendable, who Sifted revealed had both quietly hitting the $1bn+ mark.
That means Europe now represents ~25% of all 120 fintech unicorns globally, according to CB Insights. Europe's contribution is not to be sniffed at given the relatively small size of its capital markets versus the US and Asia.
The UK also has the second largest community of fintech unicorns (17) after the US.
More broadly, the fintech sector has cemented its position as the dominant category of unicorns in Europe. In total, there are over 70 European unicorns across different sectors, and nearly half of those are fintechs.
To help you keep track of the local tribe, we've mapped out the full list of (known) fintech unicorns in Europe, below.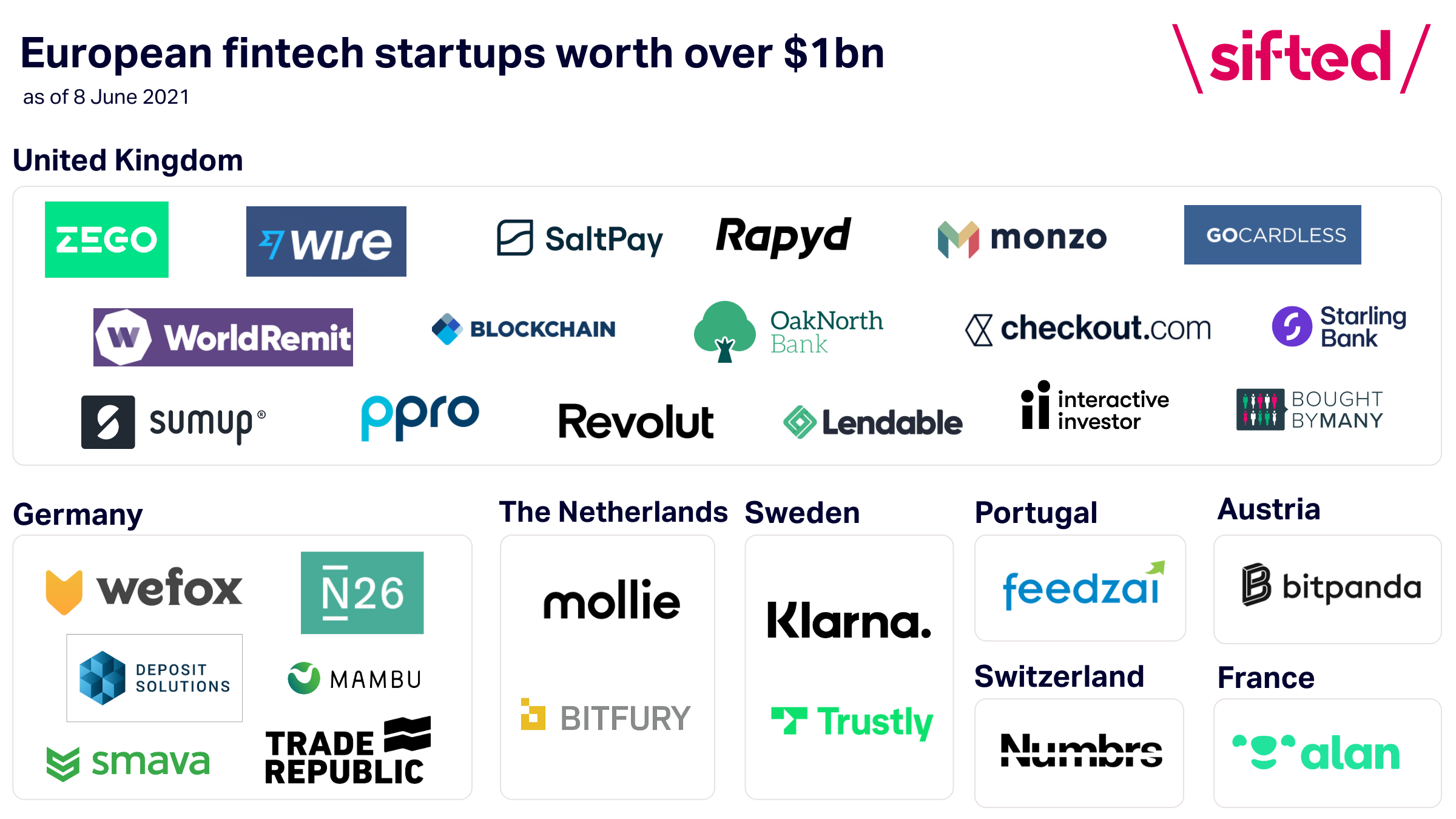 Within this group, the valuations range from $1bn to $31bn, with Klarna and Checkout.com currently topping the leaderboard (both are "decacorns", with valuations north of $10bn).
It's worth noting that being a unicorn is not everything. There's also no guarantee of these fintechs exiting at this price, with Covid proving a difficult time for some.
Still, tracking Europe's unicorns indicates which companies have the most momentum, which investors could have some chunky returns on the horizon, and reveals some possible IPOs.
Sifted Newsletters
Fintech
Every Tuesday
From banks to bitcoin, get all the gossip and analysis in your inbox.
A resource recap
We've done lots of work around the fintech unicorn ecosystem in Europe, and their owners.
Here are some pieces that you might like:
[Quick heads up! The following links all take you behind our paywall. To find out more about signing up for membership, click here]
Which investors are set to cash in from all these unicorns?
In this piece, we analysed which VCs had backed the most unicorns in Europe. By analysing investors' portfolios, we could see who had made the most promising bets.
Here's a sneak peek of the results:
As for the unicorns that could exit soonest, there are 6 European fintechs suspected to be on the cusp of an IPO.
The IPO candidates and their respective valuations are ranked below.
We discussed them further in this piece, along with calculating how much their top investors could pocket on IPO day. For instance, Accel currently owns 22% of WorldRemit, while Valar Ventures is one of the largest investors in Wise with a 12.98% stake.
Our examination also revealed that Index Ventures had cashed in 99.9% of its stake in Wise, so won't be a winner on IPO day.
The speed with which fintechs attain a $1bn valuation is also of interest.
So in this piece, we revealed the 10 fastest fintechs to reach unicorn status, worldwide. They all took less than 4 years to reach billion-dollar status.
By comparison, it takes the average fintech unicorn 7 years to reach the $1 billion dollar mark, according to one study.
Sifted also conducted a closer analysis of the averages across Europe.
The UK's fintech unicorns took 5.5 years to reach the billion-dollar milestone, on average. Among them, Rapyd and Monzo were the fastest.
Meanwhile, it took Germany's fintechs an average of 7 years, while Sweden's sole fintech unicorn — Klarna — took 6.5 years.
Finally, it's worth thinking about which fintechs might be next to join the 30+ unicorn club.
In this piece, we mapped 13 companies who might be next (hence..."soonicorns), giving a platform to the countless fast-growing fintechs across the continent.
Since that list was published, 3 have already announced they've become unicorns.
Top investors also nominated their favourite tech soonicorns here, including a scattering of fintechs.
**