The French tech scene might have earned a lot of bragging rights over the past decade, but when it comes to venture-backed IPOs the would-be startup nation is still being forced to eat humble pie by the UK and Germany.
Between 2018-22, only 67 French startups entered the public markets with a paltry total valuation of $15bn, according to Dealroom. That compares poorly to rival Germany, where 89 IPOs combined for $151.9bn in valuation over the same period, and the UK, where 234 startups went public totalling $132bn in valuation.
The global IPO market is currently in the gutter. But once markets open up again, the pro-tech French government wants to boost local listings to make the French tech flywheel spin even faster. In November 2022, President Emmanuel Macron threw down the gauntlet to the nation's startups: he wants 10 French tech IPOs by 2025, including two with valuations of more than €5bn.
If France does manage to turn around its woeful tech IPO history, the benefits could be felt across Europe.
Aurélien Narminio, head of equity listing at the Euronext stock exchange, credited France with taking the lead on driving efforts to reform the listing process and attract greater financial support for IPOs. Because all the Euronext countries trade on a single exchange, France's efforts are having a ripple effect as other European governments and financial institutions climb on the IPO bandwagon.
"France has been in the front seat there, but what's been done in France so far in mobilising public money and the public initiative around growing the tech sector is now being deployed at the European level," Narminio said.
IPO Nation
The only French tech company to go public in 2023 so far is online driving school Lepermislibre. The stock debuted on February 13 for €3.87 per share and closed down on its first day of trading at €3.45 per share.
The company only raised €8m in the offering — effectively a solid Series A round for a typical startup. At close on Friday, the shares stood at €2.98.
That's not the kind of impact Macron is after.
In the next few years, some of French tech's poster children — companies like Alan, Qonto, Mirakl and Doctolib — are expected to IPO. But where they chose to list is very much anyone's guess.
The French government is hoping they don't follow tech giant Criteo, which listed on the Nasdaq in New York in 2013.
"For the past five years, France has seen the emergence of very high-growth companies with European, if not global, reach," said French digital minister Jean-Noël Barrot last November. "We want them to be able to continue to grow in France and to continue to recruit in France."
When companies list in France, they create a virtuous circle that the government wants to enlarge. More companies going public in Paris means more of their jobs remain here, more of their employees benefit from stock options, more venture funds get bigger windfalls to reinvest in more startups, and so on.
If startups go public elsewhere or get acquired by international players, there's a feeling that France is failing to fully capture the value created by them.
"We must succeed in making these listings in Paris," said Bpifrance CEO Nicolas Dufourcq while presenting the bank's annual results earlier this year. "Even with this magnificent history of French tech over the past decade, these exits still happen in New York. We must make this happen in France."
European partnerships
For the past decade, the French government has carefully nurtured a tech ecosystem through investing in VCs, bulking out its public bank Bpifrance and policy reforms designed to accompany startups from their earliest incarnation through to late-stage growth funding. No government in Europe has done more. But there's a growing recognition that this system drops off mid-way through a company's potential journey.
France now wants to build a complimentary system that guides the very best startups through the IPO and post-IPO process to continue attracting investment. Such support would hopefully lead to successful stock debuts followed later by secondary stock offerings that provide the muscle for these companies to expand globally and acquire competitors.
In March 2022, Bpifrance published a report identifying the weaknesses in France's public market ecosystem. These shortcomings include the lack of large investment funds that target tech stocks in Paris and the limited level of research coverage they offer, a constraint caused by the limited number of tech stocks that trade on the exchange. In addition, too many of the tech stocks are companies that held an IPO extremely early, leaving them with low and volatile valuations that hurt the sector's credibility with investors.
In response, last year the French government launched a flurry of programmes in partnership with the Euronext stock exchange designed to address these weaknesses.
While Euronext officially has seven regions where companies can list — Paris, Amsterdam, Brussels, Dublin, Lisbon, Oslo and Milan — it is effectively a single stock exchange under the hood. So to boost its home IPO market, part of France's strategy is to enlist a coalition of European partners.
One result of those efforts is a pan-European programme launched last summer called the Euronext Tech Leaders initiative, in collaboration with Bpifrance and several other financial institutions across Europe. Its goal is to create a community among the more than 600 tech companies listed on its exchanges across Europe through events and networking, along with reforms to attract more retail investors while also boosting analytics coverage of the stocks.
Even with this magnificent history of French tech over the past decade, these exits still happen in New York. We must make this happen in

France
Euronext also introduced the Euronext Tech Leaders index, a listing designed to rival the Nasdaq Composite, which tracks more than 100 of the top European tech stocks — including 41 in France — to highlight the sector to investors.
In the coming months, French officials and Euronext will also push for the adoption of recommendations developed by the European Commission through its Listing Act Consultation, which are designed to harmonise investment and public markets rules across the bloc. By unlocking cross-border investment, officials hope to stimulate even more public offerings by removing administrative barriers for big investors.
"There's a network effect in what the government tries to create that helps us as private sector players to do the right things," Euronext's Narminio said.
Mo' money
Meanwhile, France's public banks are trying to stimulate the financial side of this process by encouraging the development of cornerstone and anchor investors. The former helps to validate a possible IPO price by investing some money just ahead of a public offering, while the latter ensures a strong trading debut by committing to buying shares at the opening price.
The two categories of investors together build credibility and confidence in an IPO that in turn attracts more investors. In its 2022 report, Bpifrance noted that France is lacking in both types.
In 2022, the Caisse des Dépôts public bank announced a growth fund that will invest €1.5bn over the next five years to support IPOs. The money can be used as an anchor at the time of the IPO, as well as for long-term investments such as buying stock in secondaries or acquiring stock when lock-up periods end and a large number of employee shares become available to shore up the price.
Meanwhile, Bpifrance announced in June 2022 that it would become a cornerstone investor with a new €500m fund. It also formed a Cornerstone Investors Club designed to introduce large investors to promising late-stage companies, letting them meet the founders and learn about their product well in advance of any IPO process. It's already presented French unicorns Mirakl, Contentsquare and Doctolib to investors to start building relationships and support should these companies take the IPO road.
"We need a community of investors for tech listings in Paris," said Bpifrance's Dufourcq on results day.
These efforts got a boost last month when Axa Venture Partners, the investing wing of the French insurance giant, announced it was raising a €1.5bn fund – which will include €750m from Axa – to become "a long-term investor supporting companies ahead of IPO and post IPO." While Axa Venture invests across Europe and North America, the new fund will likely benefit startups in France the most.
IPO lemons into…
Of course, with the global IPO market frozen, it's hard to know in the short term if any of these programmes will pay dividends. But French companies would no doubt welcome the support — even those which have managed to reach the public markets.
Last summer, music-streaming platform Deezer went public via SPAC with a valuation of just over €1bn. The stock opened at €8.50 but tumbled on the first day of trading to €6 per share and closed on Friday at €2.16. Likewise, hosting provider OVHCloud went public in October 2021 at €18.5 per share for a market capitalisation of €3.48bn. The stock has since slipped to €9.73 per share, as of Friday close.
One of the biggest recent tech IPOs in France was the public debut of digital music startup Believe in June 2021. The company raised €300m in the offering with a €1.9bn initial valuation — the first French tech IPO to top €1bn.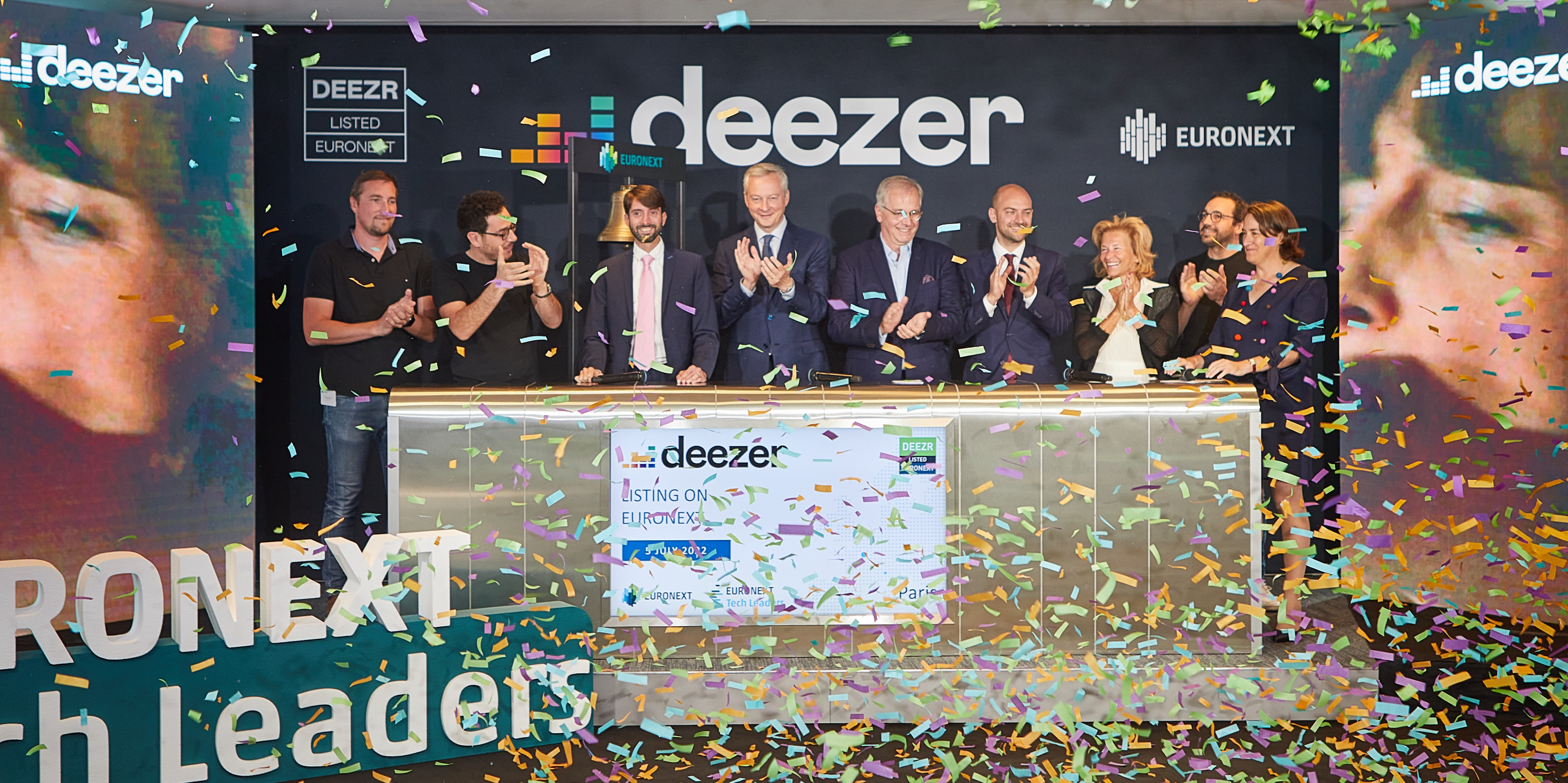 With the IPO price set at €19.50 per share, the stock dropped more than 17% on the first day of trading. French media dubbed the debut a "failure" while the Financial Times described it as "a blow to tech IPO ambitions at Euronext Paris bourse".
The stock recovered to €19.60 later that year but at close on Friday was trading at €11.50 despite posting annual revenue of €760.8m in 2022 — an increase of more than 31% on 2021.
Believe CEO Denis Ladegaillerie said in an interview that he knew the company was taking certain risks by choosing the Paris Stock Exchange over the US. But the company felt that with the bulk of its business in Europe and Asia, listing in Paris would put it closer to investors who had a link to its main markets.
He also said the company was confident that French and European investors were growing in resources and sophistication in a way that would allow the company to attract long-term support.
"We knew what we would be facing in Paris was a community of public tech investors or growth investors that is not as deep as what it is in the UK or in the US," he said. "We knew that the market depth and liquidity would not be as big as it is in some other markets. And that's what we've experienced, that was what we were prepared for… The dynamics are a little bit harder at the beginning, but very consistent with our story globally. If I had to do it again, would I do it again in Paris? Yes, without hesitation."