Is free lunch a tech company cliché or the cornerstone of a company's culture? In this series, Sifted's Amy Lewin reviews the food and culture of up-and-coming European startups — and discovers what else they're cooking up behind the scenes.
Whichever way you slice it, Roli is not your usual startup. For starters, it's 10 years old now. It makes music hardware and software. Its founder, Roland Lamb, has studied Zen Buddhism and philosophy, and has a copy of Das Kapital on his bookshelf. It has raised over $50m but has as many musicians and dancers and playwrights on the team as it does engineers — and a feeling of comradeship closer to that of a cult than a company. And there's an absolutely cracking vegan lunch served up every day.
"It's got to be one of the best vegetarian restaurants in east London," says Lamb — and he's not wrong. (It even has its own Instagram account.)
When I arrive at the office, tucked away at the end of sketchy-looking alley in Haggerston, east London, lunch is already in full swing. It's construct-your-own-sushi bowl day, and the team are busy serving themselves a colourful concoction of sticky rice, edamame beans, rainbow slaw, tofu and chilli sauce, prepared by Roli's two full-time, in-house chefs Mary and Sam.
They've been working hard; today, Roli has launched its third product, Lumi, and back when I visited in May, the team was in full-on sprint mode in preparation.
Eating at your desk is "kindly frowned upon", says Roli's chief people officer Corey Harrower — and is pretty inconvenient anyway; most of Roli's team actually work in a second office down the road from where lunch is served. Instead, every member of the 120-person team grabs the next available seat at the shared tables — LED light technician next to professional jazz player — and gets chatting. Music is a big theme, unsurprisingly.
https://www.instagram.com/p/Bxkf-X7HwXv/
Co-opting company culture
On my table though, the subject of conversation is company culture which, I quickly learn, is a term Harrower finds "a bit nauseating".
"I think that there has been a bit of a co-opting of the notion of culture by the notion of benefits," he says, gesticulating with his chopsticks. "Where culture is measured by how many benefits you have, and how 'stacked' or 'perked' the company is. And it's a bit of a thing, like; Do you have free lunch? Can you do your laundry?"
Totting up perks misses the bigger point, he says, which is to try to build community. "Are these tools which enable people to be more engaged with one another, with the business, with the space?"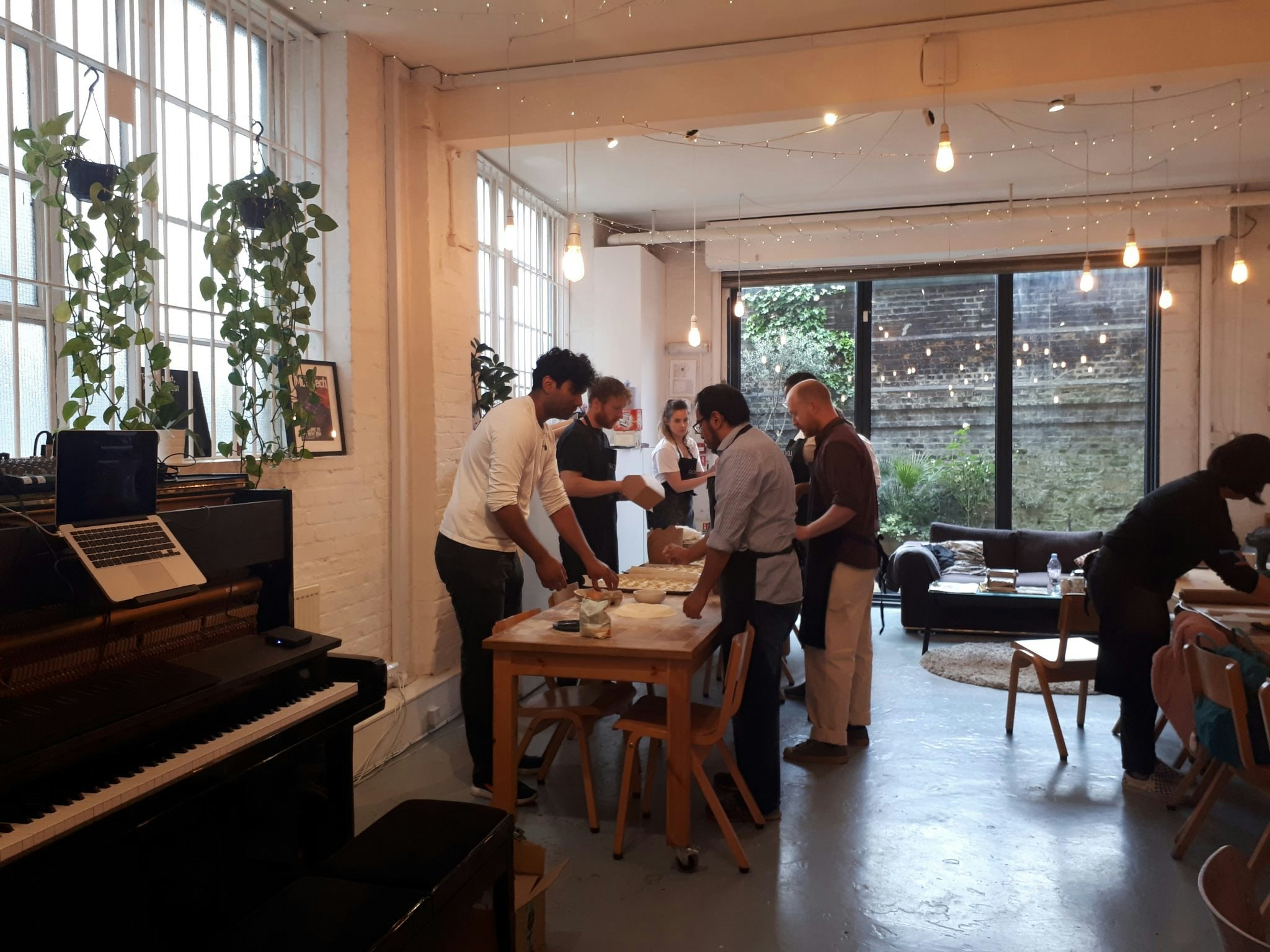 So, yes, Roli offers more than the minimum number of days off, it doesn't keep track of sick days, it has a healthcare plan, provides free lunch, runs various workshops (pasta making, this week) and gives six months full-pay parental leave to primary caregivers. But, Harrower says, it does those things because they help to build "a healthy robust community".
Offering dry cleaning at the office does not achieve those ends. "It feels like a Trojan horse," he says: "Why not just give someone a day to work from home?"
The dancer and the philosopher
Harrower, like Roli's founder Lamb, didn't expect he'd end up at a startup. In a previous life, he was a professional dancer — and balance is still something that bothers him.
"There's a problematic framing around culture that I often hear, which is: 'How do you find the right work-life balance?'" he says. "The problem with that is not the balance — we all need balance — but saying that when we're working we're not living, and when we're living we're not working. A much healthier framing, I think, is to say there's a professional sphere and a personal sphere, and those two overlap to some extent."
The problem is with saying that when we're working we're not living, and when we're living we're not

working.
On the flip side, he recognises, leaders in a business also need to model what behaviours are okay — and which aren't. "I enjoy working a long week — I work from 9am-6pm, then probably work 10pm-1am — and for me that's totally sustainable," says Harrower, while spoon-feeding his toddler Hazel, who's just arrived at the office. "But one of the things I used to do really poorly was to work late, and then send emails as well, so some people would get emails from me at one in the morning. It just set such a terrible example."
Maybe it's his "Marxist inclinations", says Harrower, but he wants to see everyone at Roli as more than "a source of work" — and for everyone at Roli to see it as more than "a source of capital". "Everybody loses in that situation," he says, over the sound of the team giving a round of applause to the chefs as they finish up their meals.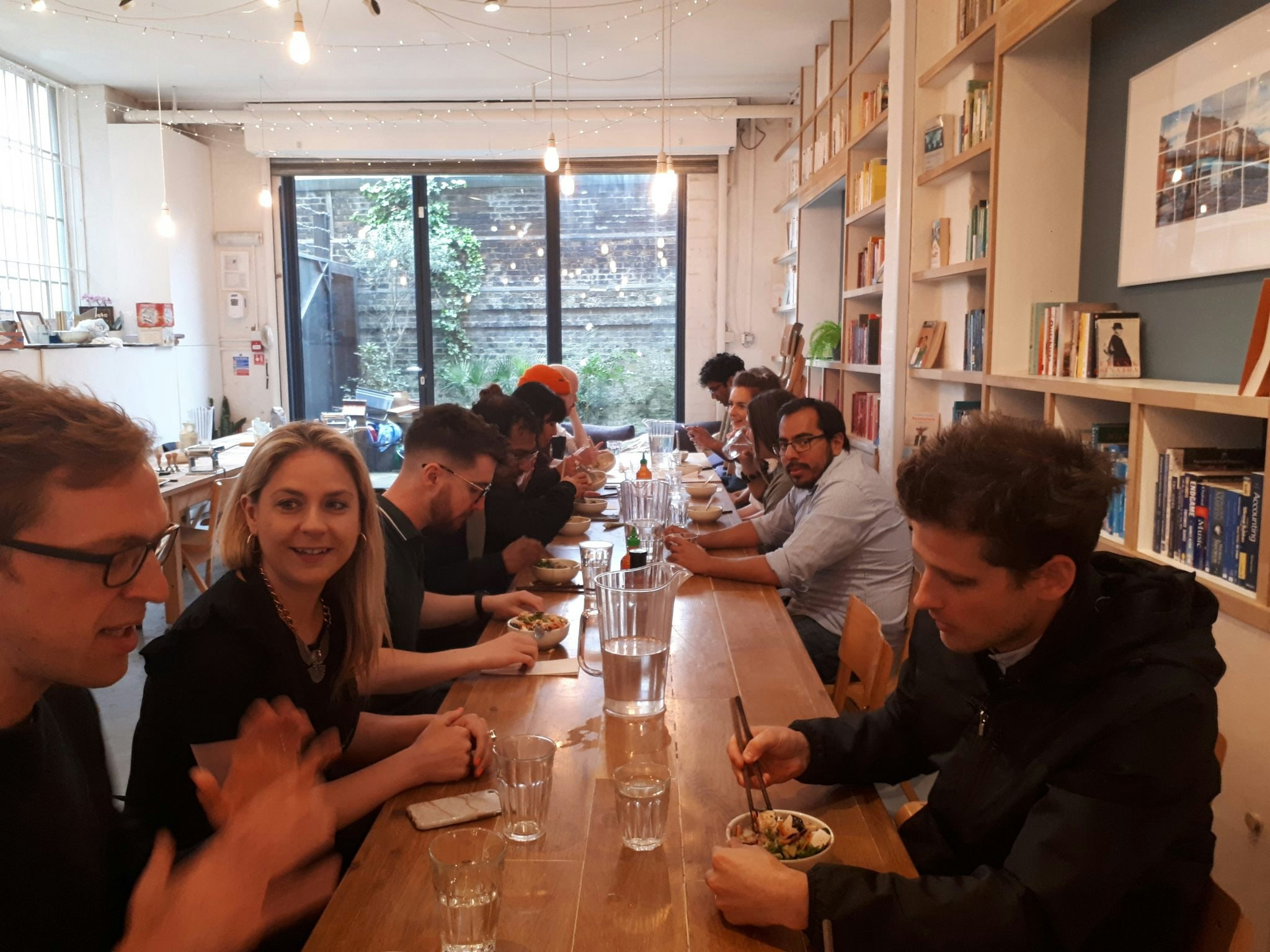 In practice, that means that Roli gives its team flexibility when extracurricular, academic or family demands come along. Sarah Kosar, head of talent, had dropped down to working four days per week when I visited; she's a playwright, and had a new show to prepare for. It also means the team accepting that sometimes there are "sprint periods" where everyone works hard.
"As a manager, you have to have an investment in the person first and the project second," adds Harrower. "When you bring a group of people together, I firmly believe you are taking on the responsibility and the opportunity to build something bigger than the sum of the parts, or you're abdicating that responsibility."
Reinventing the workplace
Harrower and Lamb might be unlikely leaders of a company — but they're certainly the more thoughtful for it.
"I wasn't interested in starting a company, I was interested in music," says softly-spoken Lamb in his cell-like office after lunch, light streaming through the window behind his head. Yet, after realising what wide-reaching impact building a business could have, he started coming round to the idea.
I started to look at business as the most plastic institutional form

available.
"I started to look at business as the most plastic institutional form available," Lamb muses. "With government and NGOs and academia, you have lots of constraints, but with a business, you're free to innovate."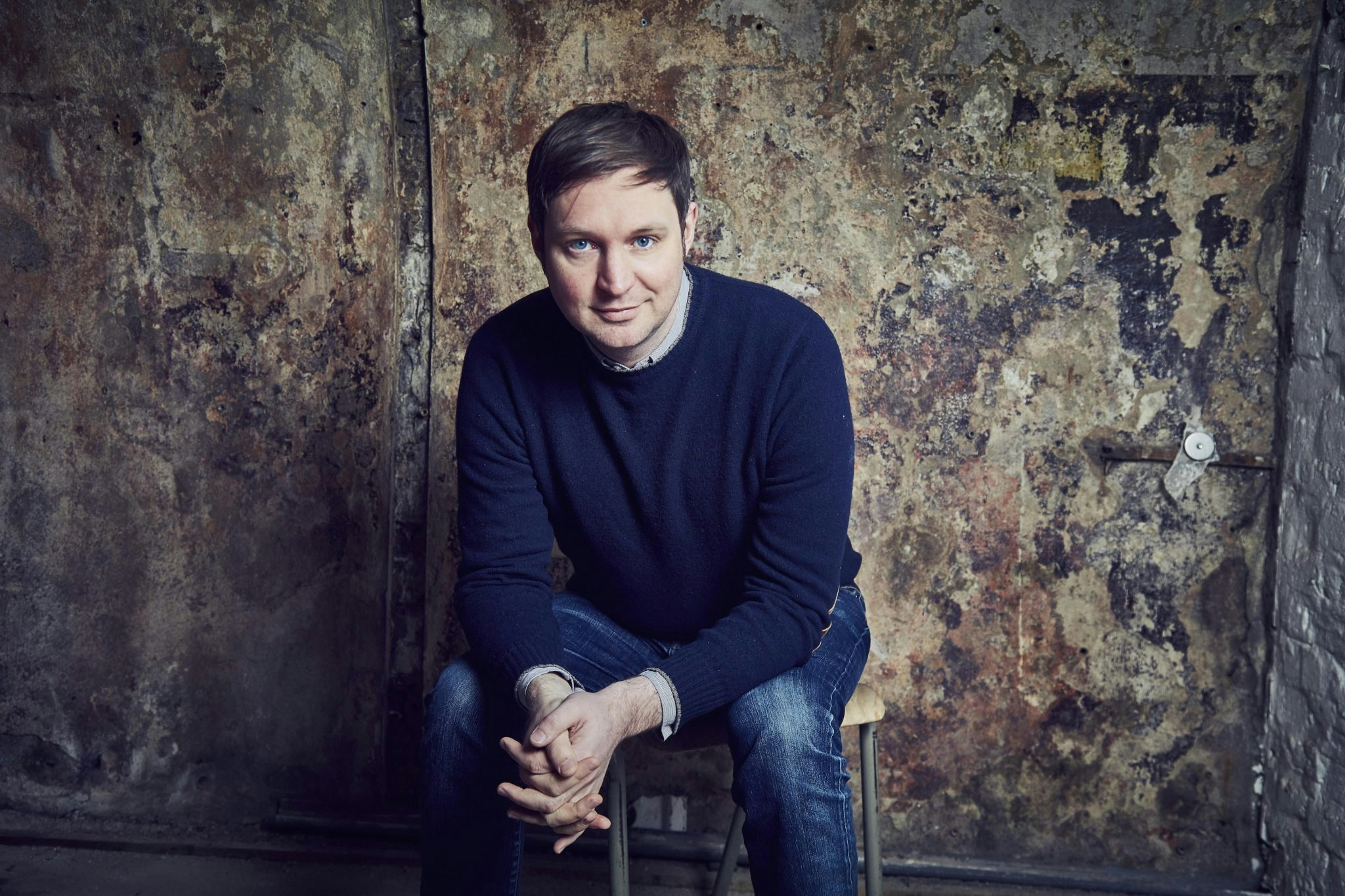 "If you can build great products, and create something that people want and love, and then you want to set up an organisation and serve lunch and have hack days, and have a certain culture there, you're free to do that."
Of course, there are still institutional restrictions; Roli has raised money from VCs — $16.5m in 2014 from Balderton, Index, Universal Music, Horizons and FirstMark, a further $27m in 2016 — and more recently from a strategic partner, Sony's Innovation Fund, in 2018. "That's part of the spiritual challenge of [running a company]," says Lamb: "Managing different kinds of stakeholders, who want different things and need different things."
Reimagining musical instruments
Lately, Roli has been reimagining musical instruments once again.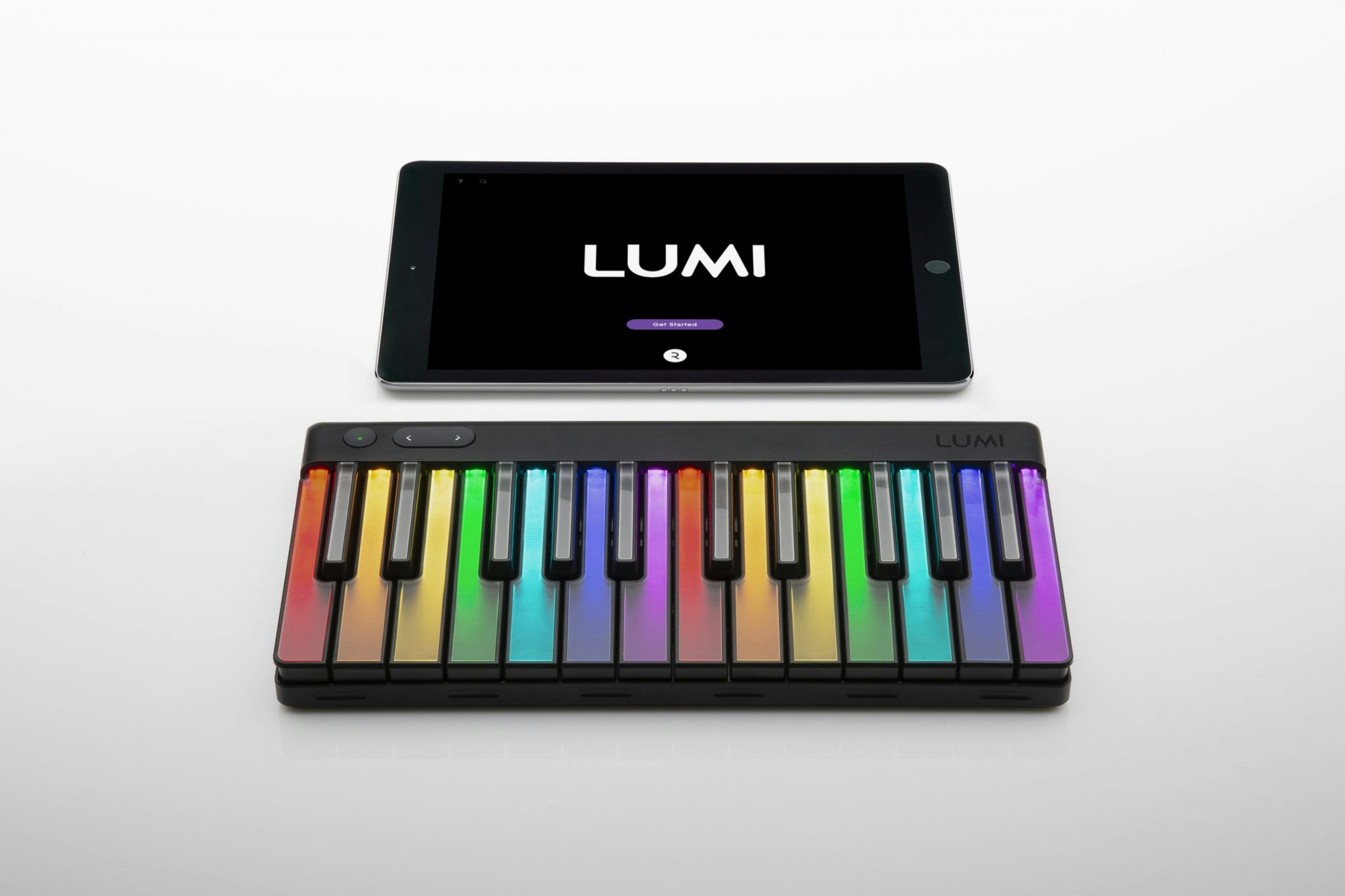 Inside a colourful studio, Marco and Jack Parisi, brothers and professional musicians, are whisked out to show me Roli's latest product, Lumi; an illuminated keyboard and app which aims to make it far easier for anybody (even the musically inept, like me) to learn to play and enjoy music.
"Talent is a big factor in the way music instruments have been designed to date," says Lamb. "But music — learning, enjoyment, play — shouldn't be something that's just about talent."
Roli, Haggerston Food: 9/10 Atmosphere: 8/10 Company:

8/10
Roli's first product, the Seaboard, launched in 2014; it's a mini-keyboard, covered in a special silicone material, which means musicians can strike it, swipe left and right, and also control amplitude through pressure. Its second, Blocks, launched in 2016, works more like a drum kit. "The Seaboard is like an orchestra in your studio," says Lamb. "Blocks is like a studio in your backpack."
Both are popular with professional musicians, and skilled amateurs. But at £1099 and £279.95 respectively, they're not for everybody. Roli hopes Lumi, which launches at £195, will appeal to "everyone".
Maybe it will, maybe it won't, but I reckon Roli does have something with universal appeal: that vegan restaurant.