Is free lunch a tech company cliché or the cornerstone of a company's culture? In this series, Sifted's Amy Lewin reviews the food and culture of up-and-coming European startups — and discovers what else they're cooking up behind the scenes.
Farmdrop has a very important new hire. She's called Anneth — and she's the UK online grocer's new in-house vegetarian chef.
When I arrive, five minutes early, on my first foray as Sifted's canteen critic, she's in the kitchen busy dolloping spoonfuls of chickpea and spinach curry into a small army of bowls of cauliflower rice.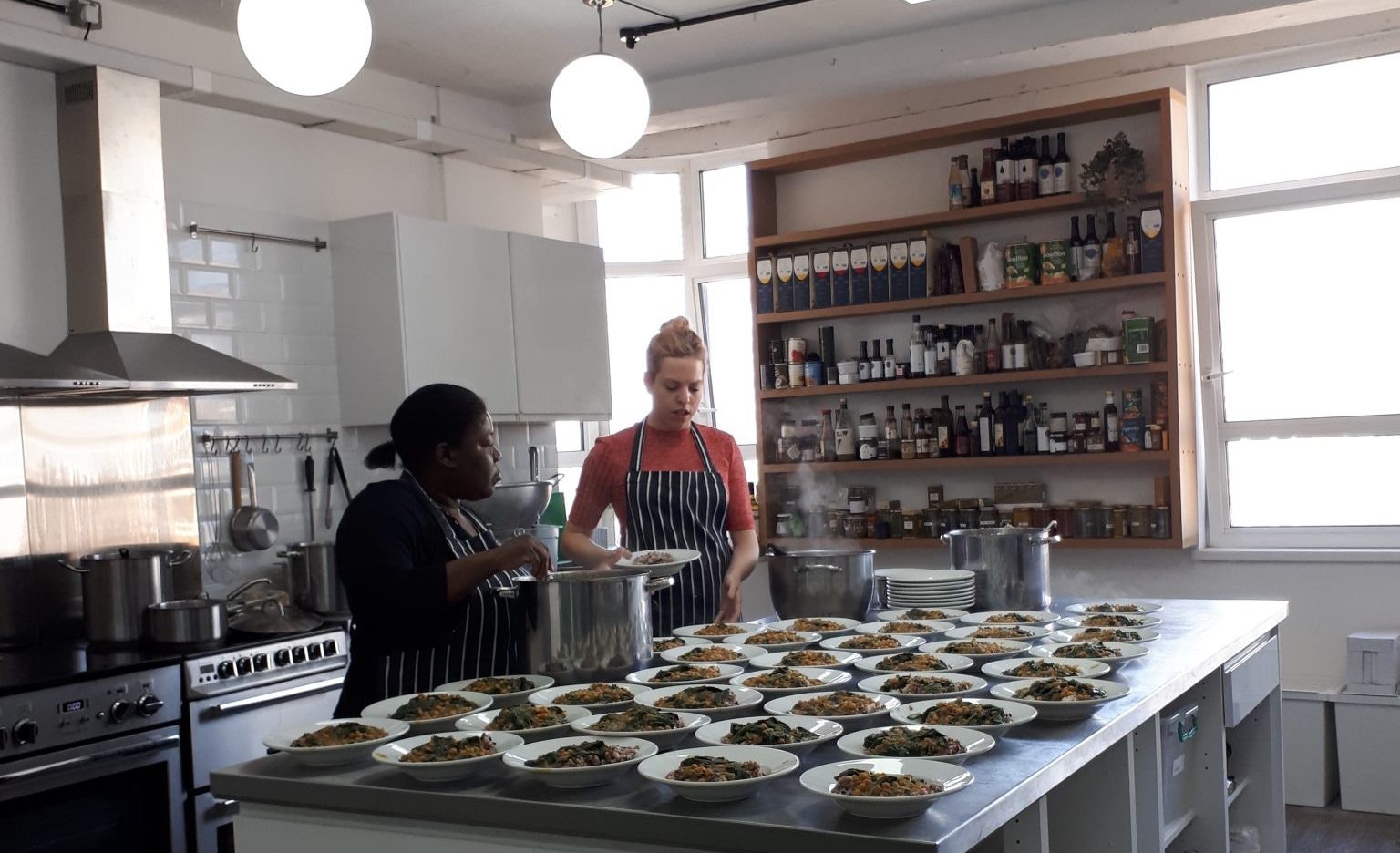 This is no special occasion; this is every day at Farmdrop, which has fed its 81-strong HQ team free, freshly cooked lunch (with only the finest Farmdrop ingredients) since the online grocery startup was founded back in 2012. With a mission to give more people access to fresh, sustainable, locally-sourced produce, it made sense to start with the staff. And the lunches are clearly a big hit with employees: just about every review of the company on Glassdoor mentions them fondly. They're also, so the theory goes, a brilliant way to keep teams close even as a company grows.
So while menus have changed, the office has changed and Farmdrop itself has changed, lunch has stuck around.
Don't they get fat?
At 12.30pm on the dot, an orderly queue formed by the kitchen: this is business at its most British. While about half of the staff headed back to their desks once they'd grabbed a bowl (a crime committed in equal measure by members of all departments, I'm told), I joined a group at a big table by the window overlooking Old Street.
The stew is good; it tastes as fresh and wholesome as Farmdrop's advertising campaigns look (and is equally lacking in spice). My companions, a friendly bunch from several teams, are wolfing it down too.
"I put on a stone when I started," says Tally from the buying team, who's now taken out a (subsidised) gym membership "to try to shake it off". "We used to have bread at every single meal," says Luke, a front-end developer sitting a few employees away from me at one of the lunch tables. "That stopped, probably for the best."
Sifted Newsletters
Sifted Newsletter
3x a week
We tell you what's happening across startup Europe — and why it matters.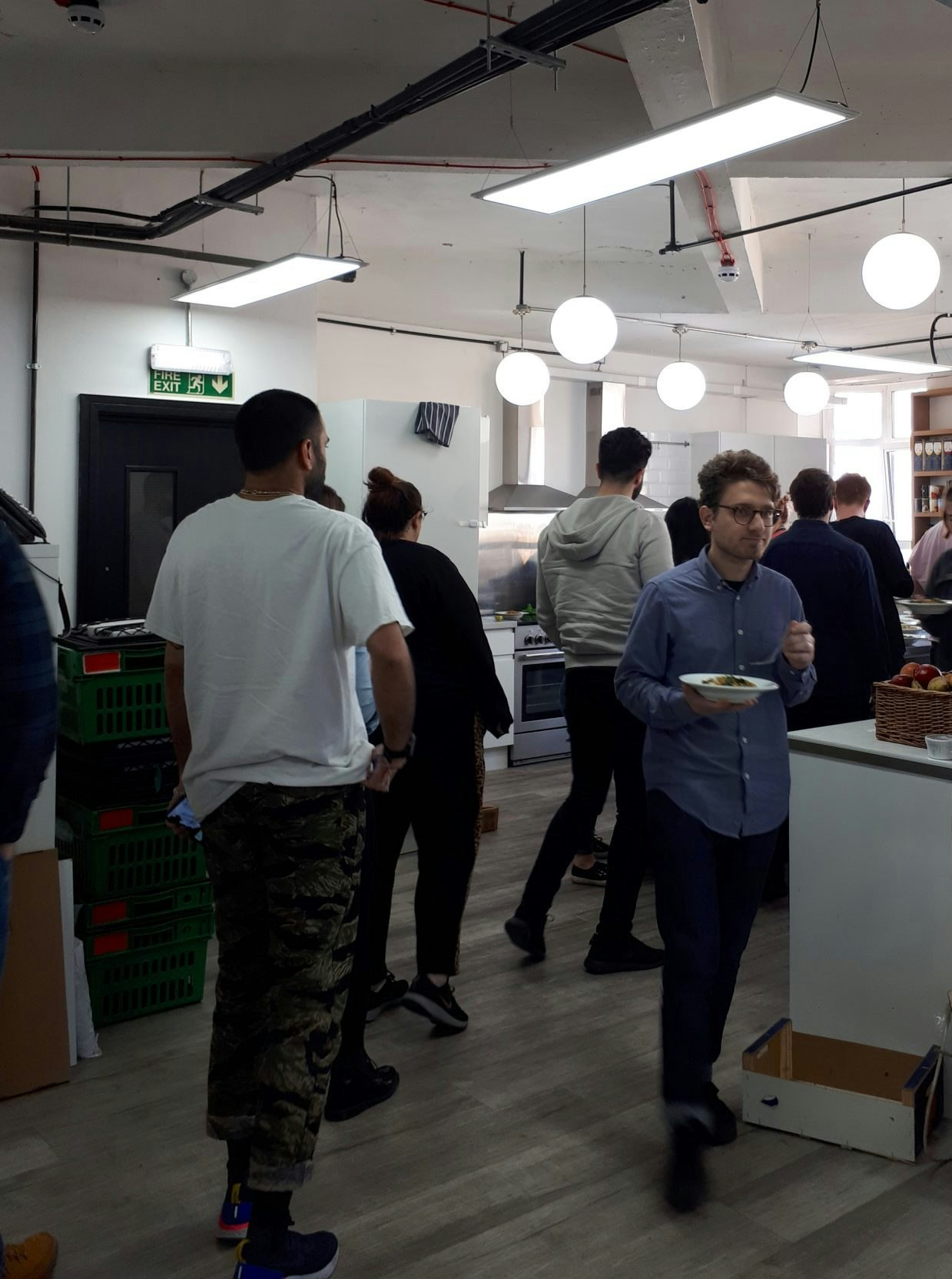 It's not just the lunches which threaten employees' waistlines; there's quite a lot of food knocking about in general, from toast (sourdough, of course), to team antipasto and wine on Friday evenings, to samples from producers.
And there are a lot of them — Farmdrop works with 450 food and drink producers in the UK, and distributes their produce to customers in London. Its model is fairly unique; cutting out (almost all) the middlemen in the grocery chain, by connecting farmers, bakers and even picklers to customers in the city, and sharing a far higher percentage of the profits with producers as a result.
Yet, behind the scenes, Farmdrop has been making a lot of changes.
"More driven by ethics than profit"
"I could quite fairly be accused of being a founder who is more driven by ethics than profit — because I am," Farmdrop's floppy-haired founder Ben Pugh tells me after the well-polished bowls have been whisked away and washed up by the team. But for Pugh, who left a career at investment bank Morgan Stanley to start the business, that drive — "to make the minimum amount of margin that we could afford to make" — threw up some challenges.
We were just not allowing enough oxygen into the business

model.
"We were just not allowing enough oxygen into the business model," he says. The business' unit economics were "pretty lacklustre" as Farmdrop tried to appeal to too broad a customer base, in too many geographies (it expanded into Bristol and Bath in late 2017, but pulled out of those cities in January).
The change in perspective came last summer, says Pugh, around the time the business raised £10m from the likes of purpose-focused investor Impact Ventures and European VC Atomico. It took "a few investors tapping me on the shoulder, saying, 'You need to slightly alter your view on this.'" And he did.
"It's been quite transformational, really. It is now a genuinely good commercial business."
"We can't be all things to all people"
Farmdrop pulled three different "levers" to turn things around.
We have become more unashamedly

premium.
"We have become more unashamedly premium," says Pugh, who came to the recognition that "we can't be all things to all people." As a "starry-eyed, slightly wet behind the ears founder", Pugh says he wasn't content with serving only the middle-aged, degree-educated, broadsheet readers with a "few quid" who are Farmdrop's core customers. He wanted Tesco and Sainsbury's shoppers too.
But focusing on that core demographic over the past 18 months — expanding the range of products for them (from 1,800 items to 3,500), offering convenient one-hour delivery slots and price matching the basics — has helped the company pick up new customers, many of whom have young families.
It's led to the introduction of products like eco-friendly shampoos and ready meals. (Tally, a self-confessed "ready meal snob", says Farmdrop supplier Pegoty Hedge's handmade vegetable lasagne is the best she's ever had.)
Farmdrop had a record month for new customers in March, and 80% of orders had an average spend of £95, indicating that the company is edging closer towards the holy grail: being its customers' go-to for their weekly shop.
Going up against gorillas
Farmdrop has also narrowed its geographic focus: it pulled out of Bristol and Bath, and is not planning on opening in any new cities soon. "This is my fault," says Pugh. "I went to Bristol too early because Amazon bought Whole Foods, and everyone was jumping up and down going they're coming for you, you need to get across the nation really quickly."
When a big 600 pound gorilla gets in the pen with you, you sort of think, 'Okay, maybe, we'd better make some

moves.'
"But still, when a big 600 pound gorilla gets in the pen with you, you sort of think, 'Okay, maybe, we'd better make some moves.' We were just two years too early — we didn't have anything like the penetration rate in London to suggest that it was time to go anywhere else."
For now, Farmdrop plans to continue serving more customers in London, to drive up revenue and bring down operational costs. It serves them from a relatively new delivery hub in Enfield in north-east London, where a further 82 employees work (and which all HQ employees visit in their first month, to pick up orders and then deliver them alongside a driver).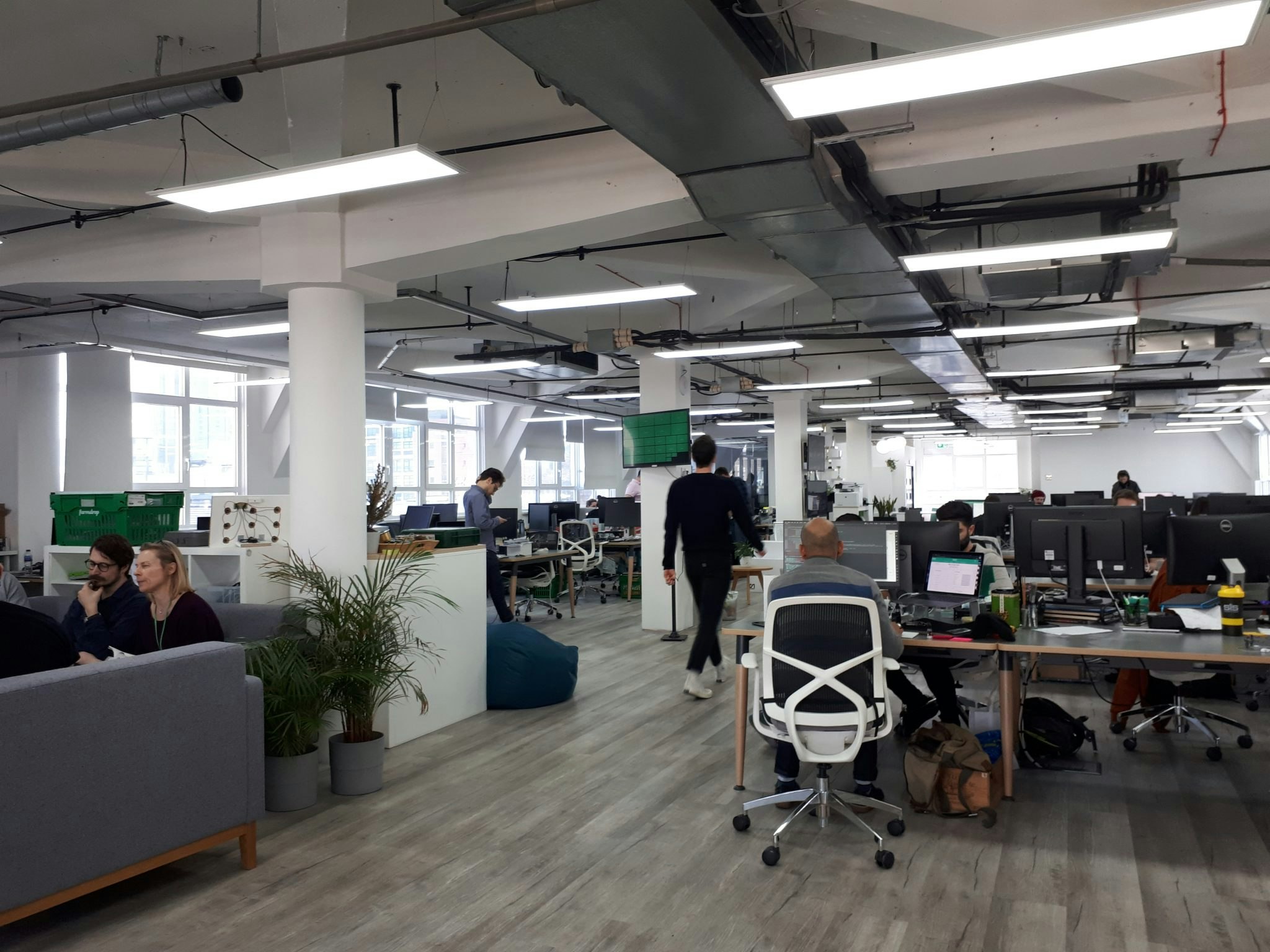 The third change has been to slightly shift the percentage of revenue which goes to producers. From Farmdrop's beginnings, the split had been 70% for farmers, 30% for Farmdrop. Now it's more like 65/35, says Pugh.
"Last summer, I went around and had some quite constructive and honest conversations with some of our farmers," he says. Offering one-hour delivery slots had turned out to be more expensive than expected, and the margins needed tweaking.
"I said, 'I'm not a supermarket, I am really not a supermarket — but I do need a couple of hundred basis points to make the model work'. And the response was really favourable."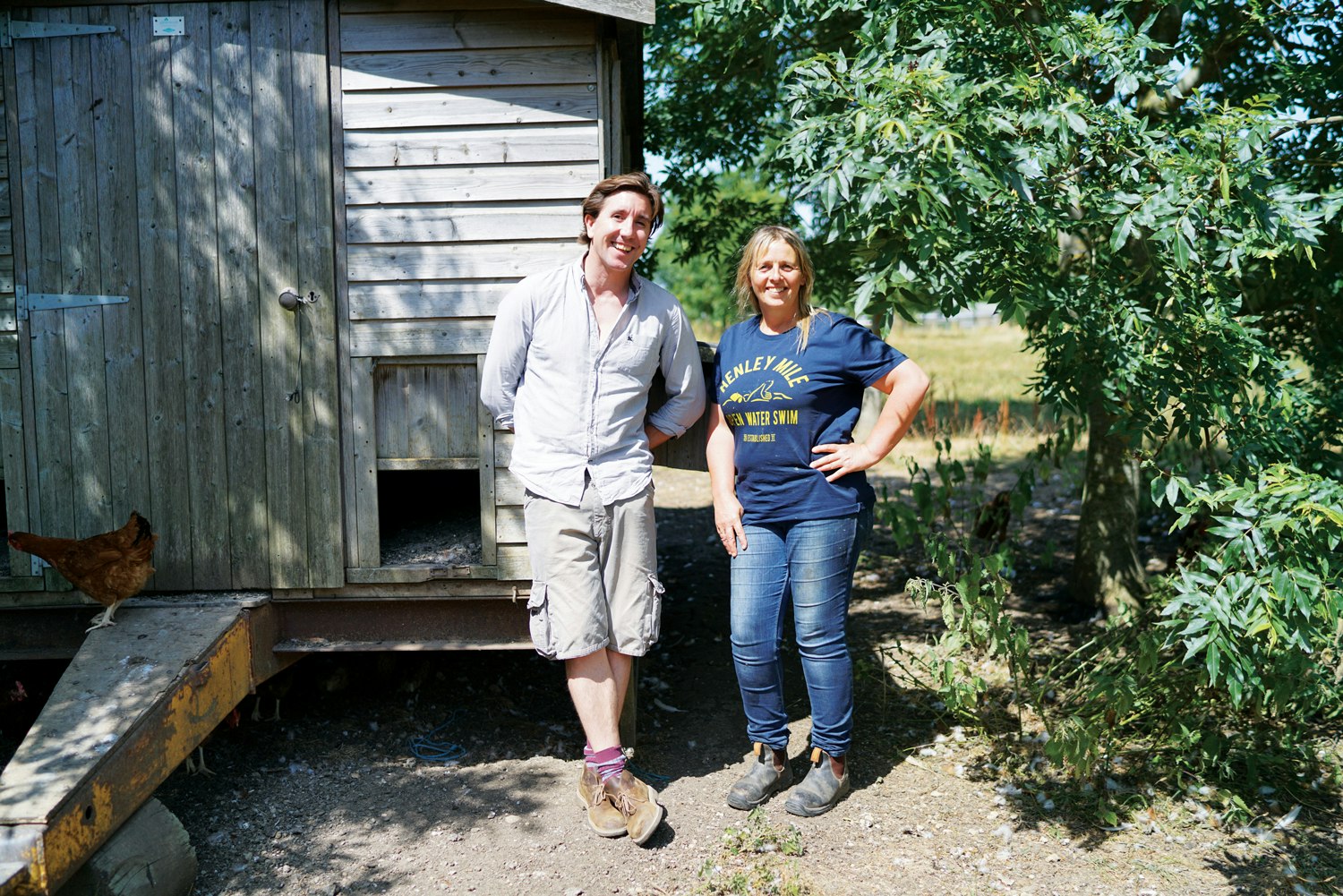 Producers have benefited from Farmdrop's uptick in customer numbers and average spend per shop — they've seen revenue double over the last year — so the change to the margins "is not even controversial," says Pugh. "They're business people too, and sales are going in the right direction, so everyone's a winner."
Hard yards
Farmdrop's employees seem like winners, too. (Aside, that is, from the football team: "Every time we've played other teams, we've just lost horribly," says Theo, who manages digital marketing and Farmdrop FC.)
"As we're growing, it's always going to become more corporate, but we've done a really good job of keeping the tight vibe going between everyone here," adds Theo, who's been at the company for two years. "I think the food's really helped with that."
Farmdrop, Old Street Food: 7/10 Atmosphere: 8/10 Company:

9/10
It's not just the legendary dahl, and mac and cheese, that brings the 81-person team at the Old Street HQ together; there's also a feminist book club ("medium high brow"), twice weekly yoga (strange when the lights turn off for those still working), and Friday shout outs. The dog policy has changed, however; when Farmdrop upgraded office last year, pooches were no longer welcome. ("It's probably a small price to pay for climate control," says Theo.)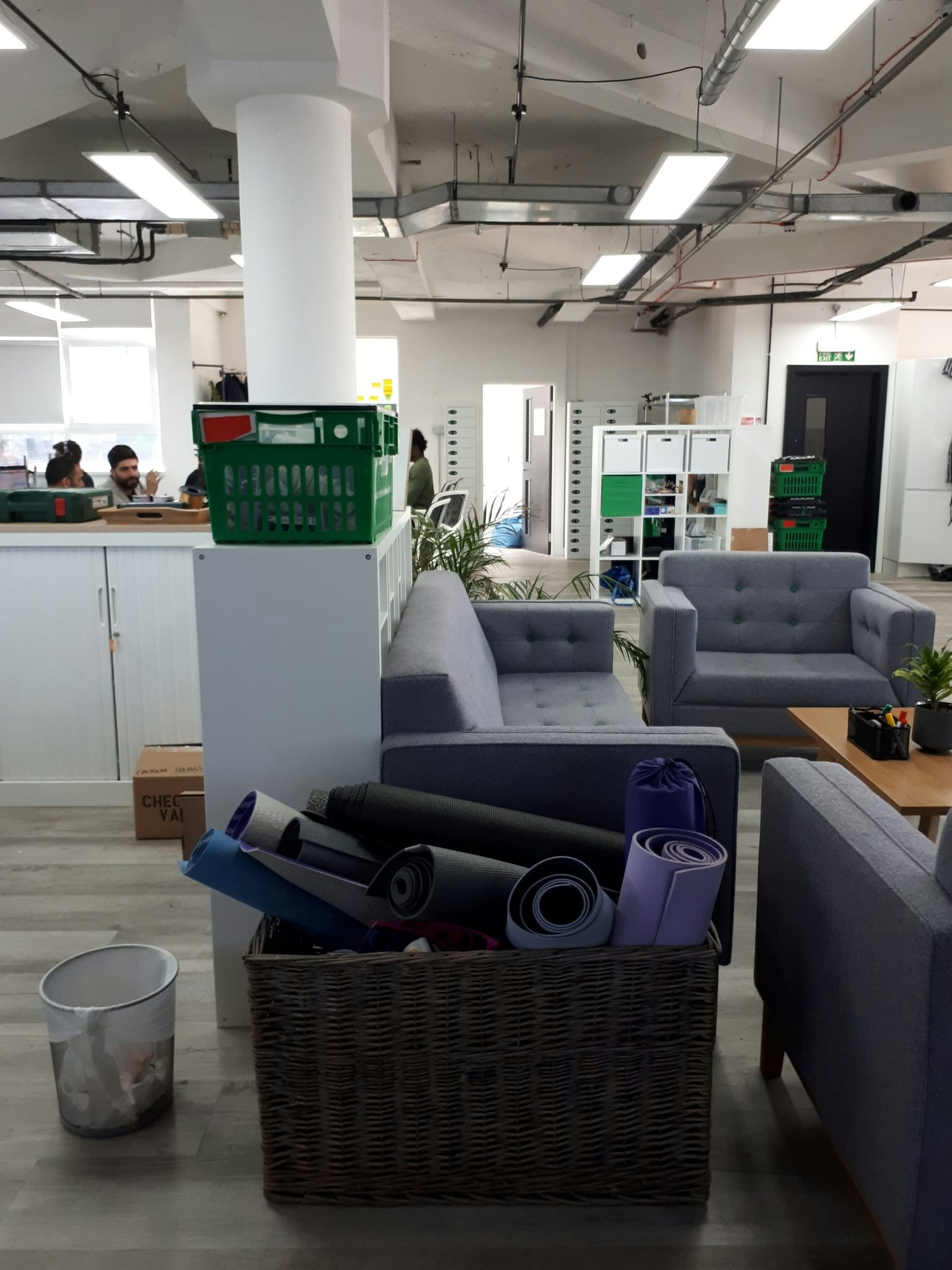 For project manager Grace, there's been a new perk recently too: she's been working on the launch of prepared meals (and, potentially, prepared vegetables too). These meals will be made by Farmdrop's existing producers, to plug gaps in its existing ready meal range rather than replace anything already there. The launch is planned for the second half of this year.
"It's all going at breakneck speed," says Pugh, who seems a little tired — but happy.
"Anyone can start a business and make money, but we're doing the hard yards of actually starting one that's good for everybody that interacts with and also makes money," he adds. "And you can't have one without the other because a loss-making ethical business doesn't survive."