German and UK investors like to tweet about startup Europe. French VCs, not so much. Their Twitter feeds are 99% focused on their home turf. 
So, if you want to know everything about the French way of building startups, we've curated this list of the most active French VC investors on Twitter using the data of Atitlan.co, a Twitter growth startup. 
French(tech) lovers, here are some of the big names in VC to follow: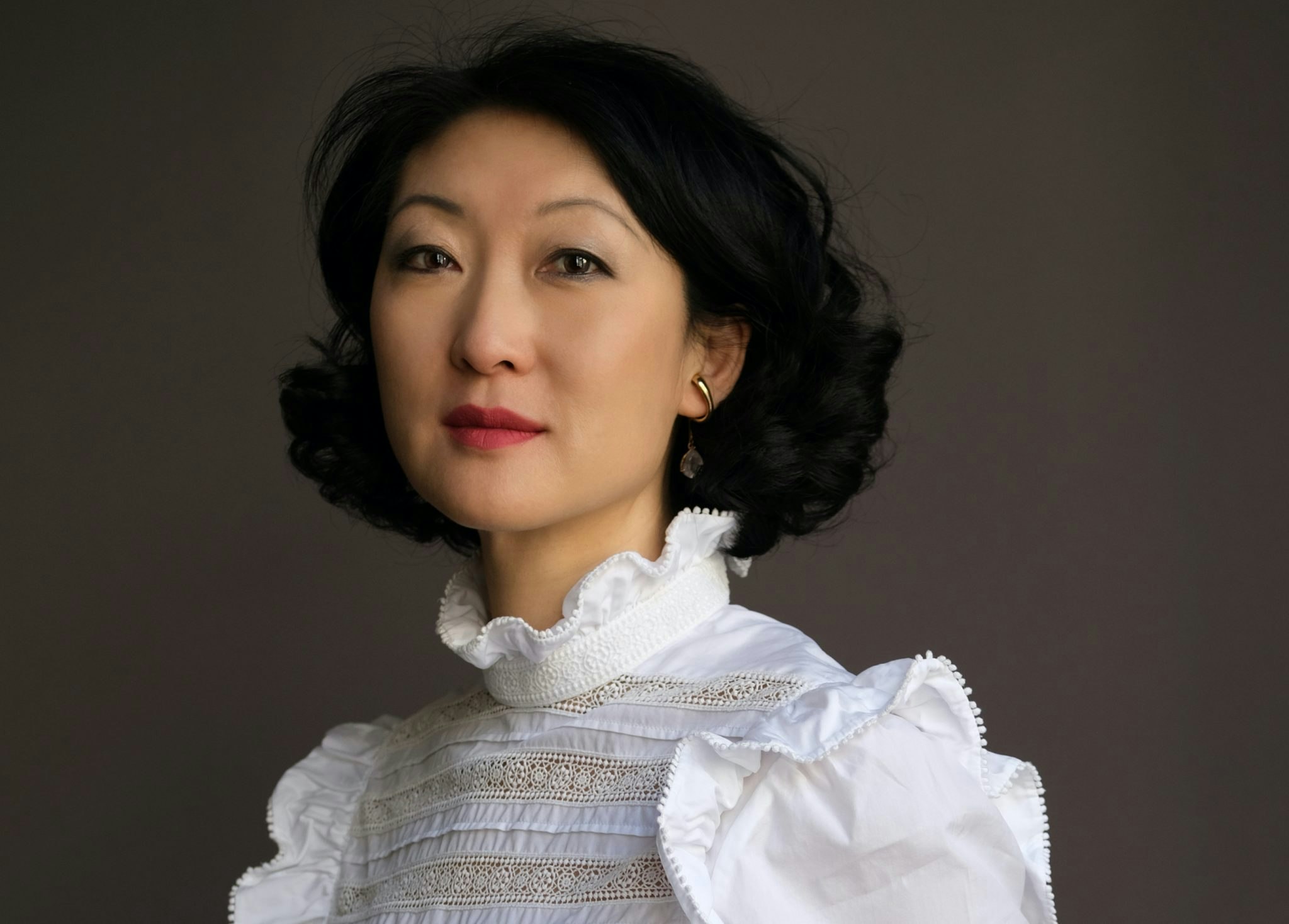 Who? Founding partner of Korelya Capital, a VC firm investing in French startups with ambitions to expand in Asia. 
Why should you care? Fleur Pellerin is one of the most prominent female tech leaders in France. Before moving into the tech industry, she served as France's Minister of Culture and Communications between 2014 and 2016, and developed La French Tech. 
Born in South Korea and raised in France, Pellerin advocates for more tech collaborations between European and Asian ecosystems. Korelya, the VC firm she founded in 2016, is currently looking to raise a new fund. 
How about those tweets? French startups, diversity in tech and Asia-Europe tech partnerships 
Followers: 631k
Our favourite tweet: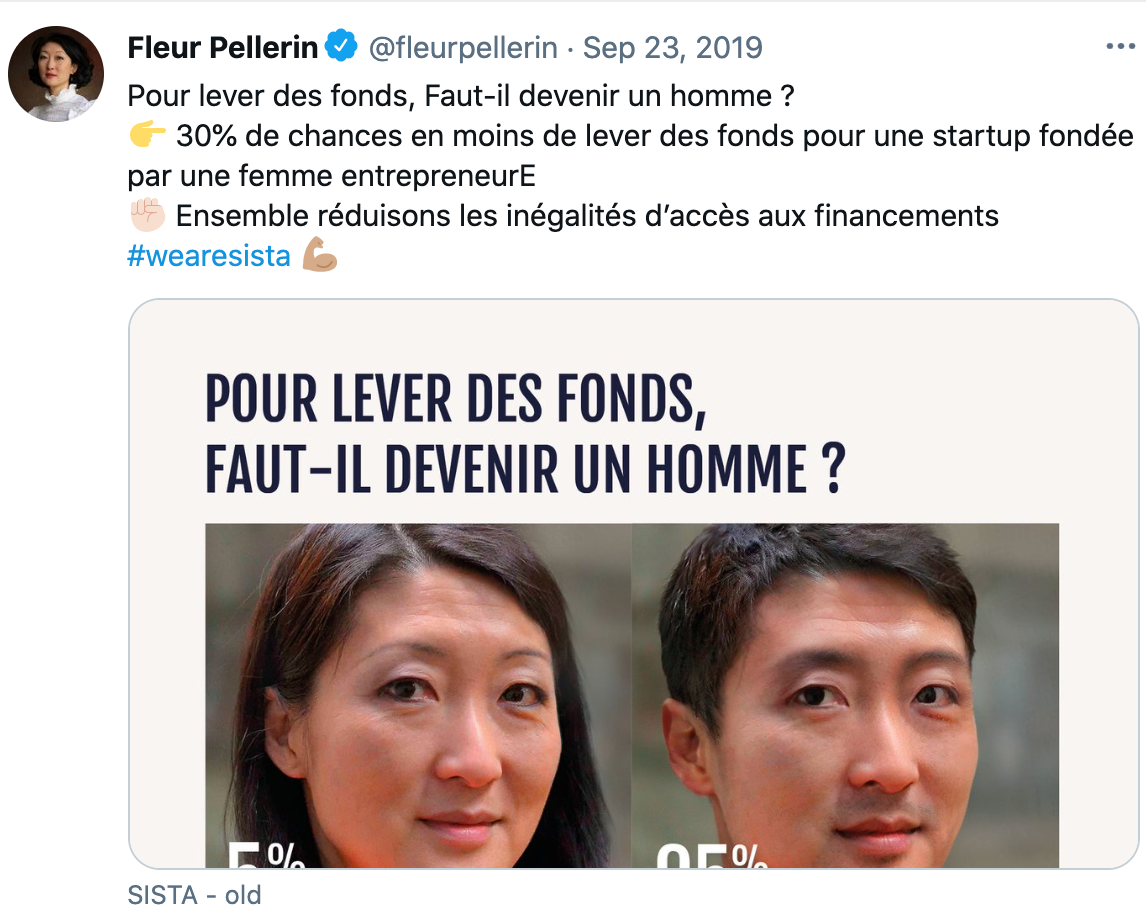 Who? Partner at Daphni, a Paris-based VC firm that invests in European early-stage startups
Why should you care? Marc Simoncini is a serial entrepreneur who's built his business reputation by founding Meetic, one of France's early dating platforms which was acquired by American company IAC in 2013. 
Next he launched Jaïna Capital in 2011, a VC firm investing in high growth startups and ebike startup Angell in 2017. He joined Daphni in 2019 and raised his first fund with his team in September 2020. 
As an angel investor, Simoncini has invested in audio hardware Devialet, online driving school Ornikar and eco-friendly catering company PopChef. 
Sifted Newsletters
Sifted Newsletter
3x a week
We tell you what's happening across startup Europe — and why it matters.
How about those tweets? Mobility, animal cruelty and French news and startups
Followers: 123.5k
Our favourite tweet: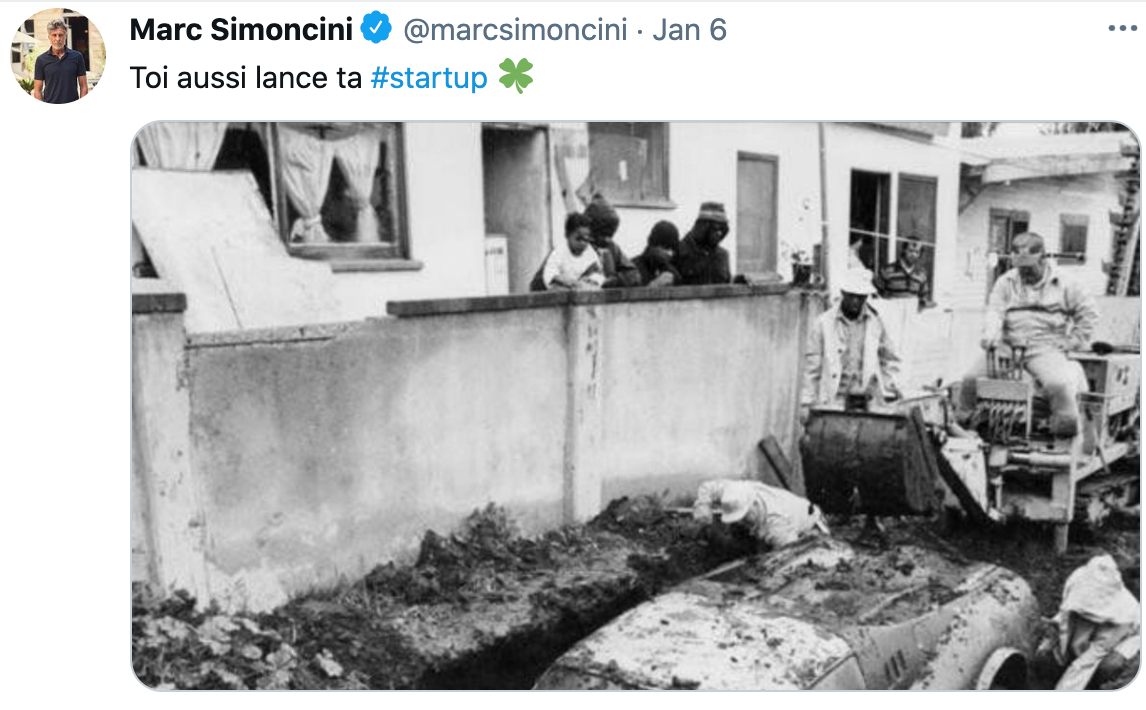 Who? Founding partner at Astorya VC, which invests in seed-stage insurtech startups in Europe
Why should you care? He started his career at the Boston Consulting Group before moving to VC investment: while at AXA Strategic Ventures, he fell in love with the insurtech sector and later founded insurtech-focused fund Astorya VC in 2017. 
Graillot is now a leading insurtech figure in Europe and he mentors insurtech startups at Plug and Play Munich and The Israeli Insurtech Accelerator — and plays an advisory role at The Open Insurance Initiative, which aims to promote API technology in the insurance space. 
How about those tweets? News and trends on insurtech, fintech and cybersecurity 
Followers: 39k
Our favourite tweet: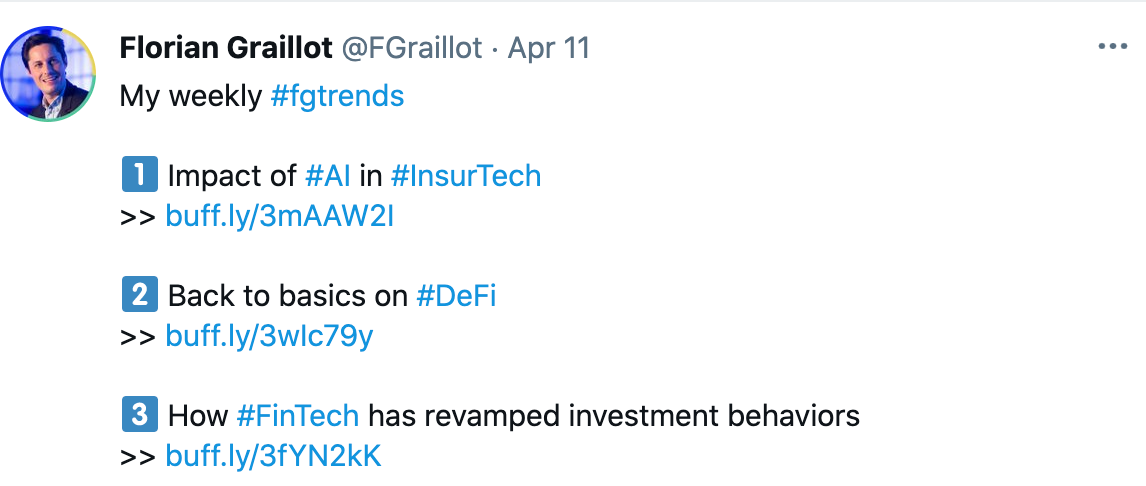 Who? Cofounder and director of VC firm The Family
Why should you care? Nicolas Colin launched his career in the French public sector as a tax inspector, but found his feet in the private sector. Since 2013, he's been leading the next generation of entrepreneurs at online startup accelerator The Family. 
Colin has occupied many positions but he remains committed to one thing: writing. He's currently the author of three newsletters — European Straits, Capital Call and Nouveau Depart — and has been published in Sifted, Forbes and French media publications L'Obs and Le Monde. 
How about those tweets? Startup tips and European tech trends
Followers: 29.5k  
Our favourite tweet: 


Who? Founder of impact-focused VC firm 2050, based in Paris 
Why should you care? Marie Ekeland's investment career is all about bringing new approaches to investing in startups. She started at Elaia Partners, where she built a name for herself backing adtech companies Teads and Criteo — the later went public on Nasdaq in 2013. She left Elaia to found a new 'mutant VC' fund, Daphni.
However, she left it in 2019 to start 2050 — a VC firm owned by a "perpetual purpose trust". Launched in November last year, 2050 aims to invest in impact startups addressing problems like equality and sustainability. 
How about those tweets? Investment news and French tech 
Followers: 13k 
Our favourite tweet: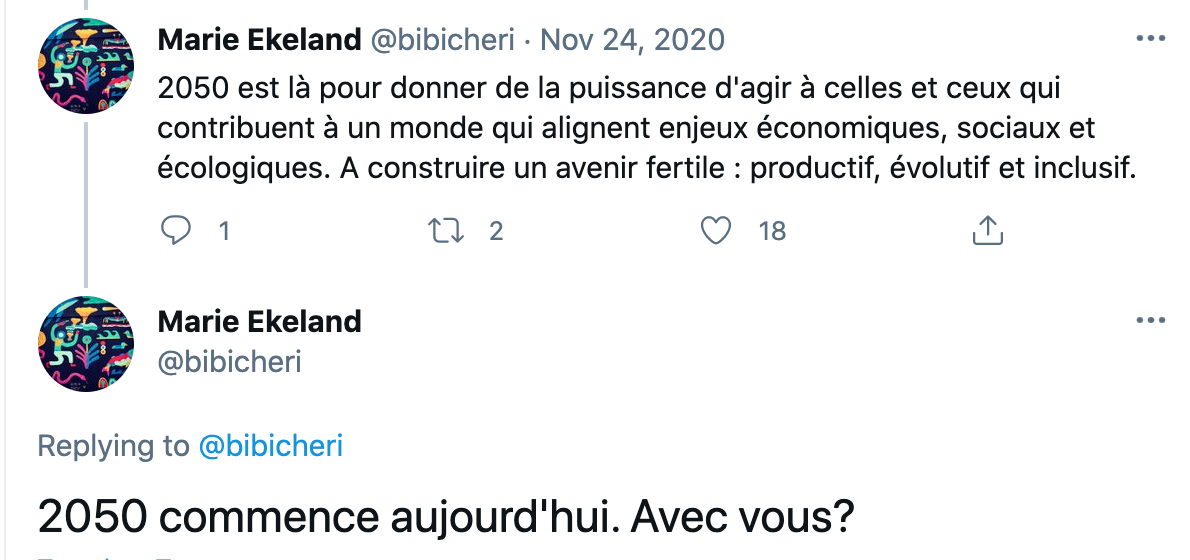 Jean de La Rochebrochard — @2lr
Who? Managing partner at early-stage VC Kima Ventures and cofounder of pre-seed and seed-stage VC New Wave 
Why should you care? Since 2015, de La Rochebrochard has been managing Kima Ventures, the VC arm of Xavier Niel, one of France's leading entrepreneurs and angel investors. He was responsible for investments in edtech startup OpenClassrooms, health insurtech Alan and HR platform PayFit. 
Last December, he announced the launch of New Wave VC to invest in young European startups. He cofounded it with Pia d'Iribarne, a former investor at VC firms Accel and Stride. 
How about those tweets? Startup tips, VC news, French tech 
Followers: 26k 
Our favourite Tweet: 

Who? She's the founder of impact-focused VC firm Future Positive Capital
Why should you care? Sofia Hmich started her investing career in London at one of Europe's biggest VC firms, Index Ventures, before moving back to Paris to launch Future Positive Capital. She's invested in Europe's alt-food startups Ynsect and Meatable, and in climate tech startups Dendra Systems and Cervest.
She also founded the Creative Destruction Lab — a Paris-based seed stage programme to help science-based startups scaleup in 2019.
How about those tweets? European investment trends, French tech news and impact tech 
Followers: 9k 
Our favourite tweet: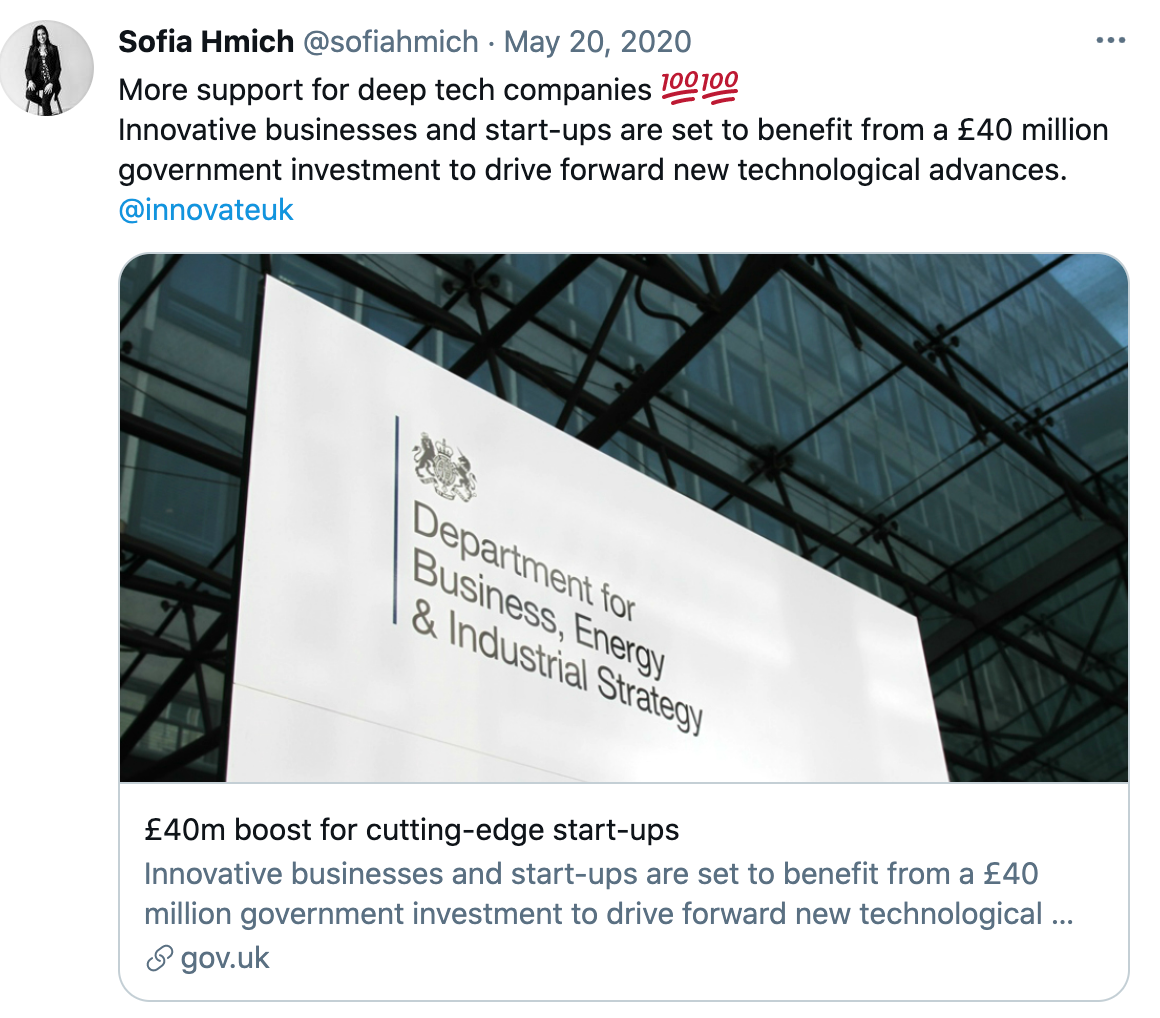 Who? Partner at SOSV, a global early-stage fund focused on deeptech and podcast host of Deep Tech: From Lab to Market
Why should you care? Benjamin Joffe founded and managed the Asia-focused boutique digital consultancy Plus Eight Star for 10 years before switching to VC investment. He's interested in deeptech, especially hardware and biology, and has invested in lab automation platform Opentrons and cleaning robot company Avidbots.
As an angel investor, he has backed several companies in Asia, Europe and the US — including exited translation startups Gengo and OKPanda, and France's automated pasta cooking robot Cala.
How about those tweets? Deeptech, biotech, impact tech
Followers: 7.6k
Our favourite tweet: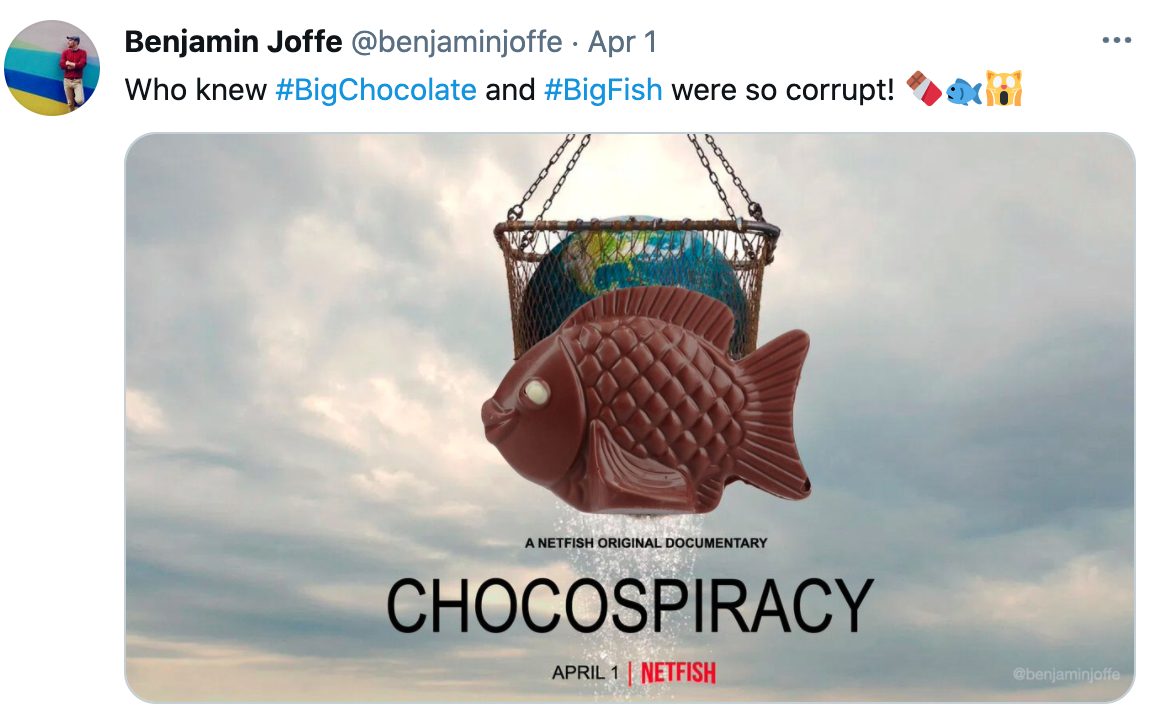 Christophe Raynaud — @chraynaud
Who? General partner and cofounder at ISAI, a French fund focusing on early stage and growth companies 
Why should you care? Raynaud founded two companies in France before moving to California to work with US tech investor and serial entrepreneur Saeed Amid. He flew back to his home country in 2007, and cofounded ISAI a year later with French business leaders Pierre Kosciusko-Morizet, Ouriel Ohayon, Stéphane Treppoz and Geoffroy Roux de Bézieux.
At ISAI, he has invested in green tourism platform Evaneos, marketing engagement platform Adikteev and CitizenPlane, which helps airlines and tour operators sell leftover seats.
How about those tweets? French tech and VC investment news, football news 
Followers: 6.5k 
Our favourite tweet: 

Who? Partner at Paris-based Elaia Partners which focuses on European digital and deeptech startups 
Why should you care? Samantha Jerusalmy has a background in banking consultancy and corporate investment. She joined Elaia Partners in 2008 as an analyst and became a partner six years later. She has backed cardiac medical imaging startup inHEART, hospitality marketing SaaS Zenchef and package delivery tracker Shipup. 
She's also a board member of France Digitale, an organisation fostering relations between entrepreneurs and investors, and StartHer which promotes women in tech.
How about those tweets? French tech startup and investment news 
Followers: 6k
Our favourite tweet: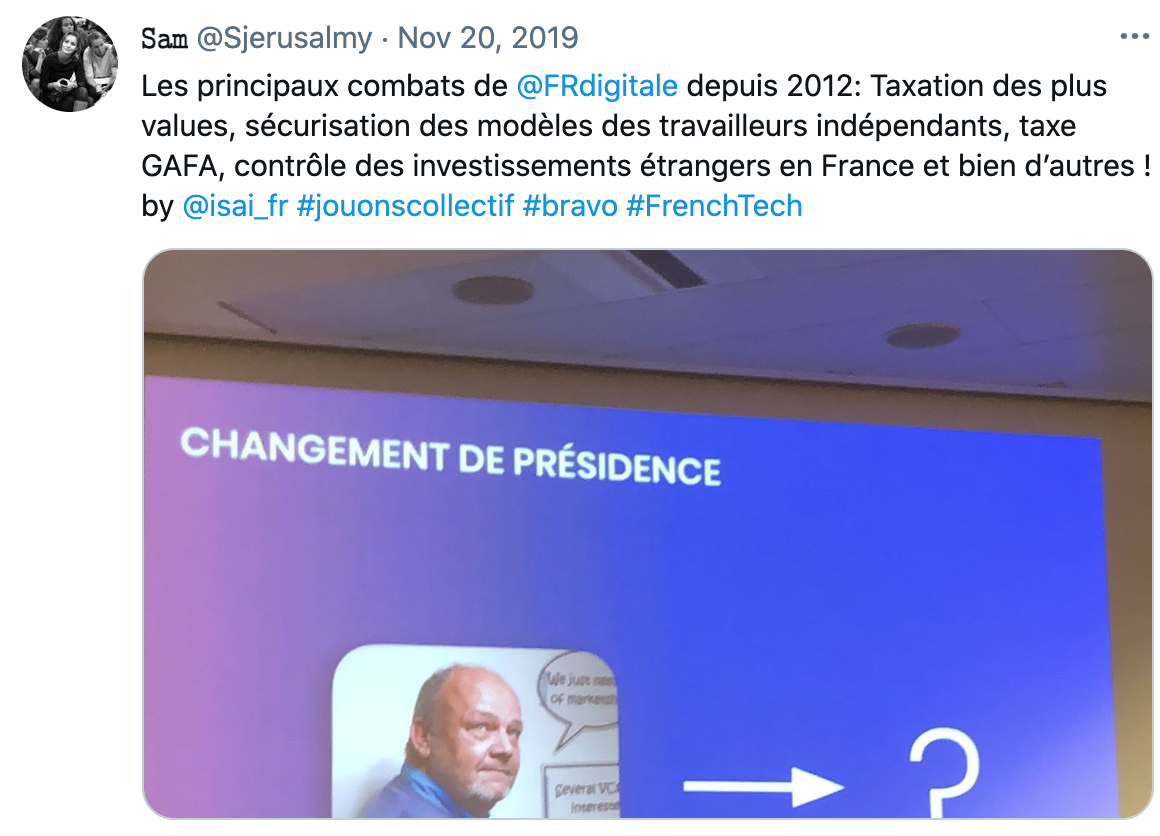 Other notable accounts to follow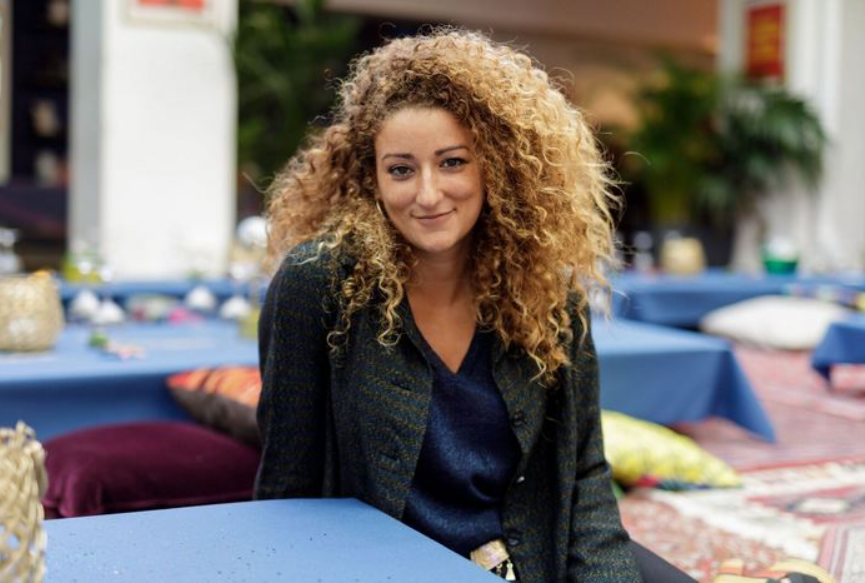 Alice Zagury @Alice_zag — CEO of VC firm and global accelerator The Family
Tweets about: Startup tips and European tech trends
Followers: 24k 
Rodrigo Sepúlveda Schulz @rodrigo — founding partner at European VC firm Expon Capital
Tweets about: Social media business and European startups news
Followers: 15k 
Willy Braun @willybraun — cofounder of newly founded investment management firm Galion.exe and operating partner at growth fund Gaia Capital Partners
Tweets about: VC investment, French and European tech
Followers: 9k 
Romain Lavault @RomainLavault — general partner at global VC firm Partech
Tweets about: Startup news and investment trends
Followers: 5.4k
Rodolphe Menegaux @rodmenegaux — partner at early-stage VC Alven Capital Partners
Tweets about: Startups news and tips, French tech
Followers: 4.4k
Philippe Collombel @pcollombel — general and managing partner at global VC firm Partech
Tweets about: France news and French startups
Followers: 5.7k
Benoit Wirz @bthewirz — partner at edtech VC firm Brighteye
Tweets about: Edtech, US/European investment trends, French tech
Followers: 2.7k 
Pierre Entremont @PEntremont — cofounder and partner at Frst, a seed-stage venture firm backing French entrepreneurs
Tweets about: Startup tips, NFTs, cryptocurrency
Followers: 2.4k 
Pierre Martini @MartiniPierre — managing partner at ISAI, a French fund investing early stage and growth tech companies
Tweets about: French local and startup news, investment trends
Followers: 2.2k 
Emanuele Levi @emanuele_paris — general partner at 360 Capital, an early-stage VC firm investing in deeptech and digital enterprises across Europe
Tweets about: French tech, startup news and investment trends in Europe
Followers: 2k 
Pauline Roux @RouxPau — partner at European VC Elaia Partners which focuses on digital and deeptech startups
Tweets about: French startup news, European tech and investment trends
Followers: 1.4k 
Romain Vidal @Rom1Vidal — general partner at French VC CapHorn Invest, looking to back B2B digital startups
Tweets about: VC life and French startup news
Followers: 1.4k 
Bertrand Cyril @cyrilb88 — managing partner at XAnge, an early-stage VC investing in European startups
Tweets about: European tech and trends in VC
Followers: 1.2k 
Have we missed any? Please comment below or

email cecile@sifted.eu