For a few euros, residents of Strasbourg can take their banana peels and coffee grounds to a few points around the city, which is then turned into energy. Eggshells from breakfast become light for homes. 
It's all thanks to startup Green Phoenix, which has been operating in the eastern French city since 2019. Before this, residents were simply throwing this waste in the bin. The startup can collect about 10 tonnes of waste a week and has partnerships with a local utility and waste company.  
But Green Phoenix may soon have to contend with a new competitor: the government. 
From January 1, 2024, every household in France has to be able to recycle food waste at home, and local authorities are required to offer collection bins to its residents. Local authorities now have no choice but enter the food waste collection business. 
Although this could provide a boost to startups that offer the means to sort biodegradable waste to individual households, it could mean less business for some. 
Investors and founders say it's overall positive that more governments are being forced to take action on sustainability issues. But as the case of France's biowaste recycling startups shows, bigger national climate agendas can pit innovators and public services against each other — even if their goal is the same. 
Local authorities enter the biowaste collection business
Biowaste collection and recycling have become popular areas for startups in recent years, boosted by growing interest in waste reduction and the circular economy. Across France, the likes of Les Alchimistes, OuiCompost, Green Phoenix and BicyCompost launched in the last few years to fill the gap. According to ADEME, the French agency for ecological transition, organic waste makes up about 30% of household trash. 
But local authorities, including in Strasbourg, Bordeaux and Loches Sud Touraine, have been experimenting with biowaste collection themselves in preparation for the new rules. And while some authorities are choosing to work with startups and the private sector, others want to do it themselves.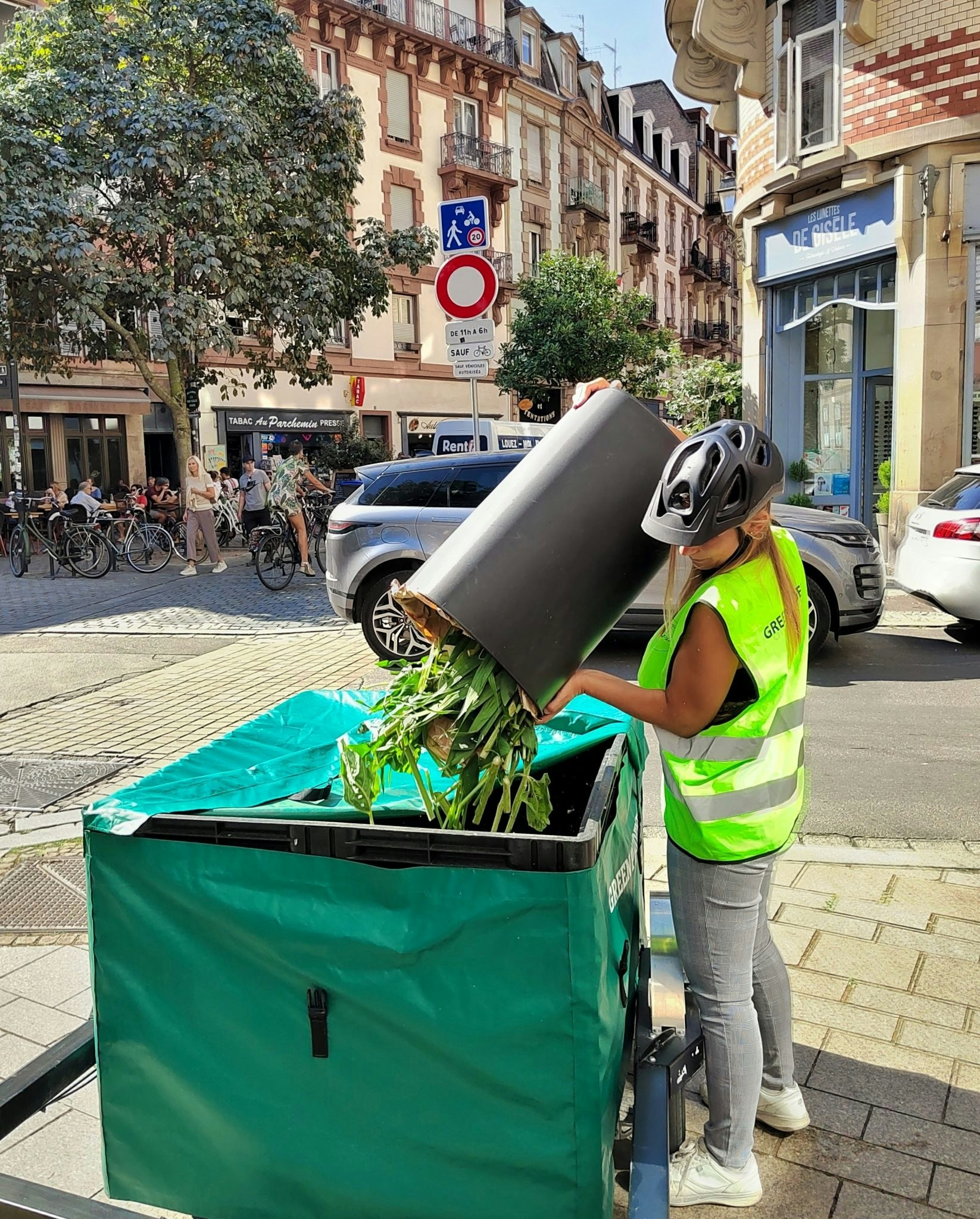 Green Phoenix isn't yet working with the local authorities on overall biowaste collection in Strasbourg. However, it has collaborated on specific projects, such as collecting food waste from the Christmas market. Cofounder Daniel Monjaraz Perez says the group is currently participating in working groups and aims to submit to public tenders to win contracts for the collection from the city centre.
"The aim is that the public authorities can launch public contracts to which we can respond to collect waste from individuals and the cost would be included in their taxes," he says. 
Strasbourg and its surrounds, where the Greens won in the local elections in 2020, has been running its own experiment into the sorting and collecting of organic waste, which seems to have been a success so far. 
A spokesperson says the first stage of deployment was completed in municipalities with less than 10k inhabitants in 2022 and new collection terminals will be set up in all the Strasbourg districts by 2025. A total of 1,800 terminals are planned. 
The estimated budget for the project is €10.4m in initial investment and €3.7m in operations annually. As Strasbourg collects the waste for free, there is no upfront cost to citizens, versus Green Phoenix, which charges €5 for 10 recycling passes and €4 and €5 for a small and big bucket, respectively. But this budget would be funded by taxpayer money. 
In Bordeaux, BicyCompost has been collecting waste from businesses, such as restaurants and nurseries, and turning it into compost since 2020. The subscription costs €30 a month for a 22-litre bucket collected weekly. For each additional bucket, businesses pay €15 a month. 
Cofounder Pacome Becerro says he's not looking to cater to individuals because that comes under the remit of the city, although he thinks the local authorities will subcontract to private companies.
But again, the local authority in Bordeaux has been running its own experiment for collection and upcyling. A spokesperson for the city says it's in the process of contacting companies to find out about their solutions, but adds that the tax for the removal of household waste should not be intended to go towards the profit of private companies. 
Room for partnerships with startups
Axele Gibert from the Europe Écologie-Les Verts, the green party in France, says she thinks that the collection of biowaste should be carried out by municipal services. 
"Overall, it is important that waste management, whether bio-waste or otherwise, remains within the competence of public institutions, for governance reasons," she says. 
The primary logic must be the reduction of waste, which is not the case today because [private waste management organisations] have no interest in reducing the quantity of

waste
However, she says there could be more room for partnerships with startups when it comes to upcycling the waste, such as turning it to compost, "in order to best recover the large quantity of material that will be recovered". This could give rise to a call for tenders by local authorities to enable startups to propose innovative designs for upcycling, in her opinion. 
But she is also sceptical of the role of private companies in waste management; in France, while municipalities collect waste, private companies supervise management. 
"The primary logic must be the reduction of waste, which is not the case today because [private waste management organisations] have no interest in reducing the quantity of waste because that would lead to a reduction in their income."
Some startups still see growth — even as governments enter the market
Cyrielle Callot, managing director of biowaste collection and composting startup Les Alchimistes, says the incoming regulation and the strong willingness of citizens to upcycle their food waste will provide a boost for business, even if some local authorities choose to do it themselves.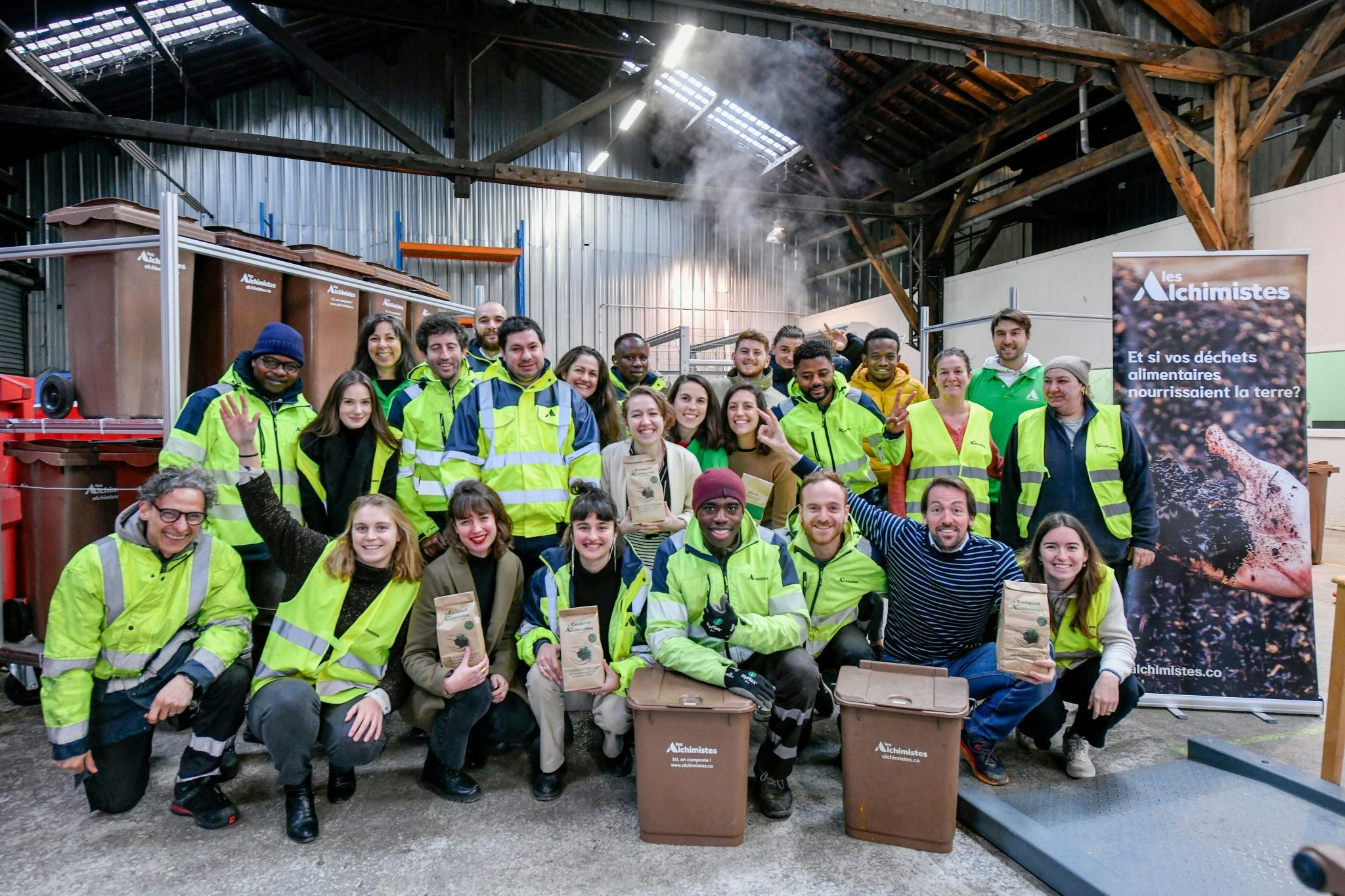 The company, which has 10 composting plants, has won tenders from the municipalities it works in to collect biowaste from professional sites. Callot says the market is now opening for households — proof that coexistence between biowaste startups and governments is possible. 
The startup operates in 13 cities and has grown from its initial home of Paris by taking minority stakes in similar companies in cities like Lyon and Montpellier and taking over the operations of a liquidated company in Nantes. 
Currently, Les Alchimistes collects more than 12k tonnes of biowaste a year. The goal is to be present in 30 cities in the next few years and have 10% market share, which would mean collecting 300k tonnes of waste a year.
Just this month, the group raised €10m from investors including Amundi Finance et Solidarité and Swen Capital. 
For BinHappy, a startup from Normandy, the regulatory requirements present an interesting opportunity for the company to partner with local authorities. 
Sales manager Caroline Gonneville says the company can not only provide collection but can also support local authorities by showing them sorting best practices, raising awareness amongst inhabitants and improving the reduction of waste. 
"We rely on five years of expertise in this field and our great flexibility to meet the different constraints of local authorities with our tailor-made offer. However if local collectives choose to collect and treat their biowaste themselves, we can apply our know-how to support professionals, for whom the obligation does not fall under the community," she says.