Samu Hällfors felt certain he had a hit product on his hands. Designed to make open-plan offices smarter, his colourful soundproof phone booths were a must-have for workplaces, he thought. 
But the initial reception of the 'Framery O' booth stunned him: "Interest was zero, just nothing, and we ended up selling not a single booth," the Framery chief executive and cofounder recalls, referring to a 2013 Stockholm trade show.
"People just didn't understand the point with these 'weird' booths. It was incredibly demoralising." 
As Hällfors sits down this month with Sifted in a Framery booth in Helsinki, the story is very different. Hällfors is now heading up Europe's 20th fastest-growing venture with 3,000% revenue growth from 2014 to 2017. 
[caption id="attachment_13753" align="aligncenter" width="820"]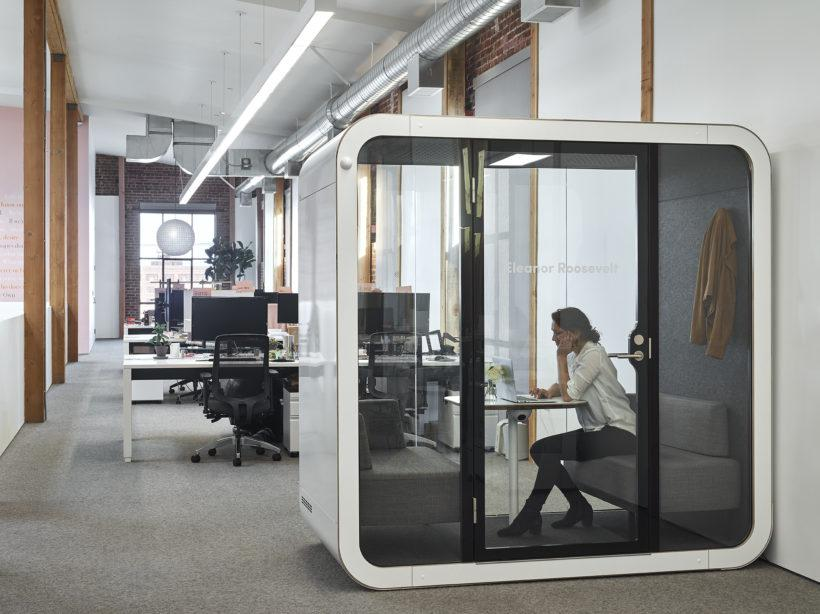 According to Framery, its booths contribute to more productive and happier employees.[/caption]
Once struggling to stay afloat, the company's office pods are today used by the likes of Tesla, Uber and Nike — allowing their employees to meet and work in impeccable isolation.
And according to Hällfors, cash-strapped beginnings were a blessing in disguise. It forced Framery to create a better product — and do it at a time when not many people were really watching. 
"Thank god we got to develop our product in a market that wasn't ready yet," Hällfors, the design brain of Framery, says. "If we had arrived in a mature market, I'm convinced we would have bungled this opportunity — through an inferior product or an inability to scale fast enough."
Spotting a human problem
It all started as the passion project of two 22-year old engineering students. 
Samu Hällfors and Vesa-Matti Marjamäki were working part-time at an IT firm. Their boss would frequently take loud calls on his headset, which was distracting. Hällfors would ask him to find another place to talk — to which the boss (later a Framery founding team member) replied: "Well, buy me a phone booth."
The two friends looked online for office booths but were surprised to find that none existed. Framery Acoustics was founded in 2010 — with €5,000 in savings. "I remember the two of us drinking beer in my student dorm, we were convinced we had spotted a huge trend."
It was a time when open-plan offices were spreading among employers, whether motivated by cost-cutting or improving collaboration. "We knew that open-plan offices — and various productivity problems — were here to stay. And our starting point was the frustrated employee." 
Humans are hardwired to struggle with noise, he adds: "Reading and hearing are located in the same [functional] area of the brain. So when we overhear a phone call, only one half of it especially, it triggers the reading part of your brain — and that kills productivity."
The hard things about hard things
Framery's pods are generally seen as the industry gold standard; sporting ventilation, spotlights and cushy furniture. How could two students with no experience in supply chains or carpentry create them?
"Legwork," Hällfors quips. "With a tiny team, we sold, planned, manufactured, developed, and delivered our booths. There was no blueprint — we just figured things out as we went." 
Bootstrapping, he adds, taught Framery to "hone the value proposition and to be cost-efficient".
It became clear the booths were winning plaudits from employees. "People clapped and cheered when we brought booths to a floor that didn't yet have any," he says, talking about a 2013 delivery to Twitter's headquarters (the company's "all-important" first US account).
One pivotal decision allowed the company to be what it is today. "Although our board doubted us we insisted on being a manufacturing company," the 32-year old says. "By building everything in-house we ensured full control of quality and risks."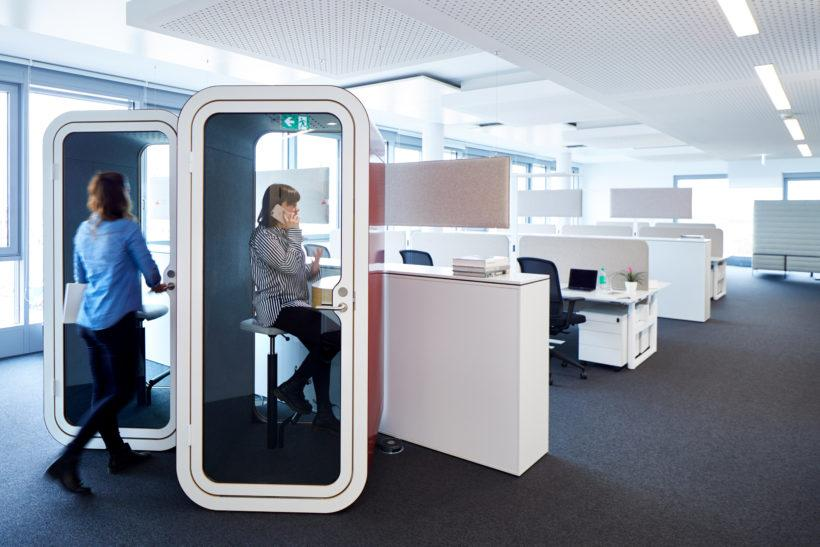 A second coming
However, production was a mess back in 2014. Whereas today Framery sells three customisable models, its portfolio then contained eight product families with "millions of possible configurations". 
This situation had Framery on the brink of bankruptcy. The company lacked funding to develop its offering and expand abroad. Which led to a key turning point — and it killed all of the product "families" in order to streamline the supply chain and focus solely on the Framery O.
Bolstered by funding "at the very last minute" from Finnish government-backed innovation agency Tekes, as well as Kim Väisänen, a prominent business angel, Framery moved to a massive new factory in Tampere, southern Finland. Revenues for Framery O soared 5,000% in 2015.
Thanks to its efficient supply chain, and a network of distributors, Framery revenues exploded from €1.2m to an estimated €100m (in 2019) within the past five years. "The fact that we focussed had a huge impact on our growth," says Hällfors.
The Finnish chief executive ascribes the company's readiness to meet demand to hard-earned lessons early on: "Without all the bootstrapping during the early years, we never would have been able to use that investment wisely — not a chance," he says.
His team was able to scale their learning on a global scale. "We knew our customers' needs and all the tiniest problems along the value chain that needed solving. This ensured that we were able to scale our organisation successfully." 
Framery Facts
Founded: 2010HQ: Tampere, FinlandEmployees: 340Available models: Framery O, Framery Q, Framery 2Q (team) Sales: Estimated around €100m in 2019 (up from €1.2m in 2014; 63m in 2018)Ownership: Majority-owned by Finnish private equity firm Vaaka Partners. Big clients: Nike, Uber, Tesla, Vodafone, Microsoft, L'Oreal, Booking.com, Nvidia
Towards smarter open-plan offices
Today Framery commands roughly 40% market share globally, according to the company, which estimates that the market can still expand seven-fold. "We feel like we're just getting started," says Hällfors. "What surprised us is that our solution is truly global."
While open-plan offices are under fire for not fostering all that much innovation, Hällfors says that they can work in the right conditions. With its bigger models, Framery aims to provide "better ways to have conversations and to ideate with your colleagues". 
Hällfors sees a shift towards "activity-based" offices that are equipped "for many different use cases" — whether it's to focus, collaborate or recharge. 
"Historically, employees have shunned the office environment if they want to really get something important done," says Hällfors. "We're seeing that open-plan offices are the worst places to work if they're done bad, but the best places to work if done right."
Samu Hällfors' advice to entrepreneurs:
Solve an important problem. "Our starting point was the frustration of employees who were struggling to work efficiently. This in turn had a huge impact on the bottom line of employers."
Identify the root cause of customers' problem. "We first thought we were solving an acoustics problem — but realised it was about productivity and wellbeing. The customer is not always right — but it's important to listen and analyse the root causes of their needs." 
Team, team, team. "It's a cliché, but doesn't make it less true. In order to scale an organisation and create a winning culture you need great people."
Stay focused. "Don't let yourself drift out of what you're good at. The fact that we focused on a few products had a huge impact on our growth."
Commit to excellence. "Every detail matters if you want to deliver world-class products. In our case, having production in-house enabled total control of quality and customer success."