Over 80% of the startups that approach me for funding stumble at the same hurdle: traction. The majority of these founders are in the early stages of developing their idea, and think they need funding.
They don't.
They need to find their first set of customers who will use or pay for their product.
This does three key things for first-time founders. Firstly, it builds their confidence and self-esteem, knowing they have landed on a solution that customers actually want. Secondly, it builds income that extends their runway so that there is less reliance on external capital. Finally customer-funded businesses remind founders to keep paying attention to customers' unmet needs and focus on what they can do for them, rather than investors.
First-time founders need to ruthlessly prioritise — it could prove pivotal to the survival of their startup.
The honest truth about venture capital
Earlier this year, The Kauffman Foundation published a report on access to capital for entrepreneurs. It reported that in the US, as little as 0.5% of entrepreneurs obtain capital from venture capitalists. Yet, despite this, founders believe they need to (and often want to) raise venture capital to build their startup.
What many founders don't take into account is that fundraising can be heavily distracting, as you speak to as many investors as possible to increase your probability of success. Fundraising takes you away from your product and customers — the primary audience you are meant to be serving.
And yet, the reality is that VCs are just not that into you. Last year, when we launched Backstage Capital's inaugural accelerator programme, in less than two months we had over 1,800 applications. Given that we were only investing in 24 companies across four cities (Detroit, L.A, Philadelphia and London), that means we essentially invested in less than 2% of deal flow.
I don't share this to discourage founders from raising but rather to help them understand the path ahead and think strategically about what to focus on. Apart from certain types of startups such as deep tech, which requires hefty investment in research and development, for the most part, fundraising should slow down your growth, not put a stop to it completely.
Focus on product and customers
My colleague, Andy Davis, always reminds me that great products spread themselves. He runs a community group called 10x10 that has organically grown from a WhatsApp group for black founders and investors in the UK, despite not having a website or any presence on social media. Mojang, the bootstrapped Swedish game developer, created Minecraft which grew to almost a billion in profits before its acquisition by Microsoft in 2014 for $2.5bn. Great products sell themselves and founders who don't take venture capital are often more capital efficient.
Every year US VC Mary Meeker releases her annual Internet Trends report. In the 2019 edition, beyond all the quantitative trends shared, one of the key takeaways for me was this:
The most efficient and effective marketing is one's own product, plus happy customers, plus

recommendations.
If you're founder reading this, you may be asking, "where do I start?" The answer is a process called Product Discovery.
Before your development team even writes a line of code, you need to be confident about what you are prioritising and more importantly, why. So when you feel you have a winning idea you wish to pursue, the best thing to do first is to use a framing technique such as The Lean Canvas (click here for a free template). This enables you to visually map your business on a page in as little as 20 minutes — and can save you days or even months in the long term, by prioritising what critical assumptions to address.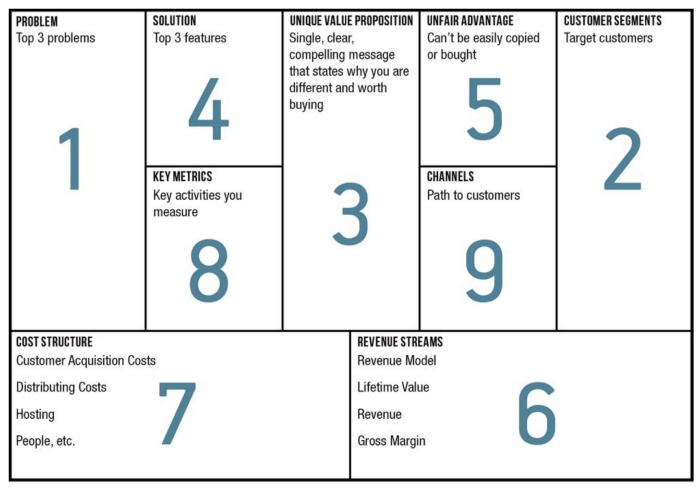 Once visualised on page, this allows you to identify your key assumptions.
The goal of product discovery is to learn fast, instead of learning after you ship a product that potentially nobody wants it. Discovery is a time-boxed experiment to address four key risks so that you can decide what to build based on evidence, rather than a hunch.
The four key risks to address are:
Value risk: Will a customer use or pay for this product?
Usability risk: Can a customer use this product without hand-holding?
Technical feasibility risk: Can we technically build this solution given our (founding team's) capabilities?
Business viability risk: Is this product viable from a business perspective? Ie. is this compliant with GDPR?
Most founders don't need funding. It's often in the founder's best interest to limit the amount of capital they take so that they don't get diluted in later rounds to a stage where they are no longer incentivised. What early stage founders need most when they are starting out is evidence that they have a problem worth solving with a customer base that loves their solution. Don't start fundraising, start with product discovery.