If you're a founder pitching to a VC, chances are that investors are going to do due diligence not just on your company, but you and your founding team too. We call this "founder diligence". 
In part one of this series I wrote about how this process is failing investors and founders. Too often, evaluation processes are built on personality tests and frameworks that don't capture founders' potential to develop. 
But putting aside the question of how good or not due diligence is, the best way for founders to get ahead of the curve is to understand what founder diligence looks like across funds. I spoke to six European funds about their processes: Northzone, EQT Ventures, Entrepreneur First, HV Capital, EKA Ventures and Digital+ Partners.
I've broken them down according to a matrix that plots the different purposes of the diligence with how proprietary or not the process is. I'll be using that matrix as a guide for this piece too.
Based on proprietary fund insights/support-oriented: Northzone and Digital+ Partners
Elena Pantazi, talent partner at Northzone, says the VC looks for six dimensions in a founder; while the first three are considered on a "more the merrier" scale, the latter three have to balance out advantages and risks. 
According to the firm, they look for founders with (1) a deep drive and personal motivation to be an entrepreneur, paired with (2) a growth mindset and openness for self-development. This in turn, enables them to (3) attract talented people around them when scaling the business. Similarly they view (4) having a healthy dose of self-confidence as a positive attribute that enables founders to go through the rough patches while staying humble. Finally, in terms of skill-sets, they (5) encourage founders to identify their own superpower and evolve into a thought partner across other business functions without (6) needing to exert too much control across all areas. 
"We don't want to exclude 'spiky' founders — such as having a chip on the shoulder or having something to prove to the world — but to facilitate their success given the knowledge of their true strengths and uniqueness," Pantazi says.
Sometimes, I also provoke and push founders on their answers, to see how they

react
Digital+ Partners evaluates founders throughout a range of interactions, including the founder's participation in deal meetings and pitches, and throughout the entire due diligence process. The assessments inform the investment decision, but also what support to provide post-investment, and are based on five dimensions: leading self, leading others, leading by results, leading as a founder and leading with knowledge.
Nicole Schneider, chief people officer and partner, uses what she calls "embedded analysis" throughout the evaluation and sorts her findings into the five categories. She is both part of the diligence process and sits on the investment committee. 
"In the diligence process, I participate in most of the meetings and observe teams and individuals: how do they act? How do they respond to questions? How do they interact with each other? Sometimes, I also provoke and push founders on their answers, to see how they react," she says.
With all these points organised, Schneider sits down to write her analysis which, when complete, goes to the Digital+ Partners team for their feedback and to reduce bias. 
The firm doesn't use one specific tool or standardised tests, but it does sometimes suggest founders to go to a Swiss institute for a psychological evaluation to help their personal development and also offers advice on coaches available for founders specifically.
Science-based/support-oriented: HV Capital and EQT Ventures 
Anna Ott, VP of people at HV Capital, says: "It's quite simple. The more self-aware founder is better prepared for the journey. If you'd ask me for the pyramid of founder qualities, I'd put self-awareness right at the bottom. But on top are leadership capabilities, domain expertise, (preferably) entrepreneurial background and a good portion of 'raw intelligence'."
Ott says that she and her colleagues start a dialogue with founders about their personal growth and coaching as early as possible. "If they were against deepening their self-awareness, that would be a red flag, but it hardly ever happens," she says.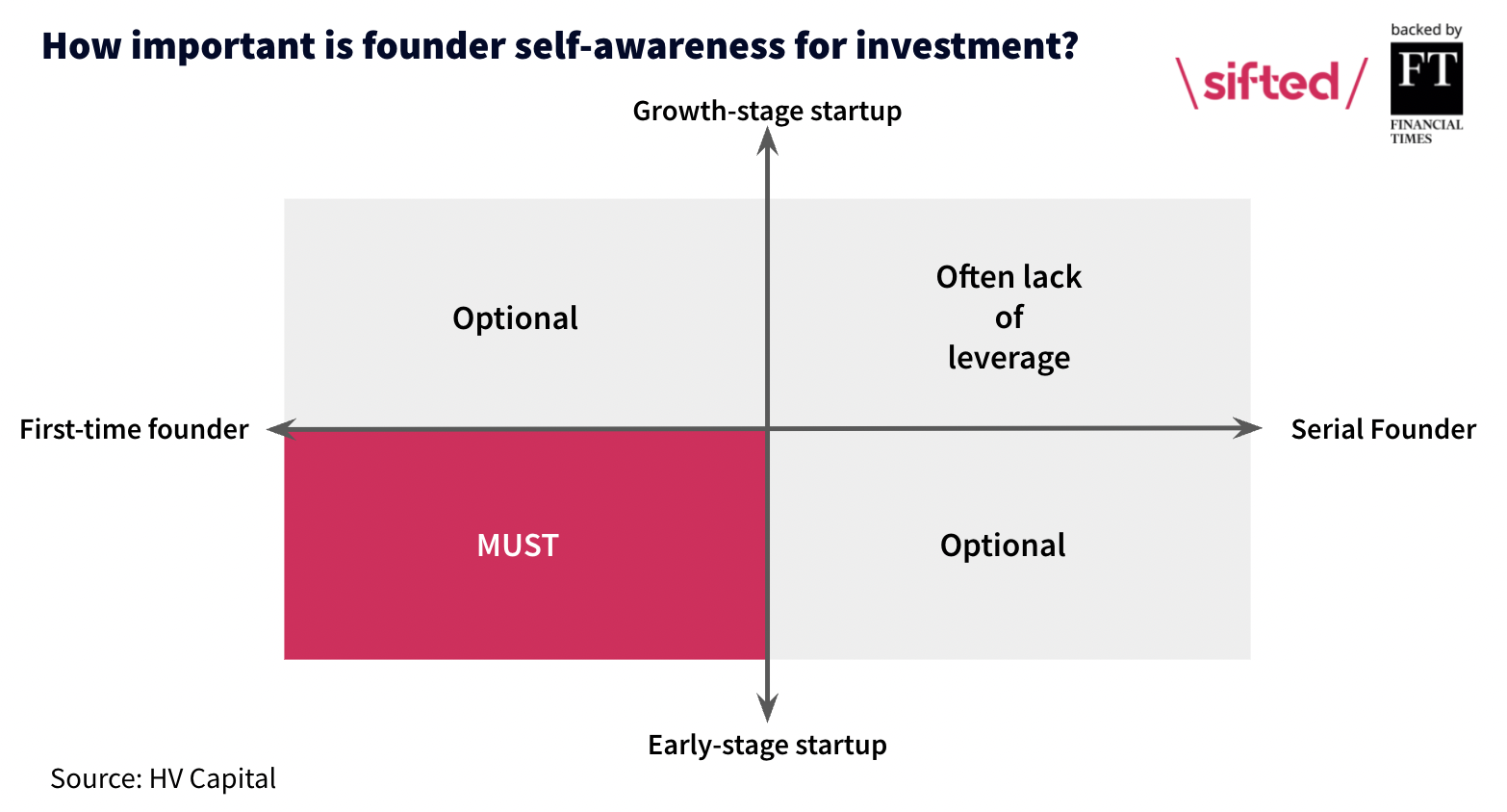 HV also explores external tools like StrengthsFinder or consulting firms like Synthesis to provide assessments upon request. In either case, it's the founder's choice if they want to share their evaluation with anyone, including investors. Ott says it's "more important that our founders deepen their self-awareness. With the method that works best for them."
HV also looks at founders' support structure: their coaches, mentors or industry veterans. The firm also offers recommendations of suitable coaches for tech startup entrepreneurs. Ott says more and more founders open up about their personal growth, e.g. in development-oriented communities like Entrepreneurs' Organization (EO) or with their peers.
Recently she learned that two cofounders of Felmo, Philip Trockels and Lars Giere, won over a crucial hire by being very vocal about self-awareness. "In the interview, they said that they would be 'too old to NOT believe in self-awareness' and that they had no issue discussing their 'dark sides' with that candidate. The talent said she was sold on the job there and then. It's a rare thing to show vulnerability as a tech entrepreneur still, but when you do, you cut through the chase and form invaluable trustful relationships with investors and key hires alike." 
What we are interested in is the behaviour and abilities that you have relative to your peer

group
Self-development is also the keyword at Sweden's EQT Ventures. 
"We are aware that when you're a founder at the first round all you feel is 'I got to this stage through a certain type of hive-mindedness and a family approach, working in close proximity to my team, and being involved in everything'," says operating partner Polly Barnes. "After their first big venture round, however, it becomes all about the 'we' and you almost need to do the opposite to grow. It is such a leadership challenge to break away from what worked for you before, and take a more structured approach to encourage ownership through the organisation."
Barnes says the work of supporting founder development begins during onboarding and includes both the individual and the team level. The results help determine "critical first hires" and strengths or personality styles that would improve the team's performance. 
"We work with a variety of tools: some of them are off-the-shelf products, others are created solely for us, working with an organisational psychologist, but it is a flexible approach. We include strength evaluations, driver analysis and personality assessments. We find that tech-based teams respond well to the clarity of strength assessments whilst drivers are really critical to understanding and harnessing motivation."
Based on proprietary fund insights/filter-oriented: Entrepreneur First
Of course, all investment professionals implicitly apply their experience to evaluate founders. That being said, some funds have turned their proprietary insights into an explicit practice — not least because it reduces the risk for bias. In the case of Entrepreneur First, that means 10 years of data and more information being collected every cohort by 50 interviewers across six locations. 
"We don't believe past experience or knowledge is relevant to your future success. We don't select or put in our first money based on ideas at all," says founder Alice Bentinck. "What we are interested in is the behaviour and abilities that you have relative to your peer group."
EF looks at five criteria in determining founder ability but emphasises that founders rarely score highly on all of these. These abilities also don't necessarily have to have been demonstrated in work or study, but in hobbies, side projects or sports. They are: 
Challenges convention: individuals who have taken surprising paths or decisions or challenged the status quo, compared to their peers. 
Drive to achieve: individuals with a bias to action, who are driven to build and create. 
Followership: individuals who have had people follow their decisions and actions in the past and can unite people around a common goal. 
Smart, with clarity of thought: individuals with problem-solving skills to tackle the macro and the micro. They can develop and communicate complex ideas to a range of stakeholders. 
Technical knowledge, and applicability or commerciality: EF looks for technical knowledge from potential future chief technology officers (CTOs) and specifically, individuals with the ability to apply this knowledge to solve problems, or "applicability". And with CEO candidates, EF looks for an understanding of technology as it can be applied across industries and how that relates to the customer, or their "commerciality". 
Science-based/filter-oriented: Eka Ventures 
Eka Ventures research found that about 90% of unicorns are led by founders when they reach a $1bn+ valuation, which is why the firm's evaluation process focuses on understanding a founder's capacity and desire to sustain development over time. The main focus of Eka's founder diligence is pre-term sheet and involves the founder-CEO or multiple founders, says Camilla Dolan, a general partner at the firm.
The process has four stages, and it takes 90 minutes for a founder to complete their part of the evaluation. Eka can run the process in under a week. 
The evaluation begins with a structured founder interview, covering the candidate's experience to date, the non-professional experiences that shaped them and how they got to where they are.
We look for evidence of outlier achievement in any domain — sport, gaming, academics, career, etc — as an indicator of resilience, perseverance and an ability to develop

rapidly
The interview focuses on a founder's strengths and weaknesses, their approach to learning, their awareness of how they impact those around them and evidence of outlier achievement. 
"We look for evidence of outlier achievement, which can be in any domain — sport, gaming, academics, career, etc — as an indicator of resilience, perseverance and an ability to develop rapidly." 
Next is a psychometric evaluation, for which Eka currently uses tools provided by Korn Ferry. The last stages are three to six reference conversations with members of the existing team and previous colleagues, focused on the four traits with an NPS from the referee.
"We don't see past success as a predictor for future success," Dolan emphasises. "Our assessment is focused on trying to understand how fast someone can develop and adapt to different situations and levels of complexity." The firm is also bringing on a full-time hire with a background in psychology and research to develop the approach further. 
What's next for founder diligence 
The investors I chatted to here represent best-in-class in founder diligence. But there's still so much more the industry can do to push diligence forward. Several areas are crying out for improvement. 
The first is bias. Firms that use historical data for their frameworks risk repeating a relatively homogenous stereotype. This is especially dangerous when they use their framework to select founders. 
Unfortunately, that is exactly how "intuitive pattern recognition" works: a subconscious heuristic of past (perceived) successes informs the choices we make about the future. In an industry of primarily privileged white men, it perpetuates the stereotypical founder persona. That disadvantages founders from different backgrounds and ignores the incredible diversity of founders that are out there. 
Then there's the fact that founder evaluations often don't look at whether or not founders can build a great team. In her research of unicorn founders, Maddy Cross, former head of talent at Notion VC and now partner at Erevena, found the outlier founders hired 25-30 VP/C-suite executives in the first five years, most with annual salaries of more than $200,000. That's a lot of hiring. 
"If investors are looking too closely at the founder, they are missing out on the scalability of the founder," Cross says. "They might end up investing in a business with a founder who's great at the early stages, but who struggles to grow beyond that because without a great leadership team,  they have no leverage."
As the VC industry expands and professionalises, founder diligence will have to as well. 
Julius Bachmann is an executive coach based in Berlin focused on working with entrepreneurs. He is also cofounder of JRNY.