German dermatology telehealth startup Formel Skin has just raised €30m in Series A funding, as pandemic-fuelled interest in telemedicine continues and Germany flexes its muscles as a healthtech powerhouse. It's the largest series A round for a German healthtech to date, according to Crunchbase.
The Berlin-based startup is a digital platform for treating skin conditions such as acne, rosacea and melasma remotely. They offer patients digital support for treatments which are administered by in-house doctors.
Telemedicine startups have benefited from a surge in investment this year: increased adoption during the pandemic and more favourable regulatory conditions have convinced VCs of the huge potential of the sector.
In 2021, funding for telemedicine startups reached $1.4bn, double the amount invested in 2020, and a handful of companies raised mega rounds. Sweden's Kry, France's Alan and Portugal's Sword Health have all hit unicorn status this year.
Doctors [in Germany] ... get reimbursed around €12 per patient with a chronic skin condition. That's not very attractive from a financial

perspective
Germany, which boasts Europe's largest healthcare system, has started to emerge as a healthtech player on the back of the Digital Healthcare Act passed in 2019. The act allows doctors to prescribe digital health apps to patients, offer online video consultations and write eprescriptions — and be reimbursed for doing so. 
Formel Skin's Series A was led by Paris-based VC firm Singular and German healthtech investor Heal Capital, which earlier this year closed its €100m fund, with participation from previous investors Cherry Ventures, Heartcore Capital and Vorwerk Ventures.
A 'broken' experience
Patients with chronic skin conditions fail to get adequate treatment in the current system, says Dr Sarah Bechstein, Formel Skin's cofounder and medical director, who is a trained dermatologist.
"In Europe, there is a lack of dermatologists, so patients can wait an average of four to six months to get an appointment. And, if you do manage to get an appointment, the doctor usually spends two to five minutes with you," she told Sifted. 
Sifted Newsletters
Sifted Newsletter
3x a week
We tell you what's happening across startup Europe — and why it matters.
"They don't have any time to address your questions and you go home with medication that isn't personalised to your specific needs that you end up not using."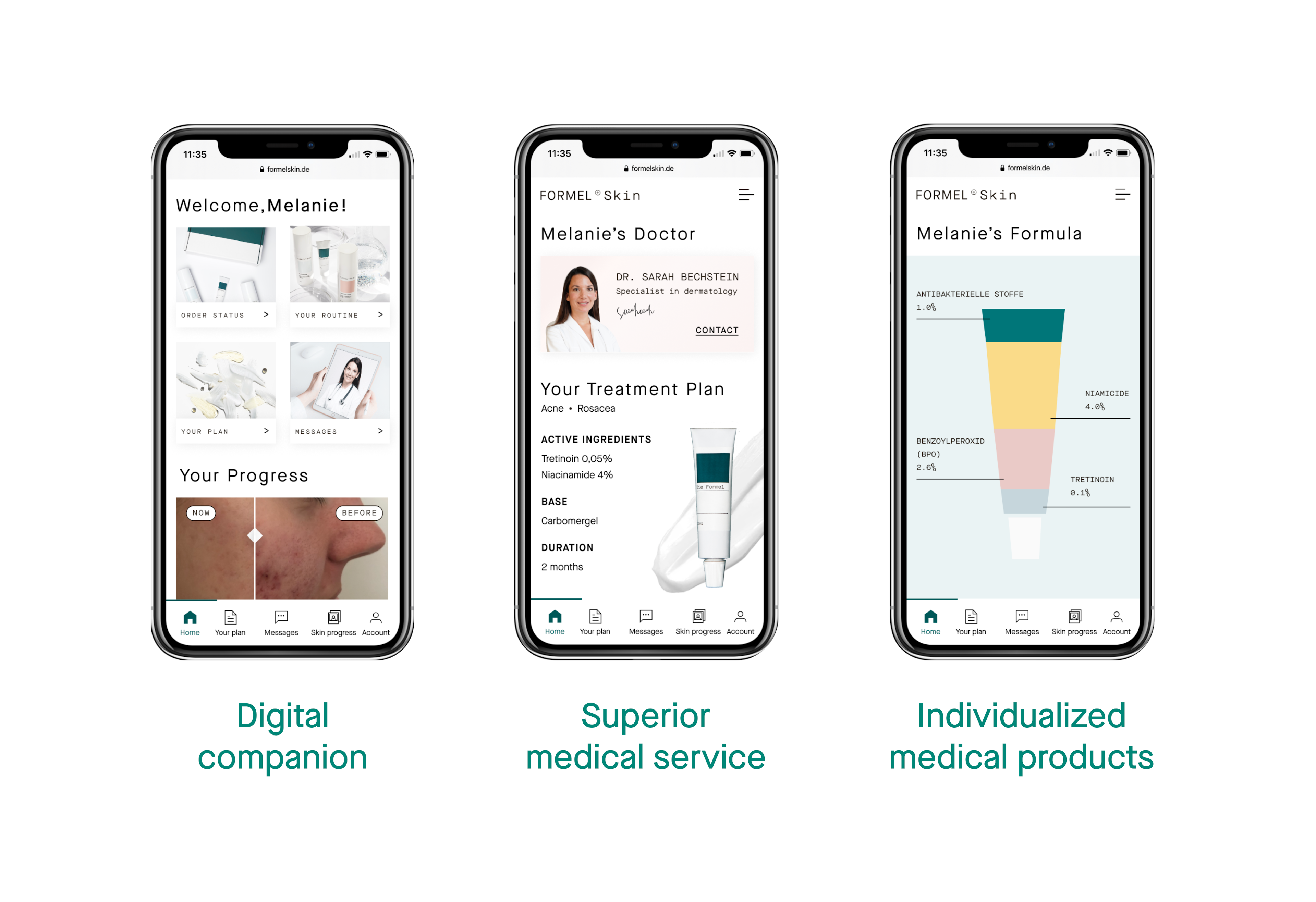 The other problem is an unfavourable reimbursement structure, which incentivises doctors to spend less time with patients with chronic skin conditions.
"The reason why doctors [in Germany] don't spend that much time with patients is that you get reimbursed around €12 per publicly insured patient with a chronic skin condition. That's not very attractive from a financial perspective," explains Bechstein, adding that many doctors tend to focus more on patients needing operations or aesthetic procedures as these are more lucrative.
Formel Skin says it improves the patient experience by making the customer journey — from booking an appointment to receiving treatment — more simple. Customers simply complete a questionnaire, submit three photos of their skin and Formel Skin's in-house dermatologists put together a personalised formulation that is sent out on a subscription basis for €49 a month. 
The doctor assigned to the patient stays with them throughout their treatment, giving regular check-ins and adjusting the medication depending on individual needs.
The experience of the platform is good from the doctor's side too, says Bechstein. The job is flexible as the doctors can work remotely — something that never happens when working in a hospital or practice — and they "enjoy working on something innovative".
New treatments, new geographies
Since the platform launched in June 2020, Formel Skin has delivered more than 150,000 treatments to patients in Germany and Switzerland.
With its new cash injection Formel Skin plans to expand into new geographies, which aren't limited to Europe, and offer treatments for other dermatological conditions. 
"We're aiming to build a [digital] dermatological hospital for chronic skin conditions; tackling one big, chronic skin condition after the other, building up deep expertise and defining the new gold standard of treatment for each of them," cofounder Florian Semler says. 
We're aiming to build a digital dermatological hospital for chronic skin

conditions
Anton Kononov, the third cofounder of Formel Skin, says that there is "research value" in what they're doing too. Through seeing patients, the company is able to collect and aggregate data which can be used to "make better medical decisions that lead to better treatment outcomes" for individuals. 
These include how to adjust dosages, change the profile of ingredients in medication and analyse how seasonal or behavioural changes can lead to skin flare-ups. 
Bechstein adds that this level of data aggregation is not usually possible in hospitals as there's "simply not the time".
Since it was founded in December 2019, Formel Skin has raised more than €36m and has achieved 7x growth year-on-year — making it one of the fastest-growing healthtech companies in Europe.