Kjell Clarysse has just returned from Brazil. His souvenir? Not a football jersey or some Brazilian coffee, but a 70k hectare chunk of the Amazon rainforest.
The forest will form the basis of his new startup, very simply named Forestbase. The plan: split the forest into hectares and then bring those hectares to the market so investors can trade chunks of the forest. If the trees are worth something on a market, people will be more incentivised to save them, the thinking goes. 
The climate crisis has sparked a surge in interest in sustainable assets — whether that's windfarms or ESG bonds. Investors poured $143bn into ESG funds in the last quarter of 2021, up 12% of the previous quarter. 
But a lot of these investments aren't about protecting natural resources as they are today — most ESG investments are about mitigating and starving off the future effects of climate change. Forestbase, in contrast, wants to put an inherent value on nature as it stands today. 
Putting a market value on trees
"Deforestation is a financial problem," Clarysse says. "Nobody hates nature, yet it disappears at a very fast rate. So I wondered what's driving that? Nature disappears because there is a business case for it to disappear, and that business case only works because nature is priced very low."
Some of the existing models are already trading trees in a roundabout way. There are nature-based carbon offsets, where the carbon sequestration potential of trees is traded. Long-term investors, often pension funds, sometimes invest in forestry assets too, though the investment usually hinges on the value of the timber produced. 
The UK's Pension Protection Fund and Dutch asset manager APG, for example, own a controlling share of a forest in New Zealand, managed by timber producer Wenita Forest — and the UK's Church of England owns a forestry portfolio worth £456m, which is felled for timber. 
As yet, no one's tried to put trees themselves onto a market exchange. So that's what Clarysse wants to do: to turn the tree itself into a tradable security.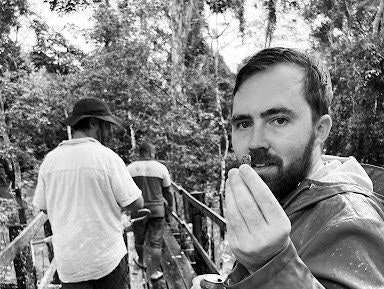 Clarysse brought in funding from his network to acquire Forestbase's first patch of land — though he won't disclose how much it cost. Acquiring primary forest is really difficult: Forestbase has a team of 11 people, and it took them seven months to find the right patch. 
It's one of the reasons forests haven't become a tradeable commodity sooner, Clarysse says — land registries are often not properly kept and sometimes there's a lot of work needed to find out who the owners of each part are. 
"The fact that it's typically in an unstable legal context means that it is priced super low," says Clarysse. "Forestbase is about derisking the ownership, because once you acquire a big forest, it's also really difficult to sell it again. So we buy the very big, high-risk asset and turn it into fractionalised assets, which are low risk and easily tradable.
"It will start in the professional financial markets, and we will reach everyone a few years from now." He predicts that the first wave of investors will be those used to holding long-term assets, but if it reaches the retail investor market, people will start to trade the hectares more frequently. 
Ecotree and nature-based coins
Although Forestbase is the first to form a market price point for trees themselves, it's not the only startup working on them.
There are those like Estonian company Single Earth, where users can buy coins from landowners equivalent to 100kg of CO2 captured in biodiverse nature on their property and then use the coins on a payment card. 
There's also EcoTree, headquartered in France, which sells the ownership of individual trees — costing an average of €18 euros.
In EcoTree's model, when the trees reach maturity, some of them are cut and felled for timber. It's a long-term investment — some trees are cut after 25 years, some as long as 90 years. 
The cheapest tree EcoTree sells is €15, and the company says the trees' value increases by 2% each year. That compares to 10-year average returns on stocks of just over 9%. 

"We never do a total cut of the forests because that sort of environmental impact is a disaster, but we do selective cuts, which are planned ahead," explains Thomas Canguilhem, cofounder of EcoTree. 
"Whenever your trees are part of ones selected for harvesting, you as the owner will get 100% of the revenue from the timber."
EcoTree's customer base is a mixture of individuals and companies. It currently has 1,500 businesses who have bought trees, from small companies up to multinationals. The company planted over a million trees in the last year. 
EcoTree has forests in France and Denmark, and it's about to start another in the UK. "If you look at the UK or Denmark, they're massively deforested. Sometimes we should remind ourselves, when we criticise other countries for deforestation, that we have also deforested our landscapes massively," says Canguilhem.
Local communities
Where companies choose to acquire their forests can be a contentious topic — particularly in places where communities have lived on the land for generations. 
Clarysse says the Forestbase model can increase the land value of forests owned by local people by pushing up the price point of all forests, not just the ones owned by the startup.
"Uganda is a very interesting example. There, more than 80% of all rural land is still in the hands of families. A lot of families own just a few tens or hundreds of hectares. In the current setup, land rights are legally not very stable, which means they're not very highly valued assets," he says. 
If the market is allowed to set the price point per hectare, all landowners will be able to recalculate the value of their land, it will become a hard asset.
"The same could be true on a national level," Clarysse says. "So many countries have so much nature, but in the accounting books of the country it's value is low. If that could be re-valued at a higher price point, the whole country gets financially much stronger on the international stage."