Volocopter announced today that Dirk Hoke, former CEO of Airbus Space and Defence, is to become its next CEO, a hiring coup for the German flying taxi company as it battles for regulatory approval and acceptance by the general public.
It comes just days after Volocopter — which is planning to start offering flying taxi services in its multirotor electric aircraft during the 2024 Paris Olympics — raised a $170m Series E round. Hoke will take over from Florian Reuter in September.
Volocopter is the latest flying taxi company to reach a $1bn+ unicorn valuation (its post-money valuation following the funding round is $1.87bn) and the hiring of a CEO with a serious aerospace pedigree is a sign that the company wants to burnish its credentials as it gets closer to launching services.
"No company is closer to making this most innovative form of mobility a reality in cities around the world than Volocopter," said Hoke, who has been involved with Airbus's urban aviation projects since 2016. "My experience from Airbus and Siemens will help us monetise on the leading market position Volocopter has achieved under Florian's leadership."
Volocopter is seen as the closest to being able to actually deliver services compared with rivals such as Germany's Lilium and US-based Joby Aviation.
"I am really proud of the fact that someone like Dirk has accepted the position of CEO. It is testimony to the work we have done with the company over the last few years," Reuter told Sifted.
Reuter has taken Volocopter from a five-person startup to a 500-person company over the last seven years, attracting investors such as carmakers Geely and Daimler.
Certification — always two years away?
No urban vertical takeoff aircraft have yet been certified to fly passengers and it is unclear when such approval is coming.
Volocopter's plan is to have services ready for the Paris Olympics in two years' time, but estimates for when aviation regulators might issue certification don't seem to be getting closer. In 2021 Reuter told Techcrunch that he was expecting certification in two years, and now he tells Sifted that "certification should be feasible in two to two and a half years".
Volocopter is ahead of other flying taxi companies in that it has Design Organisation Approval (DOA) from the European Union Aviation Safety Agency (EASA), but a full "type certification" signifying airworthiness is what will be needed before it can offer commercial flights.
Is simple rotor design a winner?
Founded in Bruchsal in southern Germany 11 years ago, Volocopter has focused mainly on building multirotor electric aircraft, which look like a giant version of toy drones. They don't have a very long range; Volocopter's first aircraft type, VoloCity, can fly just 35km on one battery charge and can only take one passenger in addition to the pilot. They are likely to be used for short, intra-city flights like taking passengers from an airport to a city centre.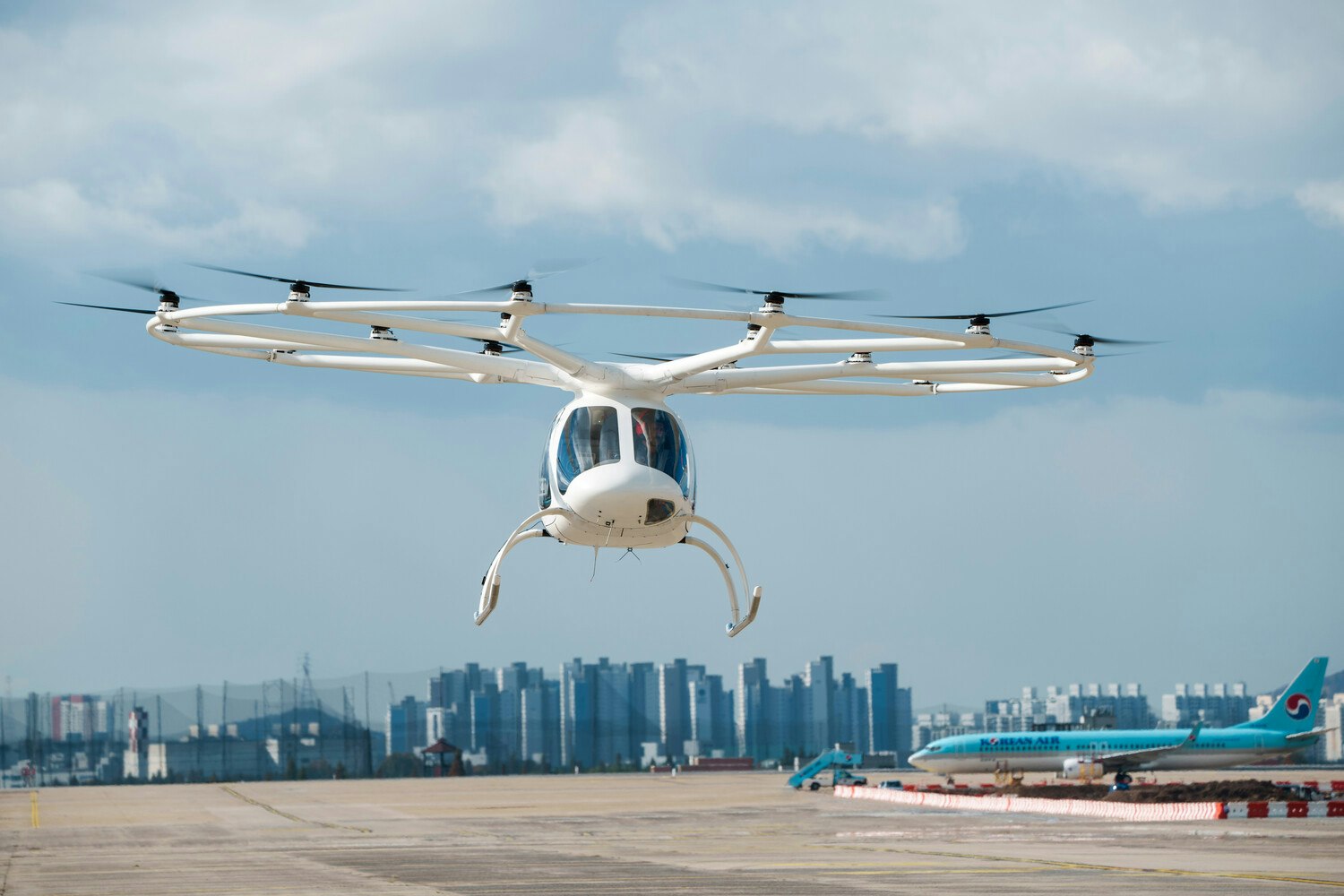 Competitors in the flying taxi industry, such as Lilium and Joby, have focused on aircraft with a longer range — closer to 300km — using wings to allow them to fly using less power. But this design has faced challenges in the transition from vertical take-off to horizontal cruising.
Volocopter's simple design has put it closer to making its services a reality; it has flown more than a thousand public and private test flights to date in cities like Singapore, Stuttgart and Seoul.
The company is also working on a longer-range aircraft design that could carry more passengers and have a range of around 100km.
Staying away from Spacs
Volocopter has opted for private funding rounds, despite rivals Lilium and Joby Aviation going public via mergers with Spac (special purpose acquisition) companies. These listings haven't fared well. US-based Joby is now trading at less than half its valuation when it was first listed on the New York Stock Exchange. Meanwhile, Lilium is trading at less than a third of its listing price.
"I would not have joined if Volocopter had gone down the Spac route," Hoke told Sifted. "The reputations of a lot of recent Spacs have not gone in a good direction and a lot of people who have invested in them are likely to be disappointed."