Europe is home to more than 120 startup unicorns — and a new Sifted report profiles 100 companies which could soon join them. 
But with the current macroeconomic environment providing challenges for startups looking to fundraise, what can founders do to increase their chances of earning a spot in the unicorn stable? 
In our recent Sifted Talks, our panel shared their strategies for founders looking to join the elusive unicorn club. Our experts were: 
Stefano Vaccino, founder and CEO of Yapily, which provides open banking infrastructure that allows users to share bank data directly with other parties.
Jenny von Podewils, co-CEO and cofounder of Leapsome, a performance management tool which helps leaders manage their teams. 
Andreas Weiskam, partner and cofounder of Sapphire Ventures, a global VC firm headquartered in California.  
Here's what we learned.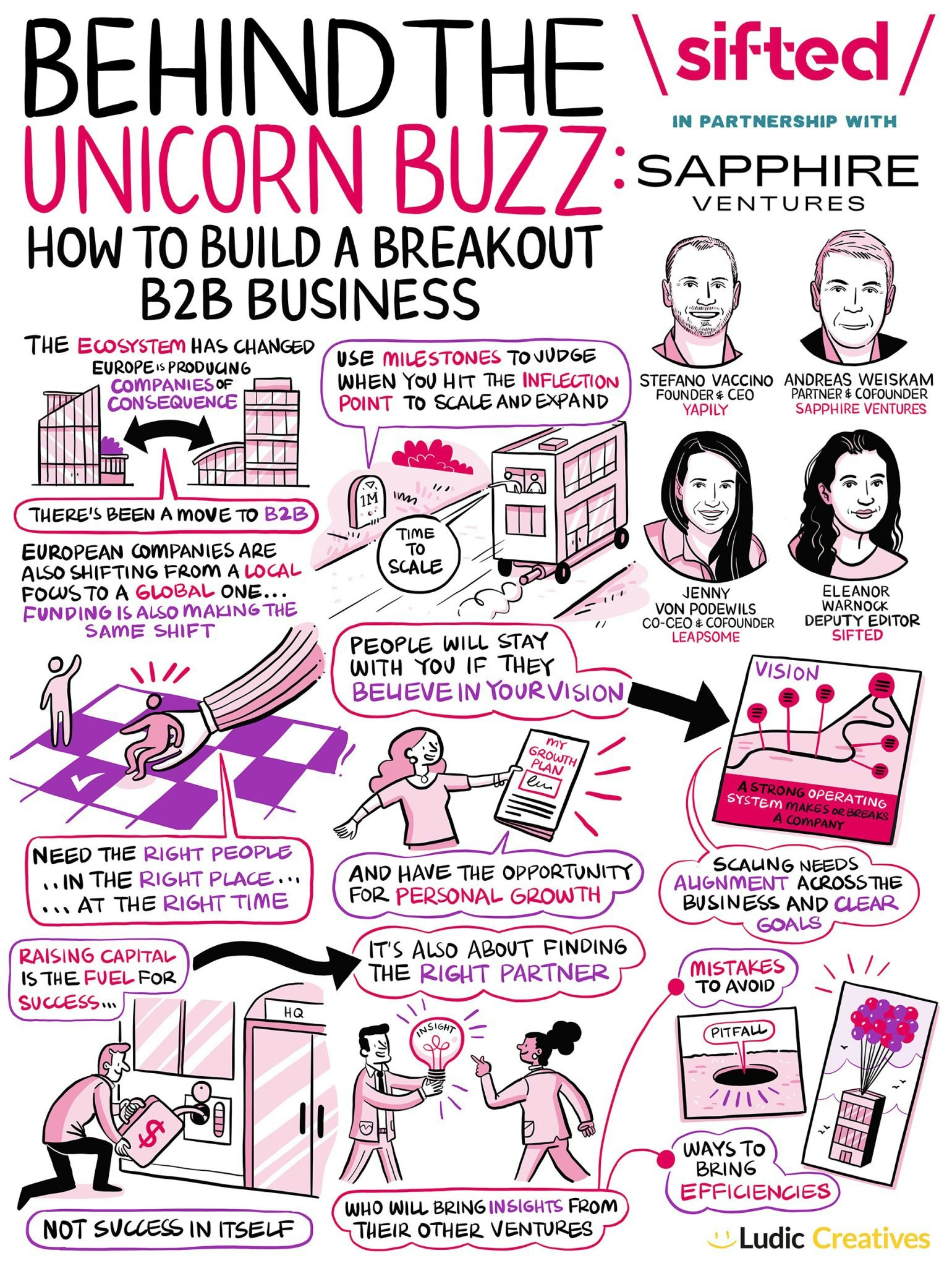 1/ Work with what you have 
While some startups seem to sail through funding rounds and end up with far more investment than they asked for, others go to market on a shoestring budget. 
Weiskam said that some people had become obsessed with mega funding rounds and enormous valuations. This gave startups more money than they needed and tricked founders into thinking they would always be able to grow. He added that in the current economic climate, founders were having to become more efficient, rather than rely on funding streams. 
While Leapsome launched in 2016, the founders waited until 2022 to raise $60m in their Series A round. Von Podewils said she planned to fundraise earlier, but bootstrapping in the early days was a benefit as it forced the team to focus on what worked. 
What we like to tell companies is take as much money as you need to grow efficiently… we want [you] to grow, we want to risk things, we want to try out things, we want to do something new to disrupt markets and become new category leaders" — Andreas Weiskam, Sapphire

Ventures
2/ Find the right people 
As a startup starts to scale, more people are needed to grow the company. But how should founders find people who will stay with them for the long haul and see them into unicorn status? 
Vaccino said that people would stay in a company if they believed in its mission. To bring out the best in people, founders should have a clear plan for each individual and allow them to grow. 
Von Podewils also said a company needs to have a clear mission, as well as a strong operational system that ensures success. She said founders should give their employees regular feedback, clear goals and the right tools to progress. 
Make sure a company enables people to succeed... It often doesn't get the strategic attention it needs, but ultimately it makes a good company into a great company" — Jenny von Podewils,

Leapsome
3/ Break into new markets 
For startups looking to grow big, breaking into new markets should be top of the to-do list. 
Weiskam said the US is the most attractive market for European startups, as there is just one language in a vast geographical space. He added that companies in the US were early adopters. Companies of all sizes are more willing to try out new technology and many B2B startups find a good market across the pond. 
However, Vaccino said that startups should go where their customers go and grow together in the new location. Having existing customers in new markets will make expansion less risky, he said. 
For example, Leapsome were looking to expand into the US in the first quarter of 2020. But when Covid hit, von Podewils and her cofounder built the first sales teams out of Europe. It now accounts for around 20% of their business and they are setting up physical offices in the region. 
Making sure you bring the culture across the pond is fundamental to attracting the right type of people and making sure that you have the continuity of offering that you have in Europe — the same quality, the same type of services" — Stefano Vaccino,

Yapily

4/ Find the right support 
Founders looking to scale should bring investors on board who can offer them more than just capital. 
Vaccino said that the needs of a company change over time and he's learned different things from different investors. Ideally, founders should look for a VC with between 100-200 portfolio companies and who are willing to share their knowledge so mistakes can be avoided. 
Weiskam said that VCs could help with talent acquisition and business development. The more metrics and KPIs a startup has, the easier it is for an investor to spot problems and suggest areas to improve, he added. 
We are never experts on a particular space or a particular product, but we see a lot of different things across a lot of different companies and  compare things" —

Weiskam
5/ Lead by example 
The panel rounded off the talk by discussing how founders have to change as the company scales. 
Weiskam said the founder's role would change significantly over time and they would develop into that role. However, sometimes a founder should question whether they were the right person to lead the company or would be a better fit elsewhere. 
Von Podewils said that learning new things is what motivates her and is key to personal growth. She added that founders shouldn't be afraid to let go of things and step out of the company for a few months at a time. 
It's not about me, it's not about my ego, it's about what is best for the company and what will maximise the chances of us being a consequential business. I might be the right person to bring the company from 0 to 1,000 and maybe I'm not the right person to bring it from 1,000 to 5,000" —

Vaccino
Like this and want more? Watch the full Sifted Talks here: