Do you have a pitch to tear down the entire edifice of money and rebuild it, bit by bit, on the blockchain? You might want to hold on to that one for a while because investors have turned their eyes to more down-to-earth ideas.
High inflation, rising interest rates and devaluations mean that practical-sounding tools — rather than experimental fields like crypto — are at the front of the VC queue in 2023. Tech geared towards the back office is having a moment. 
B2B is the place to be
"Consumer fintech has had a massive decline — B2B [business-to-business] is the place to be," says Daniel Yubi, CEO and cofounder of Payable, which is making software to improve finance operations. 
Looking at business models, it is indeed B2B software companies that have attracted most of the fintech funding this year: 53% of all deals — the segment's highest share ever, according to Dealroom.
While fintech has advanced quickly, we are amazed that small business owners still struggle with the basics in financial

management
As costs skyrocket, businesses must look to drive internal efficiencies to protect their margins, so it stands to reason that tools to help finance and operation teams are getting fresh attention. "We've seen a lot of tools for the CFO [chief financial officer]," says D'Arcy Jade Whelan, head of platform at Outward VC, a London-based investor.
Many of the people building these products are the former employees of rapid-growth fintechs, according to Zeynep Yavuz, partner at General Catalyst, a VC firm (also in London) that's backed big tech companies like Stripe and Airbnb. "They saw their companies' infrastructure and tools break constantly when they were growing super fast — so they know first hand what the market needs," she explains. 
Recent newcomers include Pivot, a startup focused on helping companies handle procurement expenses, cofounded by a pair of French tech operators, and Berlin-based Payrails, an "all-in-one" spending tool for the CFO, cofounded by three ex-Delivery Hero workers.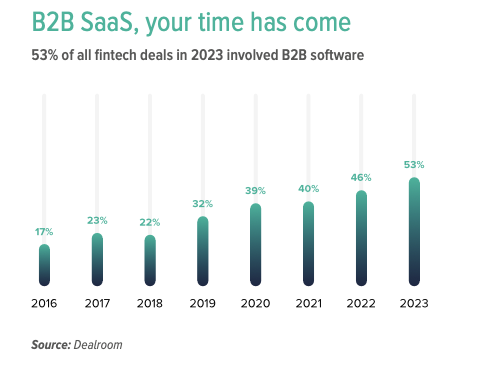 Another new entrant is UK-based Mimo. In July 2023, Capchase ex-general manager Henrik Grim announced that he and a group of other European startup veterans were building a company focused on automating business payments and cashflow. "While fintech has advanced quickly, we are amazed that small business owners still struggle with the basics in financial management," said Grim, announcing his new company on LinkedIn. 
"Managing money in, money out and the resulting cash flow is complex. The process is fragmented across banks, accounting platforms, FX brokers, accountants, lenders and more. At best, this complexity is an annoyance. At worst, it kills your company," he adds.
With European tech investment falling to its lowest level in six years and layoffs running into the tens of thousands, startups are fighting for survival. As a result, we see more fintechs than ever vying to firm up the CFO's hand on the tiller by automating mundane tasks and providing alternatives to old, legacy software.  
Snazzy finance tools
Many activities once requiring a human hand, from invoice-matching to automated reports, can now be done via automation. Fintechs are coming with nifty software to upgrade a number of systems in the CFO stack — from B2B payments and payroll to strategic planning — which aren't quite cutting the mustard. 
When considering the CFO tech stack, it's helpful to first understand some of the obstacles holding CFOs back: incomplete or inaccurate data, siloed teams that aren't working together and technology that isn't fit for

purpose
Finance teams are increasingly playing a cross-functional role within companies, so new products are made to cater to a range of departments including HR, legal, procurement, the go-to market team, and product and engineering. 
"When considering the CFO tech stack, it's helpful to first understand some of the obstacles holding CFOs back: incomplete or inaccurate data, siloed teams that aren't working together and technology that isn't fit for purpose, such as spreadsheets and complex systems," says Eléonore Crespo, co-CEO of Paris-based Pigment, an "all-in-one" business planning platform for finance and revenue teams. In May 2023, Pigment snapped up an $88m Series C to speed up automation on its platform, and in June, it topped Sifted's ranking of 100 SaaS soonicorns.
London-based Payable, meanwhile, raised $6.1m in autumn 2022 to create an automated payments product so companies could stop using EBICs, bank files and spreadsheets to move and reconcile money.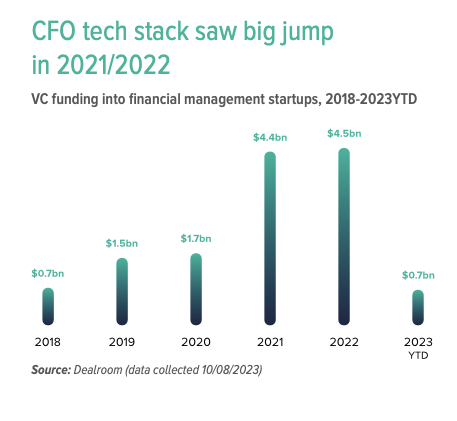 "We're growing because we know companies want to scale without hiring more people — so they need new technology," says Yubi, Payable's cofounder and CEO. "I was looking at the typical CFO software and thought: why are they settling for a clunky UI [user interface] for bank payments? These people get out of work and have this amazing experience using apps like Monzo, but they return to work and waste their time with spreadsheets."
Problems with payroll 
Payroll is another area being addressed by fintechs. Finance teams need to navigate taxes, exchange rates and how people actually want to be paid. Yes, sometimes it's in crypto. Companies like Israel's Papaya Global are automating payroll systems, promising more accurate, secure and efficient payments that also meet compliance requirements, which can be tricky to navigate but come with penalties if not taken seriously. 
Some startups are also targeting particular sectors or employee types. Germany's Kadmos has created tech to help migrant workers get paid, while alleviating many of the costs and administrative burdens for employers. The company helps 20 shipping companies pay over 2,000 employees.
Neither of the two founders have shipping backgrounds. "The idea came from a family member," says Sasha Makarovych, one cofounder. "I am Ukrainian, and the south is big on shipping, so many of my family are seafarers.
"One day I got a call from a relative, who's working as a chief officer on a Greek ship, and he told me how the crew was getting paid: via SWIFT transfers every month — and some workers need you to also transfer money to partners and children — or they would get cash, which is very annoying to procure and reconcile."
The industry's pain points were immediately clear. "Shipping is very old school, very relationship-heavy; it's a difficult business — one that's yearning for innovation," Makarovych says. Kadmos offers a mobile app and e-wallet that holds workers' salaries in US dollars or euros, while also allowing them to send money home instantly, with predictable fees. 
Could tech eliminate the CFO altogether?   
Payable's Yubi sees a generational shift that's creating demand for better systems. "There's this collision, with younger people — who are used to dealing with neobanks or other cool fintechs in their everyday — now becoming CFOs and realising the back office could do with a spring clean."
Pigment and London-based Causal are building on existing spreadsheets or seeking to replace them entirely. The main selling point here? Cleaner user interfaces and modular capabilities that enable users without finance backgrounds to make informed decisions. 
Of course, this also poses the question: by providing an all-in-one solution, do some tools eliminate the need for small business owners to hire a dedicated CFO?
Swiss startup Numarics might think so: it raised a €10.2m seed round for its digital CFO tech for SMEs in July 2023.  
For a deep-dive on European fintech in 2023, download the latest Sifted report sponsored by Papaya Global here