Gone are the days when whipping an Amex out of your wallet was a status symbol and racking up air miles seemed cool.
It's time for a new kind of credit card loyalty programme, and three alumni from credit score startup Clearscore think they have the answer.
Their new credit card startup, Yonder, is emerging from stealth today.
It's targeting professional millennials (can't you tell from that familiar pink hue in the marketing photos?) and it's even won backing from Rio Ferdinand — making it the third European fintech the retired footballer has backed after Sorare and Sokin. 
Yonder's launch is the result of a £20m seed round that was co-led by Northzone and LocalGlobe, with participation from Seedcamp, and a roster of angels that includes The Stack World and Beautystack founder Sharmadean Reid, Marshmallow founders Oliver and Alex Kent-Braham, Payhawk founder Hristo Borisov and Matt Robinson.

Ripe for change 
"If you look at credit cards today, by and large they don't look that different to 60/70 years ago," Tim Chong, CEO and one of Yonder's three cofounders, tells Sifted.
"They're all either doing cashback or Avios points, which stem from partnerships with American Airlines six decades ago. 
"Credit hasn't been modernised to what we want as younger consumers and what fits our lifestyle and needs." 
Cue Yonder's "experience-focused" rewards system, which is designed to "help people become a tourist in their own city," Chong says.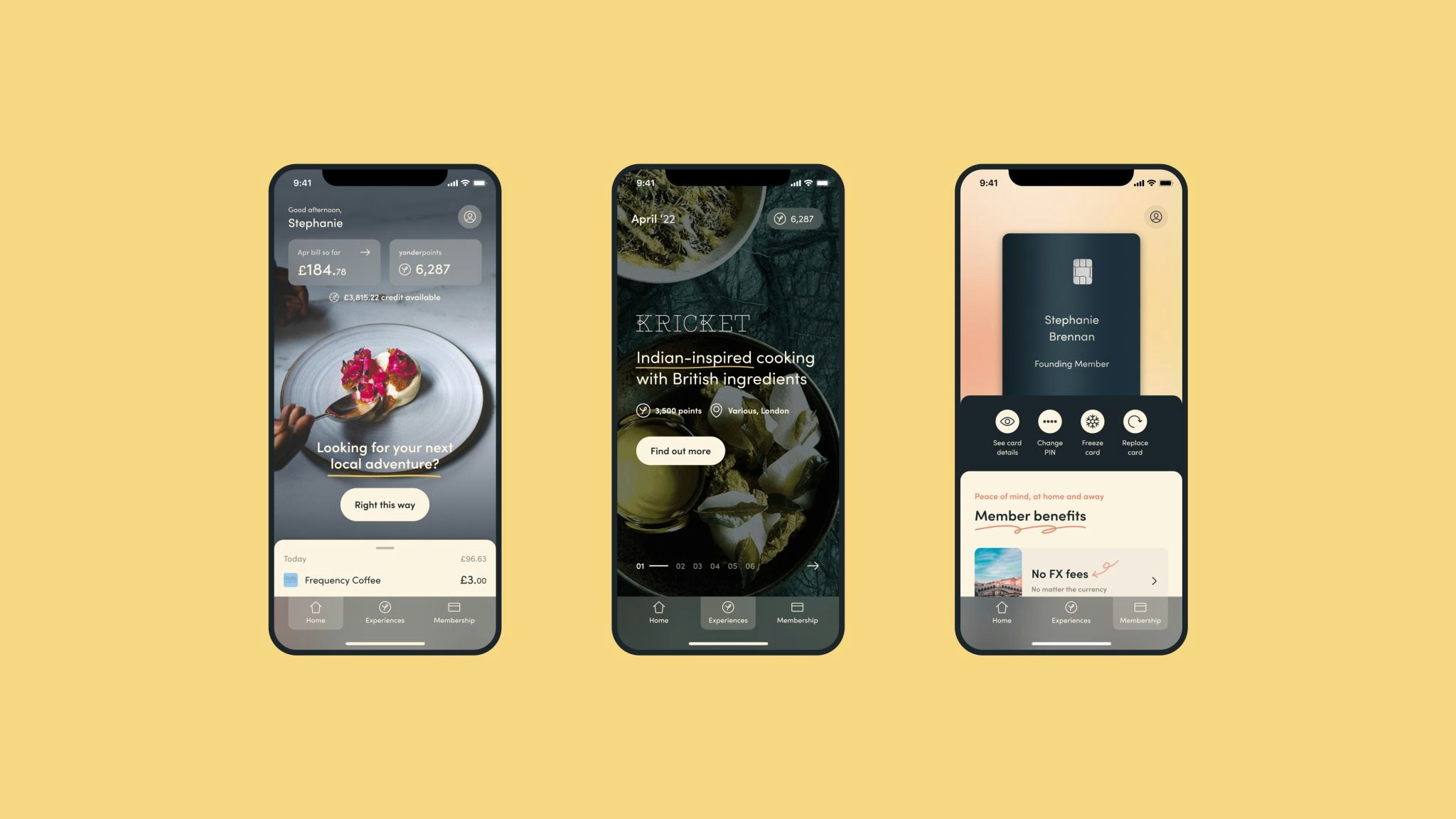 Yonder curates experiences and provides content on its app that it hopes will help expats in a similar situation to that in which Chong found himself when he moved from Australia to London four years ago. 
"If you've ever moved country, you'll know it's really hard to discover what's actually good to do — if you Google it you get saturated with hundreds of ideas," he says.
Yonder's experience partners list is currently pretty short at 20, including rewards like a free dinner for two at London restaurants Kricket and Lina stores, or free tickets to Sofar Sounds events. 
It expects to roll out more than 50 partnerships over the full course of 2022, but there will only ever be six to eight experiences live in the app at a given time — to avoid that "choice paralysis".
Credit's answer to Soho House

"We want the app to be a really high quality product that you go to for this intel as well as using your card," Chong says. 
So, it's the Soho House of credit cards? "Yes, kind of," says Chong. "But hopefully not as exclusive — our ethos is that we want to make this accessible for all."
Still, it "unapologetically" charges a membership fee of £15 per month for the privilege.  
To start with, only Londoners will be allowed in the Yonder club, but the company intends to expand to other UK cities shortly, and then to all major cities in Europe after that. 
"Anywhere that people are moving as expats for work, and want to explore what there is to do," Chong says. 
Yonder is in discussions with the UK's financial regulator about launching a travel insurance product, and it may apply for a banking licence further down the line. 
"You need a better way to spend, to buy, to save, to invest and to protect," Chong says.
"We want to address all those parts of a consumer's financial life, but our starting point is a member relationship, rather than a banking relationship."  
Plugging the credit rating gap
It isn't just young professionals that Yonder is targeting. The team really has its eye on the five million "credit invisible" people in the UK — mainly expats like Chong — who have moved to the country and struggled to get a credit card without a local credit rating. 
Yonder, which is authorised by the Financial Conduct Authority, doesn't require a credit score, though it will run soft checks on customers that do have one in the UK.
Instead, it uses open banking to evaluate credit suitability and spending habits based on transaction data.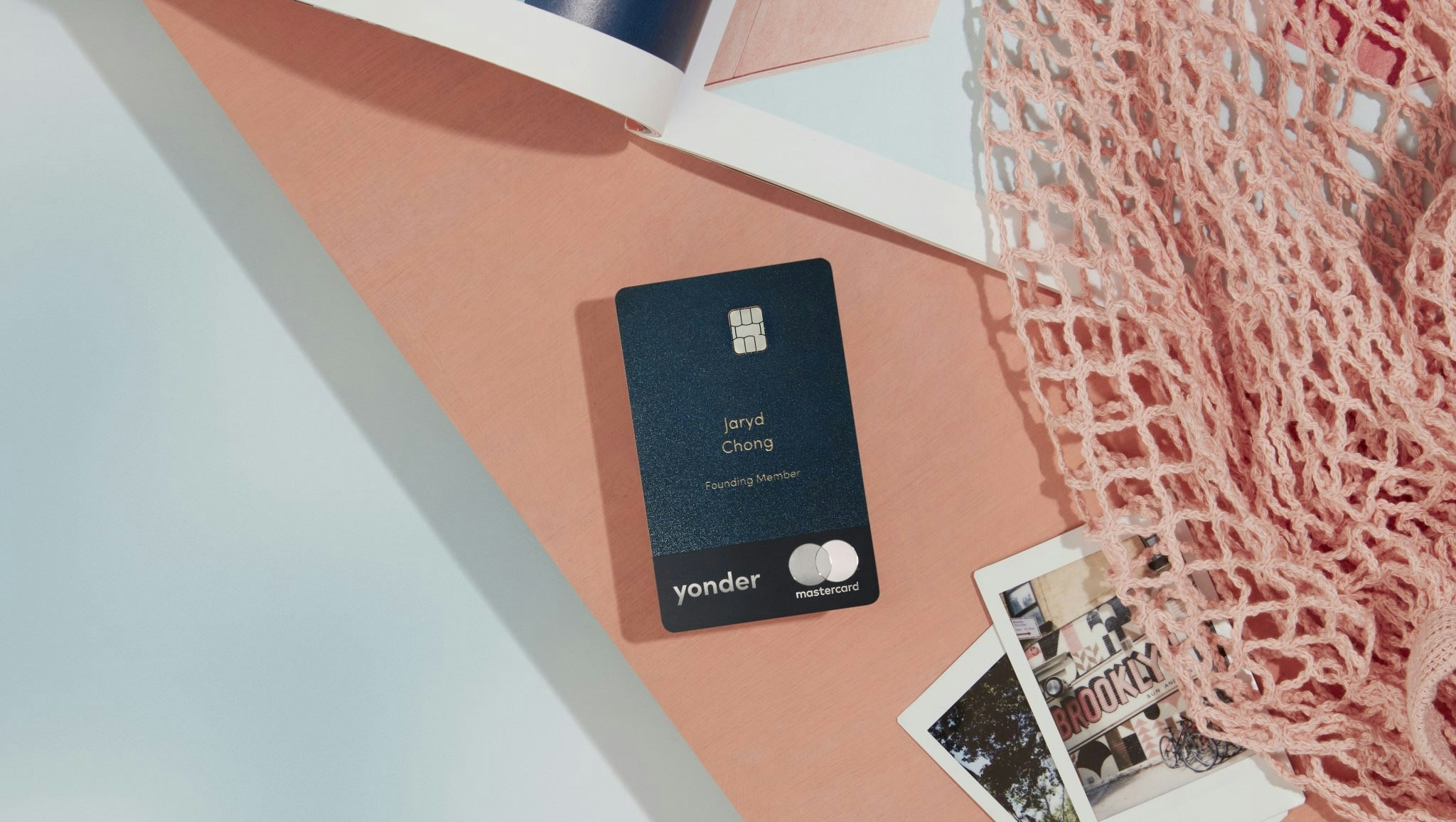 Enticing the millennials 

Yonder's representative APR (variable) stands at 59.3%. This includes all the fixed fees like membership, while its actual cost of borrowing is 23.94%. 
By comparison, Amex's actual cost of borrowing is 24.7%, and the APR variable of its Preferred Rewards Gold Credit Card, for example, stands at 60.1%. 
But despite its personalised metal card and promise of content curation, Yonder might have a tough job convincing customers to get a credit card in the first place. 
There's a growing collection of research that suggests young millennials and Gen Zers are particularly averse to credit. According to YouGov, of the 13m millennials living in the UK, barely half own a credit card. And 93% of those without say they don't even want one. 
At the same time, this age group's adoption of buy now, pay later (BNPL) payment services — themselves a credit product — has seen unprecedented growth in the last couple of years. 
In the UK, Yonder's initial market, 42% of 16-to-24 year-olds used BNPL services last year, predominantly for fashion and tech purchases. 
Yet after waging a marketing war on traditional credit products, BNPLs like Klarna and Clearpay have recently faced several hand slaps from regulators and been ordered to make their wording around the fact that they are a credit product clearer to consumers.

Chong says Yonder will be different: "Credit used poorly can be a massive source of stress for people. So we want to help customers use it well, with educative and clear language in-app."
When the time approaches to pay off a credit bill, a pop-up will appear in the app that explains to the customer that they'll pay no interest if they pay the full amount. It will also calculate and tell them how much interest they'll pay if they only pay half off that month.
If the customer only makes the minimum after a couple of months, another pop-up will tell them, "Hey — this isn't how you should be using this product. Here's how."
And if you get declined when you apply for Yonder it'll try, at least, to soften the blow. 
"How you get declined matters to us as much as approval, because it can actually be a really harsh attack on your personal finances," Chong says.
"So in this case our messaging will be — 'it's not you, it's us. We're just not ready for you yet'. We need to do a better job in the industry of making credit clear and simple for consumers to understand."
Amy O'Brien is Sifted's fintech reporter. She tweets from @Amy_EOBrien