Digital banking apps may offer quicker, smoother user-experiences than traditional banks, but so far, it's proven tricky to monetise.
That's left fintechs like Starling, Revolut and N26 searching for new ways to turn their millions of users into revenue, and eventually, profit. 
One solution has been to launch premium, pay-to-use services that go beyond ordinary banking.
London-based bank Monzo is the latest neobank to try its hand at a premium product, (re)launching Monzo Plus last week — a service centred around aggregating various bank accounts for £5 a month.
"We thought really hard about why people love Monzo…[and] people value the control over their money it gives...Knowing that, we felt the best thing we could do was double down," Mike Hudack, Monzo's chief product officer, told Sifted in an interview, explaining that the core benefit it offers premium users is greater control and visibility over their money.
Nonetheless, if the competition is anything to go by, Monzo could have a tough time getting people to sign up to its premium product — with most UK retail customers proving reluctant to pay for fintech apps.
Only about 5% of Revolut's total customer-base pay a monthly fee for its pay-to-use products, according to analysts at Global Web Index.
Meanwhile, sources close to Curve have confirmed that only a fragment of its users pay for a Premium card — which focuses on travel perks — while a former employee at Tandem said introducing a credit card fee "fell flat on its face."
Back in February when German fintech N26 pulled out of the UK market, one executive at the company told Sifted they had been struggling to gain traction for the Premium offering and that it had been "harder than expected to monetise." The UK market proved much less welcoming of costly add-on services than its native Germany, it seems.
Sifted Newsletters
Fintech
Every Tuesday
From banks to bitcoin, get all the gossip and analysis in your inbox.
One exception to this trend is Monese, whose chief executive told Sifted earlier this year that 46% of its active UK-based customers paid for its premium offering; lured by Avios points among other perks. 
However, the majority of Monese's UK users are foreigners and expats attracted by the banking-lite offering, meaning they don't quite represent the "mass market" being targeted by the likes of Monzo.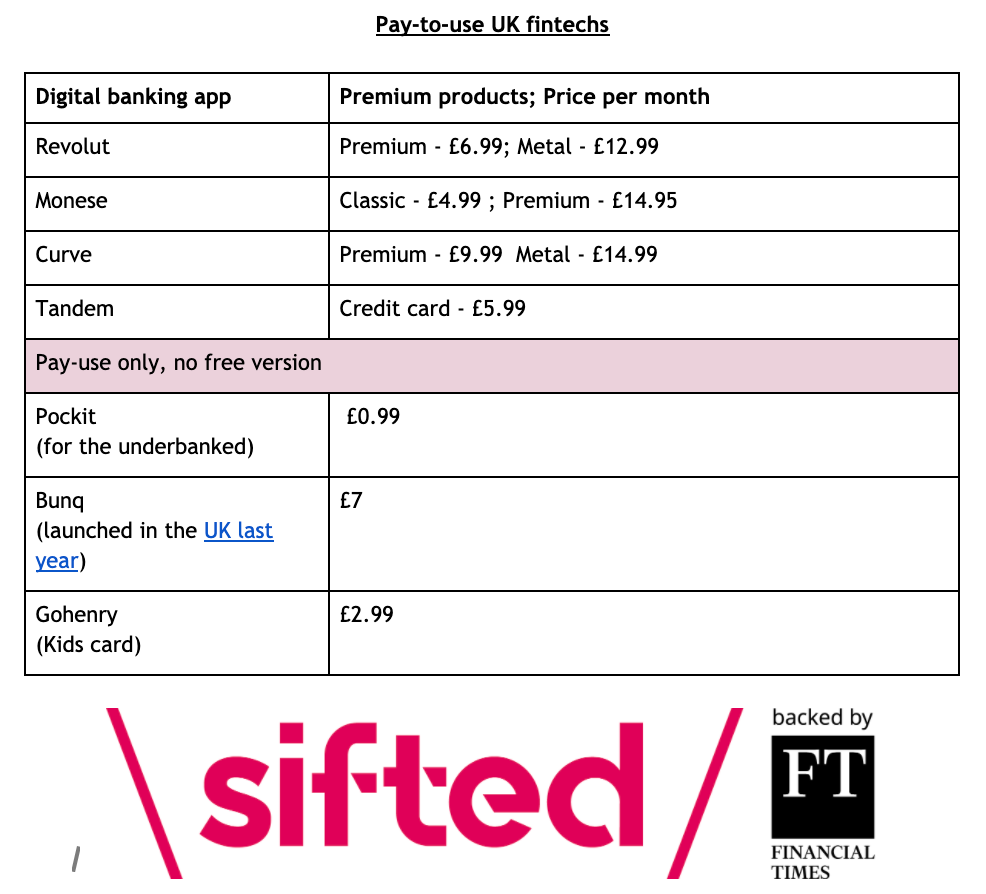 The fact some of these apps have managed to get hundreds of thousands of paying premium users is not to be sniffed at. But the modest uptake does put into doubt whether paid products at a low price-point, without mass appeal, offer a serious path to profitability.
Who might pay for Monzo?
The question now is whether Monzo can do better than most premium services, and if Monzo Plus can become a meaningful profit centre for the bank.
At first glance, fintech commentators aren't overly optimistic. They caution that Monzo Plus and its focus on Google Sheets and better spending categorisation could have narrow appeal — luring in only loyal supporters and a niche pool of prudent spenders.
"It attracts the 1% of users; those absolutely in love with the brand," said one former digital bank executive. "And it's trying to solve a problem that doesn't exist [for most people]. I don't need Monzo to tell me about my salary and direct debits."
The exec also estimated that Monzo would only make a profit of up to 50% on the £60 annual fee, when accounting for the costs involved like card-production, card-shipping, interest fees and overseas withdrawals. 
"That's fine, but it's not great. It should be like 80% for digital products." 
Monzo Plus also faces competition from free account aggregators like Yolt, Lumio or Money Dashboard, creating a stiff challenge according to Paul Clark — former CTO at Tandem.
"Charging money in a competitive market makes people move on to the next fintech promising the world," he said. 
Meanwhile, one former Barclays exec suggested Covid-19 might make Monzo's millennial userbase more reticent to pay, telling Sifted: "If [Monzo] can get away with £4.99 a month, even that would be a coup given the current economic climate and also, their client base."
Nonetheless, in an interview with Sifted, Monzo's Mike Hudack insisted the Premium software offering would have appeal among the "broad middle" of users, stretching far beyond just "1%" of users. To this point, he also argued that even people with just two different bank accounts would be drawn to the aggregation service.
"The number of accounts, I don't think, is an indicator of value," he said, noting that Monzo Plus was less clunky and more user-friendly than competitors.
However, Hudack failed to confirm whether user research had confirmed his theory, and if focus groups had seemed willing to pay for Monzo Plus.
Where next
While some question Monzo Plus' value for money, it's possible that its £60 per year offering is just the beginning of what it plans to give Premium users.
Shilpika Gautam, former head of sales at Deutsche Bank, said that Monzo should now go further with the data they'll access from Plus subscribers, who can plug in their full banking history.
"Digital banks [now] almost have to be a financial companion and advisor that actively works for my financial wellness, that is customised to me… like predicting I might need a loan or overdraft, preceding my needs before they occur," she told Sifted. 
She also suggested Monzo could get more creative on the perks it offers, by customising the benefits to the individual user based on their data.
"Give me discounts that are relevant to me and customised to me, and not something that's not useful to me."
In particular, these additions could ensure Monzo Plus helps subscribers save more than they spend on the subscription, rather than simply offering efficiency gains.
As a result, more young people might then be willing to pay for banking, Gautam noted.
Another Plus feature could include helping customers boost their credit score rather than simply checking it, mimicking fintechs like CashPlus — who charge £5.95 a month for their Creditbuilder product.
Meanwhile, on the business side, Monzo may take inspiration from Revolut by offering more lucrative add-ons within the Premium membership. Revolut's Premium model actually provides a funnel to cash-cows like trading; thereby indirectly contributing generously to its £58.2m in revenue in 2018.
Regardless, Monzo Plus is now an opportunity for the bank to identify its "pay-tribe"; the equivalent of Revolut's "finance bros", who happily pay £180 per year to brandish their Metal cards around.
Indeed, Monzo could become the natural home for people who want a particularly high level of financial control and insights — a market worth pursuing if cost-efficient. It may even help Monzo's core demographic reach beyond its current millennial stronghold.
Still, in economic terms, the reality remains that services like Monzo Plus are — at best — a revenue boost for fintechs, rather than radically moving the needle.
"Fintechs have changed the experience and execution of banking, but not the economics of it," one industry expert cautioned.