Consumer-facing digital banks such as Monzo and Revolut may get all the attention. But many of the real opportunities in fintech are elsewhere. 
That is according to a group of high-profile venture capital investors at a Sifted online panel, who were most positive about startups focused on insurtech, mortgages, trading security and open banking.
While these sectors may seem less glamorous (and have smaller valuations), they are a crucial part of the wider fintech infrastructure — and are laying the foundations to disrupt financial services.
The panellists were Sam Endacott of Firstminute Capital, Juliette Souliman of Octopus Ventures and Matthew Jones of Anthemis.
To watch a recording of the conversation, scroll down — or check out the key snapshots below, which have been reworded for clarity.
What are the biggest untapped opportunities within this sector? 
While most fintech innovation has been concentrated in customer-focused apps to date, Juliette says she's most excited about the fintech startups serving other businesses. This so-called "second wave of fintech" is largely advancing the back-end — or "plumbing" — of financial institutions. In particular, she says Octopus are excited about business-to-business fintechs working on boosting the security and efficiency of old banking systems.
Matthew's expertise is "insurtech". In particular, he's excited about startups providing novel coverage policies.  There may be a gap in the market for small- and medium-sized enterprises (SMEs), who may be "unknowingly under-insured" according to BlackFin.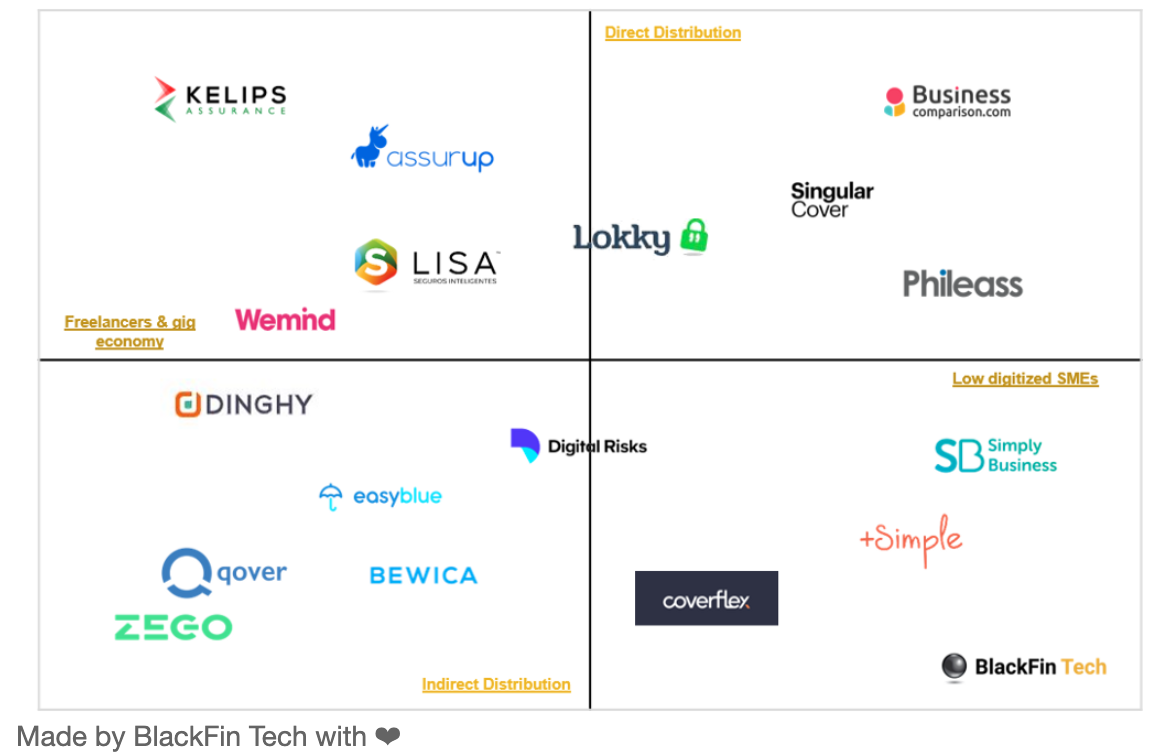 Sam is most interested in "open finance", which allows financial institutions to share data about their client and in turn allows clients to see their financial products in one place. For instance, they might see their pension savings through their personal banking app.
This is an extension to open banking (referred to as 'PSD2'; new regulation which allows companies to access your spending data). Ultimately, "open finance" will allow fintechs to integrate multiple banking and investment interfaces in one, potentially  bypassing banks in what is known as "decentralised finance" or DeFi.
Are there specific areas you think have been overhyped?
There may be a degree of saturation in consumer fintech, according to Sam. He explains Firstminute Capital avoids investing in apps for specific tools like saving — what he calls "add-ons". He believes their rate of return from an investment perspective is stunted because anything too specific is likely to get copied by a big bank.
Another hype issue is around valuations, says Juliette.
"There are some crazy valuations in the space, which makes it very difficult when startups go to raise money for a second or third time as they have to keep inflating [the valuation]."
Meanwhile, Matthew says innovation in insurance is moving so slowly that it's almost too early for hype.
"The people in the industry are still developing a fluency and understanding about what tech is, how it can drive the industry forward and what problems it can solve... It's going to be a long ride."
How do you account for your own biases around which founders to chose?
Diversity is not just a buzzword but a core part of our investment thesis, says Juliette.
"If you want to spot startups who will give abnormal returns… we have to find abnormal founders."
On the specific issue of gender diversity in fintech (women receive just 3% of fintech venture capital), she added: "Some VCs say that they would love to invest in female entrepreneurs, but claim that the talent isn't there. This simply isn't true and I think most people now agree that is an outdated view."
Meanwhile, Matthew says that Anthemis pay close attention to startups' diversity before investing in them.
"We ask all our potential future investments what their policy on diversity is. It really surprises me that VCs aren't asking these questions more before investing."
What does the venture capital-world look like in a time of recession?
The recession of 2008 effectively spurred the fintech innovation we see today, argues Sam. In other words, he says, a dip in the market tends to create "tons of opportunity". He also notes that Firstminute Capital focuses on seed-stage investments, where the state of the wider economy is less of a concern given monetising and going public is far in the future for early-stage startups.
Juliette disagrees:"If there is a recession, VCs will shrink. It will be hit."
That means fintech startups may have a harder time raising.
"The question now is how can we protect ourselves from that and to be more independent in Europe," she adds.
Separately, greater financial strain might also force venture capital funds to put even more pressure on their investments "to grow at all costs", directly impacting the teams building the fintechs.
Watch the discussion here:
https://vimeo.com/382765142
Note, Juliette Souliman left Octopus Ventures shortly after this panel was recorded, as first reported by Sifted here. Octopus Ventures has £1.3bn under management and is the second largest Series A investor in the UK.