Money management is the name of the game for fintechs. But how do these companies manage their own coffers when it comes to compensating top talent?
From COOs, to CPOs, to CTOs, we've looked into how much the average fintech executive earns themselves.
With the help of recruiters Storm2 — who have analysed earnings data from 20k+ fintech candidates — we delved into the annual salaries of senior figures across the UK.
We then compared salaries in Europe and the US, and asked whether fintechs generally pay more than other tech sectors.
Here are the results!
UK fintech execs earn at least £100k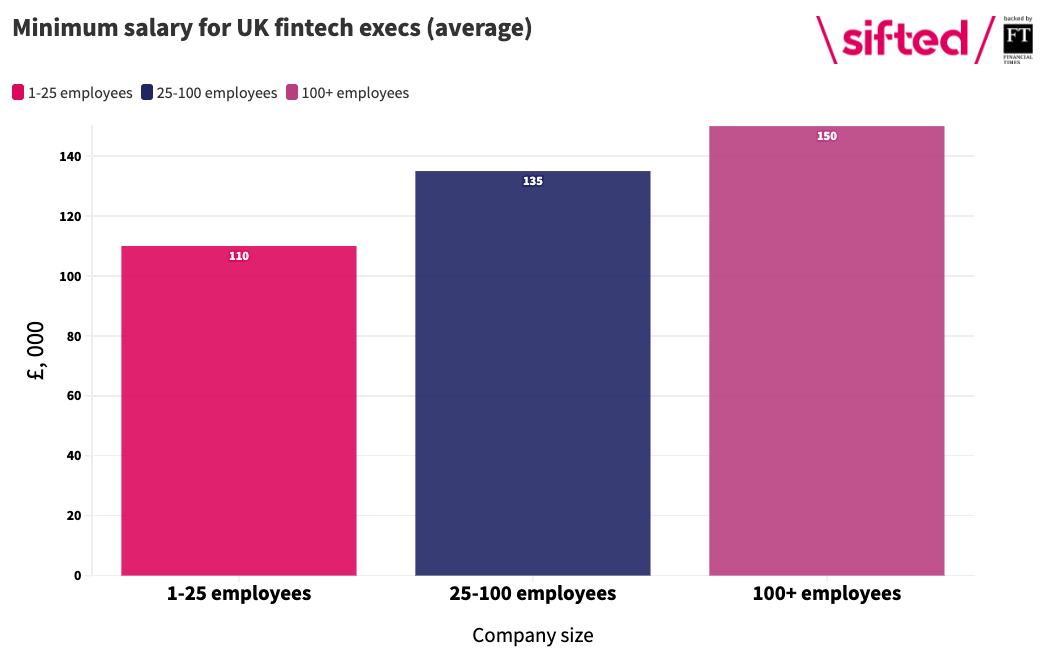 Overall, a fintech exec is compensated very well — regardless of what size the company is.
Taking the lower end of the salary scale, we can see that fintech execs expect to be paid £110k as a minimum in the UK.
That figure, unsurprisingly, gets steadily higher the bigger the company grows, but it's a generous starting point.
Saying that, there's only a £40k range between the lower-paid salaries at seed companies and those at Series B and C.
"Salaries don't vary hugely within the space... Companies don't want to drive salaries up across the market or it breaks the model," explains Ben Erskine-Hill, a Partner at Erevena; a recruitment firm specialising in executive searches.
Cash aside, executives are also topped up with sizeable equity packages (generally getting at least ~0.5% of the firm in options or shares). Those joining larger companies can take equity that already has a high (and relatively secure) market price.
CFOs make the most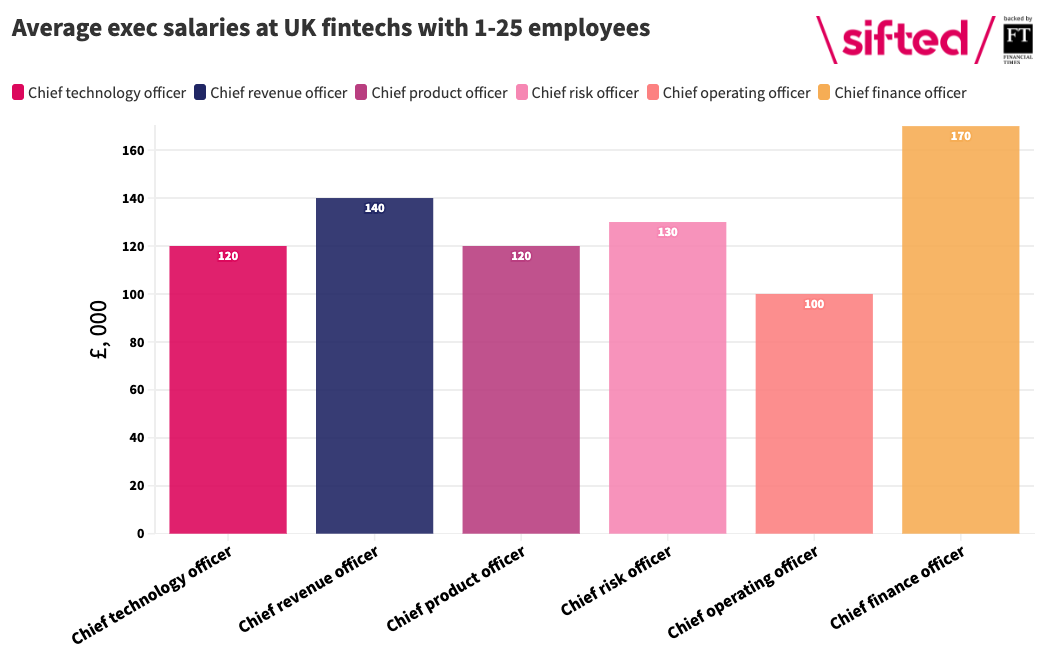 Within the C-suite, it's also interesting to compare how different roles get compensated.*
Across the board, chief finance officers (CFOs) get paid the most at fintechs. The gap is particularly pronounced at seed-stage companies (shown above), but is true across all stages in the UK.
Still, the CFO top-spot could soon have competition. According to Ben Erskine-Hill, there's a new position now vrying for the top spot: Chief Data Scientist.
"There's a big push for chief data scientists. They are being paid a fortune, sometimes as much as CTOs," he told Sifted. "They're so hard to come by, and their value for money is excellent... so businesses are very happy to write big cheques for them."
Fellow recruiter Andrew Cook from Headcount says demand for risk and compliance chiefs is also soaring ahead of supply. That means the CRO role could look to steal the crown next year.
"I think a lot of companies will have a shock at what they will need to pay to get [compliance] people to move," Cook told Sifted.
Meanwhile, the lowest salaries at fintechs currently fall on chief operating officers. To be clear, this does necessarily reflect COOs' standing — it could simply be that it's more common for a cofounder to hold that post, thereby compensating themselves less.
*We have excluded the CEO in this analysis, given it's usually held by a founder rather than external talent.
If you want the big bucks, go to the US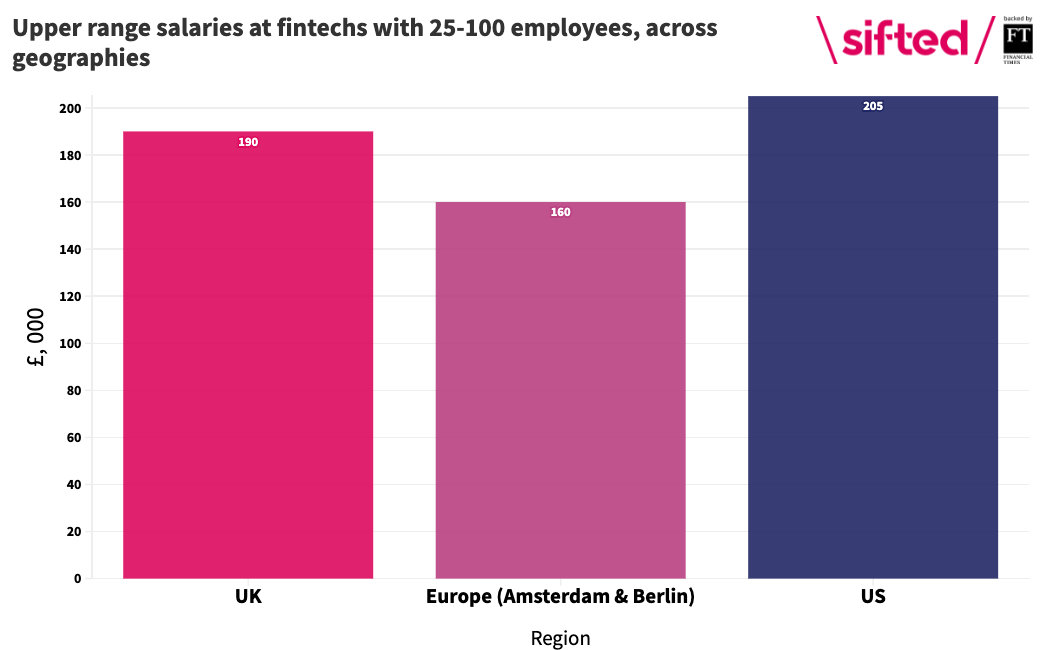 It's also worth comparing UK executives salaries across different geographies.
As usual, the very best compensated executives (representing the top end of the scale) are in the US.
At mid-stage fintechs in the UK, execs earn an average of £190k, while they earn £205k in the US. Meanwhile, in Europe, that figure dips to an average of £160k. The data shows the same geographical variation in smaller fintechs, as well as the very largest ones.
Beyond that, cities in each country also enjoy a salary premium, offering anywhere from a 5% and 20% boost over regional locations.
Where are Europe's best paid execs?
Although individual salaries are not public, the data indicates that the best-paid execs in Europe are naturally found at the top fintechs (100+ employees), including unicorns like Revolut and Checkout.com.
Within that, Erskine-Hill says the handful of ex-bankers in fintech tend to be the best compensated, having given up their bonuses and lucrative salaries.
He also says crypto firms are now raising the salary bar.
"We see crypto businesses writing obscene cheques... they have incredibly deep pockets, often after conducting ICOs [initial coin offerings]."
Fintechs making north of $5m in revenue also tend to compensate execs the most generously, according to one survey.
Fintech pay is in line with other sectors
These numbers might seem high, but recruiters say the fintech sector is not particularly out of whack with the rest of the tech sector.
"Fintech salaries tend to look very similar to other [tech] sectors... you're often poaching from other sectors anyway," says Erskine-Hill.
Andrew Cook agrees: "I don't think there's a correlation between the level of investment [in a sector] and salaries. I don't think there'd be a linear graph."
In fact, some fintechs may be punting too low, he says: "I've been quite surprised how little payments startups pay," for instance.
The hunt for execs is also now ramping up post-Covid, meaning fintech salaries could get more competitive.
"There's been a massive uptick of appetite to hire. It's felt unstructured... more of a feeding frenzy!" Cook laughs.
Indeed, there's plenty of top spots to fill. Top fintechs like Thought Machine, Starling and Monzo are all hunting for a CFO, while Revolut recently appointed a new CFO in Mikko Salovaara, and has advertised for a CCO.
A note on the data
The figures here are provided by Storm2, a London-based fintech recruiter, whose salary database draws on over 20k candidates. The data is also shaped by market research and information from their 140 specialists.
The data does not provide a gender breakdown.
To put these executive salaries into perspective, it's worth noting that entry-level positions at fintechs in the UK average at £47.5k, according to UK Talent. In addition, base fintech salaries have not seen any impact from Covid, Headcount's report found.
We are now working on comparing fintech salaries at non-exec levels — like software engineers, product managers and analysts. In the meantime, more details on salary data for non-exec roles in fintech from 2019 can be found here.
Raw UK data
In case you wanted to dive into data yourself, here's the full set of figures for the UK, across different stages.

This is the third in a series of data stories looking at how much people get paid at startups. The first part looked at CTO salaries in the UK and the second looked at COO salaries in the UK, across different-size startups.
***