The coronavirus lockdown has led to rising interest in video games, sex toys, sourdough bread and also…babies.
Or at least that's what may explain a spike in demand for some of Europe's fertility startups over the past few months, according to founders interviewed by Sifted.
Startups such as ExSeed, which does at-home male fertility test, and Legacy, a sperm testing and freezing startup, have both recorded a jump in orders.
Switzerland's Legacy says it's seen "days where orders spiked to more than 10x usual volume" and has had to launch additional capacity to handle the order volume for test samples.
"Part of this is the natural growth of the company, but I'd estimate at least 50% of the growth is attributable due to Covid-19 concerns," says chief executive Khaled Kteily.
Kteily says there are worries that catching Covid-19 might affect male fertility. The increase in orders may have also been spurred by the temporary closure of physical clinics during lockdown, instead prompting couples to "get treatment ready" from home.
Meanwhile, Copenhagen-based ExSeed told Sifted the number of at-home male fertility tests — priced at £150 — have trebled during the lockdown. App-downloads, programme-subscriptions, and web traffic have also more than doubled since February across Denmark and the UK.
This boost is being matched by investor interest as well; ExSeed told Sifted it is now in the final stages of closing a round led by Hambro Perks, building on a previous raise of £1m.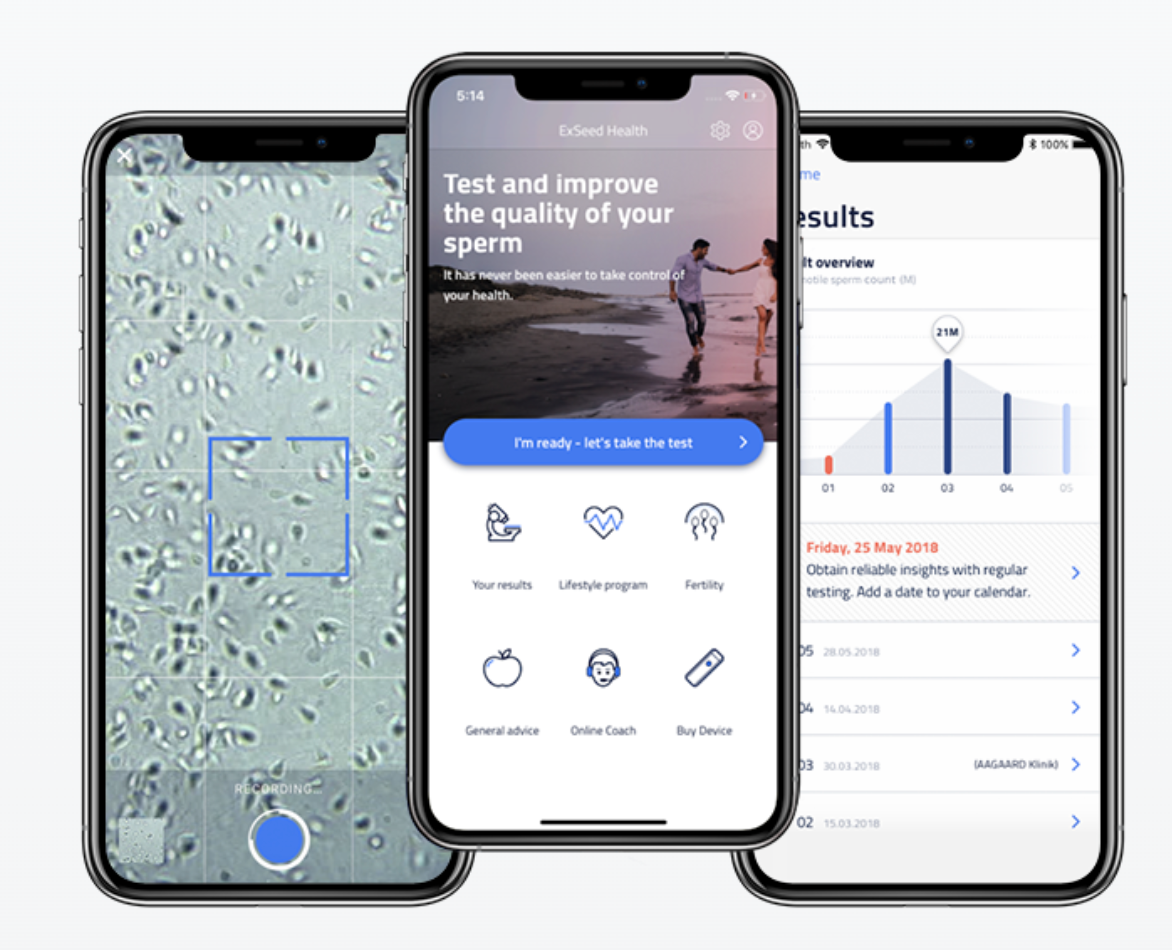 Demand has also been way up for Paris-born Apricity, a digital-first fertility platform which offers at-home blood tests and consultations for women, followed by in-person treatment across a series of partner physical clinics.
Chief executive Caroline Noublanche thinks that the surge in interest is in part because people have had "more time for themselves and to address important personal topics such as fertility"
UK-based consultant Adrian Lower, who does not work with any of these startups but is a practising gynaecologist, agrees the "lockdown has also given us the time to consider every aspect of our health, including our future fertility", adding he is not surprised that the pandemic has spurred a rise in demand for at-home services.
"Covid-19 has highlighted just how precious our health is."
The bigger picture
In recent years, the fertility industry has raised millions in venture capital funds, particularly in Northern Europe. 
This is part of a broader rise in interest in digital doctor app startups such a Doctolib and Babylon Health which are reshaping our relationship with healthcare systems.
But it is also linked to the emergence of "femtech" as a significant investment category (set to be worth $50bn by 2025, according to Frost & Sullivan) dominated by big startups like Clue, Ava and Natural Cycles.
Now, coronavirus and the recent spike in demand for fertility tech has helped bring investment buzz back to this segment — which stretches across supplements, ovulation trackers and testing kits for both men and women.
"I have a lot of contact with potential investors during lockdown. Healthtech appears to them as one of the key areas of investment post-Covid and femtech is one of the subdomains VCs say they want to focus on," says Apricity chief executive Caroline Noublanche.
Spain's WOOM — a fertility tracker and community app for women — also secured a $2m round just last month, pulling in two new investors.
Fertility… but maybe not babies right away
Nonetheless, while people may have become more interested in their fertility in lockdown, it prompted some couples to delay parenthood for at least a short time. 
Natural Cycles, a hormone-checking tool for women, told Sifted that the rate of users switching the app-mode from "prevent" to "planning" a pregnancy decreased by 3% week-over-week between March and April; perhaps triggered by fresh financial fears, relationship pressures, or illness. The company also said that it had seen a boost in orders for women wanting a "natural birth control delivered right to the door."
Meanwhile, Maven — a "virtual" women's clinic — has recorded twice as many bookings for online mental health appointments across its fertility clients between March and May, suggesting the pandemic is putting an emotional strain on would-be parents.
WOOM also says it suffered a 25% traffic drop after the announcement of Covid-19 pandemic. Nonetheless, the startup says its traffic is now 19 points higher than pre-pandemic.
The future
This boost seen by fertility startups will help shake off fears that the sector was at risk of seeing investment interest "wane", as attention shifted to other areas of women's health like menopause, sex, endometriosis, and breastfeeding.
"[Investors are] looking for the next big thing in femtech," Anya Roy, cofounder of Syrona Women told Sifted earlier this year, adding male investors were slowly seeing the investment benefits of women's health.
Two studies also recently cast doubt on the role of fertility apps and wearables role in assisting women's chances of conceiving, given their lack of scientific backing.
Nonetheless, investors say there's room for growth in the still-nascent fertility startup sector, with smartphones providing new tools to streamline the diagnosis and conception process. One in seven couples also still experience difficulties conceiving. 
"It's more crowded in the fertility and the contraceptive space, but... there's no clear winner there yet," says Louise Samet, partner at venture capital firm Blossom Capital.
"We haven't seen a Spotify or a really large company come out in that space yet... I think that there's still huge potential."
Traditional IVF clinics are also beginning to digitise to keep up with the boom of healthtech apps.
Salve is a startup that helps IVF with patient-doctor management via a white-labelled app, providing secure messaging and enhanced data sharing. Its chief executive Charlie Kenny tells Sifted they have signed over 30 new clinics worldwide since the coronavirus outbreak began, and has seen that "rapid growth" continue.
Header Photo by Dainis Graveris on SexualAlpha