Female-founded startups received a fraction of the capital available in central and eastern Europe in 2020, and gender disparity is increasing — according to a new report from community platform European Women in VC, growth-stage fund Experior VC and early-stage VC Unconventional Ventures.
Despite a year that saw the European tech sector raise a record amount of funding, the amount of funding going to all-female founding teams in CEE dropped from a high of 4.1% in 2018 to just 1% in 2020, the report found. To put that figure in context, roughly 13% of the region's startups are founded by women.
While the funding gap between female and male founding teams has always been vast, Covid-19 appears to have made the landscape even more uneven.
This reflects issues faced by women at all levels of society, says Kinga Stanislawska, managing partner at Experior VC. 
"Covid-19 has made matters worse for female leaders," she says. "For the vast majority of women who need to take care of families, kids, elders, and who often try to help others in need, Covid-19 has meant less time to focus on their own projects. Women leaders in startups and VC are tackling the same everyday problems as the whole female population is."
Lack of capital
Female-founded startups in CEE raised a staggeringly low amount of funding compared to their male counterparts between 2016-2020 — but it's not just a lack of rounds that's the issue.
Since 2016, women raised far less per round. Just 2% of the capital raised and 4% of funding rounds went to female founders — in comparison, all-male founding teams raised 92% of capital from 85% of rounds.
The average deal size at the early VC and Series A rounds of all-male and mixed founding teams also more than doubled that of female founders.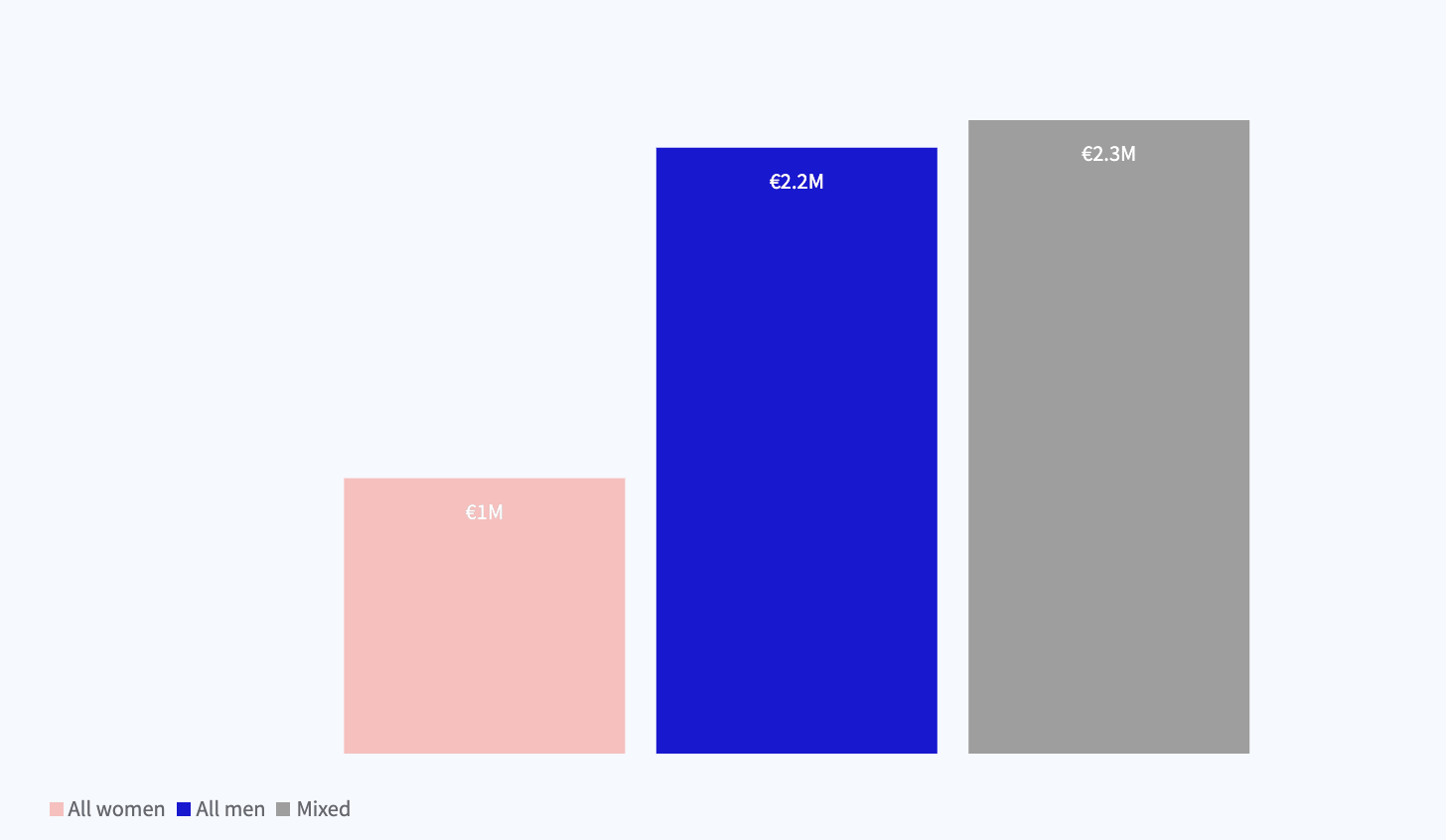 "The problem is a lack of support where and when it matters — funding at every stage," says Corinne Vigreux, founder of consumer electronics company TomTom and peer-to-peer coding school Codam. 
"Progress in building a more diverse, equitable and inclusive tech ecosystem has been slow, and representative investment is still not standard practice for the industry. Like everywhere, gender bias is difficult to overcome."
Investor homophily
A major barrier to better gender parity in the tech sector is a lack of diversity in the VC industry. 
The report found that in the CEE region 90% of capital is managed by male general partners, and 93% of all partners in VC firms are men. 
This follows similar trends seen in the UK VC industry. A 2019 survey by Diversity VC found that just one in 10 senior roles were taken by women.
"Investor homophily" — attraction to similarity — is a significant cause of the imbalance at the fundraising level, according to a report by the European Commission. It found that VC firms with women partners are more than twice as likely to invest in women-led enterprises, and more than three times more likely to invest in enterprises with women CEOs.
These VC firms, however, are a rarity in the CEE startup ecosystem. Just 3% of CEE funds have all-women general partners.

"There aren't enough women involved at a decision-making level on the funding side to help VCs understand the value of what women-led startups are pitching. Clearly this isn't a pipeline problem — it's a gender bias problem," says Agnieszka Hryniewicz-Bieniek, global director of Google for Startups.
Diverse startups gets the best results
And yet, female-founded companies outperformed their male peers by 96% in terms of revenue generated per euro of investment, according to the report. Despite receiving less funding, diverse teams generally do a whole lot more with the money.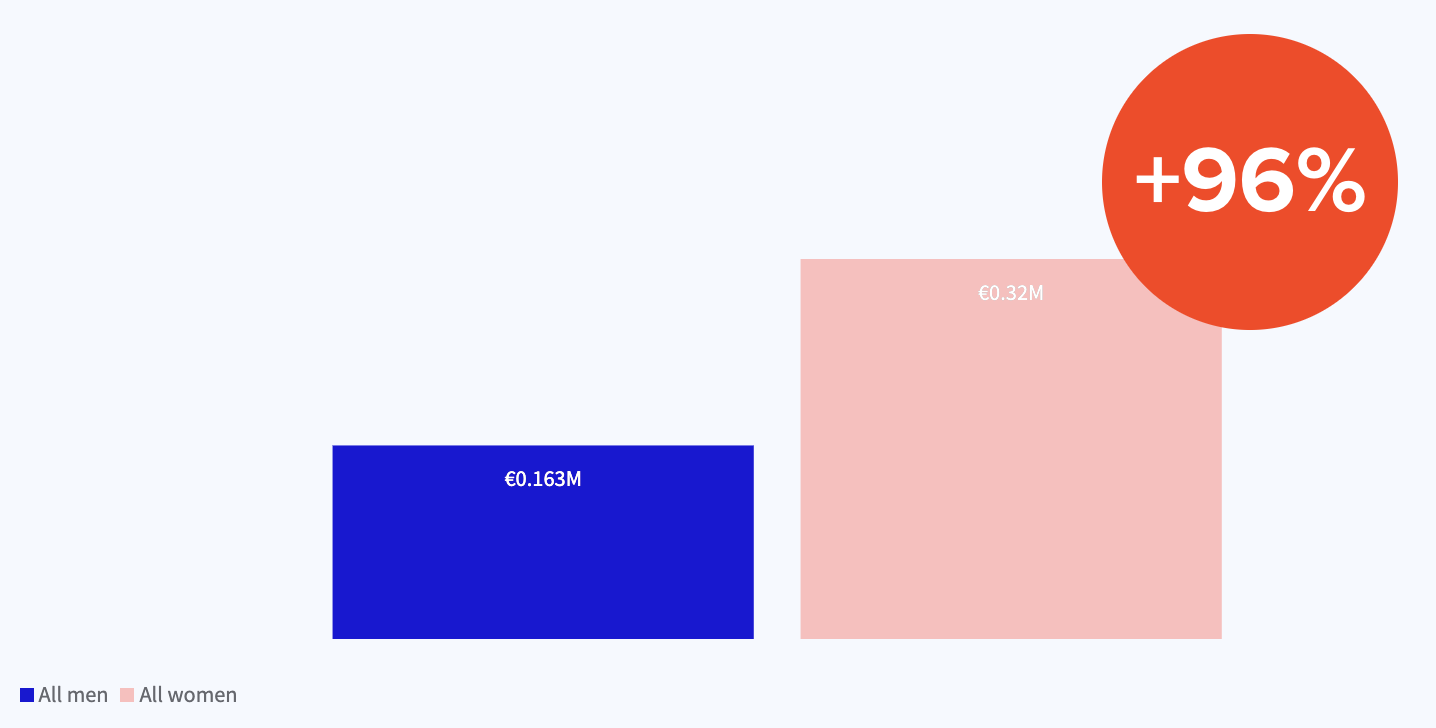 So why is the funding landscape weighted so heavily in favour of men, when return on investment is so heavily weighted in favour of women? 
"Investing in women starts at the level where the money is — and the money is with the institutional LPs," says Stanislawska. "Europe has yet to identify a leader in the LP space who will catalyse and pioneer a strategy of inclusion to ensure we have more European VCs led by women." 
To reverse the trend, we need targeted actions that come from the top and the bottom, says Shiva Dustdar, head of innovation finance advisory at the European Investment Bank.
"We need to increase capital flowing to women led companies, but money alone is not enough," she adds. "We need to improve investor readiness and facilitate financing for women-led companies and funds. And, we need more female investors as role models to get the virtuous circle spinning. Success feeds success."
Until that happens, findings like those in this latest European Women in VC report will remain all too common.