After cofounding his first startup in 2012 — and selling it for $300m in 2017 — California-based entrepreneur Nick Taranto hasn't taken more than a week's vacation at a time. 
"I've always been in the midst of too many things to be totally unplugged. Getting anything from zero to a real thing takes a tremendous amount of focus, discipline and hard work to fight the inertia of things falling apart," Taranto, who currently runs two companies, tells Sifted.
Family obligations make vacation even more complicated — Taranto's also the father of three children aged between one and eight. 
But he recently found a solution that allowed him to keep working, be with his family and relax (a bit): a family workation. He has recently returned from a "transformational" month in the historic hilltop town of Sintra, just 25km from the Portuguese capital of Lisbon — one of Europe's top digital nomad villages. Work, of course, was a feature, but so was yoga, hiking, wine tasting, beach trips, castle tours and surf lessons. 
Digital nomad families: an underserved market
Taranto's workation is indicative of one of Europe's top work-related trends — digital nomadism — broadening its appeal. But despite the number of platforms connecting digital nomads with worldwide coliving and coworking spaces, there hasn't been a lot of support for digital nomad families. That's despite 70% of "anywhere workers" having children, according to a recent Lonely Planet and Fiverr report. Another survey of 1,000 UK workers aged over 30 by UK business website smallbusinessprices.co.uk revealed that 72% want to work abroad again. But 42% believe it's too complicated to do so, with 21% citing family commitments as holding them back.
As a parent wanting to take advantage of remote work to travel the world, childcare options are slim. You could attempt to find local daycare or schools that'll take children temporarily, locate summer camps in places you want to go or find coworking spaces that provide childcare. You could also take a nanny or source one locally, or consider staying at an all-inclusive resort with a kids' club. Reducing work hours between parents, or committing one of you to childcare/schooling responsibilities, could also be a possibility. But whatever you choose, there are a lot of balls to juggle.
Taranto's experience was organised by a startup called Boundless Life, which combines accommodation, childcare/education and coworking spaces in locations like Portugal, Greece and, starting in January, Italy. 
Other similar ventures include Family Workation, which also offers accommodation, childcare and coworking space in Portugal — near the town of Tomar, about 140km north of Lisbon. Flexible schooling models are also emerging, like Brave Generation Academy, an academy for teens that allows them to attend different locations across Europe, South America, Asia and Africa.
Sifted Newsletters
Sifted Newsletter
3x a week
We tell you what's happening across startup Europe — and why it matters.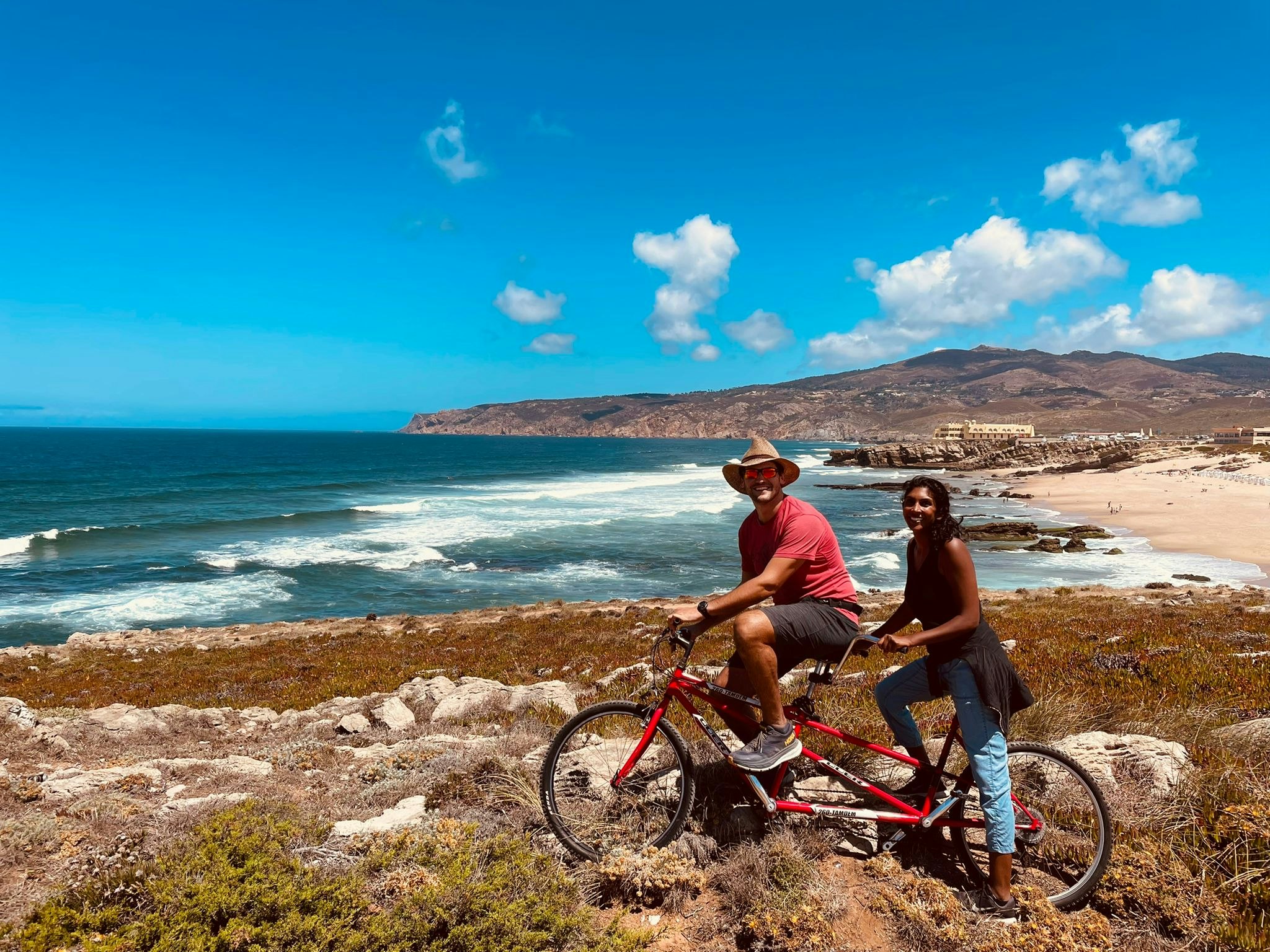 In Sintra, Taranto walked his two daughters and son from their apartment to the education centre daily, along with the children of around 20 other families in the group, all staying nearby. They took weekly field trips to local gardens, water parks and farms, and went out for ice cream in the afternoons. 
He and his wife, Nimmi Roche, who works at Dyrdek Machine — the VC firm set up by former pro skateboarder Rob Dyrdek — continued their work at a coworking hub, albeit with a significant schedule shift to account for the time difference between Portugal and the US West Coast. 
"I did my asynchronous work during the day, and I would cluster all my meetings together in the evening, starting around 7pm, sometimes going until 1am. It's a long day, but gives you the rest of the day to do as you wish," Taranto says. Other Europe-based founders have extolled the virtues of working with US-based teams while on European time. 
Getting used to that new schedule was difficult, Taranto adds, but having more free time during the day was "liberating". 
"I don't think any of my work was negatively impacted by being away for a month, which was a concern," he says. "To have a month to change your perspective on the world hasn't been a reality before, but to have this different living experience, and still be working, has changed how we think about travel, family, work and life."
A life-work balance solution for entrepreneurs
While Boundless Life does attract corporate nine to fivers, it's built a significant following amongst entrepreneurs, offering a solution to Taranto's predicament of wanting to travel but feeling unable to leave his businesses, the company's cofounder Marcos Carvalho says.
"Being with us helps entrepreneurs feel they're in the right place to have a better balance with their families while giving them more creativity to direct towards their work. That's why entrepreneurs are attracted to this lifestyle," says Carvalho, a serial entrepreneur himself who has successfully exited two startups.
"And entrepreneurs care about building projects that will have a positive impact on the world. What can have a more positive impact than educating and preparing your children to be part of the world?"
Digital nomad families can raise globally-minded children
The changes Taranto saw in his children during their time in Sintra were clear. "They've had this incredible experience — learning a new language, experiencing a new culture and meeting new people from all over the world. They've grown more independent, and they're thriving," he says.
Creating routine and community, and embracing cultural immersion without overwhelming, are amongst the biggest challenges. But building resilience is one of the biggest benefits for all, says Stacey Yates Sellar, who leads a conscious parenting workshop in Sintra for Boundless Life parents — she's currently taking part in the programme in Syros, Greece, with her husband and two sons. They'd previously been travelling for 18 months across 36 locations.
"People ask, 'how do your children adapt, and isn't it hard for them?' Yes, it's challenging, and they have to be adaptable. But the difference between whether something is scary or exciting is how we present it to them," says Yates Sellar.
"Kids that travel don't see culture and language and location as a variant. They just see a whole bunch of new kids to play with."
As more families choose to live outside the norm and pursue the digital nomad lifestyle, Taranto predicts a greater need for a flexible, global education that joins the dots between different locations' schooling, accommodation and community. 
"As more people gravitate towards full-time or partial remote work, there's an opportunity to fill that demand and to remove the friction — we wouldn't do this on our own. because there's so much friction," he observes.
"When you can remove friction for customers, they're going to pay a premium."