While France's dreams of becoming a hardware startup hotspot may have fizzled, Exotec has given the country its first industrial unicorn.
The warehouse robotics startup announced today that it has raised $335m at a $2bn valuation, making it the fourth French company to leap past the much-hyped benchmark in 2022 already. With the first month of the year barely begun, Exotec follows PayFit, Ankorstore and Qonto into the unicorn stable.
Throw in Back Market, which raised $510m to become France's most valuable startup last week, and the ecosystem may be experiencing a severe case of vertigo. Exotec is emblematic of how rapidly Europe's startup expectations are being upended, including creating new challenges for early-stage investors — albeit happy ones — as they digest once-unthinkable returns.
But Exotec also stands out in one important way. Unlike the other French unicorns which have leveraged trends such as fintech, the cloud and marketplaces, Exotec builds physical products.
"We are super proud of having done a unicorn with hardware with engineers and technicians all over the world," said Exotec CEO Romain Moulin. "It's also a recognition from the investors that they are ready to invest in this area. And it's proof that we can build such a scaleup with all industrial aspects."
Hardware dreams
Almost a decade ago, as the French tech ecosystem began making its bid for relevancy, the hope was that a company such as Exotec would be the rule rather than the exception. 
Hardware and connected objects emerged as a central theme in France's startup push with proponents believing the nation's legacy as a leader in design, manufacturing and engineering offered all the necessary ingredients for success. Sigfox, which was building a communications network for connected objects, became one of its early unicorns. And the government paid for large batches of startups to attend CES  in Las Vegas each year to demonstrate the country's prowess.
Yet apart from a few companies like connected e-health leader Withings, the hardware hype failed to yield a crop of transformative startups. Even Sigfox struggled to deliver the growth needed to justify its once lofty valuation.
But while the hardware hype faded, Exotec continued to quietly build momentum. 
Amazon automation
Moulin founded Exotec with Renaud Heitz in 2015. The pair met while working on robotics for GE Healthcare in Paris. They became intrigued by Amazon's announcement that it had acquired a startup called Kiva Systems and would use its robotics to automate its warehouses.
Kiva's inventory system relied on robots that zipped across warehouse floors to gather goods from the shelves and bring them to human packers. But suddenly, it was exclusively the property of Amazon, leaving an opening that the Exotec cofounders believed they could fill. 
"At that moment, they showed everybody that technology was a driver for logistics, and logistics was a driver for success," Moulin said. "So that was really the starting point."
Exotec's autonomous Skypod robots now form the basis of a system that any retailer can install in their warehouse to automate tasks like retrieving goods from shelves and sorting them into the correct bins for shipping. What sets it apart from many competitors is that Skypods can move vertically as well, scaling shelves as high as 36 feet to retrieve orders. 
Over the past seven years, the company has continued to refine the accuracy, speed and variety of tasks the robots can perform. That includes the development of its Skypicker technology, a robotic arm that further improves sorting to speed order fulfilment.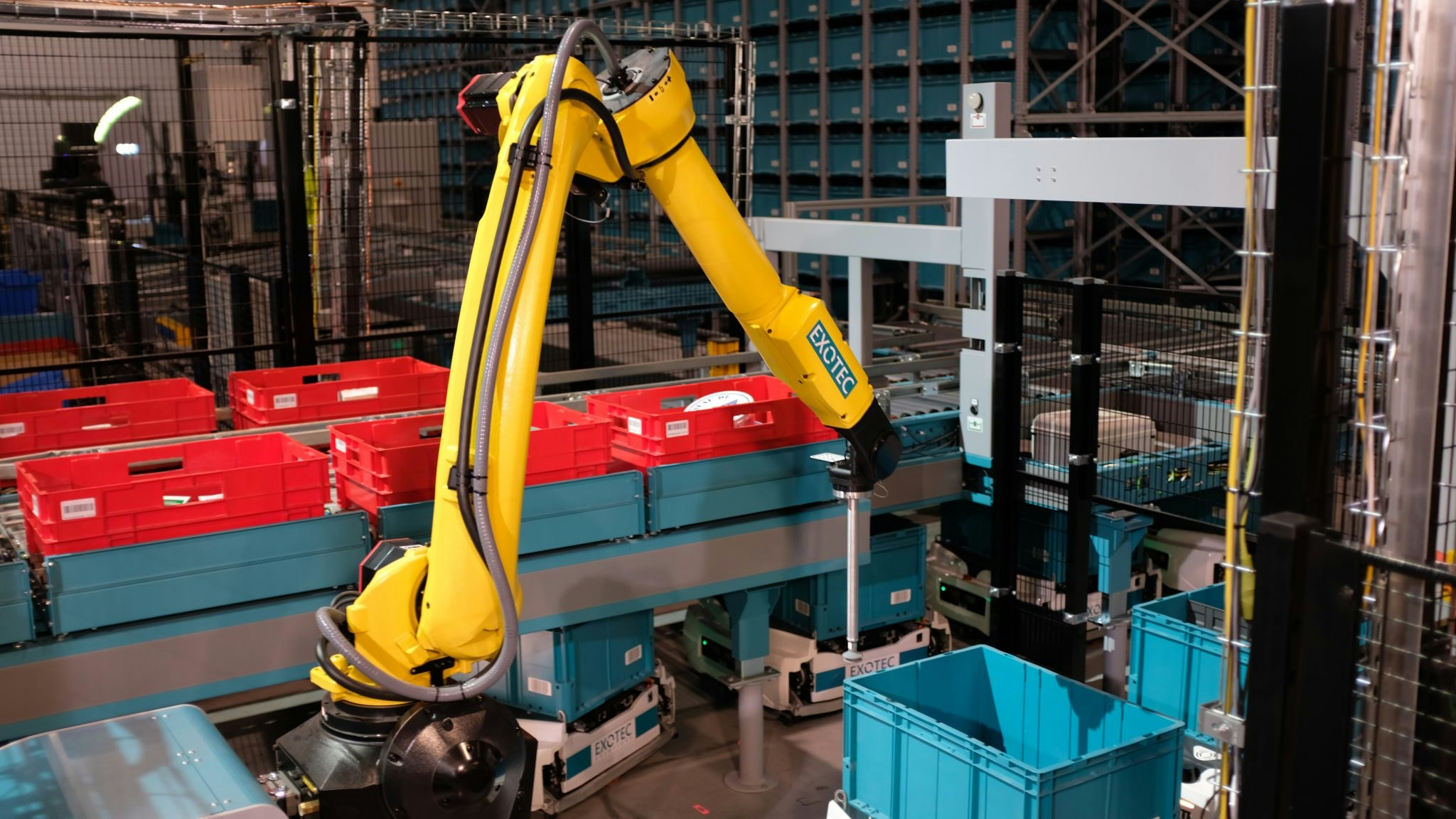 This efficiency has proved particularly crucial during the pandemic. The robots can fetch more than five times as many items as a human. With ecommerce soaring, and consumers' service expectations rising, accelerating logistics has become a priority for retailers. And with many warehouses now struggling to hire enough employees, any labour-saving automation is being embraced.
"The mindset has changed from before the pandemic," Moulin said. "We still had some logistics people thinking, 'Should I go for robotics automation?' And now the question is, 'When will I go to robotics?' They know that it's the future."
[Before the pandemic] we still had some logistics people thinking, 'Should I go for robotics automation? Now the question is, 'When will I go to

robotics?'
Exotec has seen its annual revenues grow from €20m in 2019 to €105m in 2021. It's won major customers like Uniqlo in Japan, Decathlon in Canada and Gap in the US. And with offices in Atlanta, Munich and Tokyo, the company expects to double revenues in 2022 and add another 500 employees to its current headcount of 350 by 2025.
The growth comes despite intensifying competition in the warehouse automation space. Not only are big industrial players investing in this market, but there are startup rivals such as Norway's AutoStore, which went public last year, and US-based InVia.
Capital conundrum 
Exotec's international success in the face of such competition caught the attention of Goldman Sachs Asset Management. The investor led the funding round, which also included the participation of previous investors such as 83North and Dell Technologies Capital. The company has now raised a total of $477m and counts among its investors Bpifrance, Iris Capital, 360 Capital Partners and Breega.
For Breega, Exotec's rise has created an embarrassment of returns. 
François Paulus cofounded Breega in 2013 with the first fund of €45m for early-stage and Series A startups. Among the first investments he made was Exotec, just after meeting the cofounders and seeing an early prototype of the Skypod that had been built using angel investor money. 
The pair convinced Breega, even as some of its other hardware portfolio companies were stumbling. Breega invested €5m — the maximum allowed under the first fund's rules. Along the way, the firm has taken money to return to investors as a way to further build its credibility.
At the same time, it has continued to reinvest, creating special purpose vehicles at times to bring its total in Exotec to €30m. Paulus said Breega wants to maintain a position in Exotec to reap potentially even bigger returns down the road. 
While Paulus won't reveal exact figures, Exotec represents by far Breega's biggest multiple. Its success has helped the firm raise subsequent funds, bringing its total under management to €260m. 
"Most of our LPs are overexcited and they want to invest again in new funds," Paulus said. "And I can raise a new fund and sell it to prospective LPs who did not invest in previous funds and say, 'You know, guys, this is what you missed.' It's definitely changing the way we can raise funds."