Five years ago, the European startup hubs of Zurich, Oslo and Milan were barely on the map.
But today they are some of the fastest-growing hubs in Europe by the number of venture capital deals struck.
That is according to Sifted's Chart of the Week, in partnership with Dealroom, which looks at second-tier European startup hubs and shows how the smallest among them back in 2014 are growing the fastest.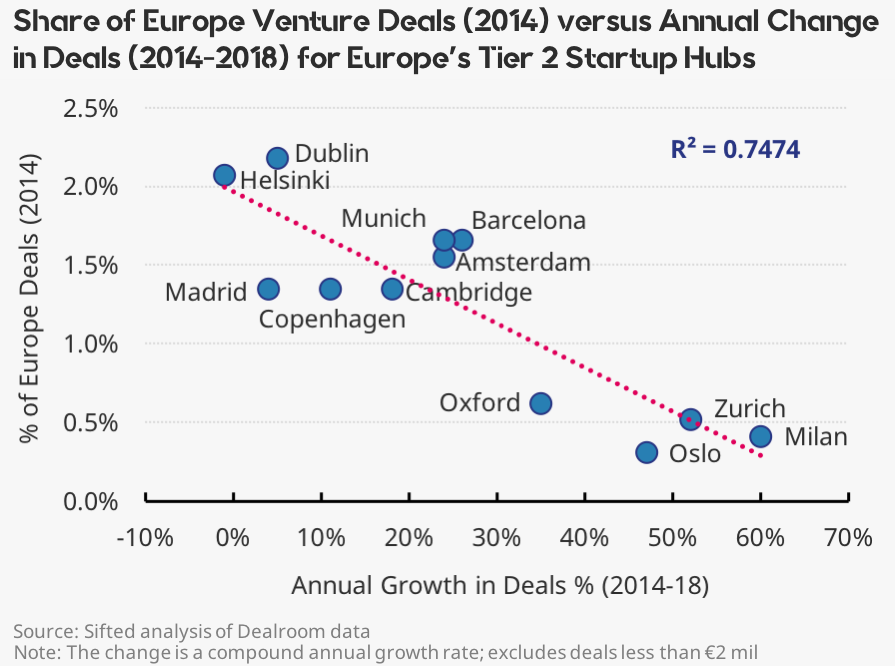 To go into detail, the chart shows the relationship between venture deal activity for 12 European cities in 2014 (as demonstrated by their share of total activity in Europe) and the average annual growth rate in the four years that followed (2014 through 2018).
We define second tier startup hubs as those cities with greater than 50 but less than 150 total venture deals above €2 million over the four-year period.
The downward-sloping trend line indicates a negative relationship between deal activity in the base year and subsequent growth over the next four years.
In other words, the smaller startup hubs among the group grew the most on average in percentage terms while the largest grew the least.
The "r-squared" coefficient of 0.7474 indicates a strong correlation between the two variables (a coefficient of 1.0 indicates a perfect linear correlation, which is extremely rare).