Oliver Hanisch, a German-born entrepreneur living in San Francisco, didn't imagine he'd end up moving back to his home country after a decade in the US. He had the career that many in European tech only dream of: making it to the Silicon Valley big leagues. 
But in 2018, he got a call. It was the Dieter Schwarz Foundation — founded by the billionaire businessman and former CEO of global supermarket chain Lidl, whose net worth, at an estimated €42.9bn, makes him Germany's richest man.
The organisation wanted to plug some serious cash into building a startup ecosystem in its billionaire boss's home town — and it wanted Hanisch to lead the charge. So Hanisch moved from the land of Meta and Google to Heilbronn: a town of 126k inhabitants in southwest Germany that is better known for wine than entrepreneurship.

"I didn't have any plans to return to Germany, but of course, if the Dieter Schwarz Foundation invites you to come and visit, you go," says Hanisch, a self-professed "startup guy", in a flawless American accent.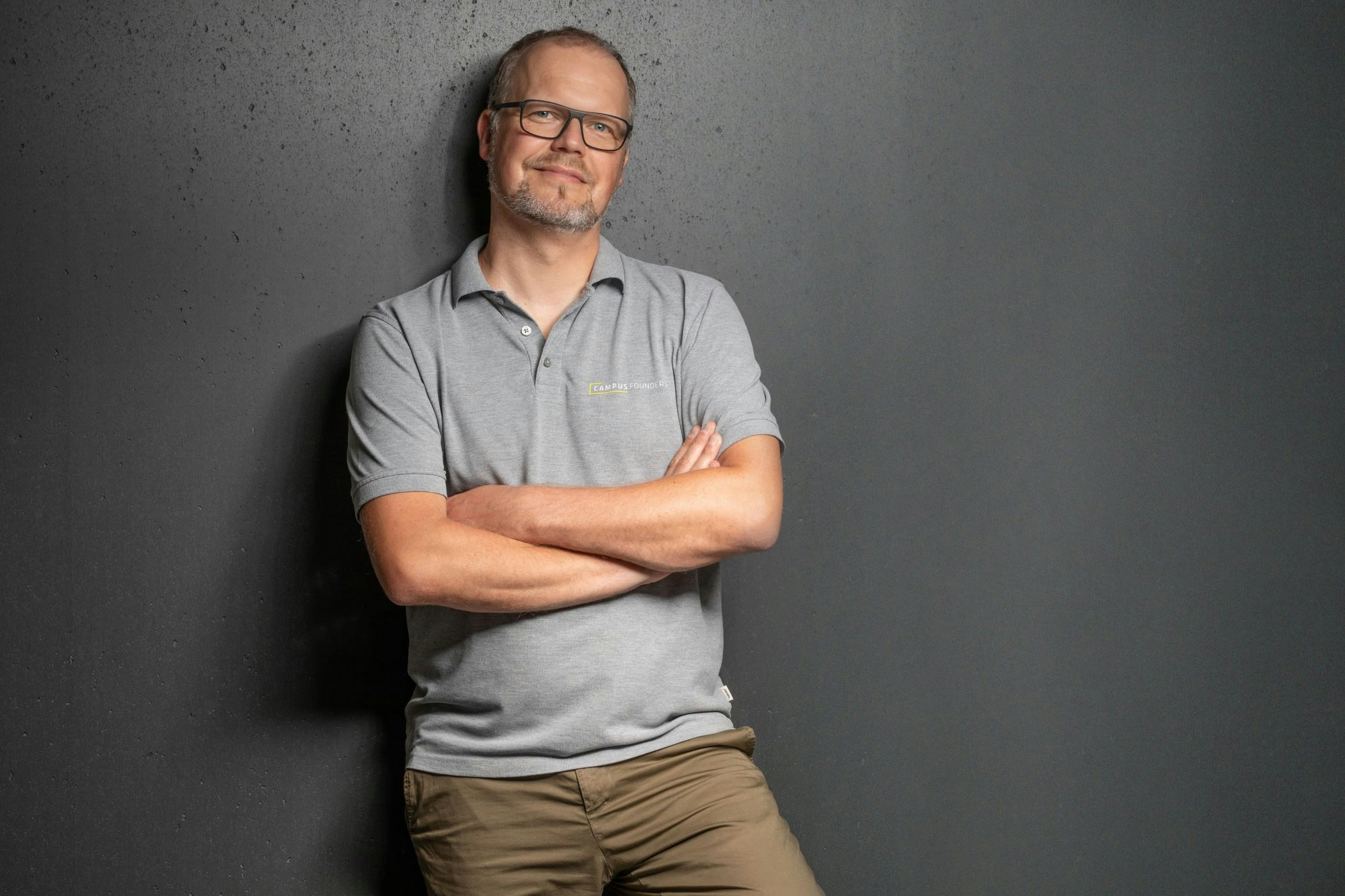 Four years later, there's now a dedicated hub for startups nestled in the city's university campus — and plans to build an AI campus that will house 5,000 brains in a few years time. The vision: an ecosystem "of European significance," in Hanisch's words.
With the US and China positioning themselves as leaders in AI innovation, the stakes are high — and the business leaders and investors who are supporting this effort seem to be driven by an almost existential threat to build something to counter the dominance of companies like the US-based OpenAI.  
The other piece of the puzzle is helping the region's lumbering corporations transform, "using the possibilities of AI," says Professor Reinhold Geilsdörfer, CEO of the Dieter Schwartz Foundation, adding that this is important for companies to secure their "future prosperity" and competitiveness. 
But if you build an ecosystem from scratch (with a little help from a friendly billionaire), will talent come? And even more importantly — will they stay?  
Building an ecosystem from scratch 
Right now, this vision is but a dream — embodied in two models of this futuristic AI campus, known as Ipai or the Innovation Park Artificial Intelligence. Given excitement over the project, both models are constantly travelling to be on display, says Moritz Gräter, Ipai's CEO, who moved to Heilbronn to lead the project.  When Sifted visited the one-floor office that is Ipai's current home, neither models were there due to popular demand.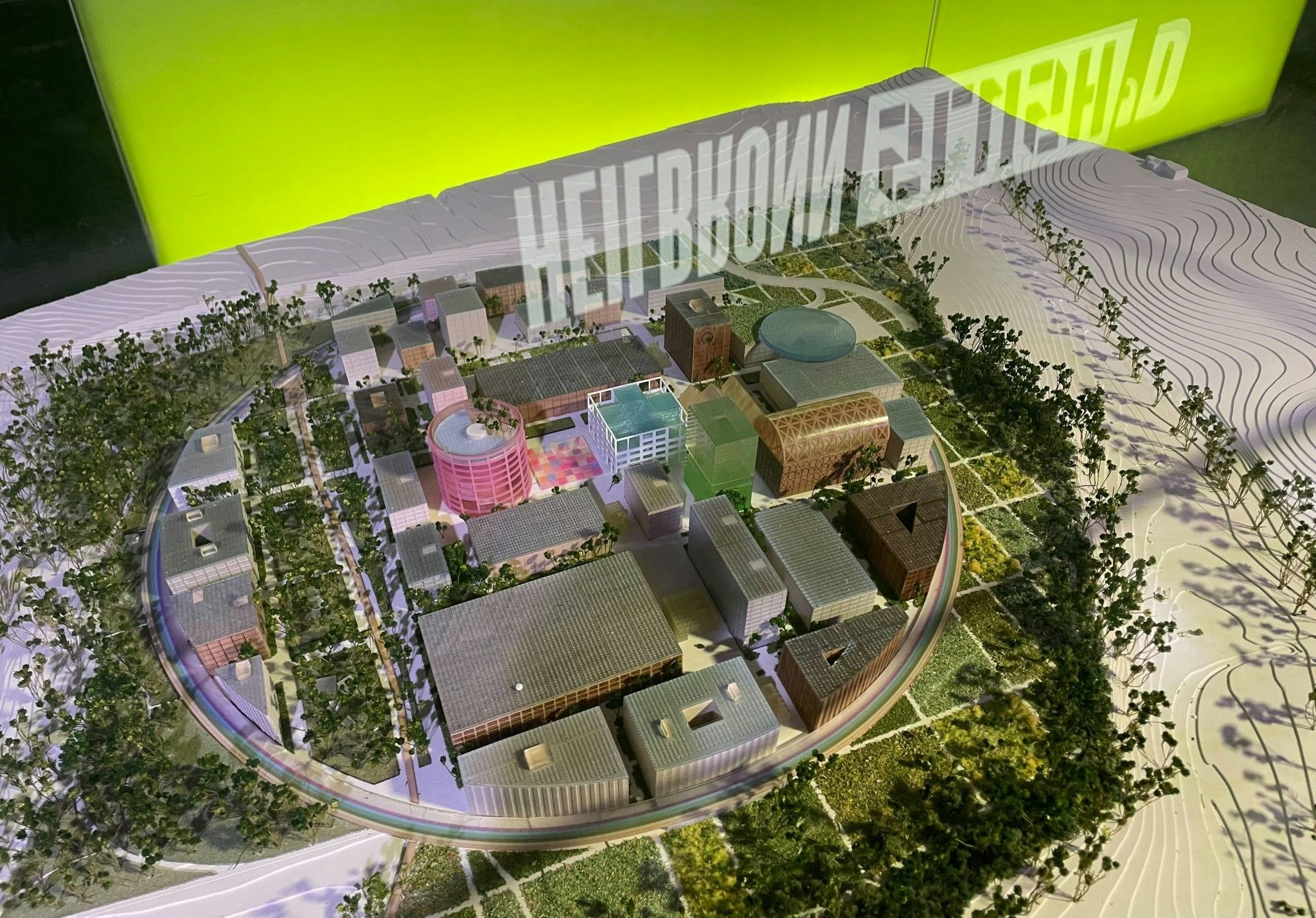 The park, which will be built on a 30-hectare area by 2027, will have labs, a data centre, a startup centre, shared work areas, restaurants and daycare centres. The site will be a no-car zone, with micro-mobility options available for people to move around inside, and it will also be open to the public. A green space cutting through the park will preserve the ancient line of an old Roman road. 
"A lot of people are saying this is like the Apple headquarters, but it's not," says Gräter. "It's impossible to enter Apple without having an appointment. But here, anybody can just walk in."
One of the focuses of the innovation park is to help Germany's corporations — the so-called 'hidden champions' that are market leaders in their field — apply AI to solve challenges they're facing, and ensure they're not getting left behind as markets evolve, says Gräter. 
It's a difficult task, he adds, given that many corporations are still "busy with basic digitalisation." 
Heilbronn is situated in the region of Baden-Württemberg, which is rich in these small and medium enterprises, as well as larger names like Daimler and Porsche. It is also an hour from Stuttgart and Heidelberg, which have top technical universities. Already, Porsche, Würth and robotics specialist Schunk have settled into Ipai's single office, where 25 full-time members of the Ipai team work, awaiting their future home. 
The Dieter Schwarz Foundation has reportedly invested €2bn into the building of Ipai, but declined to comment on the exact sum to Sifted. The state of Baden Württenberg invested €50m.
A lot of the success of the project — and indeed, in Germany's bid to become an AI nation — rests on one company: Aleph Alpha. The company builds large language models (LLMs) similar to OpenAI's GPT-4, though Aleph Alpha's technology is aimed at enterprises, rather than consumers. So far, the company has raised $143m from VCs such as Cavalry Ventures, Earlybird VC and Lakestar.
The company — headquartered in Heidelberg, about an hour and a half away from Heilbronn by train — has partnered up with Ipai to provide AI researchers to work on site and publish papers. Aleph Alpha gets access to the academic network of the Dieter Schwarz Foundation and the use of Ipai's infrastructure.
"We said that to make AIeph Alpha competitive, we must ensure that they can get all the research support that they can get to make sure they will succeed," says the Dieter Schwarz Foundation's Geilsdörfer. 
"This was the reason we decided as a foundation to support Aleph Alpha over the next 10 years and give the business a chance to be a competitor to Open AI."
Campus founders 
Even as Ipai remains a single office and some models, Hanisch and his team have already started to bring together an early-stage entrepreneurial ecosystem with Campus Founders, an organisation offering office space, various startup programs and events, and training for students interested in entrepreneurship.
Campus Founders is based in the city's so-called "education campus" where various research institutions and universities sit — including a branch of the Technical University of Munich, where many of Germany's unicorn founders, such as Personio's Hanno Renner and Forto's Michael Wax, studied. The idea is for students to brush shoulders with wannabe entrepreneurs and eventually found companies together.
Inside the Campus Founders HQ, where 170 startups have their base, the atmosphere is light and buzzy; laughter can be heard down the hallways and everyone passing in the corridor smiles and says hello. There are Shiba Inu memes posted on the walls and fancy call booths; everything is in English.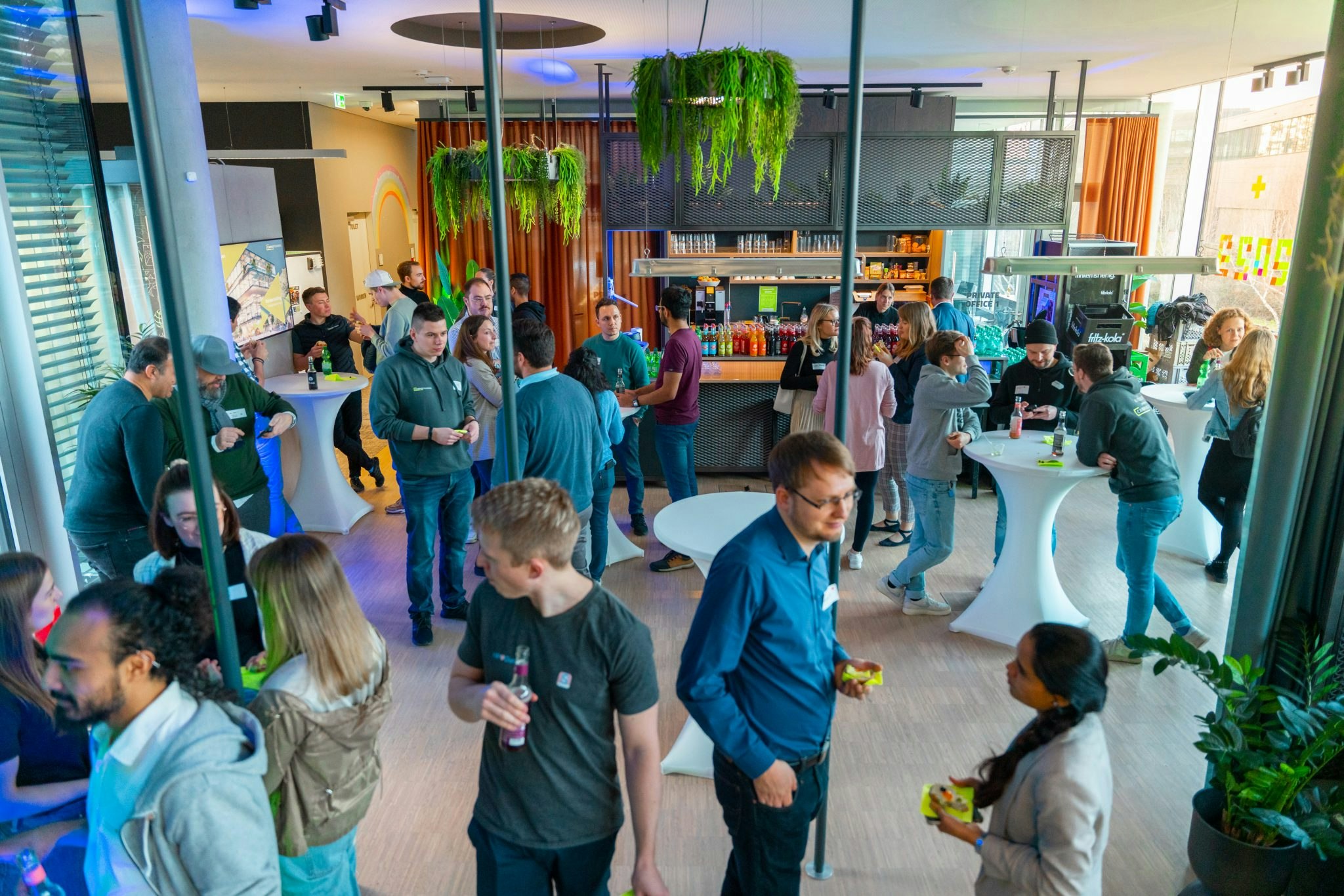 One of the companies Sifted meets is OpenGrant, an AI-powered grant search engine and marketplace of independent grant consultants founded by Jan Palasz and Kacper Szklarczyk, who were previously based in Warsaw. OpenGrant is one of the ten companies taking part in the Campus Founders' AI Founders program. 
Founders learn the "business side" of running a company, and gain AI and data expertise. The chosen startups get accommodation in a local co-living space free of charge, as well as a €25k grant for the duration of the program — a big pull factor for cash-strapped founders.
For Palasz and Szklarczyk, living in Heilbronn for three months will be "highly beneficial" for them in terms of gaining access to the German market, they say. And while Heilbronn may be lacking in good restaurants and nightlife, it's a place where serious business gets done. 
"In Berlin, investors have networking events every day of the week. They go there to have fun, right? But when investors come out to Heilbronn, they come with a certain objective," says Szklarczyk. "They want to learn about the ecosystem, look for AI ventures. The focus is very much on startups." 
Heilbronn's answer to Slush 
If you're a budding tech ecosystem looking to make a mark, you inevitably need a flagship tech conference. In Heilbronn, that has taken the form of Slush'd — an offshoot of the giant Helsinki conference. The conference is sponsored, unsurprisingly, by the Dieter Schwarz Foundation.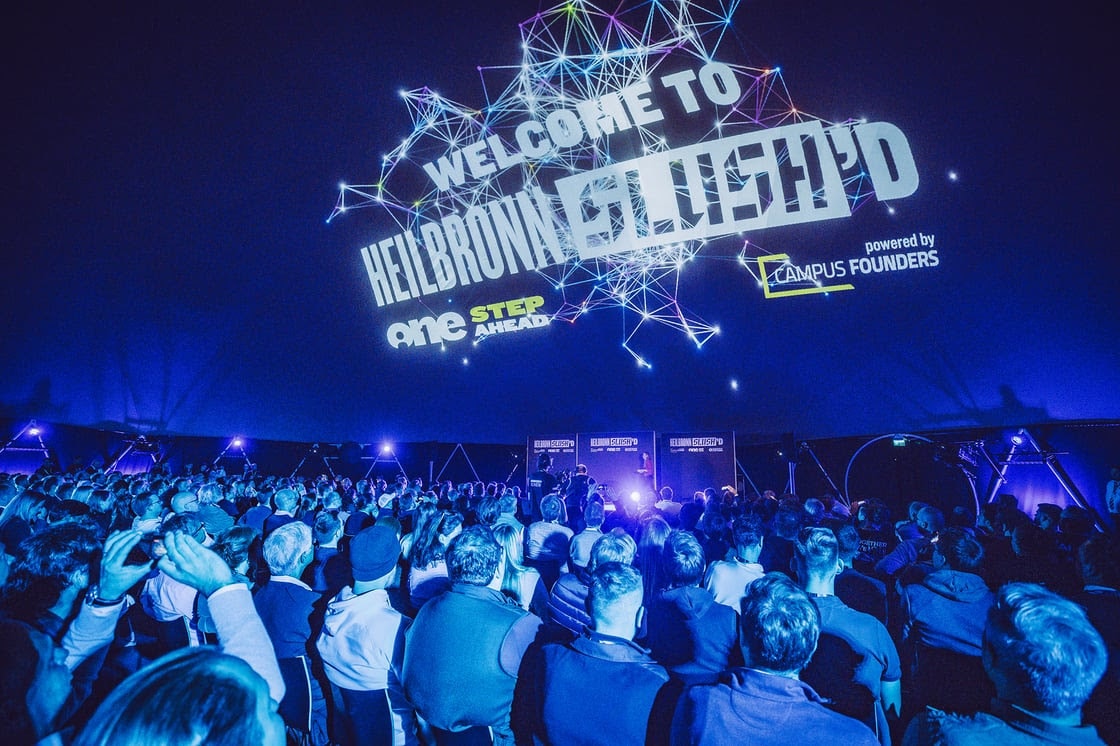 This year's conference, held last week, had an impressive guestlist, which included one GitHub cofounder, an early PayPal investor, one of France's most active angel investors and several German celebrity entrepreneurs, including Carsten Maschmeyer, who runs the German equivalent of Dragons' Den. One of the famed Ipai campus models is even present. 
German carmaker Audi, investors such as Redalpine, Earlybird and Morphais VC (whose founders are from Heilbronn), and international media were there, too. And naturally, Jonas Andrulis, founder and CEO of Aleph Alpha, was the guest of honour.
Funnily enough, many of the most high-profile international invitees had never even heard of Heilbronn before getting an invitation. 
Andrulis told Sifted at the Slush'd after party (held in a giant snowglobe lit inside and out by neon) that the AI campus in Heilbronn could become the starting point for closer collaboration among the AI community in Germany — and that collaboration may not have to be centred all around one campus. 
It'll be interesting to see, he says, whether Ipai will stretch its activities out to other parts of the region: to Heidelberg or Tübingen, for example. "We don't all have to all be in this city, but having this ecosystem where we can work closely together, share compute resources and share ideas" is something we can all benefit from, says Andrulis. 
There are signs that this bubbling ecosystem is already starting to bear fruit, with alumni from Aleph Alpha starting their own companies in the region. 
One such alum, Michael Jancen-Widmer, is building Contrarian AI at Campus Founders and pitched at the Slush'd event. He says that it's helpful to be in Heilbronn, where a lot of research is taking place, as it's easy to keep pace with developments in the field. It's also easy to hire talent, given that many people have moved to the region to work for Aleph Alpha.
"If you want to fundamentally make an improvement in the field of AI, which Heilbronn is centred around with Ipai and stuff, there's nothing comparable in Munich or Berlin or any of the current ecosystems," he says. 
The future of Heilbronn
There were certainly a lot of eyeballs on Heilbronn during that week at Slush'd, with many people questioning how this ecosystem will unfold — and whether it'll become the significant European ecosystem it wants to be.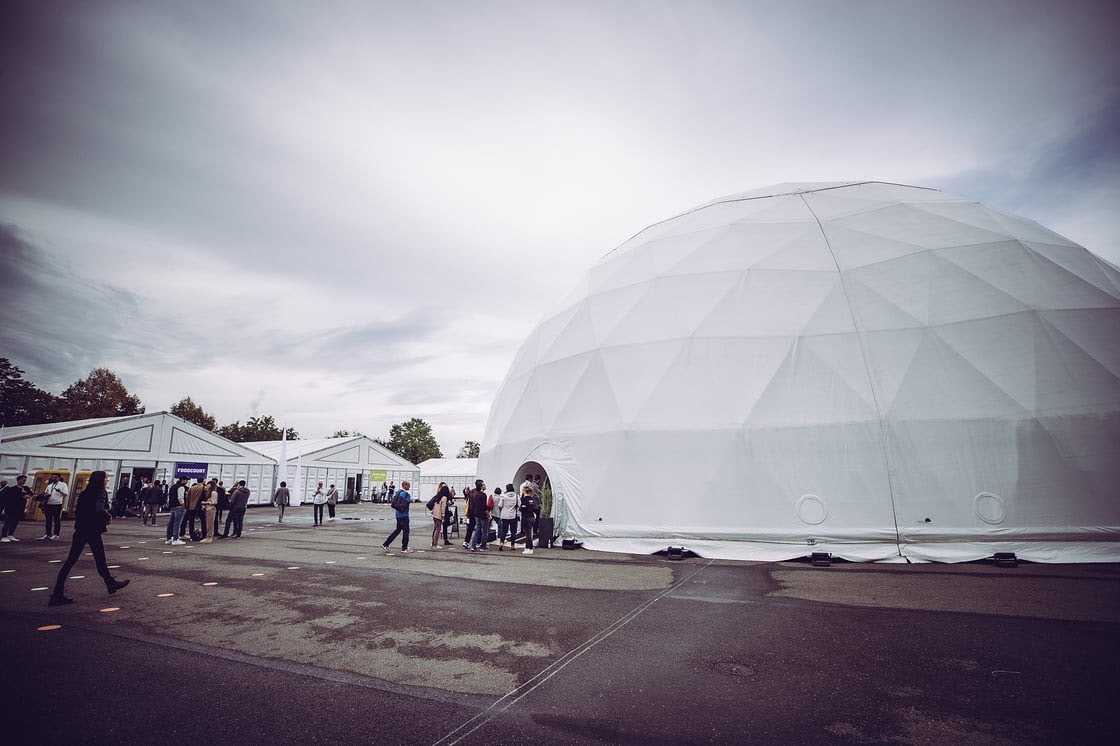 The Slush'd conference ended with the kind of bacchanalia one might have never expected in such a small town. A live band playing Dua Lipa and Mark Ronson covers had the snowglobe practically bouncing as AI founders sipped Aperol spritzes next to VCs. At one point in the evening, a middle-aged AI founder with a PhD from Imperial College took the stage to wow the crowd with an electric violin. Was this happening? Were we in Heilbronn?
Walking away from the Slush'd party, there was silence in the city centre. Investors and founders who came for the day had already left to go home, or had stayed for the weekend for a hike and wine tour. In Heilbronn, something is emerging. The question is, will the startups and investors who came for the conference stay long enough to help this ecosystem grow?
With reporting by Eleanor Warnock
Correction: This article has been updated to reflect the fact that Audi and BMW are not based in Baden-Württemberg.