London, Stockholm and Berlin are Europe's top three cities for "Generation Z" appeal, according to a new study, which ranks a city's attractiveness to people born between 1997-2012 (i.e 7 to 22 years old).
These are also, as seen in the table below, the most attractive cities to venture capitalists as well. Looking down the table, there is a pretty strong correlation between "Gen Z attractive" cities and venture funding won so far in 2019.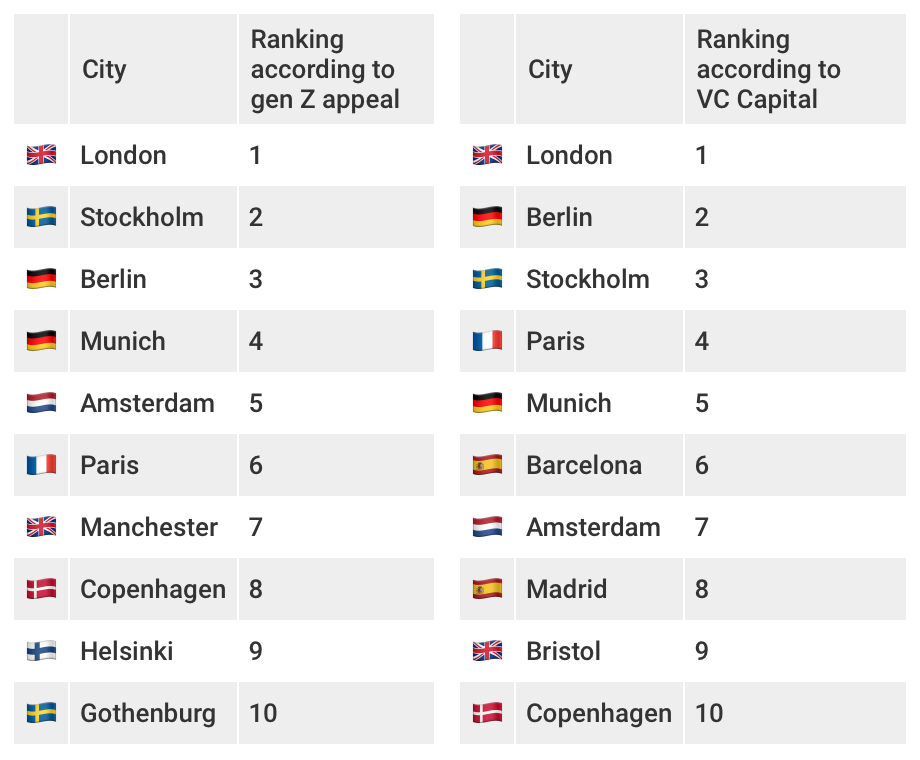 What does this mean exactly? It's probably not that 7 to 22-year-olds are getting a whole heap of venture funding themselves. Or even that they are making a crucial difference as employees of startups.
It's more likely that the fun, open-minded and forward-thinking cities are the same ones that not only appeal to the young but draw the most talent and new business ideas. 
But the study does hint at an important wider point for cities in Europe, many of which are desperately trying to create their own startup ecosystems: creating a culturally diverse, liberal and digitally-active city is hugely important.
The study, which was commissioned by Nestpick, an aggregator website for furnished apartments, measured each city according to 21 factors. The list includes digitalisation, LGBT+ acceptance, gender equality, the right to protest, access to healthcare and mental health support, the number of eSport events, 5G connectivity, and the ability to use digital payment.
Nestpick says that people in Generation Z care not only about things like affordability and job opportunities but they are also looking for cities that mesh well with their values. Apparently, they want to have fun, go to gigs, watch eSports and live somewhere that supports LGBT rights.