Europe's healthtech industry is young and growing fast, new data from VC firm Speedinvest and Dealroom suggests, with the last quarter bringing in a near record amount of investment. 
Despite fears that the pandemic would mean health investors focused on operative businesses rather than up-and-coming ones, Europe's startups brought in $2.3bn in the third quarter of 2020, nearing the record $2.9bn invested in the same quarter last year. 
There are 626 funded digital health companies active across Europe today, and 63% of them were founded in the past five years.  
The number of startups has been growing steadily for the past decade, though figures for the past three years are lower due to the funding reporting lag, and because younger startups are less likely to have secured funding yet. 
The UK leads the way
Although the five companies which secured the most investment in the last quarter were based in different countries, the UK remains the European leader in healthtech. 
Across the last decade, 164 startups were founded in the country. It's followed by the DACH region — Austria, Germany and Switzerland — and then by France, which is the second largest single national market, and then Germany.  
The UK is a highly capitalised market, receiving twice as much investment as the DACH region.
Countries in Central and Eastern Europe, Benelux — Belgium, Luxembourg and the Netherlands — and Southern Europe receive comparatively little digital health funding. 
However, 2020 has shown startups from anywhere can secure big money. Two of the biggest Series A rounds have come from underrepresented markets: Infermedica from Poland and Siilo from the Netherlands. 
Infermedica, which develops AI assisted diagnosis and triage platforms, secured $10m in funding in August this year. It's also one of many startups which developed tools to help fight the coronavirus pandemic, creating a free risk assessment platform. 
Siilo, based in Amsterdam, offers a 'Slack for doctors' platform, aiming to help improve communication between clinicians. It raised a $10.5m in July.
Software and screening
Within the broad healthtech sector, the area receiving the most investment is tech for health providers, including software that helps with daily workflows.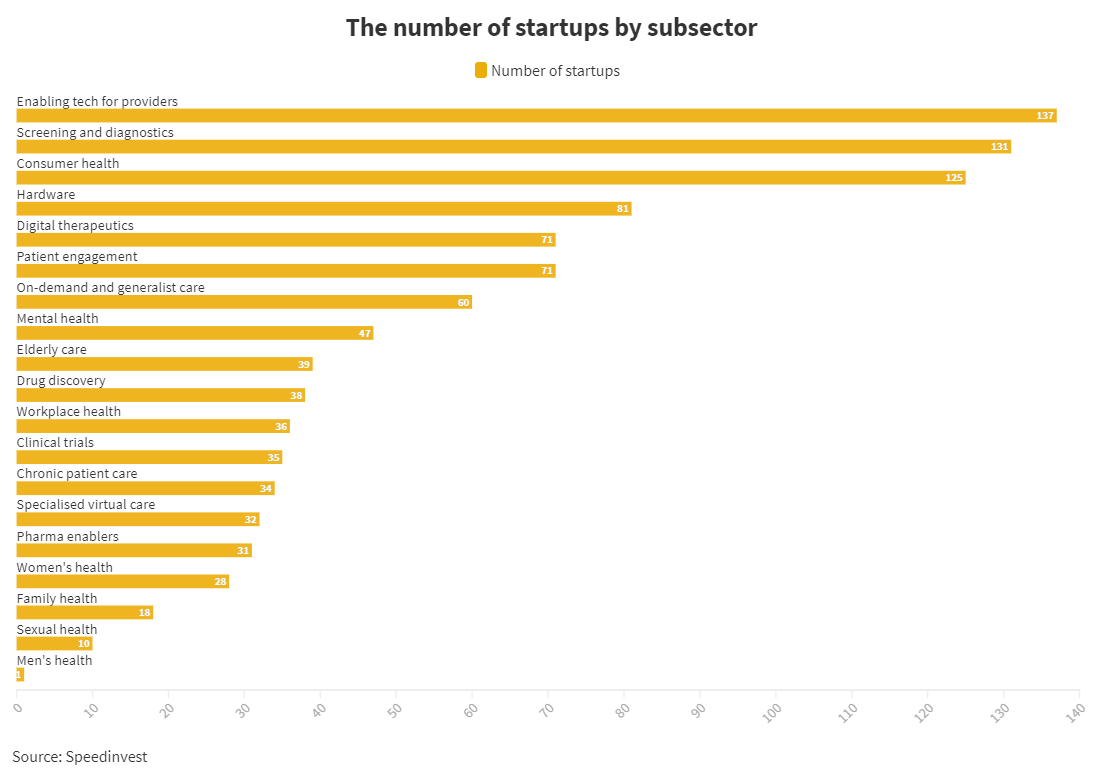 Screening and diagnostics tools also secure a lot of the investment — including plenty of startups, like Infermedica, working on using AI during triage processes. 
Women's health
Across the globe, the funding put into women's health startups doubled in the third quarter of 2020. 
Within that, European startups focusing on the area had a successful quarter. Swiss company Ava, which makes fertility tracking wearables, secured €41m and UK-based Elvie, which makes digitally enhanced breast pumps, secured €45m. 
Mental health
Mental health startups saw a record deal volume globally in the last quarter too, though the total investment was down slightly on the previous quarter. 
In Europe, there's companies like Mindmaze, based in Switzerland, which recently raised $100m to develop their VR digital therapeutics. Its founder, Tej Tadi, spoke to Sifted here. 
There's also London's Compass Pathways, which raised €22.7m in 2018 to explore how psilocybin, found in magic mushrooms, could treat depression.
Healthtech focused on elderly care also did well in 2020 — with 10 companies raising between €4m and €20m each, including Care Sourcer (€12.6m), which helps people find care for elderly people and Elder (€17.9m), which provides care.
The biggest companies
The five companies are all from different countries, showing the geographical diversity of the European industry. 
Babylon Health, a London-based company that provides remote consultations with doctors has the most investment, at €557m. In August last year it received a game-changing cash injection of $550m from a collection of investors led by Saudi Arabia's Public Investment Fund. 
Second is Franco-German startup Doctolib, which allows customers to book online consultations, and third is Kry, a Swedish remote consultations app. Polish appointment booking service Docplanner comes in fourth, and Swiss VR therapies startup Mindmaze has secured the fifth largest amount.
Around the world
Despite the strong investment figures for European healthtech in the last quarter, the global industry was still dominated by megarounds in the US and Asia. 
America's health startups secured $12.9bn in investment — the strongest quarter yet and a 20% increase on the previous one — but the number of young European startups securing funding suggests the continent could come to rival the American and Asian markets in the future.