European universities fall way behind their global counterparts when it comes to VC cash raised by alumni founders, according to a new ranking by VC Runa Capital.
Not one European institution made it into the top 20 — which was made up of thirteen US universities, four Israeli universities and three Indian universities.
Runa ranked unis based on the median funding amount raised by alumni founders who have brought in more than $1m from investors between 2007-2022. 
The VC sourced data from Crunchbase and LinkedIn, analysing more than 17k founders from 89 universities — between them they've launched 15k startups. The ranking only took a founder's first degree into account.
Europe's top-performing university was Cambridge, which came in at 28th on the list. Of the 304 alumni founders Runa assessed from the institution, the median amount raised was $15.9m. That's in contrast to the median $26.8m picked up by ex-students at Ben-Gurion University in Israel — the top-performing university in the ranking. 
The next best-placed European institutions were Switzerland's University of St. Gallen and Germany's Technical University of Munich, ranking 34th and 35th, respectively. The UK's University of Oxford came in at 40th and Swiss institution École Polytechnique Fédérale de Lausanne at 44th. 
While Israeli universities dominate the top five, it's the US-based ones that come up trumps across the ranking of 89 institutions, taking more than half of the spots. Universities like Harvard, Yale, Texas A&M, Duke and Stanford all ranked in the top 10.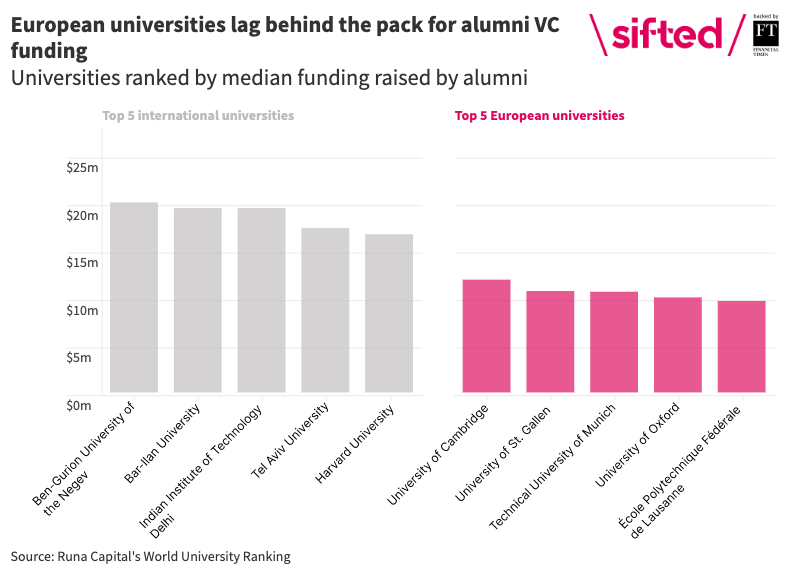 Getting more VC cash into Europe's unis
There's currently a lot of attention on universities in Europe as policymakers and investors call on institutions to do more to unlock the entrepreneurial talent from their communities working on critical technologies in areas like biotech, quantum and AI.
Things do seem to be moving. Last month, for example, the University of Cambridge announced that Tech Nation's Gerard Grech was heading up a new scheme to support alumni founders, and there are funds in Europe emerging that are dedicated to backing spinouts.
A handful of alumni funds have also popped up in Europe, set up by former students to back others from their alma mater. 
That model was pioneered in the US and has since been formalised by Alumni Ventures — a network of 33 university-focused funds set up in 2014, backing alumni from institutions across the country. Those funds combined are the most prolific VC in the country, with more than 1,000 portfolio companies, according to PitchBook.