It's that time of the year — Santa's on his way, and so is the Atomico State of European Tech report.
This year, it's bigger than ever — but there's a lot to cover. Europe's tech industry has had its ups and downs this year, but has broadly been a beneficiary of the pandemic-induced shift to digital. Private funding is on track to hit a new record of $41bn and 18 companies have achieved unicorn status so far in 2020.
If you're short on time, here are 20 things you should know about startups, investors, talent and money in Europe in 2020, based on the findings from this year's report.
1. 2020 is on track to hit a record level of investment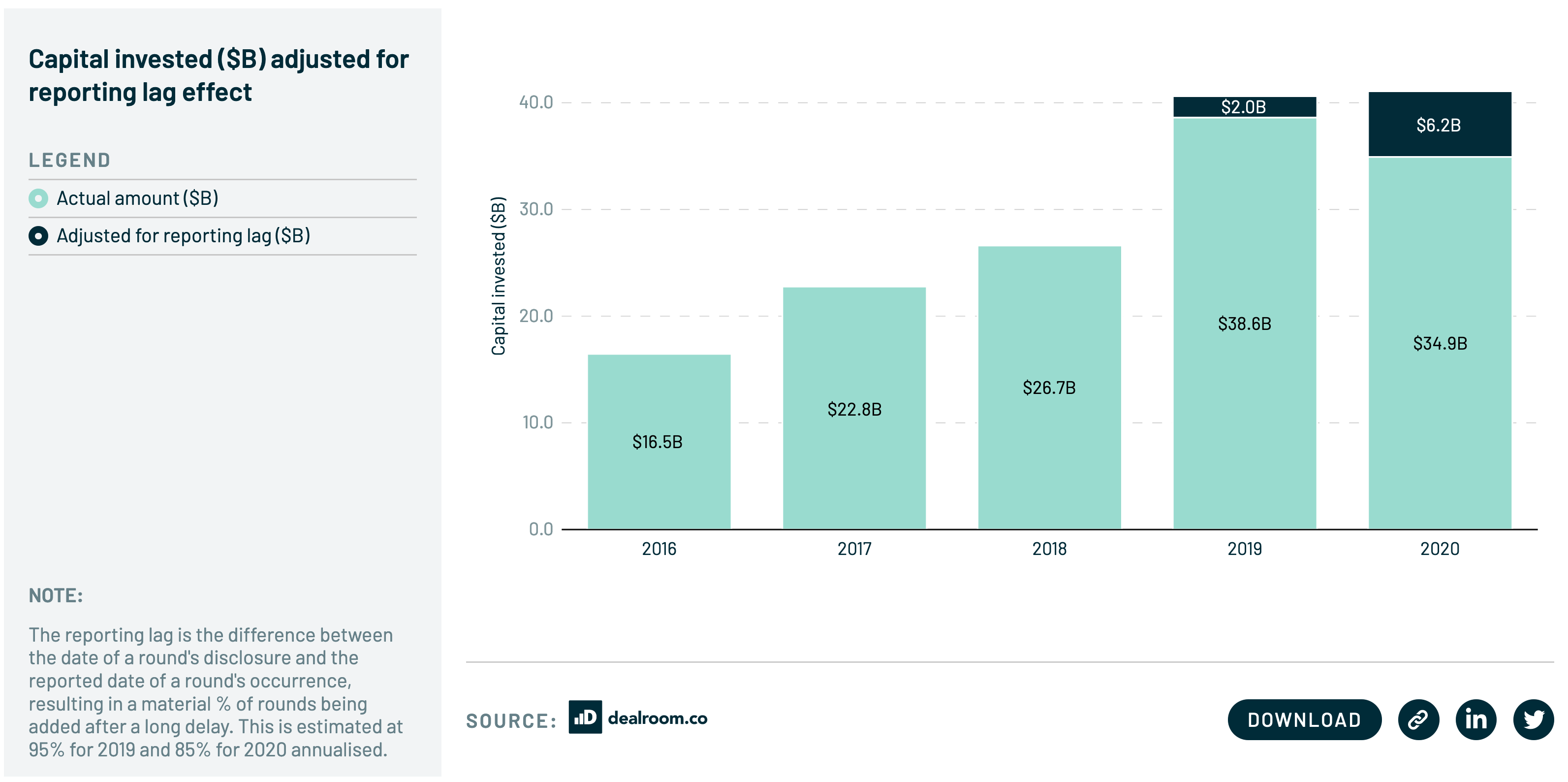 Despite the upheavals and uncertainties, 2020 is on track to be a record year for the amount of capital invested into European tech. Projections suggest that total investment could reach $41bn, once the total has been adjusted to account for the reporting lag.
The success of 2020 has been driven by the increase in $100-250 "megarounds" — the top 10 largest rounds alone raised $4.1bn, equivalent to 16% of capital invested in Europe in the first nine months of 2020. 
The companies which raised those megarounds came from all corners of the continent — Sweden's Klarna ($650m) and Northvolt ($600m), the UK's Revolut ($580m), Karma Kitchen ($317m) and Cazoo ($310m), Germany's Auto1 Group ($300m), Lilium ($275m) and Tier ($250m), France's Mirakl ($300m) and Romania's UiPath ($225m).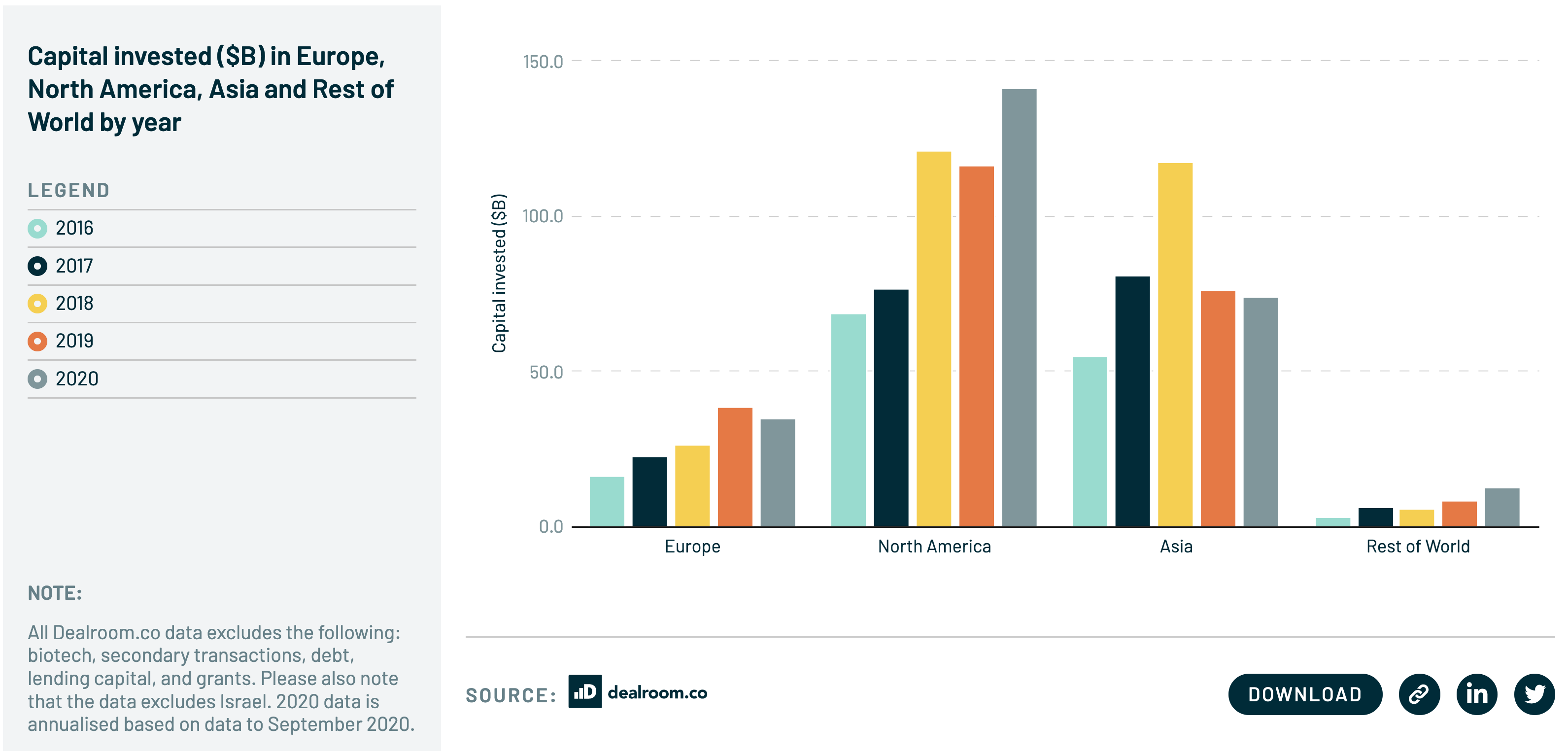 But in comparison to the US, European investment remains low — five times less than North America's $141bn for this year. Still, the continent continues to catch up with Asia, which, at $74bn invested in 2020, is some way behind the $117bn for 2018, mostly due to the continued decline of investment into Chinese private tech companies.
2. September was a record month
September 2020 saw $5bn invested into European tech companies — a new record.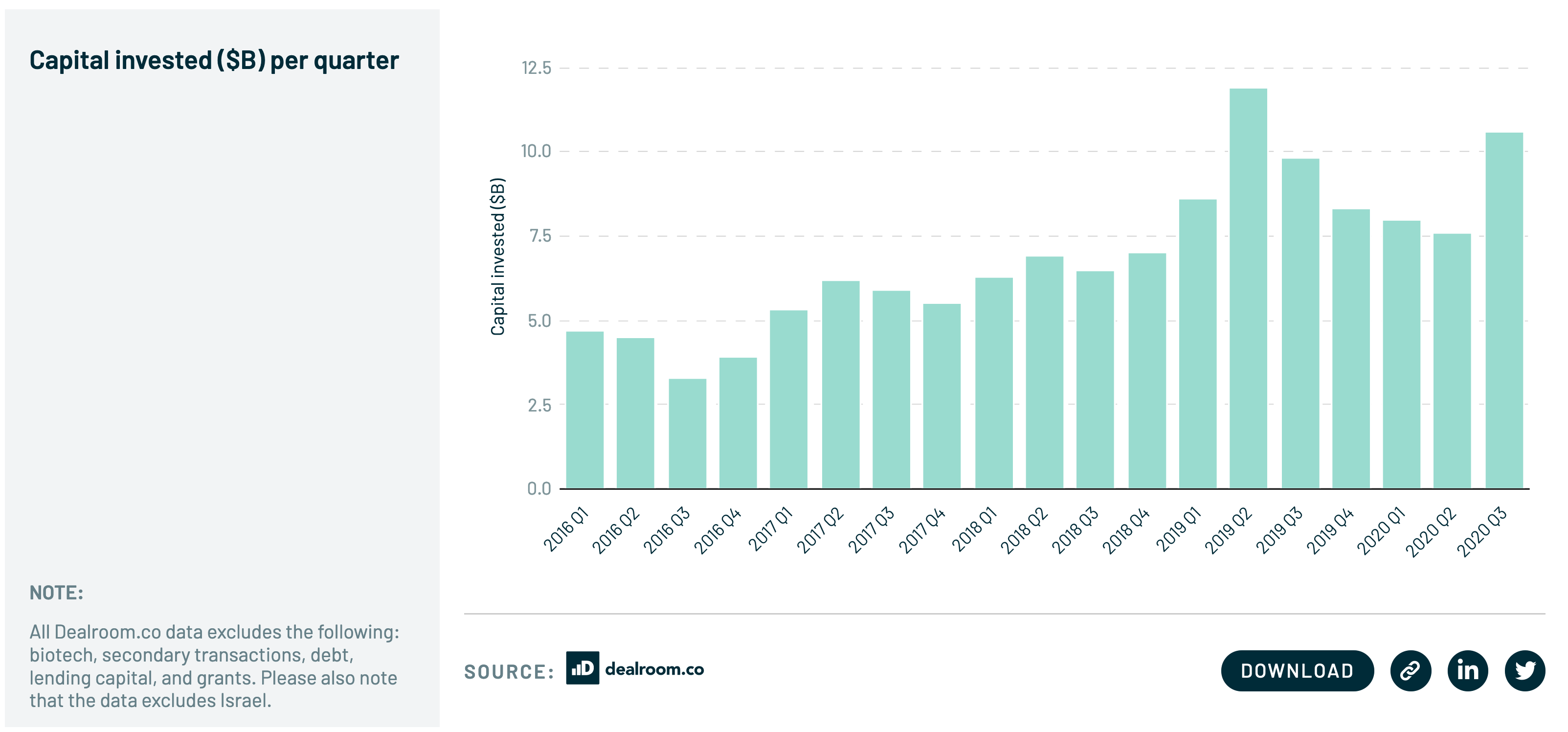 Yet the second quarter of 2020 was the softest quarter since Q3 2018, with $6.5bn invested as coronavirus lockdowns around the continent stalled investor appetite. The bounce back after the summer months is evident, however — capital invested in the third quarter of 2020 equates to a record "Q3" for Europe, the second largest quarter of all time.
3. Fundraising round sizes are growing 
The size of seed rounds has increased significantly across the last few years, from a median of $0.7m in 2016 to $1.2m in 2020.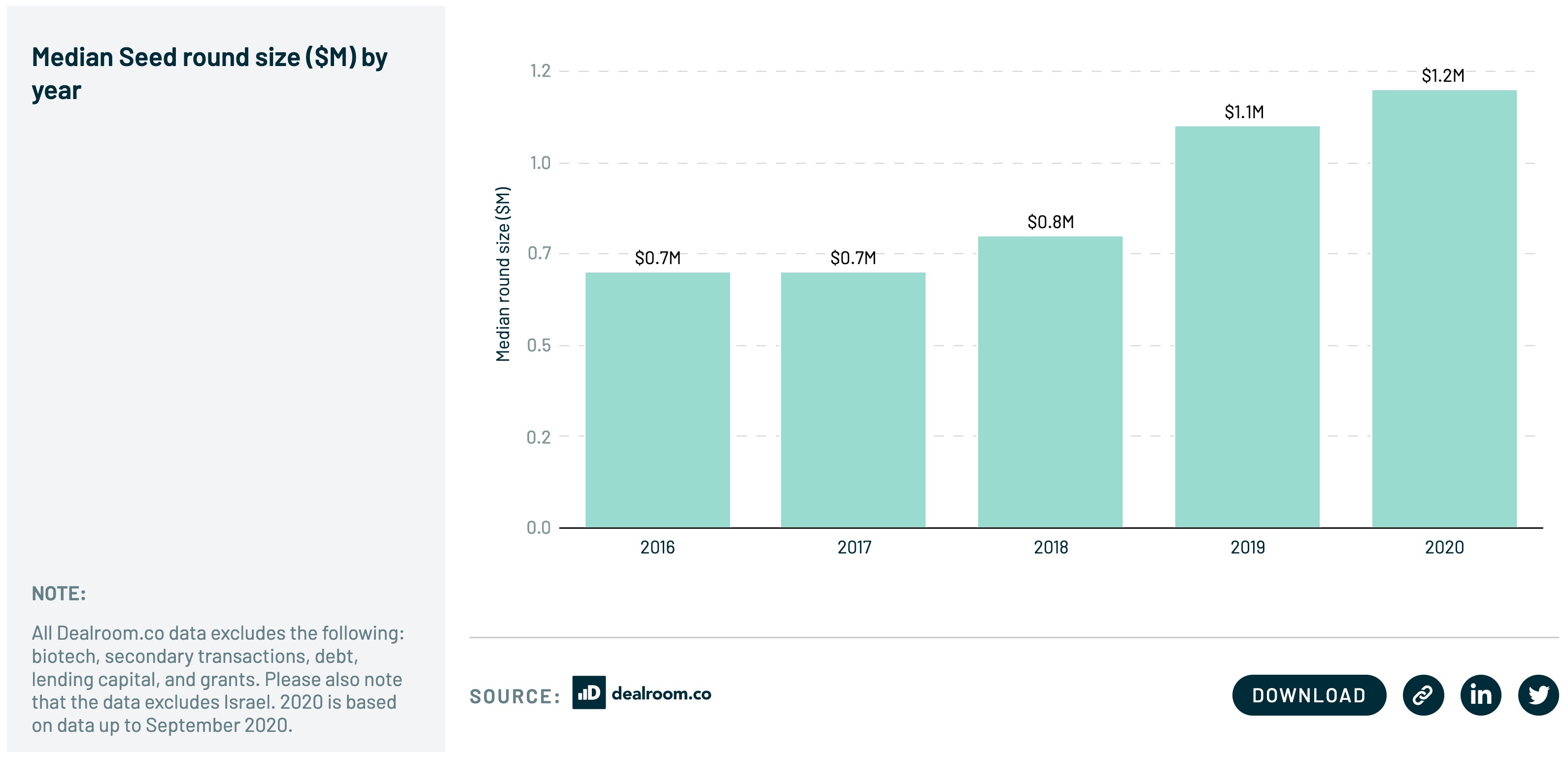 This reflects the fact that leading seed investors are raising larger and larger funds, as well as the arrival of leading US VCs that are participating at seed level in Europe. Series A rounds are also increasingly getting bigger: the median Series A in 2020 was $6.6m, up from just $3.9m in 2016.
4. The Series B shortfall
At Series B level, however, there continues to be a shortfall in funding for European companies. 
It's much less likely that a company will raise a Series B round in Europe compared to the US — as well as at Series C or Series D level. Interestingly, if companies do succeed in making it through these later stages, the probability of then raising a sixth round is a lot higher than in the US.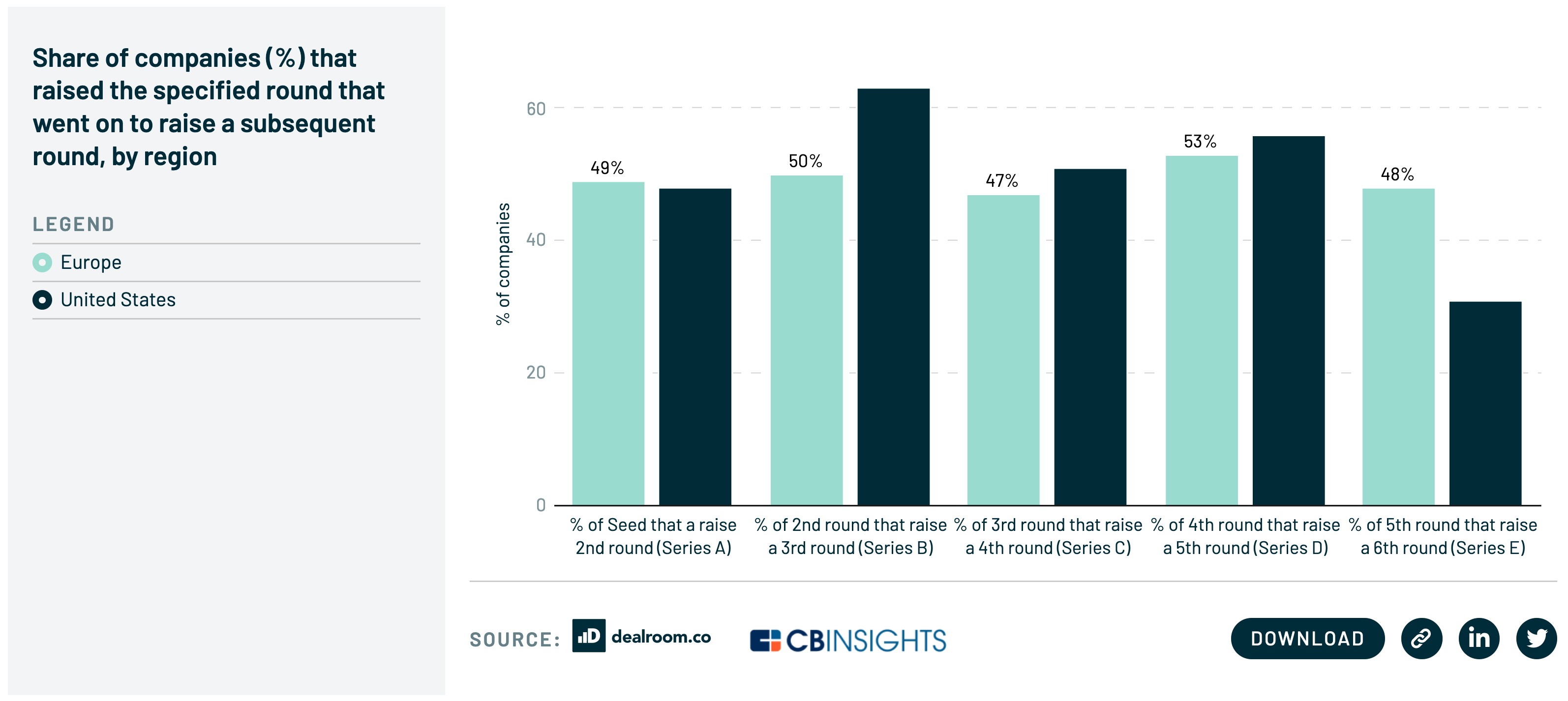 This year in particular, says Atomico's Tom Wehmeier, there's been a noteworthy drop-off of $20-50m rounds. There are two main reasons for that, he thinks: "At Series B you've passed the stage where you're raising off an idea; you're having to raise from momentum and growth. For a lot of companies, changes in user behaviour and enterprise spending impacted their growth trajectory. And a bunch of companies didn't try to raise full-stop; they looked at ways to save money instead."
5. France's record year
Looking at country-by-country trends on a year-by-year basis, France is the only one of Europe's three largest markets to grow in 2020. 
Thanks to this uptick in investment in 2020, the country is set to exceed $5bn capital invested on an annualised basis for the first time.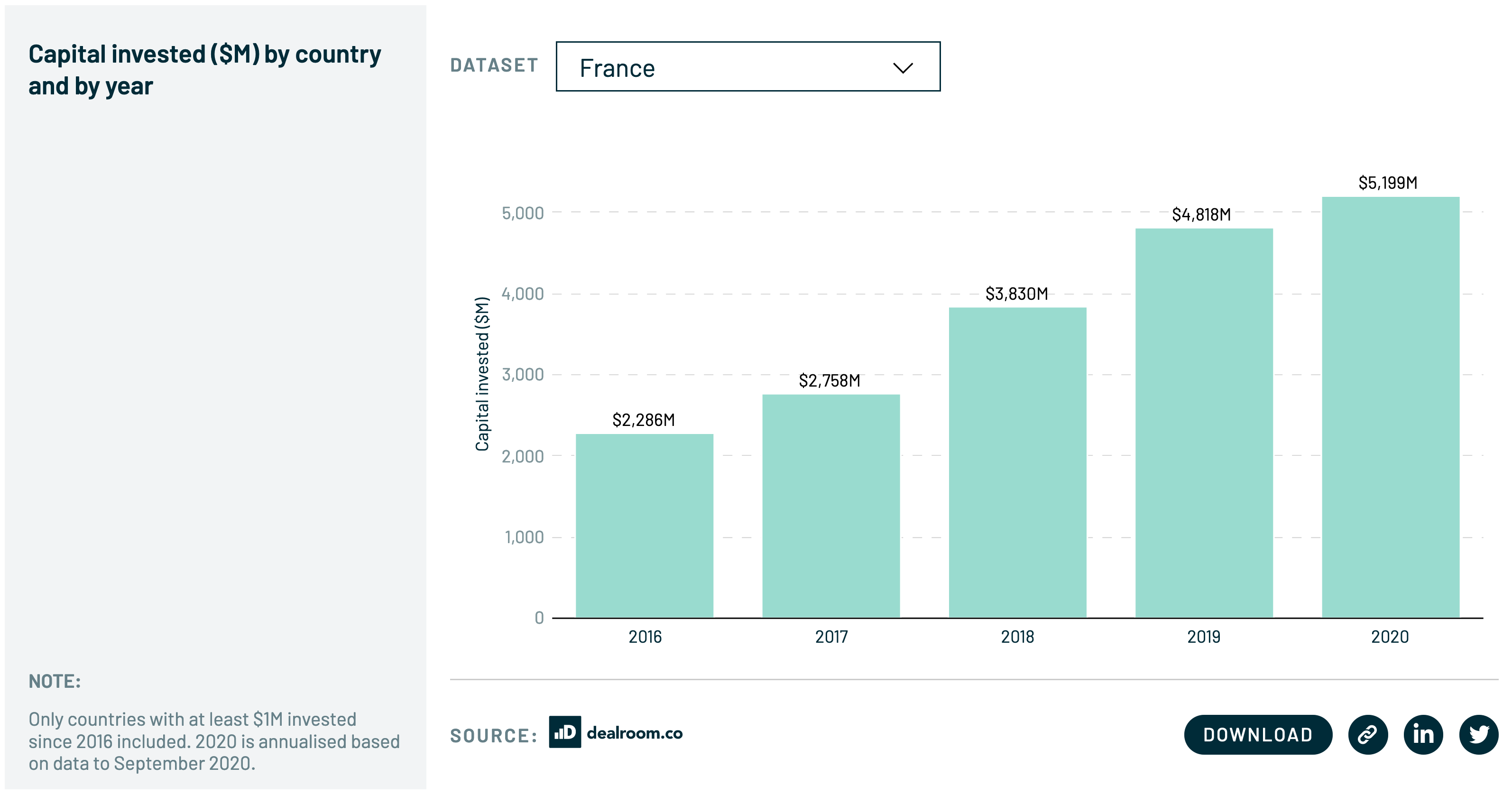 6. London remains the capital hub, Stockholm on the rise
London remains Europe's hub in terms of capital invested in 2020. The city has attracted $34bn in investment since 2016. 
After France's record year, Paris has cemented its position as Europe's number two hub — attracting $3.4bn in 2020 and $11.7bn cumulatively since 2016. 
For the first time, Berlin has not featured in the top three — instead Stockholm takes third place, helped by two of the year's largest rounds of investment raised by Klarna ($650m) and Northvolt ($600m).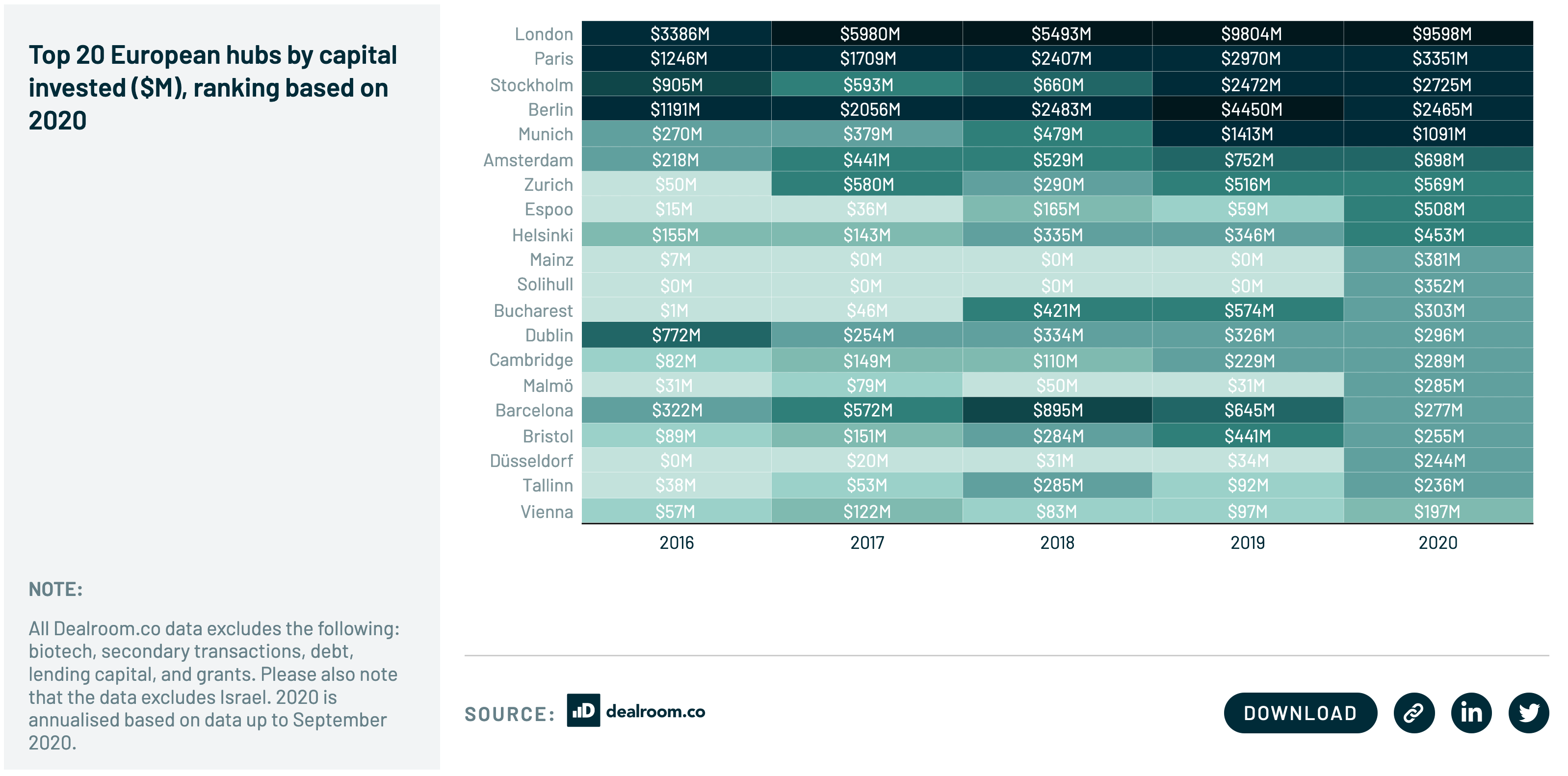 7. CEE countries remain underserved 
Central and Eastern European companies continue to be underserved in terms of VC investment. 
The region has significantly more companies which have developed leading mobile applications than the amount of VC investment they're provided with, showing that the area has a deep talent pool but lacks investment.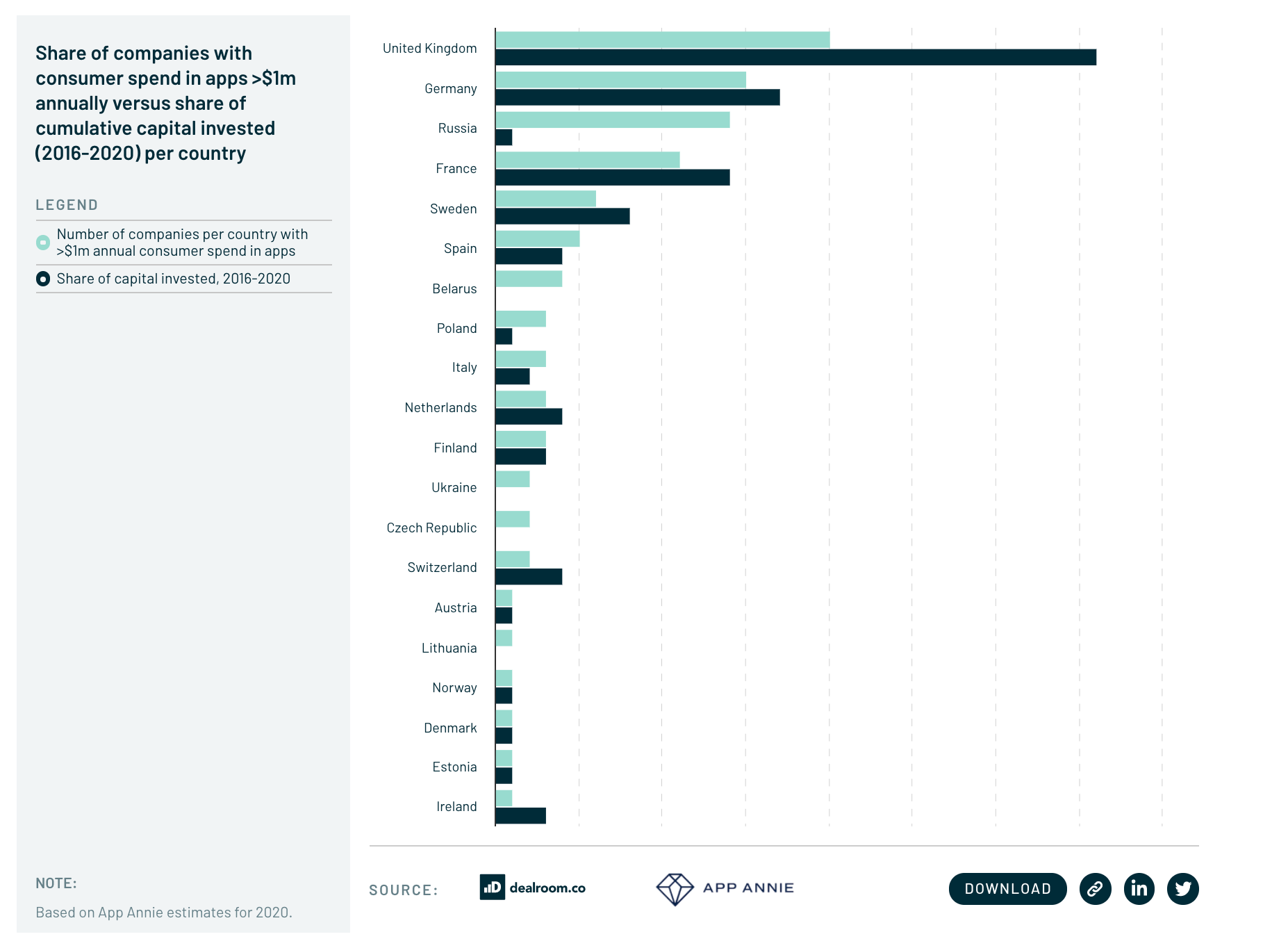 8. Healthtech's rise, travel's decline
After a strong start to the year, investment into travel companies slowed dramatically, following coronavirus lockdowns across the world. The travel sector is expected to see 62% less capital invested in 2020 relative to 2019, although some of the continent's best-known travel companies like GetYourGuide and Omio ($100m) have still managed to raise (albeit via convertible notes). Investment into fintech is also, notably, down on last year.
Unsurprisingly, healthtech startups have had a record year in 2020, particularly in AI-based diagnosis and remote primary care.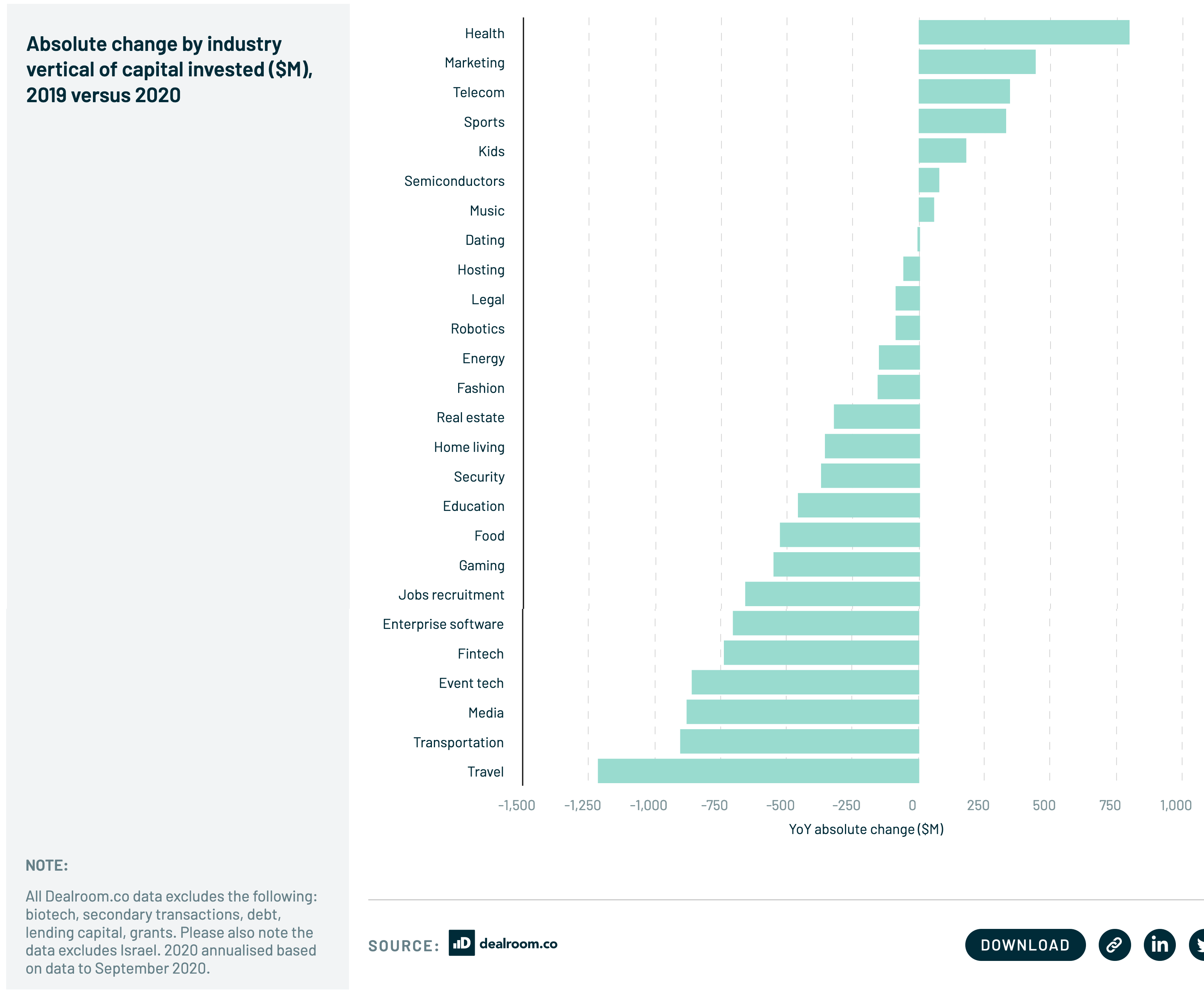 9. Fintech raises more than any other industry
European fintech companies raised more in 2020 than any other industry. This was driven by a number of huge rounds raised by Europe's largest fintechs. 
Klarna raised $850m across two rounds, including a huge $650m round in September. Revolut raised $500m in February, while Checkout.com raised another large round of $150m in June. More than $20bn has been invested into European fintech companies in the past two years alone.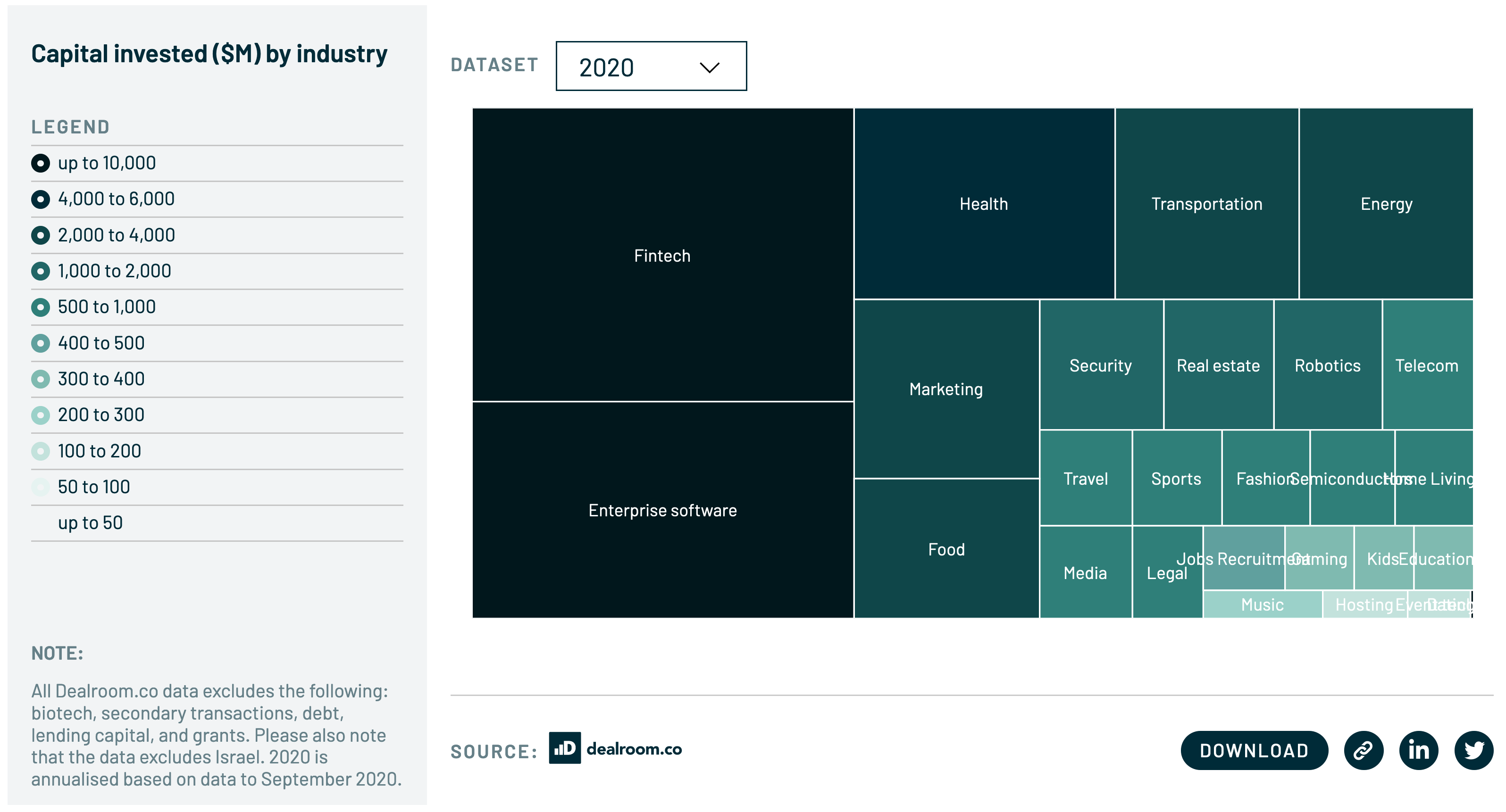 10. The rise of SaaS
European SaaS continues to go from strength to strength with record levels of capital invested in 2020 — $12bn. The figure takes the cumulative total investment into European SaaS companies to more than $40bn since 2016.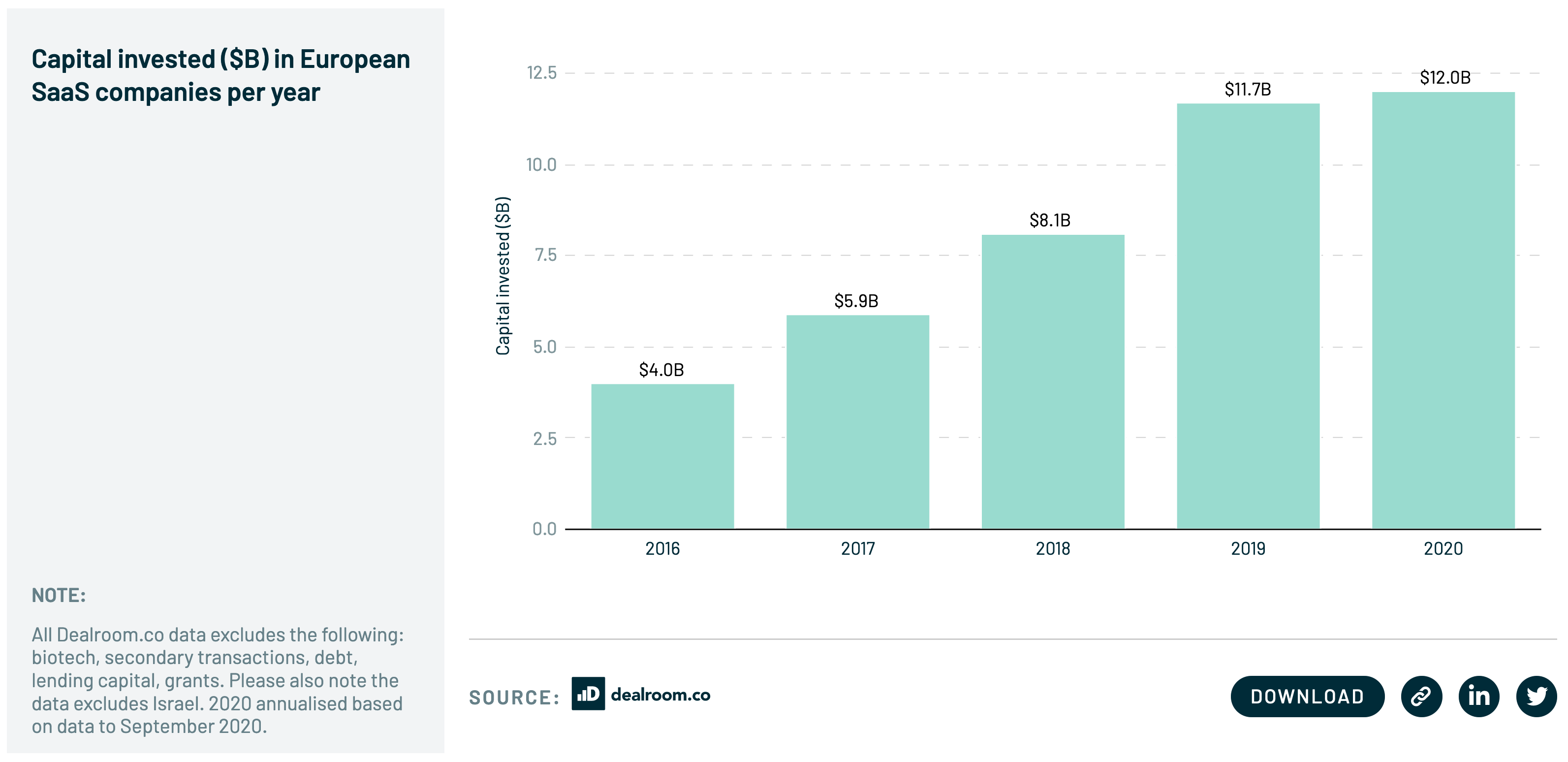 Europe's growth has been fuelled by an increase in large private investment rounds: in 2016-17, the five largest rounds had an average size of $100m — this year the average is $330m. 
Last year, VC firm Accel predicted it would take three years before Europe produced a SaaS decacorn (a company with a $10bn+ valuation); but nine months after the prediction, Romanian company UiPath broke the milestone. 
In July, Norway-based Visma also became the world's largest ever software buyout with a $12bn valuation.
11. A record year for VC fundraising
European VC fundraising was on an upward trajectory in 2019, closing  a record $16.5bn of new funds. 
Preliminary results for 2020 are also strong, with fundraising activity in the first six months of 2020 slightly ahead of the first half of 2019 ($7.8bn versus $7.5bn) and looking on track to break 2019's full-year total.
From Atomico to Point Nine to Seedcamp, Dawn to Holtzbrinck Ventures, many VC firms have raised significant funds — and there are plenty of new kids on the block this year too, from Spain's All Iron Ventures to Astanor Ventures' agritech fund.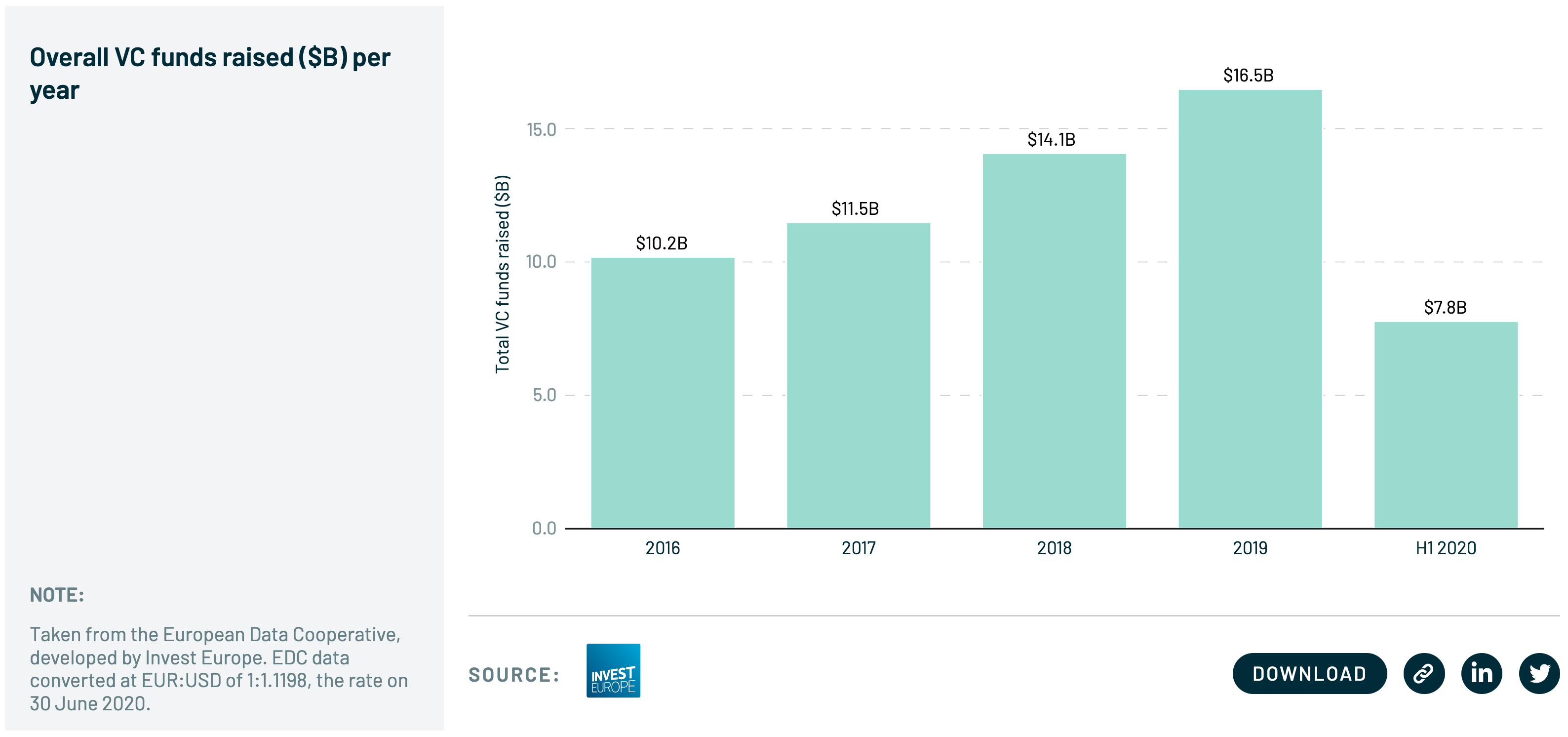 12. VC follow-on funds triple in size
The median size of VC follow-on funds size has increased nearly three times since 2016, reaching a record $133m in the first half of 2020.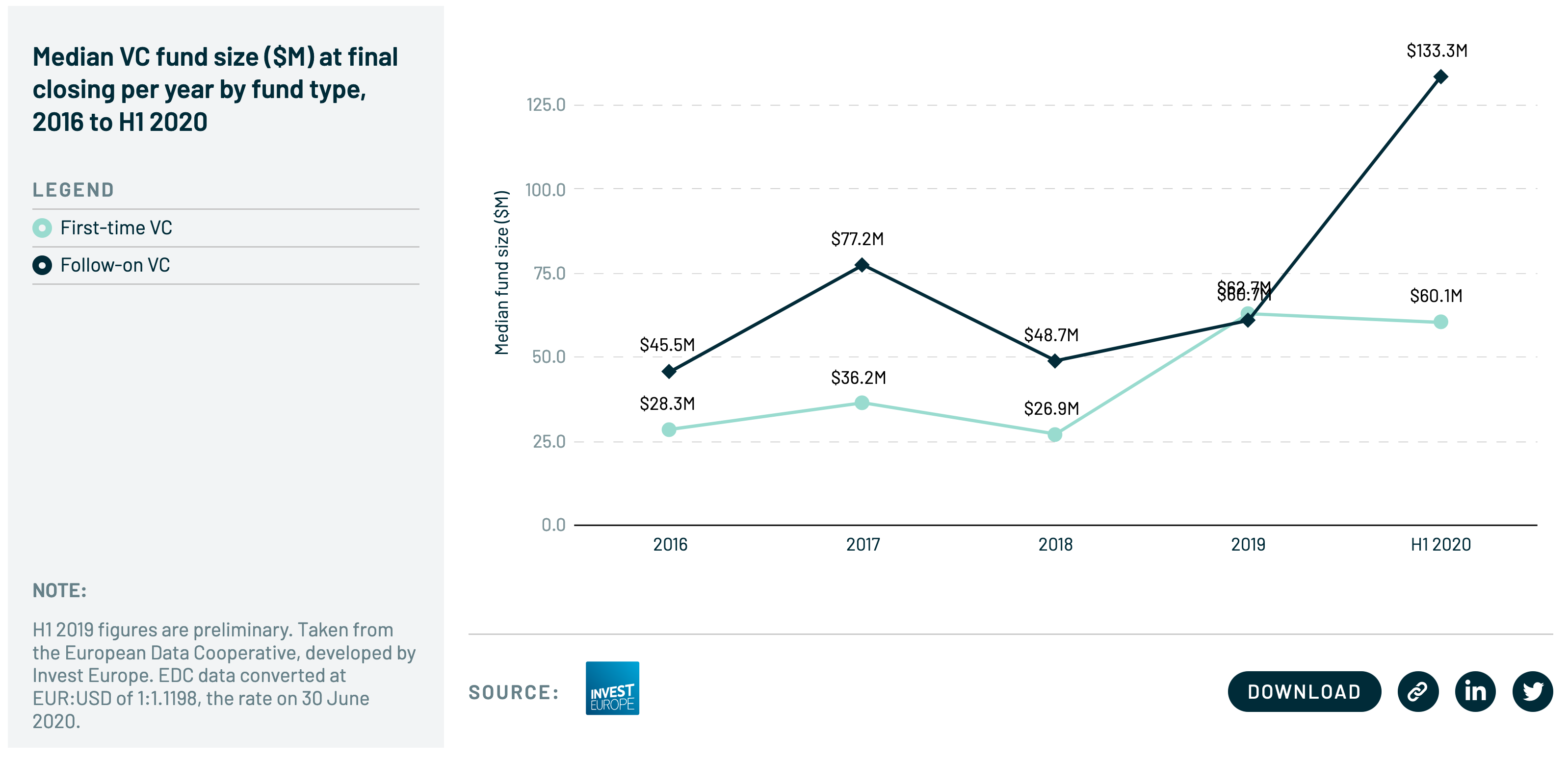 13. Government funding continues to rise
The total level of government funds invested into European VCs topped $2.5bn for the first time in 2019, increasing significantly from $1.1bn in 2015. 
However, while government agencies have materially ramped their investment into follow-on funds, growing almost 3x between 2015 and 2019, the sums invested into first-time funds have not seen the same consistent expansion.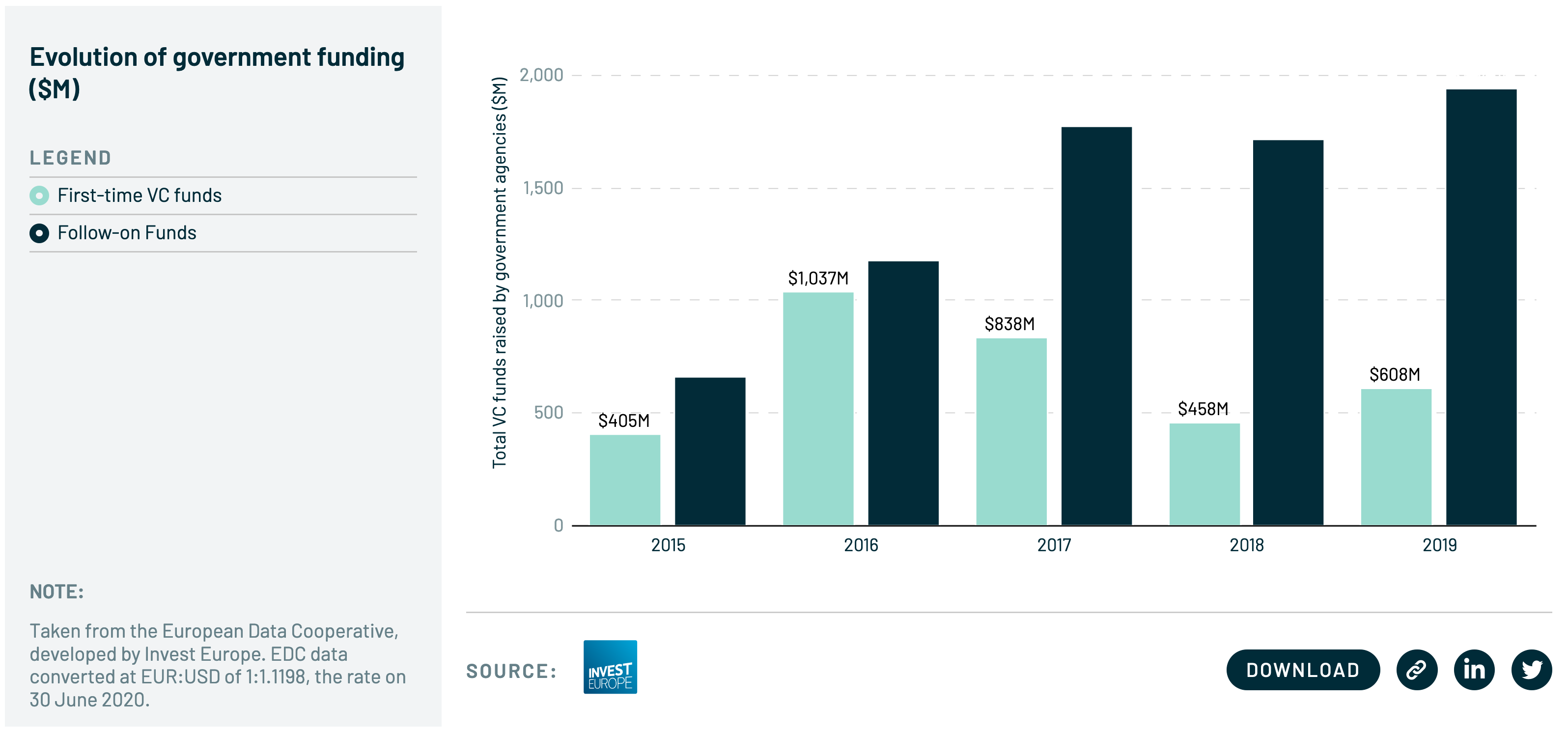 14. International investment has not dried up
A record number of American institutions, more than 550, participated in at least one investment round in Europe in 2020, an increase of 36% since 2016.
The arrival of US investors on European shores hasn't gone unnoticed; 57% of founders surveyed by Atomico agreed that US VCs seem to have been more active in Europe over the past 12 months.
US VC firm Sequoia's announcement that it was opening an office in Europe made a big splash at the start of the year, as did their pick for their first European partner — Luciana Lixandru, formerly of Accel, who Sifted interviewed recently.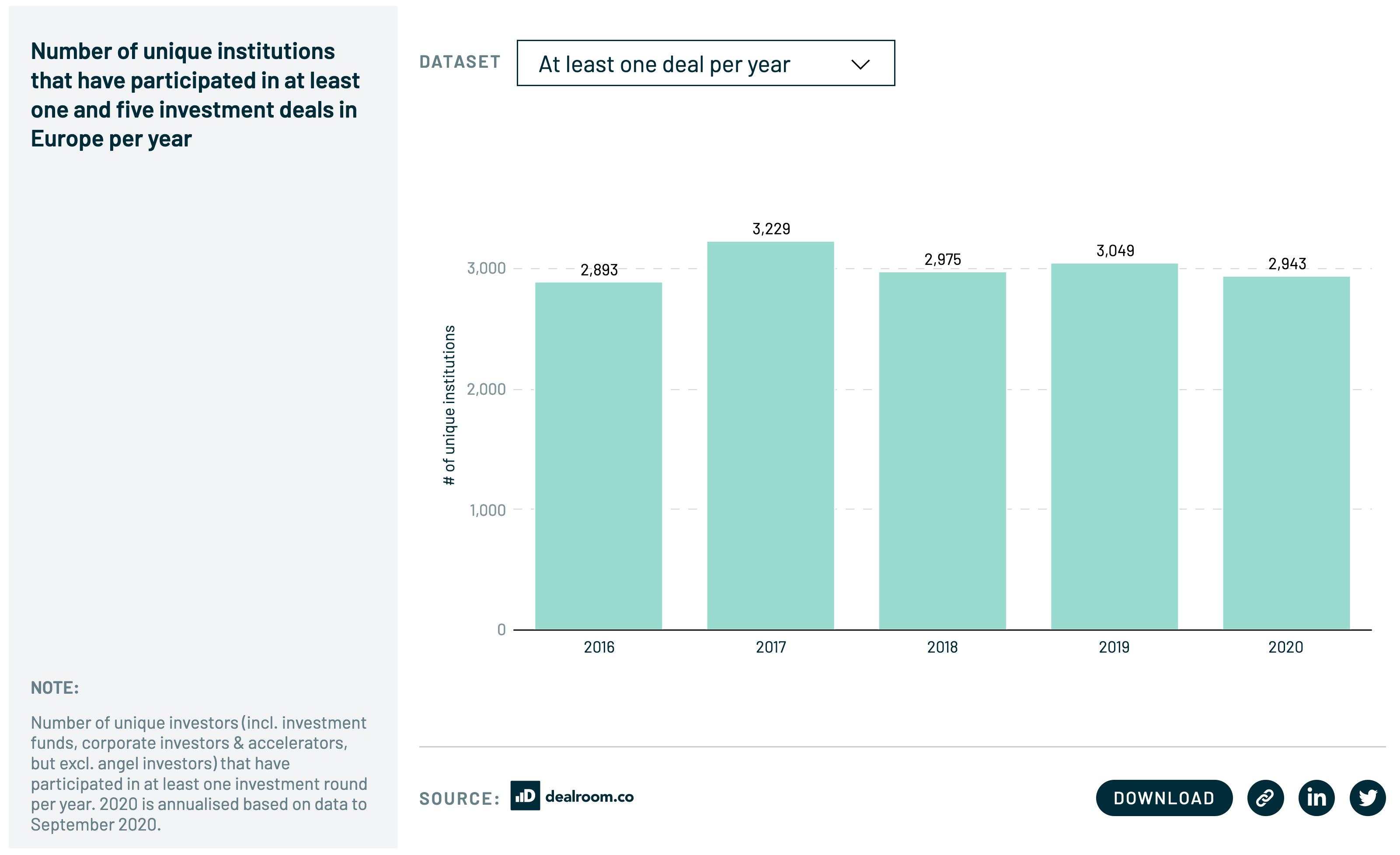 15. European companies are less likely to exit after the first round than the US
European companies are 50% less likely than US companies to exit after a first round of funding. This isn't necessarily a negative for the US, though — it could be interpreted as evidence of both a willingness to "fail faster", and a healthy exit environment. 
Europe would benefit, says Wehmeier, from having more exit options. 
There are several ways that could come about (and is looking increasingly likely to). First up, he says, some of Europe's most valuable tech companies — like Spotify, Kahoot! and Zalando —  are all becoming active acquirers of other early-stage companies. That's good news; it offers founders and employees a chance to get liquidity. 
Big European corporates are also buying European tech companies. Take Oetker's acquisition of flaschenpost — one of the largest ever exits for a German startup — or Puig acquiring a majority stake in Charlotte Tilbury. And finally, private equity firms are also getting involved: see Vista Equity Partners' majority stake in Estonia's Pipedrive.
"This is spinning really nicely now for the ecosystem," says Wehmeier.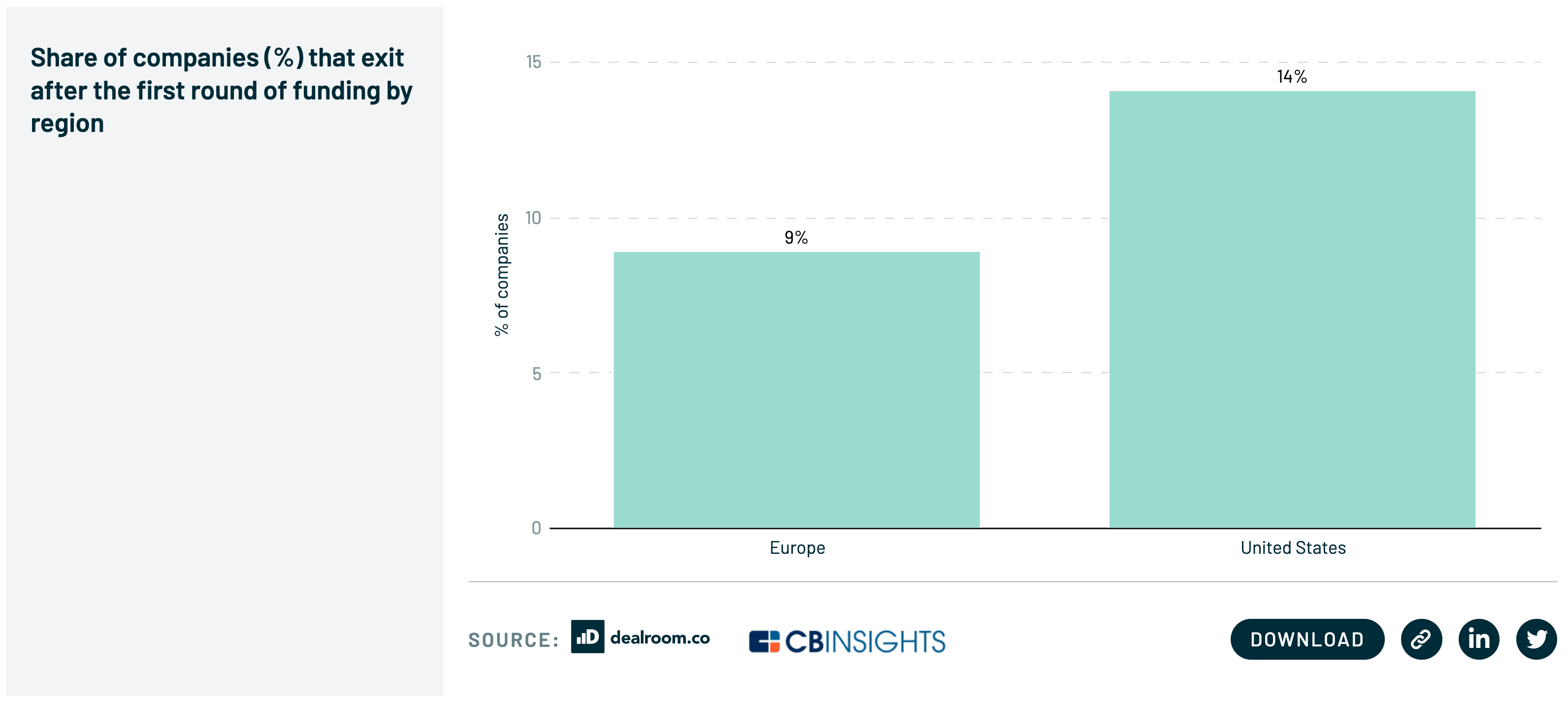 16. Europe's companies have the same likelihood of becoming a unicorn as a US company
Europe's startup 'funnel' that takes companies from seed to billion-dollar valuations seems to be working. Europe is producing unicorn companies at the same rate as the US, with seed-funded companies in both regions having around a 1 in 100 chance of scaling to a $1bn+ valuation.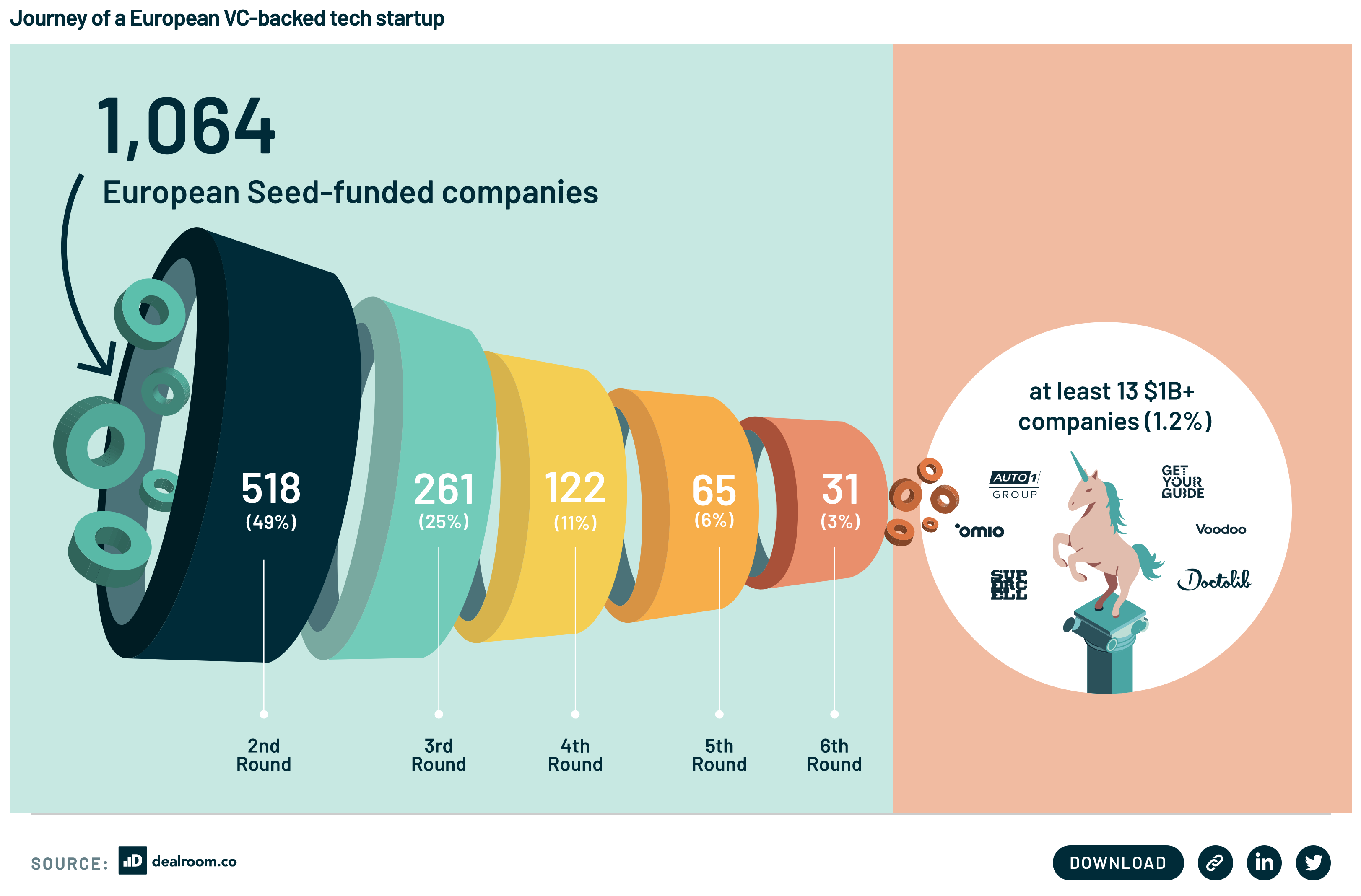 17. European companies no longer feel they need to move to the US
European companies are more likely to have internationalised by setting up office locations outside of their home country than their US counterparts. 
However, there's been a notable downward trend in the number of younger companies that have headed state-side.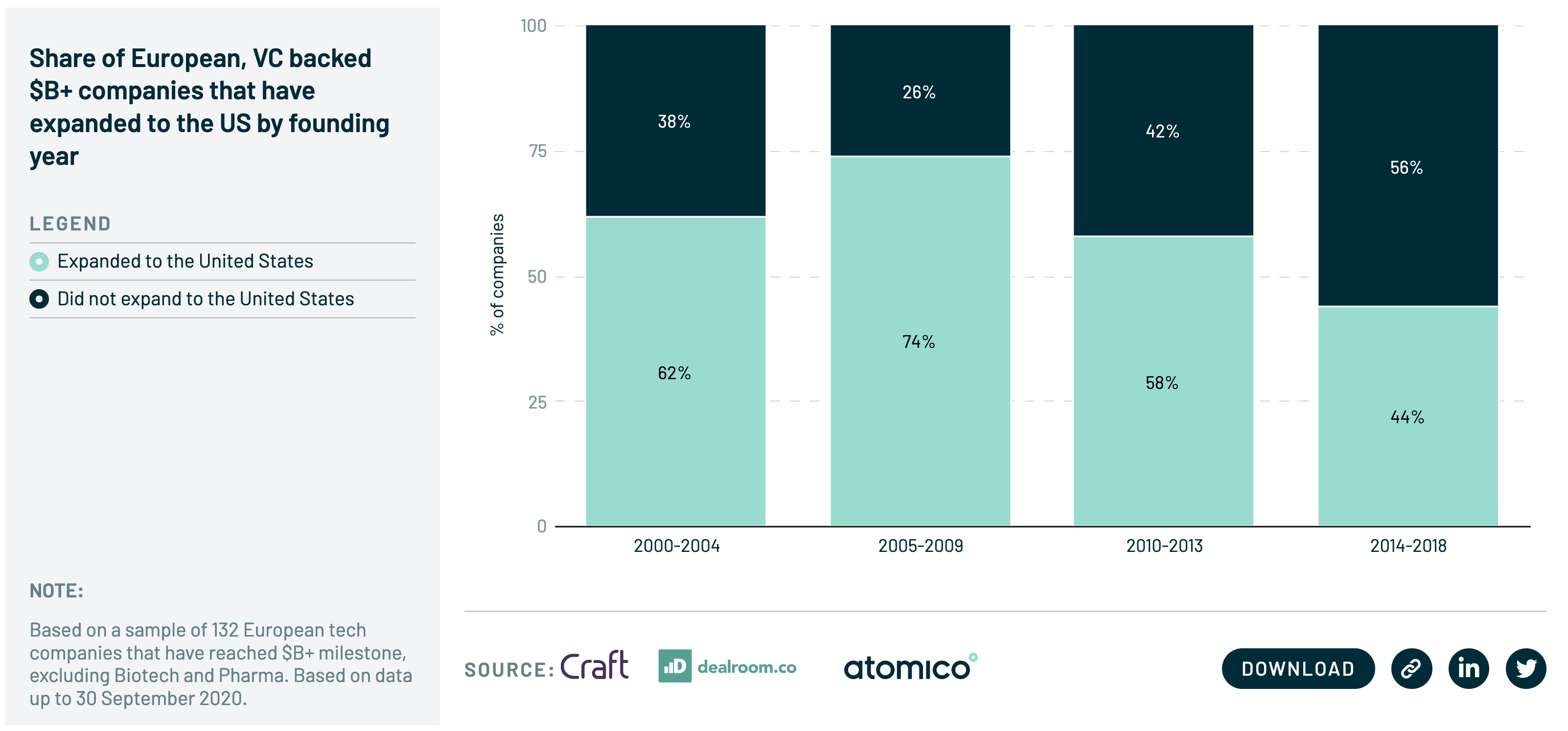 For those that do expand beyond their home markets, Germany is the favoured place to set up an international office in Europe, followed by the UK.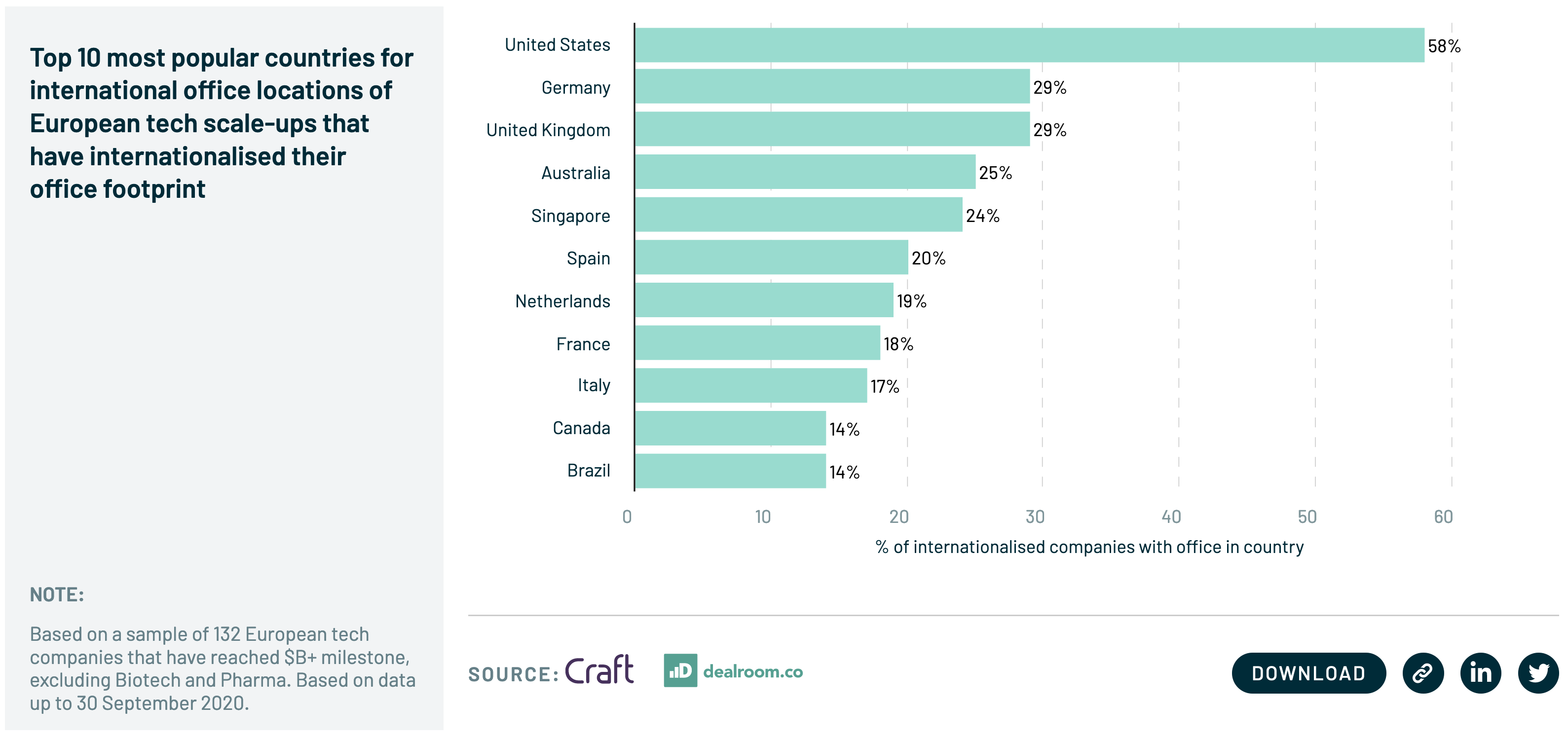 18. Coronavirus has altered the ease with which companies fill tech jobs 
Before the pandemic, European tech companies looking to fill vacancies were finding it increasingly difficult, with growing numbers of open positions classified as "hard to fill" — open longer than six months. 
Since October 2020, this trend has completely reversed, resulting in a 23% decline in the share of tech jobs classified as hard to fill.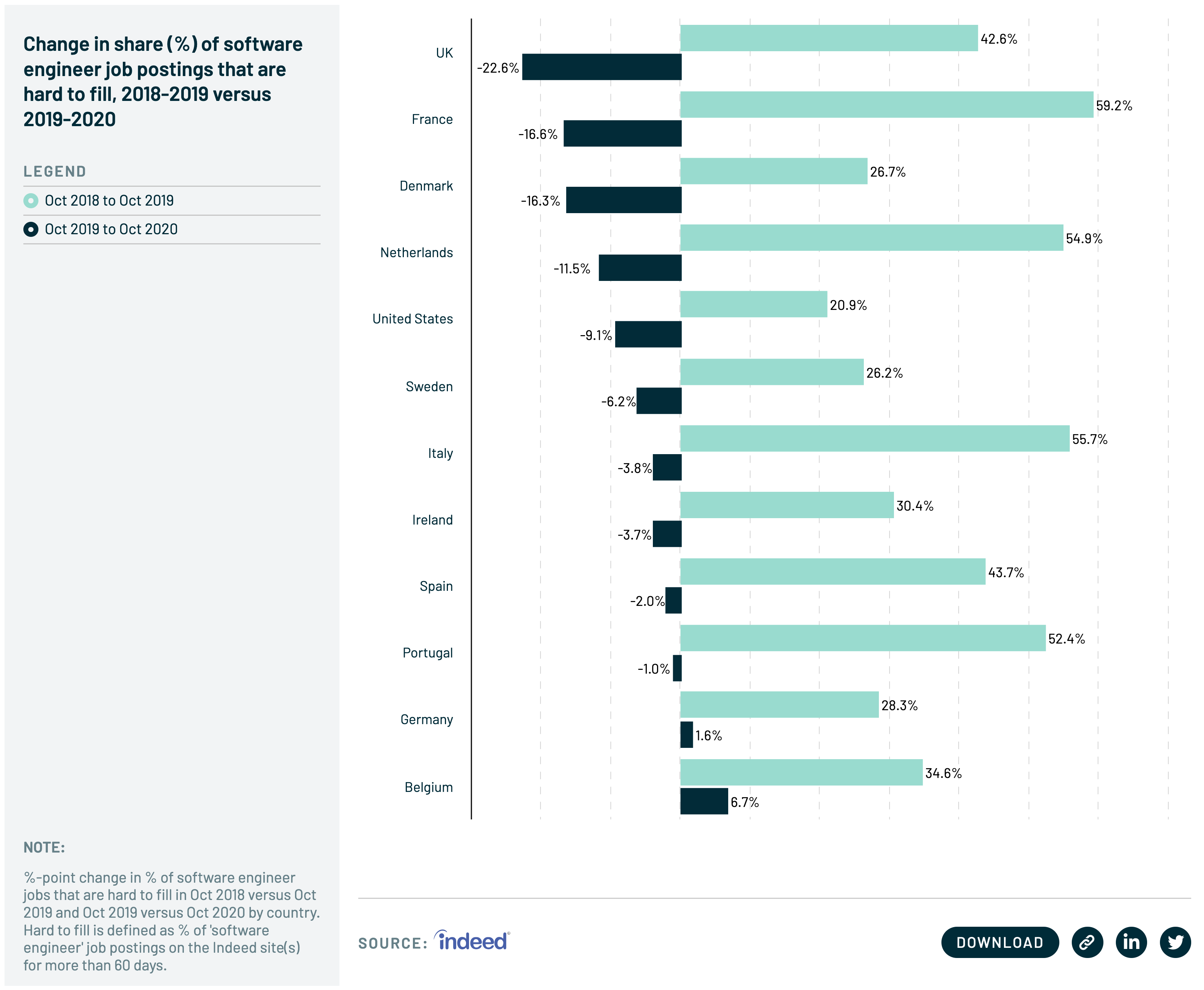 Interestingly, the reversal is much less apparent in certain countries, such as Portugal, Germany and Belgium, which indicate that it remains challenging to find the demand to fill the supply of available tech jobs.
19. European tech still has a diversity problem
Turning to the gloomier data points, 83% of all founders who responded to the State of European Tech survey this year identified as White/Caucasian. Only 2% of all founders self-identified as Black/African/Caribbean, and none of them raised external capital.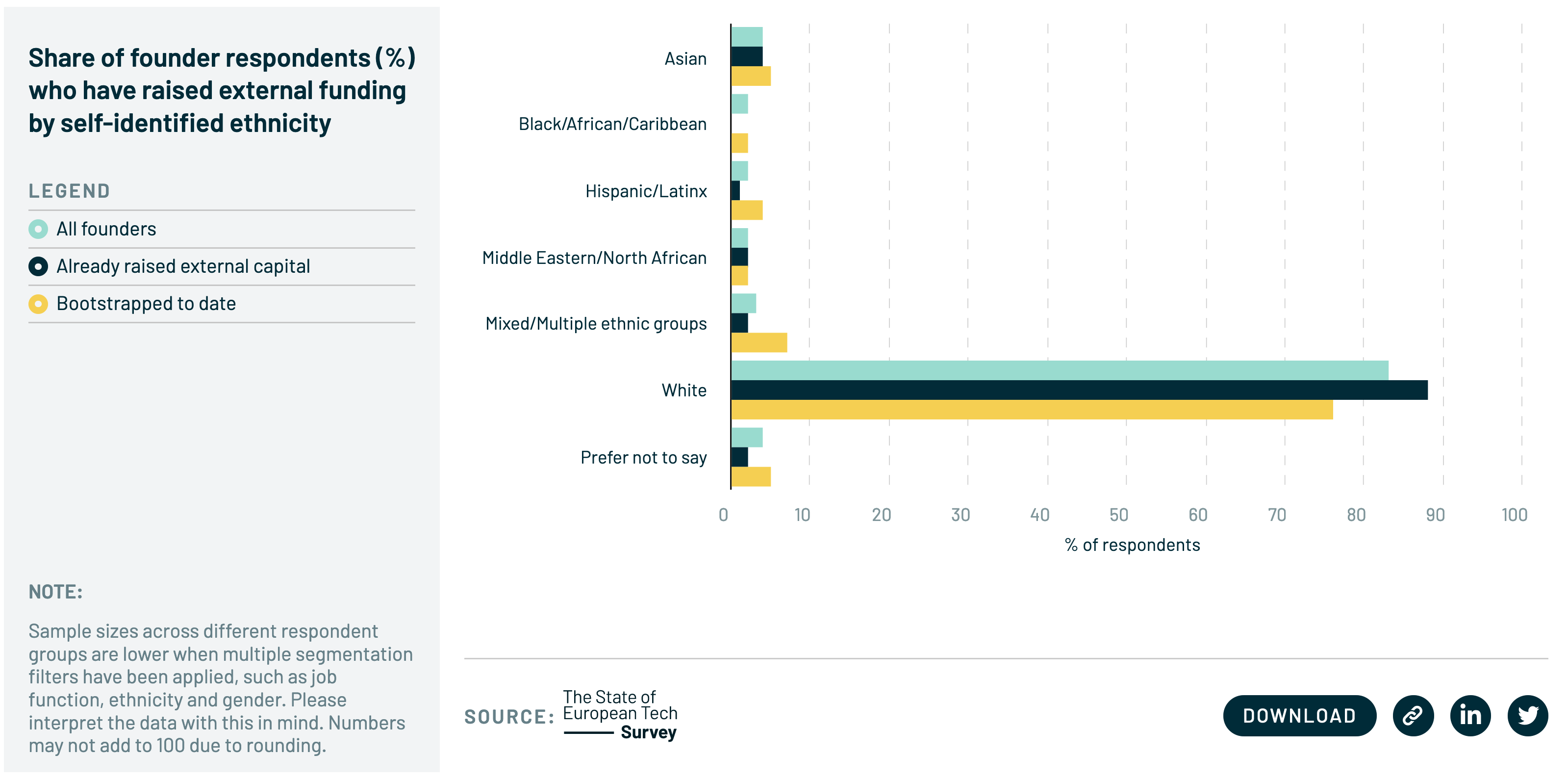 Extend Ventures found that Black and Multi-Ethnic communities represent 14% of the UK population, but all-ethnic teams received 1.58% of all venture capital funding across stages between 2009-2019.
"We are still excluding people and still excluding ideas," says Wehmeier. Part of the challenge, at least when it comes to data around founder ethnicity, is that it is very hard to get hold of this information. "An industry-level initiative is required to create some sort of standard around reporting [of ethnic data]. There are a load of conversations happening to try to figure out how to get it — but it requires long-term stamina and commitment to continue to move as an industry to drive progress. I feel confident it will then start to shift."
20. Progress on gender has stagnated
That said, although the industry has been collecting data on gender diversity for years now, progress has stagnated since 2018. 90.8% of all capital went to men-only teams this year, compared to 90.3% in 2019. Not one deal over $50m was raised in 2020 by an all-women founding team. 
"The data is unbelievably grim from a gender perspective," says Wehmeier.