$113bn raised. 247 $100m+ rounds. 78 new unicorns. 
There have been a lot of impressive-looking numbers flying around European tech this year, and records have been smashed left, right and centre.
So how do you sum up a blockbuster 12 months on Europe's startup scene in a single article? A top 10 list, of course. 
Here are the datasets from 2021 we think you should pay attention to.
1/ VCs can't stop splashing the cash
European VC funding in 2020 did well to stay on par with 2019 figures after a torrid Covid-hit year — but it was always bound to rise this year. 
Not many people predicted just how sharp an increase in capital the region would see, though. (Sifted editor Michael Stothard predicted European startups would raise a paltry $50bn this time last year.)
Funding into startups in Europe is also growing quicker than the US and Asia. Sifted first reported on this over the summer, and the trend has continued throughout the second half of the year.
2/ Top five best-funded countries remain the same
While the UK retained the top spot, it was the Netherlands that saw the biggest increase in VC capital among the top five best-funded countries in Europe — more than tripling from $1.8bn in 2020.
Dutch companies like fintech Mollie, SaaS startup Messagebird and online supermarket Picnic all became unicorns in 2021 and snapped up €600m+ megarounds, while neobank Bunq also hit a $1bn valuation.
Other marked upswings were seen in Austria and Spain. Funding into Austrian startups increased sixfold, as crypto startup Bitpanda and edtech GoStudent both raised two hefty rounds in 2021 and joined the unicorn club. 
In Spain funding quadrupled, as temporary work platform Jobandtalent raised three rounds in the space of 12 months — including a €500m Series E earlier this month — and delivery startup Glovo snapped up €450m.
3/ Fintech's big year
Fintechs in 2021 raised more than the whole of Europe did in any given year up until 2018. The sector saw megarounds galore, with 70 raises of $100m or more; 29 of those were beyond the $250m mark.
4/ Tech jobs aplenty, but talent's in short supply
After an up-and-down 2020 for tech jobs in the UK, the number of live job vacancies on startup jobs platform Otta only travelled in one direction this year: up.
But while startups are crying out for talent, many think finding it has gotten harder over the past 12 months as an ever-increasing number of well funded startups compete for the brightest and best. 
A battle for talent is emerging and, according to figures from data company AdvancedHR, pay for some startup employees has jumped nearly 60% in the past three years. 
Tech visas have also been rolled out throughout the region as countries try and lure talent, with varying degrees of success. Spain's "digital nomad visa" went down poorly with many and France's tech visa has been met with mixed uptake, but schemes have also been rolled out in the past couple of years in Iceland, Estonia and Greece.
5/ Fintechs advertised for the most roles in 2021
More funding = more talent, it seems. Fintechs were hiring for the most roles in the UK on Otta, followed up by AI & Data — the category that most SaaS companies fall into. 
Earlier in the year, Sifted ran a series of articles looking into the salaries of top execs in a number of tech sectors. (Follow these links to find out how much the big dogs in fintech, greentech, healthtech and retail tech get paid.)
6/ Six startups raised $1bn or more in a single round
2020's largest round — Klarna's $650m raise — would come in at number 17 this year, highlighting just how much VC cash was knocking around in Europe in 2021.
The Swedish company did still feature on this year's list, with a $1bn round that made it the second most valuable fintech in the world. So too did Stockholm's Northvolt, which bagged a $2.8bn round — Europe's biggest ever.
The UK also had two startups among the top 10 — neobank Revolut and car marketplace Cinch — but the Netherlands and Germany boasted the most, with three each.
7/ The busiest European-based VCs 
Bpifrance tops the list, getting involved with 170 rounds across 2021. The state-backed investor also announced in March it was increasing its five-year fund for research startups to $2bn.
But the Paris-based fund isn't the only European VC that's been raising this year. In July, compatriot Eurazeo announced a $1.6bn growth fund, and Index — which is known for backing startups like telehealth giant Kry and car marketplace Motorway — also raised two new funds this year worth a whopping $2.9bn.
8/ Most UK scaleups have worse than average gender pay gap
12 out of the 20 UK startups required to report their gender pay gap fell below the UK average of 15.5% for full and part-time employees. 
Energy provider Bulb, which has since gone into administration, was the only company that reported no gap at all. At the other end of the spectrum, fintech Curve paid men almost double what it paid women.
9/ It's not just startups, VCs are also rubbish at diversity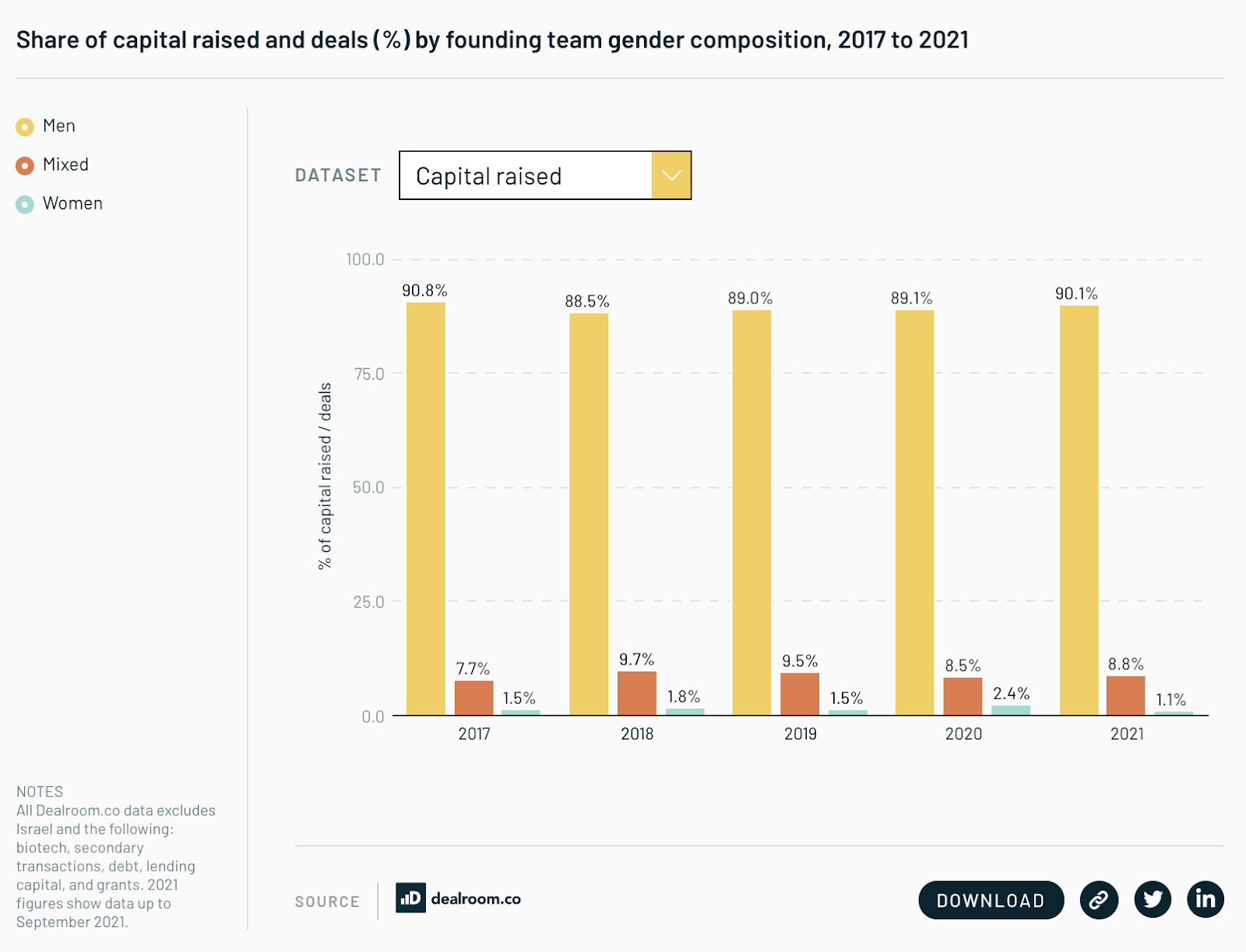 Female-founded startups raised just 1% of funds in Europe in 2021 — even less than the 2.4% of funding that went to all-female founding teams in 2020. 
One of the major reasons for this (some say) is the lack of women leading VC firms in Europe — just 12% of general partners and managing directors at European firms are female.
10/ Round names don't mean much, these days
If there was ever any question about whether some startups took liberties when labelling rounds there's not anymore. 
Crypto infrastructure company MoonPay snapped up a huge $555m Series A in November and grocery delivery startup Flink raised a $240m Series A in June — before going on to bag a further $750m in its Series B earlier this month. 
Both of those Series A rounds would have made the top 10 biggest raises of 2020.