This time last year, Sifted compiled at least some pretty accurate predictions for 2020. Our columnist Nicolas Colin said it was going to be the year of remote working, which he was definitely right about (albeit it not exactly for the reasons he said). Philippe Collombel, general partner at Partech, said it was going to be the "year of economic crisis" which hit the nail on the head.
Admittedly, not everyone was spot on. Jean de La Rochebrochard, partner at Kima Ventures, said it was going to be the year when travel tech beat fintech (the pandemic put a stop to that). Gabriela Hersham, cofounder and chief executive of coworking space Huckletree, said it was going to be the "year of community coworking".
So after that mixed bag, and an uncertain 12 months ahead, what predictions can we make for 2021? Well, here is our effort from the Sifted team of reporters.
We would also love to hear from you about your own predictions for 2021 and we will print the best ones in early January. Just email Sifted's editor Michael Stothard at michael@sifted.eu. (N.B: they need to be big sweeping predictions not "my startup is going to do great").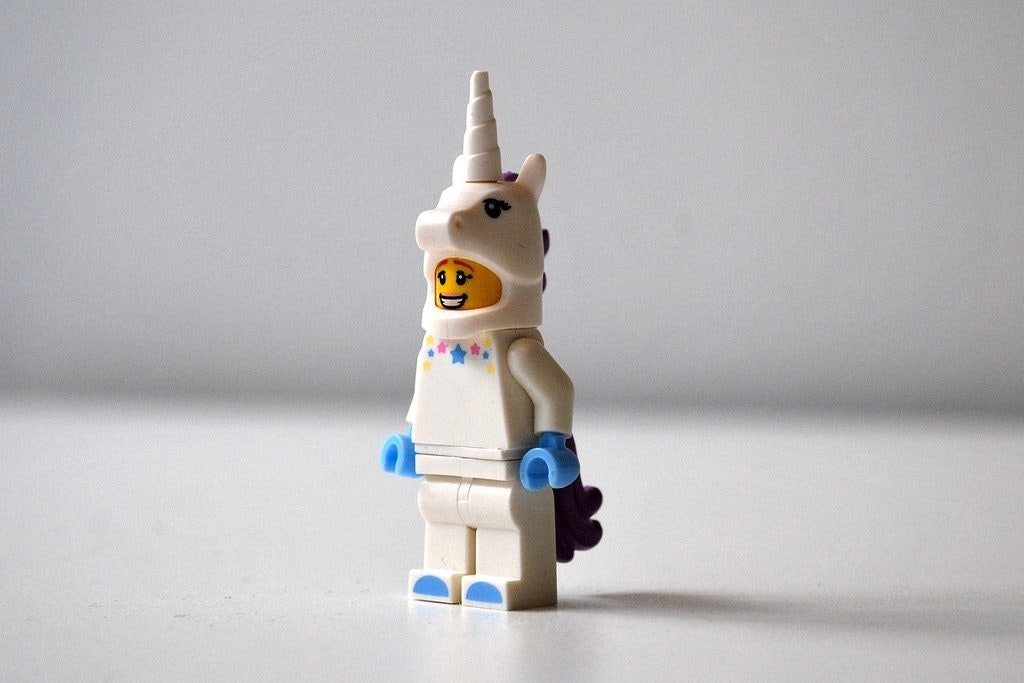 European startups will raise a record $50bn
Back in 2016 European tech startups raised just $16bn in funding from global venture capital firms. Last year European startups, in the midst of a global pandemic, raised a record $41bn. This is an annual growth rate of 30% over 5 years and confirms what we already know: the European startup ecosystem is booming in a way that has never been seen before.
So it's not unreasonable to think that startup funding will hit $50bn next year for a few reasons. Firstly, global monetary policy remains super-lax and so there is heaps of money sloshing around, particularly from the US where startup valuations are much higher and investors are coming to Europe looking for a deal. Secondly, there is dry powder from 2020 waiting to be unleashed once the economy starts to recover.
Thirdly, and probably most importantly, the flywheel of European tech and startups is really spinning. More than ever, people young and old want to found or work in tech startups in a significant mindset shift from a decade ago. More than ever, early employees from one successful startup are leaving to do their own projects, taking money and expertise with them.
Michael Stothard
Europe will mint 25 more startup unicorns
In 2020 Europe created 18 new privately held startup "unicorns" worth more than $1bn, bringing the total number to nearly 60 (depending on how you count it).
I predict that this will increase to 25 tech companies raising money at a $1bn+ valuation for the first time in 2021 as momentum continues to build.
Why? Well, the fact is that Europe is now producing unicorn companies at the same rate as the US, with seed-funded companies in both regions having around a 1 in 100 chance of scaling to a $1bn+ valuation. That should lead to 25 easy.
Michael Stothard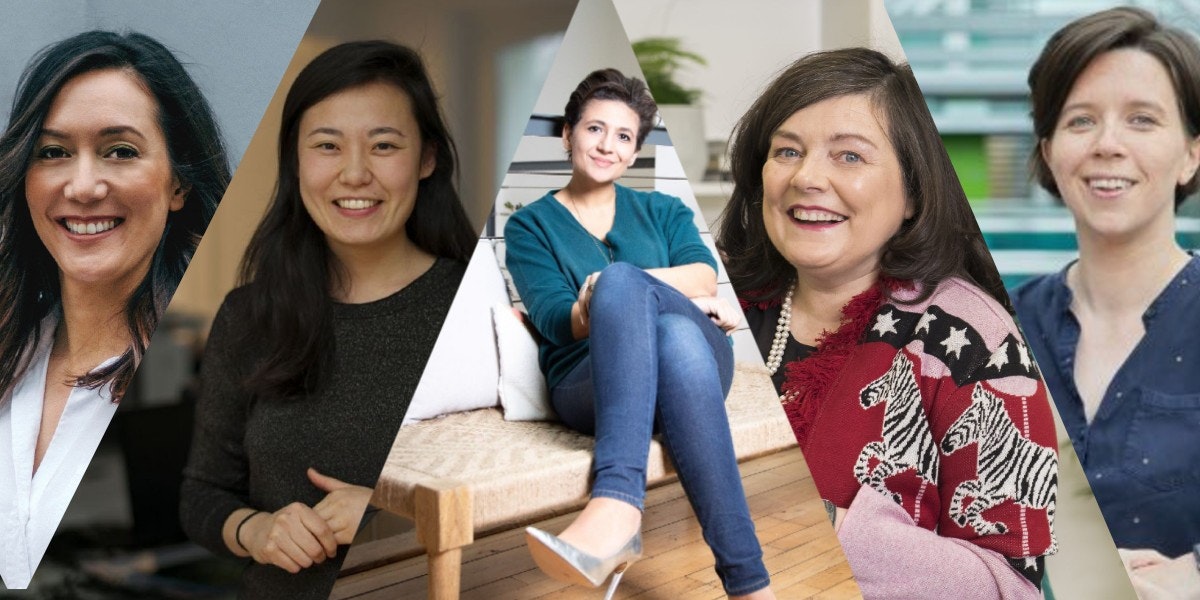 90% of capital will go to all-male founding teams
Last year only 90.8% of VC money invested into European startups went to all-male teams, according to Atomico's State of European Tech report. This was pretty much the same as in previous years, with little sign of improvement.
"The data is unbelievably grim from a gender perspective," said Tom Wehmeier, the author of the report.
While there is some sign of more money being raised by female-led companies at the early stages, it is not much to cling to. And at the later stages, the data is very bad. Not one deal over $50M was closed by a women-only team in 2020.
I hope that this will start to shift in a meaningful way this year, but I fear that it will be the same kind of numbers all over again in 2021.
Michael Stothard
Klarna will claim to be the new Amazon
Remember when the cofounder of the fintech startup Klarna, Sebastian Siemiatkowski thanked CNBC "for making it official: Klarna is now the global innovation leader and Paypal the follower."
At the time, many of us smiled at the somewhat attention-seeking tweet from the Swedish entrepreneur. Dragos Novac did a great analysis about it.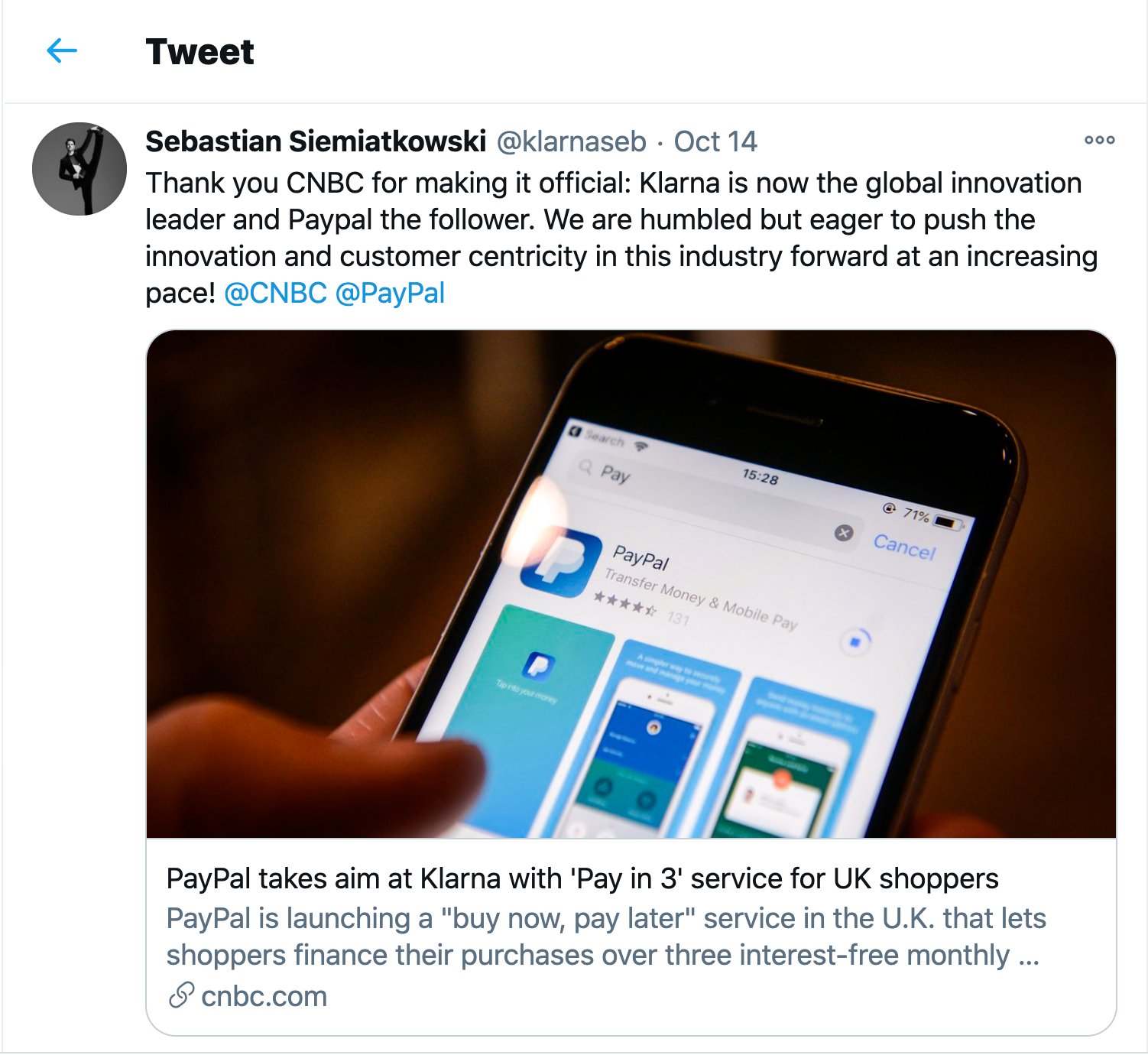 But perhaps Siemiatkowski has a point.
The Klarna app has moved away from being a payment app (you can still manage your payments there) to something bigger and shinier. It is now actually luring us to shop through the app.
Being eight months pregnant there is no point in me looking at sequin dresses, but still, I find myself browsing with an urge to spend money.
In comparison, Amazon, which I visited the other week, has the opposite effect on me.
Klarna just hired a fashion director as well. In terms of logistics and warehousing, it obviously has some way to go, but Amazon wasn't built overnight either.
I'm not the first to think this, but I am pretty sure I am the first to bet a sequin dress that Siemiatkowski will tweet that Klarna has taken the first step becoming the 2020's no 1 super-platform by the end of 2021. Amazon is so 90s.
Mimi Billing
The rise of the European SPAC — and the slump of the IPO
In Europe, SPACs is still a little known piece of jargon, but 2021 will change that.
SPACs (special-purpose acquisition companies) give startups an alternative to listing publicly. They are essentially public investment vehicles with a mandate to buy large stakes in startups.
Instead of listing on a public exchange then, startups can be bought by a SPAC — securing a large capital raise as well as allowing early shareholders to cash in.
The benefit of a SPAC exit is it avoids much of the regulation and red-tape that comes with going public normally. Meanwhile, SPACs often offer startups the same valuation they expected to get on the public market.
Moreover, SPACs are themselves publicly traded, so retail investors can still indirectly buy-in to the success of a startup.
SPACs are already all the rage in the US, and it's only a matter of time before they begin to court large European startups — especially fintechs.
Indeed, the European startup ecosystem is maturing and expected to soon produce a wave of public exits.
Isabel Woodford
Climate tech will become the hottest investment topic
Greta Thunberg and her fellow environmental activists have done their thing. Governments are responding (albeit too slowly). Big companies are outbidding each other in their efforts to look green. VC investors are increasingly investing in climate tech startups in anticipation of big policy shifts.
In February, Bill Gates will publish a much-anticipated book on how to avoid a climate disaster, sparking a global conversation about what practical steps we all need to take. 2021 will be the year when green investment goes mainstream. European entrepreneurs have plenty of smart ideas about how to tackle climate change. Now they need to scale.
To date, climate tech investments have accounted for a relatively small, if very fast-growing, sliver of VC funds (about 6% of the total capital invested in 2019 according to Dealroom).
But they are ramping up quickly, increasing from $418m in 2013 to $16.3bn in 2019. Expect them to grow even faster in 2021 as citizens, consumers, employees, companies and investors all demand that more be done to respond to the climate emergency.
John Thornhill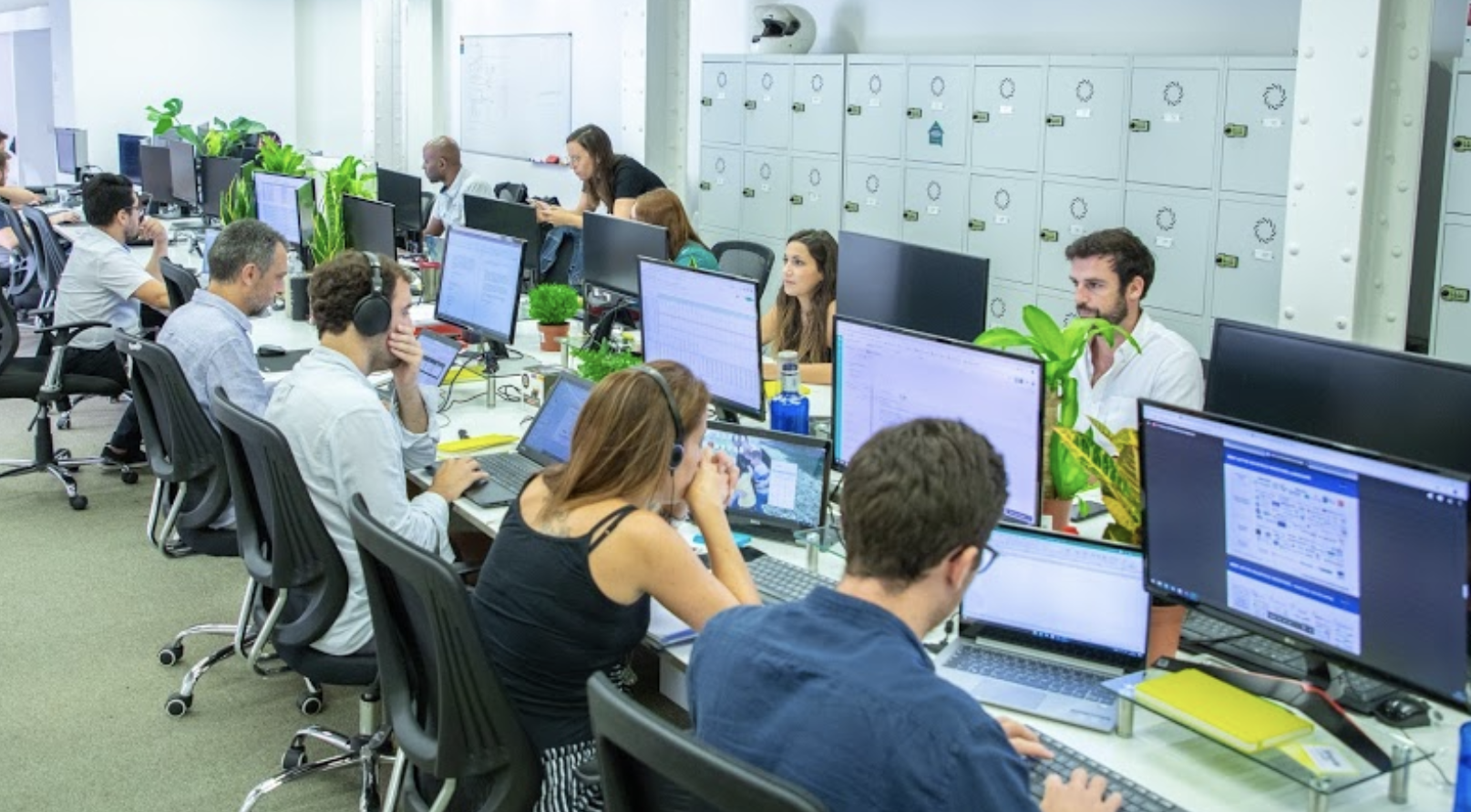 Bosses will want us back in the office ASAP
Many of us feel ambivalent about the new normal of working from home. While answering emails from bed in pajamas might be fun from time to time, it's easy to feel isolated, less active, and less connected to the world around us without the routine of going into the office.
As countries have oscillated between tougher and looser restrictions in response to infection rates, many companies have adopted hybrid models, with employees coming into the office for a few days a week. Many workers will be pushing for a similarly flexible model to become a long-term policy from their bosses.
But don't expect all employers to give up without a fight.
Following the initial lockdown, we've already seen stories of workers being summoned back to the workplace against their will, and Facebook has been accused of "risking lives" by bringing employees back to the office prematurely.
Workers who'd rather have some flexibility certainly have a case to make, with research showing that remote work can increase productivity. However, rising unemployment in a post-pandemic economic slowdown could weaken workers' negotiating hand, as we enter a "buyers' market," particularly at a junior level.
More senior employees will likely have more say over the terms of their work, and it will be down to them to secure a more flexible approach for others.
Tim Smith
Europe's tech ecosystem will become more unequal as Covid begins to bite
The last global financial crash was not an easy time for southern European nations. Unemployment skyrocketed as fragile economies buckled, and many in the region fear we could be in for more of the same this time around.
Signs of a widening gap between northern and southern European startups are already showing. While Europe as a whole looks set this year to exceed funding levels compared to 2019, investment in Spanish startups has fallen by more than half.
Government support programmes for the tech sector also paint a worrying picture for the south. As countries like Germany and France rolled out €2bn and €4bn support schemes respectively, the tech sector in Portugal was treated to €25m in aid measures.
There is hope that the European Recovery Fund will go some way to prevent the gap widening further. Back in August, the EU agreed to a €750bn relief package that will disproportionately benefit smaller European economies, but veterans of the last financial crash believe it will be inadequate to create a truly integrated Europe.
The gathering storm of recession and unemployment will hit Europe hard when furlough schemes come to an end. When it does, the continent's smaller economies will be far less equipped to weather it.
Tim Smith
Your dog will eat insects
Possibly Rover is already hoovering up the occasional spider or beetle in the garden, but we mean eating insects on a more regular basis as insect-based protein becomes a more mainstream pet food option.
Insect protein much more eco-friendly than meat, as producing a kilo of insect-protein takes just 2% of the land area 4% of the water that producing a kilo of beef produces. With pets estimated to be consuming 20% of the world's meat, many owners are becoming concerned about the carbon pawprint. Insect protein may also be healthier for pets — a surprisingly high percentage of dogs, for example, have an allergy to beef.
Ynsect, the French mealworm farming company which raised an eye-popping $372m funding round this autumn, already sells its insect protein to makers of hypoallergenic doga and cat food, but now says it is in talks with several large pet food brands too. Ynsect is building a huge production plant in Amiens that will allow it to produce 1,000 times more mealworm protein than it does today.
Signs of insect-based pet food's popularity are around at the grassroots level too. Aardvark, the UK-based startup selling insect-based dry pet food, ended up raising some £300,000 in its recent crowdfunding campaign, six times more than the £50,000 it had initially sought. The Aardvark team planning to start selling direct to consumers in early 2021.
Maija Palmer
Cities will say yes to flying taxis
We're not going to be riding in flying taxis yet in 2021 — the first services aren't likely to begin until 2023 at the earliest. But cities will start to make preparations for networks of flying taxis.
Volocopter, the German flying taxi startup, will start test flights near Paris next year, and has said it would begin services in Singapore by 2023. Dubai is also carrying out tests with Volocopter and China's EHang, and says it could begin services in 2022.
EHang is also working with the Austrian city of Linz on a pilot project.
Meanwhile, Lilium, the German flying taxi company, has announced a series of hubs this autumn. Germany it has deals with Cologne and Dusseldorf airports, and in the US it has a deal with Lake Nona, the futuristic smart city just outside Orlando, to operate flights from there. Expect a lot more announcements in 2021 for take-off and landing spots in other cities.
There are at least 50 cities worldwide evaluating the viability of urban air mobility, according to a report by Frost and Sullivan, the consultancy, mainly because they need to ease congestion and find cheaper alternatives to road- and rail-building.
Maija Palmer
We will figure out what to do with quantum computers
Quantum computers are the answer to everything — and nothing. The number of qubits in a quantum machine is still relatively low — 65 for an IBM machine — and so far it has been a little unclear just what we will be doing with quantum machines even when they do have a usable amount of qubit power.
Cambridge Quantum Computing are working out some ideas. A first project is to sell certifiably random numbers to companies that need them, which sounds a bit underwhelming unless you understand just how difficult it is to get true randomness. An idea with more wow-factor is revamping the way computers handle language — moving away from just pattern recognition around sets of words to machines that could understand grammar and the meaning of words. The first corporate customers can start buying these services next year.
Experts believe optimisation problems — the classic example is the traveling salesman trying to work out the shortest route that connects multiple cities —  could be one of the areas where there is a benefit to going quantum. Once you factor in a large number of cities, there are so many different variations that classical computers struggle to handle them. In finance, there are potential uses of quantum to optimise investment portfolios.
Return on investment still looks uncertain when it comes to quantum computing, but expect companies to start figuring it out next year.
Maija Palmer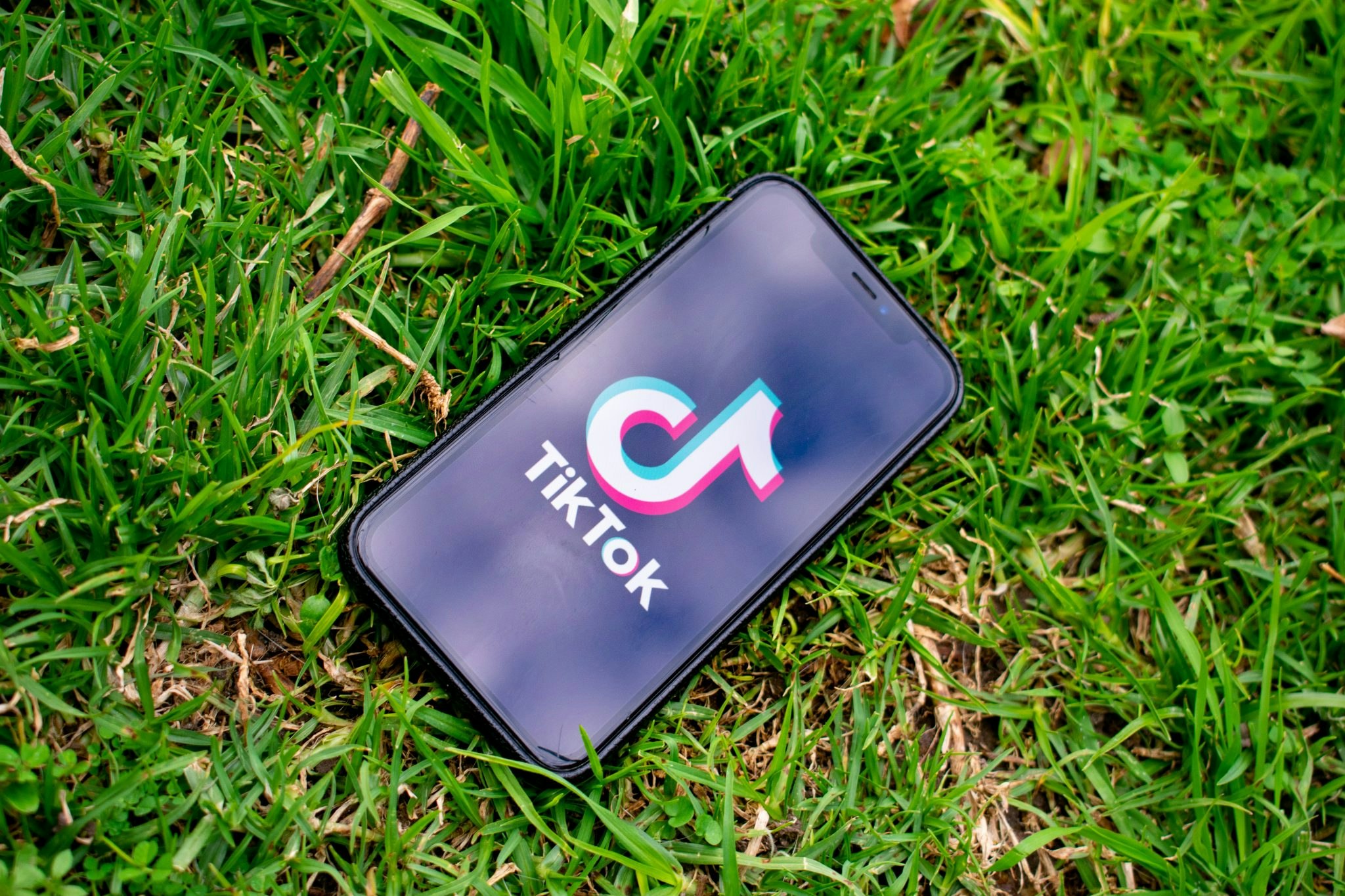 TikTok will announce a fintech product of some sort
The boom in banking infrastructure means that today, 'everyone can be a fintech.'
Users can now spend with Apple or Google, Uber operates mobile wallets for its drivers, and Facebook is helping build a cryptocurrency.
So it's only a matter of time before TikTok — the most downloaded app of 2020 — follows suit.
TikTok allows millions of users worldwide to curate short-form videos. and is particularly popular among teenagers (Gen Z).
No surprise then that Chinese-based TikTok is already reportedly looking at securing a banking license, according to the Financial Times.
This is consistent with reports by the Wall Street Journal that TikTok's parent company, ByteDance, wants to build out a franchise far beyond video-streaming.
TikTok's financial play might take the form of peer-to-peer payments or even mobile wallets to allow users to buy products advertised immediately in the app curators.
Mobile wallets could also be utilised by influencers who partner with large brands on the app.
Gen Z has over $143 billion in spending power, making them a lucrative audience to onboard for financial services.
Isabel Woodford
Everything will get gamified
It's likely to be a few months before vaccines make their way and the "new normal" gives way to parts of the "old normal" that we all miss: seeing colleagues, going for drinks and a nice meal with friends, or catching a concert or an art exhibit.
As we try to do those things while we're still stuck at home, and sitting in front of a screen takes up an increasingly substantial part of our days, my bet is that our entire existence will become gamified in 2021.
By that, I mean that applications of all sorts are likely to borrow more and more from the world of video games — because if they're going to keep us interested, they're going to have to keep us active behind our screens.
One thing 2020 proved is that screen fatigue is very much a real thing, the worst of which tends to manifest itself during Zoom video calls. Keeping students interested has prompted school teachers to experiment with creative edtech, from the likes of Norway's educational games app Kahoot!.
And games (small simple games, not Playstation blockbusters) are catching on as a social facilitator for after-school interactions too. European teen social app Yubo has wooed more than 40m users in 40 countries with online interactions that focus on just having a nice time with peers, including by playing small games like "would you rather" or "let them guess".
As concert halls and opera houses stay forced shut in cities across Europe, they're also exploring alternatives for what steps to take after launching classic streaming services. Rolling Stone magazine wrote recently about how animated concerts could well become the next craze, bringing music and video games together: full with virtual reality headsets, virtual avatars that interact — and digital "pills" that create the online equivalent of taking drugs.
Marie Mawad
European cities will solve the scooter littering problem
Whilst some European cities such as London have not yet approved the use of electric scooters on the streets others have more or less banned them already for being too messy.
The city council in Copenhagen decided earlier this year that electric scooters are allowed on the streets – they just need to be hired from a physical shop and then be returned to it as well. This obviously is not in line with the business model of Voi, Tier and Dott.
The move was akin to Copenhagen's decision to ban Uber for a few years back – stating that they could do better themselves. They couldn't but that doesn't mean that they would budge under the pressure this time.
Many cities, like Lisbon, Paris, Berlin have introduced fines for electric scooters wrongly parked. In Sweden, there is now an app for angry pedestrians to send a note to the local government departments, tipping them off about wrongly parked scooters.
The problem of scooters lying across the pavements seems to continue though. Perhaps next year we will see a new way of dealing with the scooters without the drastic measures of Copenhagen.
Mimi Billing
Devices will train your brain
Managing your health has become a mantra for many. You are in control of your sleep, your vitamin deficiencies through blood tests and your weekly exercise, right?
If you have all those things in check, then you should check out the next bright thing – brain training. We aren't speaking of sudoku or juggling but actually improving your brain through neurofeedback.
Neurofeedback is a therapeutic intervention that helps the brain to learn by giving it feedback. It works similarly to a computer game giving you points when you are winning. With a headband stuck on your head and your eyes locked on a screen, it actually assesses your brainwave activity.
Neurofeedback has been used to address problems of anxiety-depression, attention deficits, behavior disorders, sleep disorders, headaches and migraines, PMS and emotional disturbances. But who said it has to stop here?
Research has shown that people without known issues also can improve their brains by using the same technology. So, will the year of 2021 be the year we all become smarter, nicer and more focussed? No, but the trend of trying is definitely about to take off.
Mimi Billing
The year of Dr Data
If 2020 was the year when video consultations with doctors finally became a generalized reality, 2021 is gearing up to be the year of data sharing between patients and their doctors.
There's increasing demand from practitioners and patients for ways to easily monitor their health at a distance in between appointments.
French startup Withings, which makes connected everythings from smart watches that measure your heart rate to blood pressure monitors, raised money recently to pursue just that.
The coronavirus has helped attract interest of course, but it's not just that. In the US, regulatory changes are also acting as accelerators: insurance companies are subsidising doctors to do more patient tracking using connected devices from scales to blood pressure and sleep monitors.
Chronic diseases in particular, like diabetes, high blood pressure and sleep apnea, call for this kind of monitoring. They're typically conditions that both patients and doctors need to keep an eye on, although booking frequent appointments just to check in if nothing is wrong doesn't necessarily make sense.
Remote monitoring is the second category behind teleconsultations on CB Insights' annual ranking of the 150 most promising digital health startups in the world.
Marie Mawad
The year big tech gets a big dressing down from governments
Public opinion around the big tech giants – Amazon, Facebook, Google, Apple – has been turning for some time, but recent events have coalesced to shine a more urgent spotlight on some of their more questionable practices.
Examples include Facebook's Cambridge Analytica scandal, antitrust charges brought against Google, growing protests against workers' rights in Amazon warehouses, and Apple's obligation to pay out $113m for slowing down phones.
The European Union has released its own plans to regulate big tech, with threats to break up companies that don't comply with new rules on data usage and competition. Meanwhile, the US government has said Facebook must sell Whatsapp and Instagram, claiming it has used illegal monopolies to choke off competition. Mark Zuckerberg has said that Facebook will fight this in court, but the ground is being paved to give smaller startups and competitors more of an even footing.
While some still view these companies as impressive and innovative organisations, policy makers are now responding to growing concerns over whether technology is really working for society's benefit.
Tim Smith