London and Stockholm may be home to the continent's largest fintechs, but they are stunted by a lack of imagination — at least according to Tunde Olanrewaju, senior partner at McKinsey.
Speaking at Mckinsey's London headquarters at an event co-hosted with Sifted and executive search and leadership advisory firm Eric Salmon & Partners, Olanrewaju noted that Chinese fintechs are leading the way in product offering and monetisation. The key reason, he said, is that they have rapidly expanded across different verticals — from lending, insurance, and wealth management — rather than specialising in specific services. It doesn't stop there; leading company Ping An has gone beyond finance and branched into healthcare and housing services too.
"There's an ambition challenge in Europe," Olanrewaju concluded.
While he acknowledged China's scale, he said its ability to monetise faster than European fintechs was ultimately rooted in its fearless approach.
"One company [in China] I met says 'if we don't have five million users in six months, we scrap it'", he recalled.
Indeed, SAP is the only company listed in the EU's top 100 company that launched in the last 30 years. In contrast, the US counts several "young" firms among its leaderboard, including Apple and Google. And just imagine Monzo offering health insurance?
As a result, the next five years will be critical for Europe's fintechs, as they battle their monetisation worries and as incumbents catch up.
Olanrewaju's advice? Acquire failing businesses and transform them; be brave enough to enter adjacent industries; and get yourself a board with guts.
The view from the ground
Members of the fintech community who were present last night also weighed in on the China vs Europe discussion.
For some, the nail in Europe's coffin has already been hammered in.
"I think it's too late already. China is going to come and land itself on top of Europe in the next 10 years," James Varga, chief executive of The ID Co, told Sifted.
One analyst, based in China and who asked not to be named, said he predicts Asian venture capital companies will sweep up European tech in a string of distressed acquisitions, citing a looming recession as the catalyst.
Meanwhile, Marieke Flament, the new chief executive of RBS's digital bank Mettle argued that Europe was at an inherent disadvantage as a heterogeneous region with multiple languages and currencies.
She added: "The European education system is also not as optimistic. In France you're told what you did wrong. In the US you're told you're awesome."
But it's not all gloom. Rishi Khosla, chief executive of profit-making challenger bank OakNorth, said that things are improving.
Let's be clear, we don't have mediocre

ambition.
"Europe innovates extremely well. It's the lack of ambition that causes founders to sell out extremely early... but the ambition is changing, especially in the last few years," he noted. "Europe [also] has a much better lead than the US in fintech."
Khosla practices what he preaches when it comes to ambition. OakNorth, founded in 2013, has now gone global, white-labelling its lending analysis-tools to international incumbent banks. Through this initiative, Khosla expects to support partner banks complete "over £1tn in lending" over the next four to six years.
"Let's be clear, we don't have mediocre ambition,"
Still, everything is relative, as Khosla dismissed the idea of taking the firm public.
"It doesn't matter, it's not a goal for me... [but] we'll look at it when it's the right time."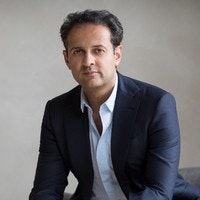 Rishi Khosla, cofounder and chief executive of OakNorth. The bank has lent over £3.3 billion to date.
Ultimately, Europe may never be in the same lane as China. But it's a humbling reminder that for all its self-congratulatory discourse and funding acceleration, Europe is still trailing behind the world leaders.
If it's to close the gap at least, Europe's fintechs may need to go back to the drawing boards. Or, perhaps, take a trip to Beijing...