This roundup first appeared in our weekly Monday newsletter. If you'd like to get this straight to your inbox each week sign up here!
________
1. Zopa's banking dreams are still alive — but investors are getting shy
Following a dramatic countdown, UK fintech Zopa last week secured the £140m in funding it needed to keep its preliminary bank license. There was almost an audible sigh of relief from its London headquarters, as the firm sealed the deal hours before the deadline.
It's worth digging into who Zopa are and whether the funding means they're out of the red.
Firstly, Zopa is a veteran in fintech terms. Launched 14 years ago, Zopa was one of the first into peer-to-peer (P2P) lending, providing a secure marketplace for retail customers to borrow money from other retail lenders (people like you and me). The sell is that loans are theoretically cheaper and more accessible than at major banks. The 500-person strong company has led the charge of a new wave of challenger lenders.
But Zopa had big plans. Last year, it raised £60m and applied for a bank license as part of its ambition to offer savings accounts and credit card. That would ultimately give it a much larger and more reliable deposit base, allowing it to loan out more and ultimately earn larger revenues. This would also help Zopa defend against the retreat of pure-lenders, who have become increasingly doubtful over the future of P2P lenders after the meltdown of platforms like Lendy and Funding Secure. Indeed, the withdrawal of retail funds has hindered SME-focused platform Funding Circle in recent months.
Then, last December it received a preliminary bank license - the first step to becoming a full bank. The issue is that this came with minimum capital requirements, which Zopa came close to slipping below before Wednesday's last-minute funding bail-out.
Let's start with the good news. Securing this latest investment is a milestone and means Zopa has passed over another key hurdle in passing the test for a full bank launch next year. Note, the investment is still subject to regulatory approval, but it's likely to go through given the financier is US private equity firm IAG Silverstripe.
"This new funding means we have concluded the fundraising phase of our bank mobilisation," Jaidev Janardana, Zopa chief executive, said in a statement.
Details on "Zopa Bank's" planned products remain vague. But it's worth noting it will not compete with current account providers like Monzo for banking customers - only on the micro-loans side.
Sifted Newsletters
Fintech
Every Tuesday
From banks to bitcoin, get all the gossip and analysis in your inbox.
Demand for Zopa's peer-to-peer lending also doesn't seem to be a problem. Sifted accessed quarterly lending volume numbers, presented below. These have generally been strong, consistently lending between £200m and £325m each quarter since 2017. Figures for Q3 and Q4 are yet to be released, and will be key to assessing whether the growth trend has stopped.

Overall, since launch, Zopa has lent £5bn in personal loans to UK customers. This still represents a tiny fraction of the total personal loan market, but it's a decent standing for a challenger lender.
BUT, there are a couple of warning flags still waving.
First, Sky News reported that the funding had been negotiated at a steep discount, meaning Zopa likely gave up considerably more equity to IAG than it wanted to. This could force it to return to the fundraising trail sooner than it had hoped, as well as having long term consequences on Zopa's valuation and its 2021 IPO plans. Already, one of its investors, Augmentum, has slashed the value of its Zopa stock by 47% last week in its financials.
Investors' reticence to back Zopa could also be driven by the wider regulatory friction. Peer-to-peer marketplaces are likely to be hit by harder rules given they deal with retail lenders, commentators say, which could seriously affect the business model.
"Investors can't compare the rate of returns across different marketplaces. As long as this continues to be the case the regulator is right to be anxious, and will create rules in an attempt to limit the harm that could be caused [from uncertainty]," the CEO of lending analysis platform Brismo, Rupert Taylor, told Sifted.
Indeed, this week new FCA rules will limit the type of advertising alternative-finance companies can do.
In addition, IAG Capital is reported to have been given "a majority stake in Zopa." That will put Zopa under the firm control of the US equity firm, whose leadership plans remain unknown.
Zopa declined to comment.
Let's hope the firm's quest for a bank license was worth it.
_______
2. Big banks have still got "it"
A key indicator of how banks are performing is to look at the latest data about how many UK consumers are switching accounts — and which banks they are changing allegiance to. Particularly of interest is to look at how digital banks Monzo and Starling are performing.
These official figures from the Current Account Switching Service (Cass) are important in part because bank-switch data reveals how many customers are making digital banks their primary account (ie. where their salaries are paid into).
Take a nosey at the numbers below, which show current account switch-rates for both personal and business banking clients back in July and September (Q3) this year.
Here are some key takeaways from that report:
Traditional banks — Nationwide Building Society, HSBC and NatWest — still have the highest net switching gains
Contrary to media hype, people aren't leaving Barclays for Monzo. Most are leaving to go to Nationwide and HSBC. Indeed, Nationwide saw more net gains than Monzo and Starling combined, showing the big banks have still got "it."
Nonetheless, the two digital banks came in fourth and fifth respectively for net gains. To their credit, they've overtaken several big banks like Lloyds and RBS who are losing current account customers overall.
Monzo also trails just behind HSBC for net gains, and could well overtake it in the coming quarter.
Metro Bank - the brick and mortar challenger bank that faced accounting issues earlier this year - did not provide their switching data...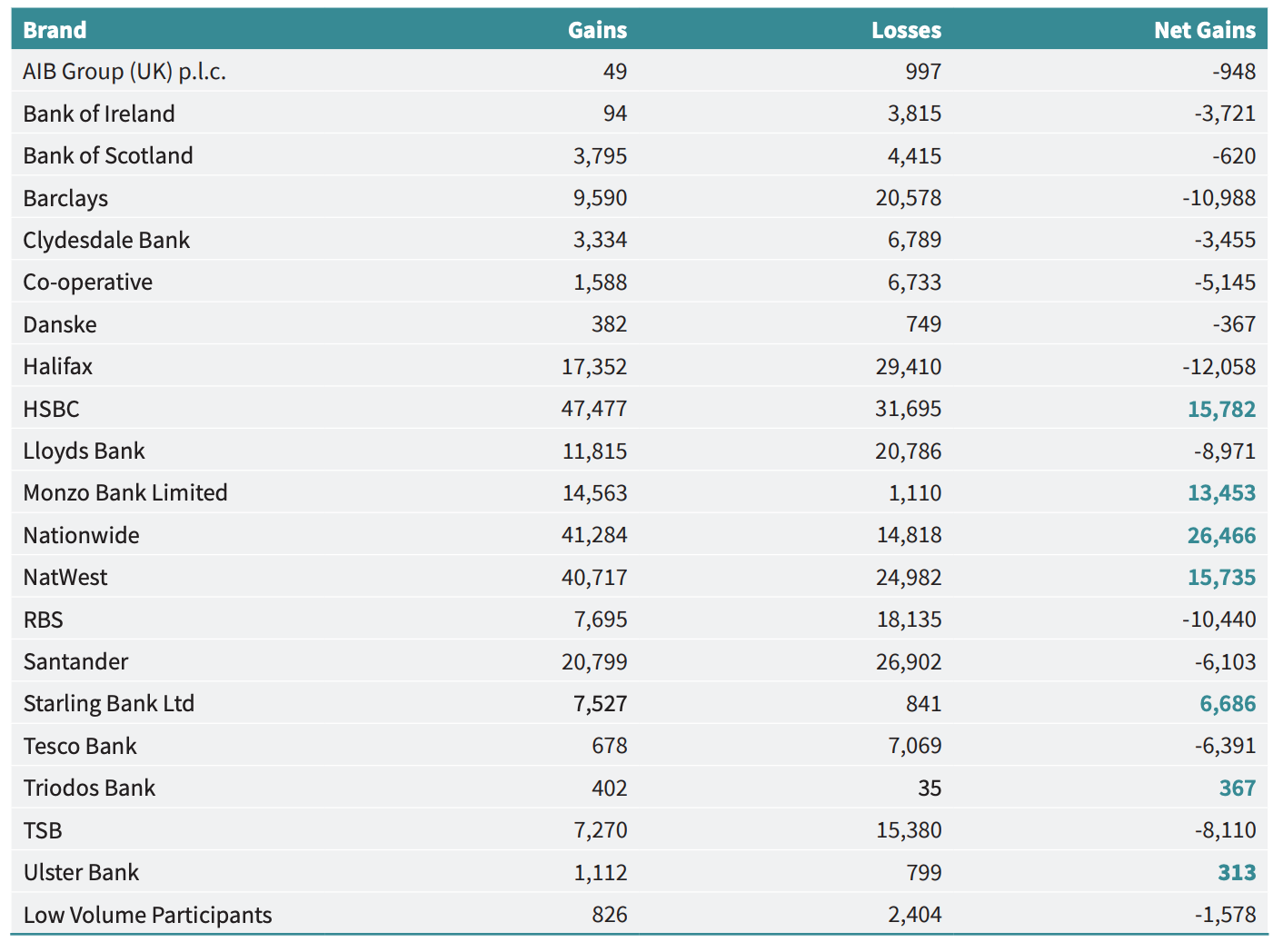 Note, this data only shows switching rates - not raw acquisition numbers. In other words, digital banks could be acquiring more customers overall, but not necessarily users who are using them as their primary bank.
To see how things fared in Q2, check out the Financial Times' report.