It's looking pretty good for early-stage startups raising money in Europe at the moment. Not only is total VC funding at a record high, but there is much more investor cash going into each early funding round.
Impressively, this is true for the smaller companies as well as the slightly larger ones. So the amount raised per round has been growing for those raising seed financing as well as startups raising their series A or series B. And it's not just the largest deal sizes that are pushing up the averages; deals are getting larger across the board.
That's the main takeaway from this Sifted Chart of the Week.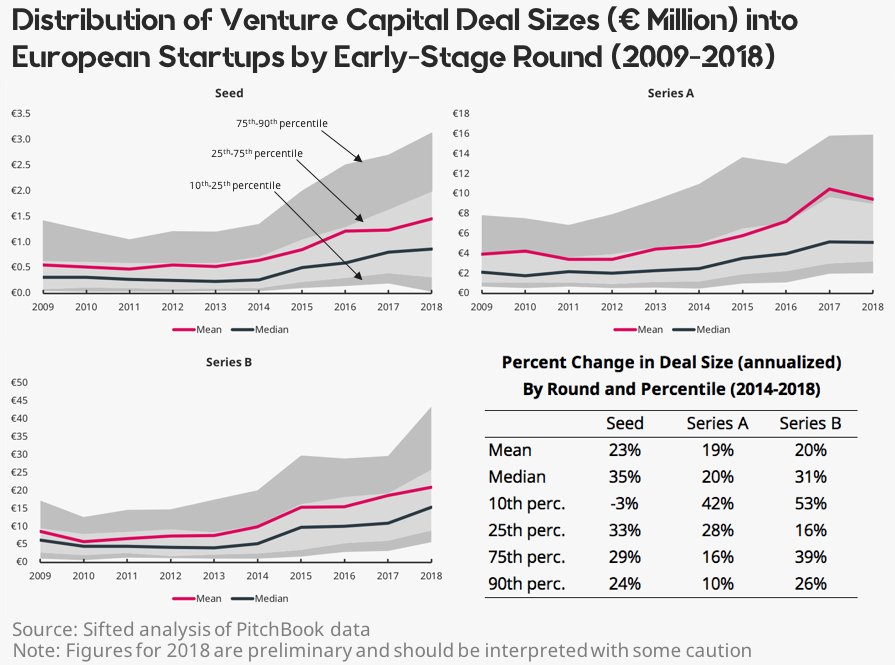 To get a little technical, the chart illustrates venture deal sizes at the mean (average), median (50th percentile), as well as bands for percentile ranges (10th-25th percentile, 25th-75th percentile, and 75th-90th percentile) for Series Seed, Series A, and Series B venture deals in Europe between 2009 and 2018.
It shows that not only is the average deal size increasing among early-stage rounds since 2014, but round sizes across the distribution are growing too—from the smallest to the largest and everything in between.
The largest early-stage deals in 2018 were at Series A. BioNTech, a developer of next-generation immunotherapies in Mainz, Germany raised $270 and Moonbug, a London-based digital company designed for children raised $145 million.
Two biotechnology companies with headquarters in London—Orchard Therapeutics and Freeline Therapeutics—each raised Series B rounds in excess of £88 million, respectively in February and June (Orchard later went public on the NASDAQ in October).
Finally, at the Seed stage, Berlin-based electronic scooter company Wind Mobility raised $22 million last November and Exo Investing, a developer of a wealth management software headquartered in London, raised £14.6 million in January 2018.
This news of increasing early-stage deal sizes comes as the level of venture investments in Europe and Silicon Valley participation in European venture deals have both reached record highs in recent years.