Watch our innovation editor Maija Palmer discuss why this data caught our eye, and the questions it raises.
European corporations are dissatisfied with their innovation efforts, losing patience with accelerator programmes and looking to build their own ventures as a way of future-proofing their businesses.
We've been writing about these themes in Future Proof, but it is interesting to see how clearly this picture emerges from the new European corporate venture report from Styber, the venture building consultancy. They spoke to 50 European C-suite innovation leaders asking them a number of questions about their approach to innovation.
1/ 74% of companies believe their business model is at risk
Maybe it's two years of pandemic talking, but businesses are not complacent, far from it. Stryber's survey found that only a quarter of innovation leaders (26%) felt their business model was proven and stable. Some 38% believed it was likely to be disrupted, with a further 36% seeing it in various stages of risk and transition.
Chart 1: Executives were asked how confident they were in their business model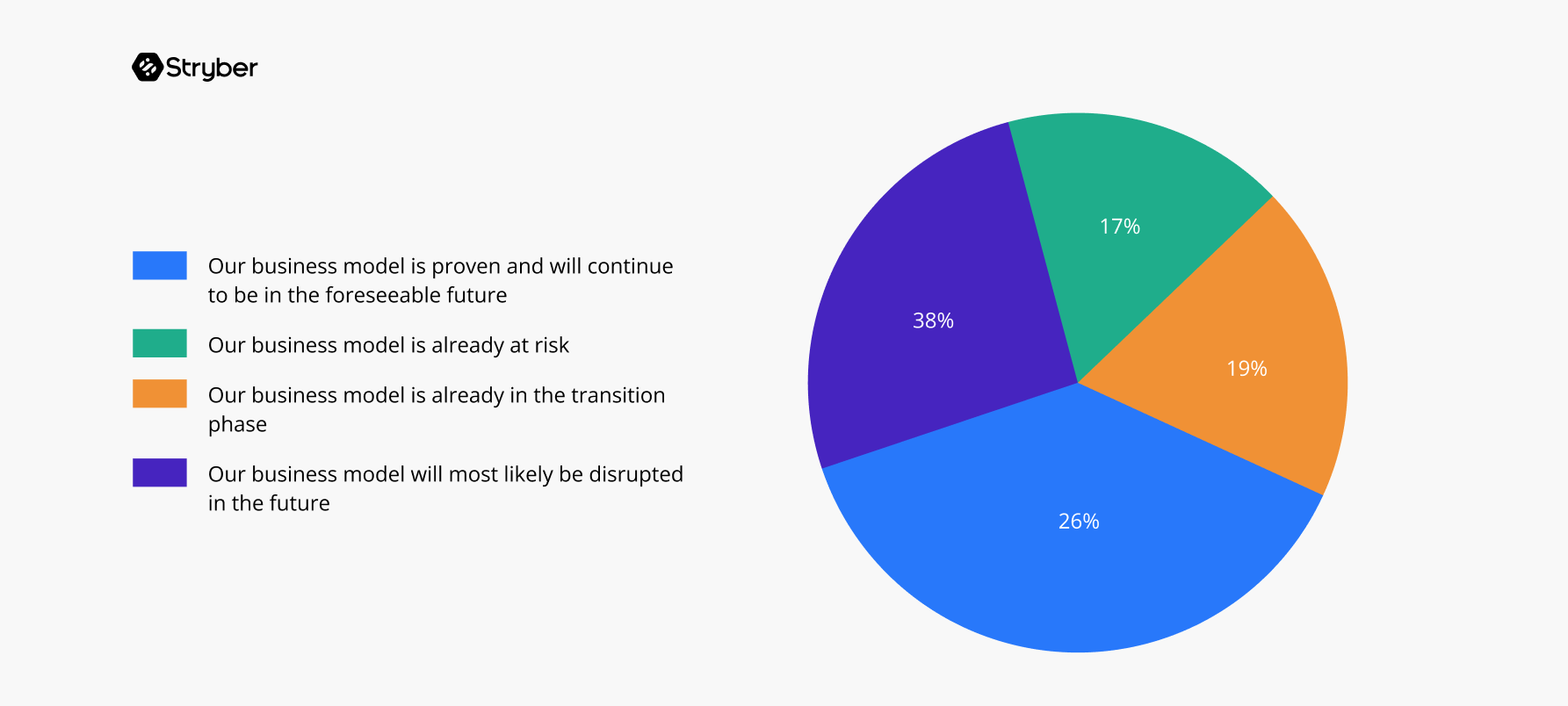 They were also not very satisfied with their current efforts to innovate. 86% of respondents believe they could improve their innovation efforts. Around a quarter said that either what they were doing wasn't effective or that they needed to learn the basics.
Chart 2: Executives were asked to rate their innovation efforts
2/They aren't fans of accelerators
Accelerators date back to about 2005 when Y Combinator created what we now recognise as the "modern" startup accelerator. It didn't take too long for corporates to adapt the model to their own, in-house version. Today, depending on who you ask, there are anywhere in the low-to-mid hundreds of these corporate programmes in existence around the world, all with their own twists and nuances.
There is a big question about whether these programmes work. Do they really create value for both the startups and corporations? Last week in an interview with Sifted, Irene Gomez, Telefonica's open innovation director, explained why the company whose Wayra accelerator was such an early pioneer in this area, is evolving and pivoting to new models.
"At some point, corporates had to realise that it is difficult to play the 'Y-Combinator game' as a large corporation, and much more difficult to internalise innovation from the outside. Very quickly, the accelerator model lost its power," says Alex Mahr, Stryber's co-founder and managing partner.
Chart 3: Executives were asked to rate the relevance of different innovation vehicles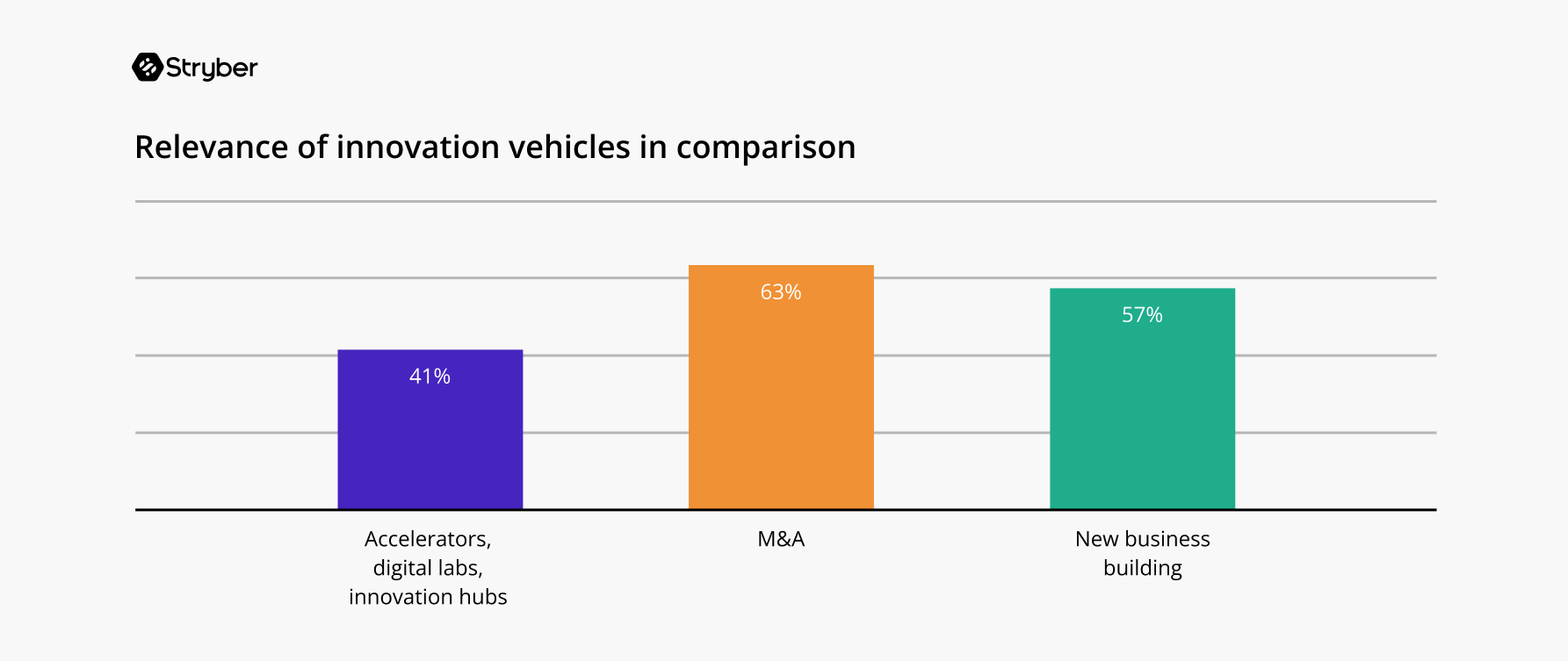 Stryber asked innovation leaders relevant they felt various options were for innovation — M&A, accelerators and new business building. Accelerators emerged as the least favourite option, with just 41% of respondents favouring that, while good old-fashioned M&A had the highest relevance at 63%. New business building is a close second at 57%.
3/ Corporate venture builders have become popular — but we don't really know how they're doing (yet)
"Today, a new wave of innovation has emerged with the rediscovery of corporate venture building," says Mahr.
There are 134 active corporate venture builders in Europe. These are consultancies that help corporates build their own startup companies, and names in this field include not only Stryber but BCG Digital Ventures, Founders Factory, Bridgemaker and others.
In addition, 32 corporates have created internal divisions to build startups. The companies doing this include Lufthansa with its Innovation Hub and Beumer Group's BEAM.
The biggest concentration of venture builders in Germany, followed by France and the UK.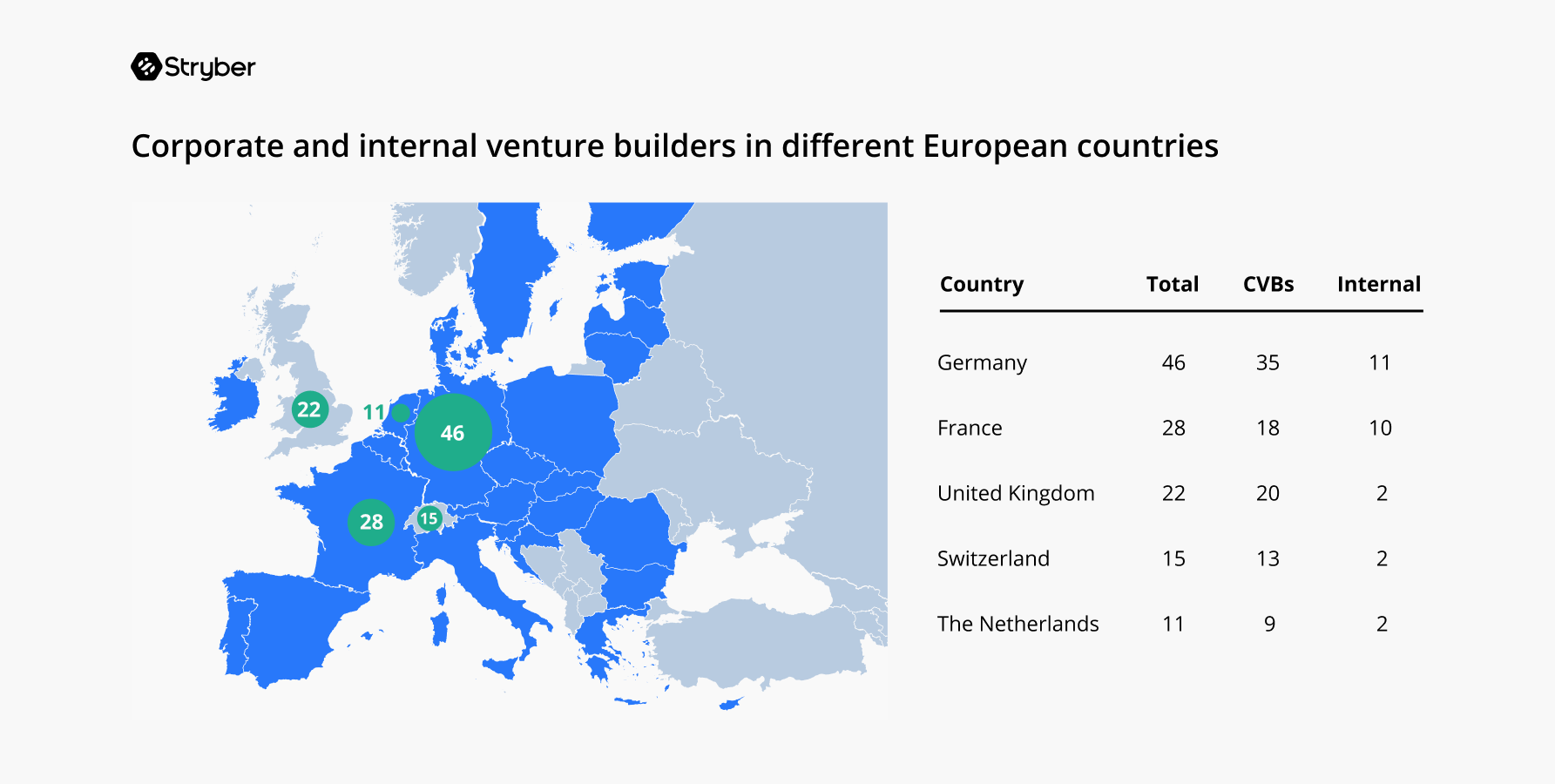 Exactly what these venture builders are building is a little unclear still. There has been very little disclosed about the startups being built either in the external venture builders or in the internal units. The Stryber team was only able to gather detail about 19 projects at corporate venture builders and seven in internal units.
"It may be that many of these are not properly launched yet and companies are still cautious about talking about them. Or they are finding it hard to execute and scale these," says Charlotte Sachs, Styber's growth hacker.
4/ Internal venture builders are focusing on logistics
Interestingly — although this is a small sample size — a lot of internal corporate venture builders seem to be focused on logistics.
The external venture builder projects are across a lot of different sectors, with no real theme (the biggest category is "other".
But when it comes to the internal projects there is a definite theme. Four out of the seven startups being built internally at corporates are focused on logistics. Clearly, this is a corporate pain point that isn't being solved by external partners.