M&A
Big fish, little fish (and thinking outside of the) cardboard box.
There has been a rush by big consultancies such as Accenture, McKinsey, Boston Consulting Group, Deloitte and Capgemini to buy up small innovation consultancies. London-based Bow & Arrow just became the sixth to be swallowed up by Accenture in the last year.
So why are these big fish in such a rush to eat these small innovation fish?
Twenty years ago when a big corporation wanted a new strategy they would dial up McKinsey or Andersen Consulting and get them to send a group of recent MBA graduates to come up with new ideas.
But now corporations don't want strategy. "Strategy" sounds about as 1990s as a dial-up modem. Companies want "disruption", so they are increasingly hiring smaller innovation agencies — staffed by venture designers rather than consultants — to tell them how to avoid being put out of business by startup challengers. There is a feeling that "you can't just get McKinsey in" if you want radical change.
The McKinseys and Accentures of the world aren't stupid. So they are responding with a plan straight from the business school 101 playbook: buy up all your small competitors before they eat your lunch.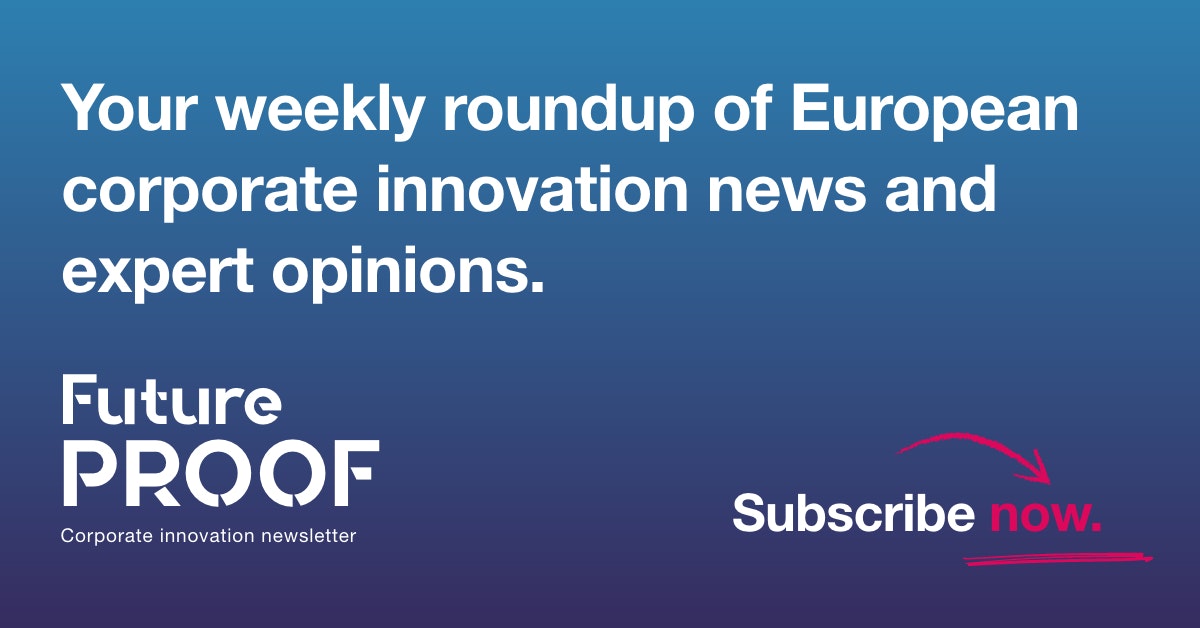 Financial Services
Santander InnoVentures: moving on from "obvious" fintech investments
"A lot of corporate venture funds are distrusted by the mothership, [so] a lot of them are never fully empowered," says Manuel Silva Martinez, head of Santander InnoVentures, the investment arm of the Spanish bank.
What does it take for a corporate venture fund to gain the trust of its parent company?
About five years, an exit and two unicorns in the case of InnoVentures, says Silva.
Set up in 2014, the $200m fund has invested in around 30 companies so far, including three that were valued at more than $1bn: iZettle, the payments company sold to PayPal last year, Kabbage the small and medium-sized enterprise (SME) loan provider and Tradeshift, the supply chain platform. An exit like iZettle does a lot for internal credibility, Silva says.
But what does being trusted mean in practice? Expect to see InnoVentures moving faster on deals and making "surprising" investments outside of the normal fintech remit.
Agriculture
Live show: deforestation
Palm oil deforestation is not a fun show but you will soon be able to watch it live on the Global Forest Watch website.
Sifted Newsletters
Sifted Newsletter
3x a week
We tell you what's happening across startup Europe — and why it matters.
Under pressure to prove that their products are not causing the destruction of rainforests, some of the world's largest palm oil producers and buyers, including Bunge, Cargill, Golden Agri-Resources, Mondelēz International, Musim Mas, Nestlé, PepsiCo, Sime Darby Plantation, Unilever and Wilmar, are funding and developing a radar-based forest monitor system that can show, almost in real-time, if deforestation is taking place.
Unlike conventional satellite images radar data from the European Space Agency's Sentinel-1A and B satellites works even when it is cloudy.
Beauty
Chinese beauty secrets
French beauty company L'Oréal has partnered with venture capital firm Cathay Innovation to invest in more Chinese beauty startups.
China is L'Oréal's second-biggest market and a number of rival global brands have recently started investing in "beautytech" in the region — including Sephora, which opened a high-tech concept store in Shanghai last year.
L'Oréal is investing heavily in innovation programmes. It has partnerships with innovation consultancy Founders Factory,  French startup accelerator space Station F, Partech Ventures and Raise Ventures. Last year it set up its own corporate investment fund called BOLD (Business Opportunities for L'Oréal Development).
Financial services
Pollinating payments
RBS, Mastercard, Motive Partners and EFM Asset Management have invested in Pollinate, a London-based startup offering merchant services. Pollinate competes with companies like WorldPay, Square and iZettle, giving retailers tools to set up ecommerce portals and take payments from customers.
The company has raised £60m in total and has attracted some big fintech names. Alison Rose, chief executive of commercial and private banking at RBS is chair, while Alastair Lukies CBE, who founded Monitise in 2003 and later served as business ambassador to UK Prime Minister David Cameron, is Pollinate's cofounder and chief executive. Jonathan Hughes, formerly chief operating officer at WorldPay is cofounder and chief operating officer.
Seeking Spanish and Portuguese startups:
CaixaBank's DayOne division, which specialises in funding for technology companies, is launching the 13th edition of its innovation contest "EmprendedorXXI". There is a total of €525,000 in prize money up for grabs and applications are open until December 4 2019.
Industrials
Eye, Robot
Robert Bosch Venture Capital took part in the €25m funding round for Prophesee, the Paris-based startup creating a neuromorphic machine vision system that mimics the way the eyes and brain work in humans.
The system uses so-called "event-based image sensing" made from sensors that only react and transmit data if they sense a change or "event" such as movement. This has the potential to work faster and use less power and data than frame-based vision sensors.
Initially created to help visually impaired people, the technology is now being used for self-driving cars and factory automation. Robert Bosch and Renault have been early partners for the company.
Mobility
Plan B for flying cars
Daimler-backed electric air taxi company Volocopter plans to carry goods as well as people. The German startup recently completed a demo flight in Singapore and says it could start passenger services in the city by 2021.
But it is also developing a plan B in case the people side of the business is slower to get off the ground than it hopes. It has unveiled the VoloDrone, a heavy-lift unmanned drone that can carry up to 200kg of goods some 40km. One potential business sector it is thinking about is agricultural; some of the images show a crop sprayer attached to the underside of the aircraft.
This is a lot less glamorous than flying cars but it is a smart move considering that public concerns about noise and safety are yet to be resolved with regulators.
Hydrogen-powered trains
Alstom plans to begin testing hydrogen fuel cell-powered trains in the Netherlands next year. The company's Coradia iLint trains have already been carrying passengers in Lower Saxony for just over a year, but this will be the first test outside of Germany. Hydrogen fuel cells, which emit just water, are potentially a way to achieve zero carbon emissions on non-electrified railway lines that currently have to run heavily polluting diesel trains.
There are a fair number of hydrogen train projects going on around the world. Toyota, for example, is developing hydrogen trains with the East Japan Railway Company based on the same battery technology it uses in its Mirai cars and the University of Birmingham is testing similar technology in the UK. Alstom's trains, however, appear to be the most commercially advanced.
Healthcare
Galera tests initial public offering appetite
Galera Therapeutics, which has been backed by Novartis Ventures since 2012, has filed to raise $75m in a US initial public offering. Galera is developing a series of treatments to relieve the unpleasant side effects of radiation therapy.
It is one of the trio oflife sciences startups (the other two are US-Israeli 89Bio and Germany's Centogene) listing on the stock exchange following the disappointing debuts of BioNTech and Vir.
The stock markets seem to have lost their appetite for medical initial public offerings but SeekingAlpha reckons Galera might be of interest to investors willing to hold the stock for at least 24 months.
Research roundup
What is going wrong with your innovation challenge?
Every company seems to be running an innovation competition these days. But will they produce any commercially useful ideas? Ideo, the innovation advisory agency, analysed what commonly goes wrong at organisations. While some of this analysis is an advert for using Ideo's own programme there are a few useful observations:
Don't think of it as just a one-time sprint to solving a problem. There needs to be time to experiment, iterate and get customer feedback. Although it feels exciting and purposeful to move at a fast pace, don't skip the research and design phases.
Get customers and other people from outside the company involved, otherwise you will just keep coming up with ideas that support the status quo. It seems obvious but the Ideo team say they found few innovation managers doing just this.
Don't frame it as a competition, think about building a community. If you make this a very adversarial process, where only a few top ideas will see the light of day, you will be throwing away a lot of valuable contributions and potential allies.
How much are other chief information officers spending on startups?
According to this Sapphire Ventures report a median of 10% of IT budgets go to startups, and this is expected to rise to 15% in the next 12 months. In some areas, such as artificial intelligence (AI) and machine learning, chief information officers (CIOs) overwhelmingly prefer to work with startups. AI is right at the top of every CIOs shopping list, with eight out of 10 investing in it. And 67% are going to spend that money with startups rather than established players.