In blockchain's 10 short years, US and Asia-based startups have dominated media coverage and venture capital investments. The US has more funded blockchain companies than the UK, China and Singapore combined, taking the bulk of the $23.7bn raised since 2013.
But Europe's blockchain scene is now "catching up", offering a hub of well-funded, early-stage startups and talent. This is concentrated in the UK, Germany, Switzerland and Spain, which rank among the top 10 globally for the highest number of blockchain companies.
"While everyone is talking about San Francisco as the epicentre of digital assets, I think Europe is actually one of the most exciting places for crypto," researcher and investor Etienne Brunet tells Sifted. 
He says that world-class universities, technical expertise, and regulatory openness have helped the ecosystem to thrive.
Indeed, London companies alone have raised over $1bn in equity since 2013, according to Outlier Ventures Intelligence; in second place for city with the most funding behind San Francisco. Leading UK companies include major crypto exchanges — including Bitsamp, which was acquired for around $400m last year — and UK-based Elliptic, which recently raised a $23m Series B.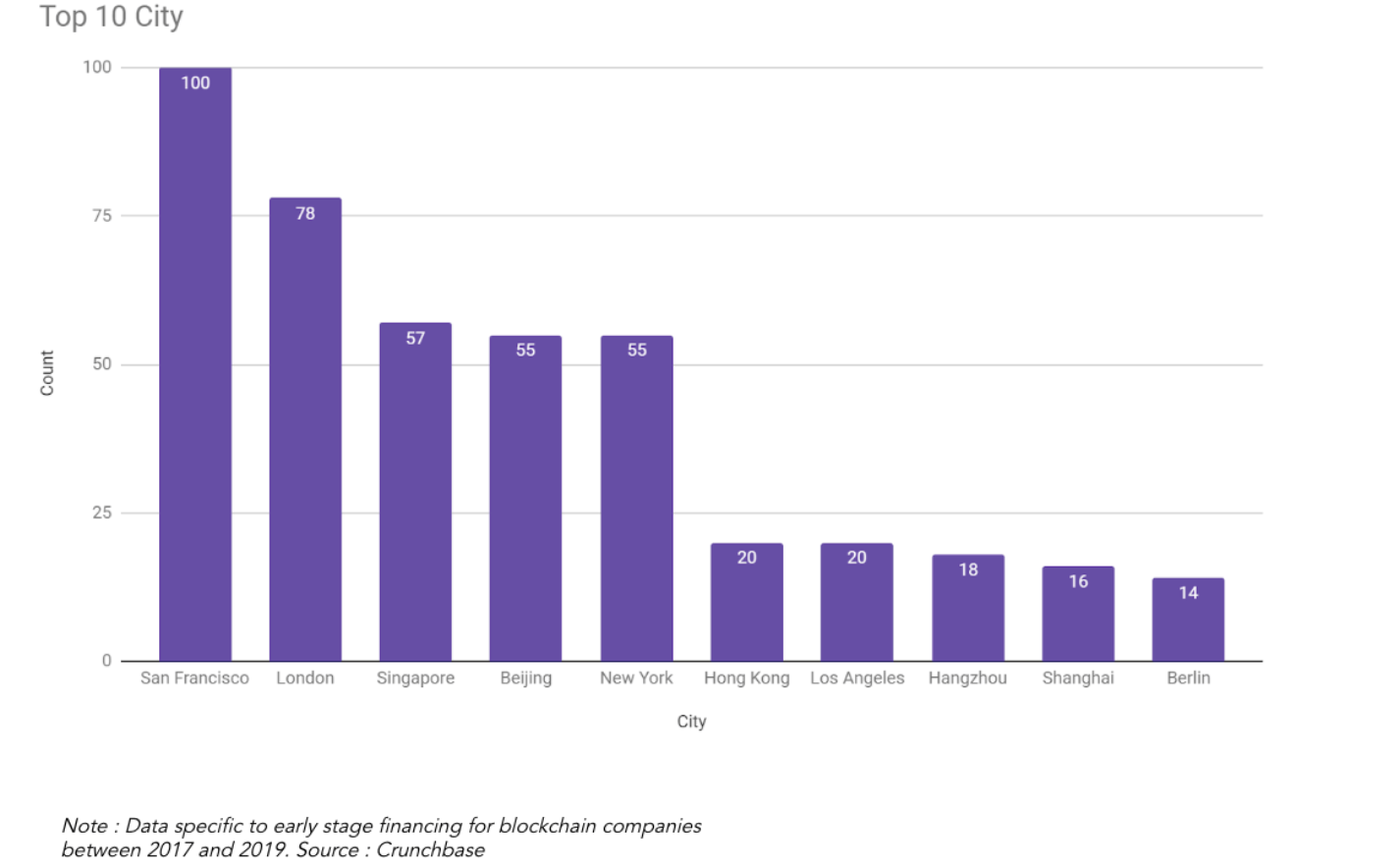 Elsewhere, there are large developer communities and startups busily coding away across Europe's major cities. Most renown among them is the town of Zug, Switzerland's "Crypto Valley", where billion-dollar blockchain infrastructures are being developed.
Another thought leader who advocates the European ecosystem is Zeeshan Feroz — the UK chief executive of one of the world's largest and most regulated exchanges, Coinbase.
He says Europe is not quite there yet, but is on its way.
"Europe has the potential to emerge as a global leader in blockchain technology...This is in part down to an openness towards innovative technologies, coupled with regulatory developments," he told Sifted.
"Europe is [Coinbase's] biggest market outside of the U.S...We are currently operational in all 28 EEA [European Economic Area] countries and are always looking at options for expanding our presence whether that is through partnerships or acquisitions."
Big players
To illustrate this, below is an overview of Europe's late-stage ecosystem, including those who have raised — or have revenue — of around £15m or more.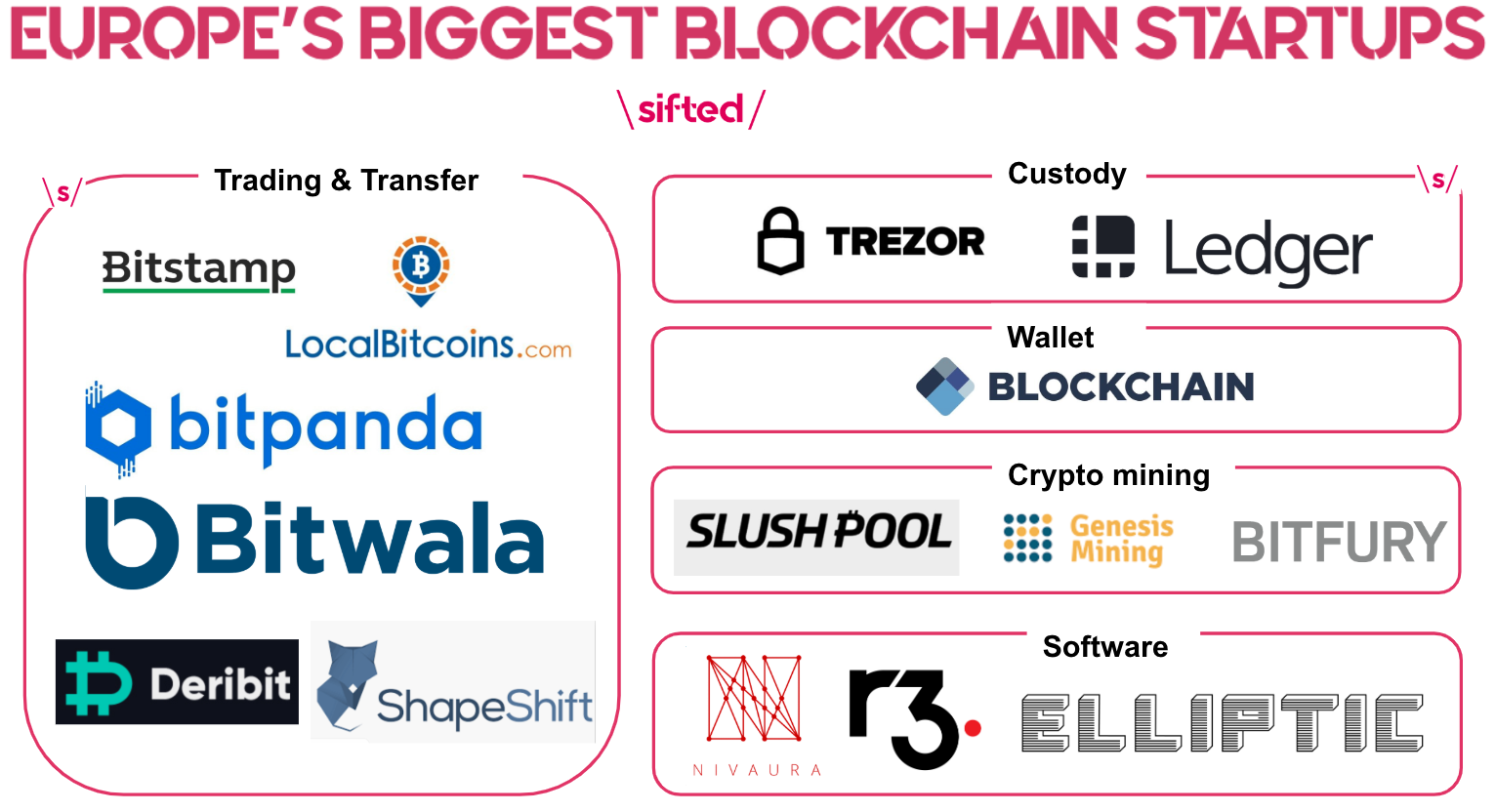 To explain these categories further, please see below:
"Trading and Transfer" — This encompasses platforms where you can trade, store and spend in crypto (or crypto derivatives). The leader, Bitstamp, is based in the UK, while Bitpanda was born in Germany. Meanwhile, Finland's LocalBitcoins offers peer-to-peer bitcoin swaps around the world, and oversaw $187m in traded volume in August alone according to CryptoCompare. Note, while there is a widespread problem with crypto exchanges faking volumes, those listed are generally accepted to be more established platforms.
"Custody" — Think of these as digital safes for crypto, with specialised tech that protects the assets against hacks, loss and theft.
"Wallet" — Similar to the above but online, rather than in the form of a physical USB-like key. This means it's easier to access in order to trade, but arguably less hack-proof than custodied assets.
"Crypto mining" — These lucrative companies run large, specialised computers that process transactions on a given blockchain. Every time they 'mine' digital currencies like Bitcoin, they receive a fee. Most are based in countries with cool climates like Iceland, where Genesis Mining has a base.
"Software" — This covers an eclectic group of companies building blockchain's 'revolutionary' promises, including reforming financial services. Blockchain software company R3 has raised over $120m for the privilege while Nivaura is backed by the London Stock Exchange, but both have been riled by accusations of delays and over-promises.
Beyond that, it's worth remembering that this list only scratches the surface. Underpinning these companies are other smaller tech companies and specialised hedge funds and banks.
A shortcoming
Still, for all its progress, Europe has a particular obstacle: fresh funds.
"The only thing missing is access to capital. There are only a handful of European early-stage funds investing in crypto or blockchain," says Brunet, who also runs the largest European crypto newsletter.
It's true. The pool of local, specialised venture capital companies is essentially limited to Fabric Ventures, BlueYard Capital, Blockchain Ventures, Libertus and Outlier Ventures. In addition, the size of these funds pale in comparison to the US's biggest players, which include Andreessen Horowitz's $300m crypto arm and Pantera Capital, which raised $160m earlier this year.
Another issue is that countless European companies like BlockEx don't survive; admittedly, normal for startups. But part of their problem is their reliance on the price of bitcoin and the slow adoption of crypto, which has struggled to communicate its use-cases, fuelling 'fatigue' and disillusion in some spheres.
Still, an unintended consequence of this 'fatigue' is the rise of "anti-blockchain" European startups: companies that are based on the premise that blockchain's capabilities are overestimated.
They rely instead on alternative specialised technology. Examples of this are London-based company Thought Machine and Radix DLT, who reportedly turned down over $100m in investment capital and is backed by the cofounder of Transferwise.
Evidently, blockchain is one of the most controversial technologies of our time. But it's also clear that beneath the suspicion and scams there is a burgeoning ecosystem of European startups emerging, with a potential — in time — to play alongside the Asian and US leaders.