Europe has a whole lot of VCs now — but they're not distributed equally over the continent.
There's a high investor density in western Europe (the UK, France, Germany and Spain) but not enough VC in more than half of European countries, according to the latest report from European Capital Map. 
So, where are Europe's 450+ VC firms based? Which new funds launched in 2020? And which investors have the biggest stashes of cash?
Here's the breakdown per region:
1. The UK is home to the Europe's 'most powerful' VCs
Six of the top 15 'most powerful' VCs by assets under management — the total market value of a VC's financial assets — are based in London: Highland Europe, Balderton Capital, Atomico, BGF, Northzone and Octopus Ventures.
Several of them raised new funds in 2020; Atomico launched an $820m mega fund in February; Highland Europe raised an $859m even-more-mega fund in December; and Balderton began raising a new growth fund.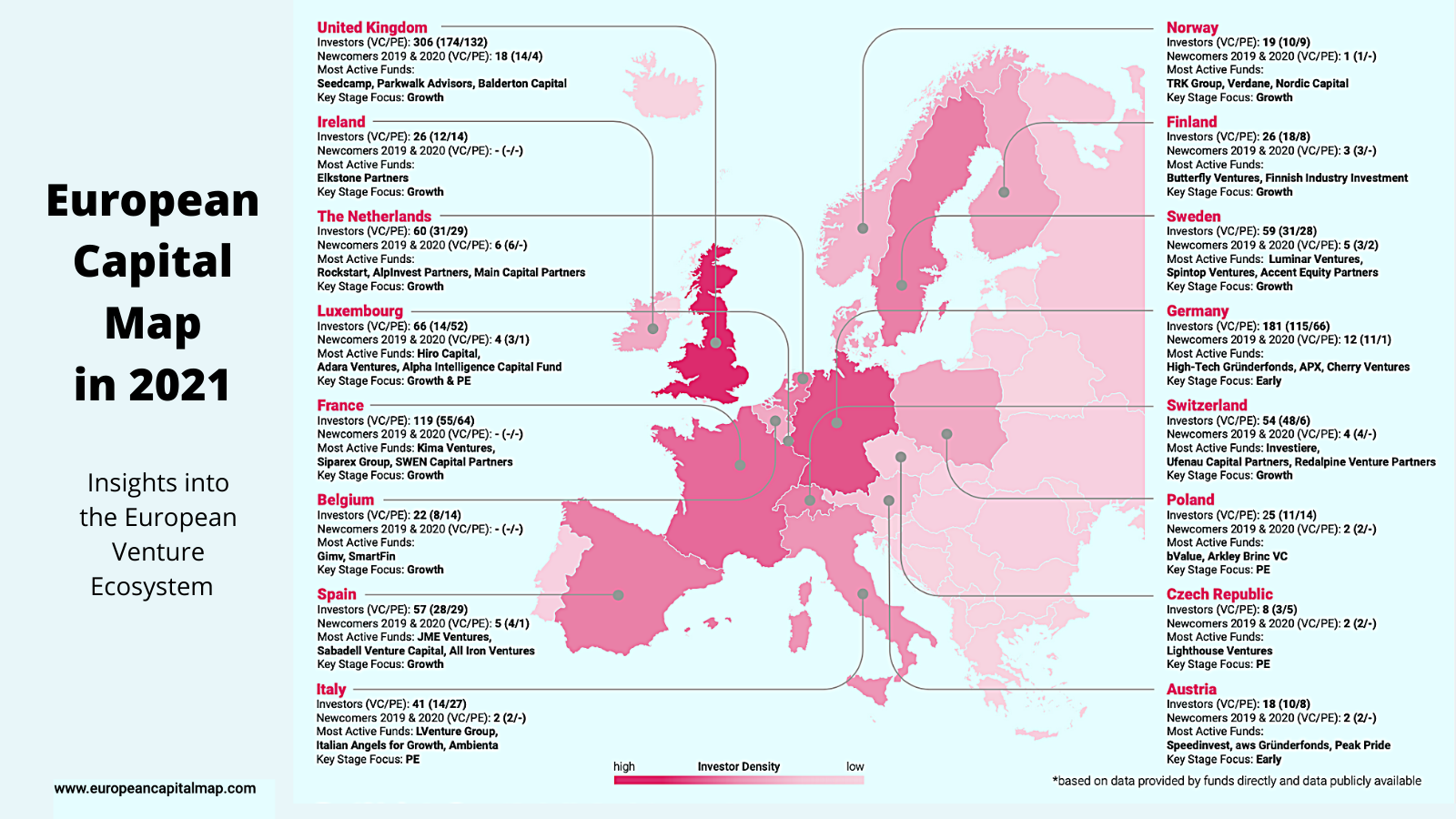 2. DACH launched the highest number of funds in 2019 and 2020
In the DACH region, VCs account for 53% of the total 230 investment funds. The most active firms in 2020 were High-Tech Gründerfonds, SpeedInvest, Investiere, APX and Cherry Ventures. 
The region saw the highest number of new VC funds launched in 2019 and 2020, including proptech-focused A/O, healthtech-focused Heal Capital and sustainability-focused Future Energy Ventures. 
3. The UK & Ireland has the most crowded investment scene 
The UK is home to the highest number of VC funds in Europe, and local startups raised $12.5bn in VC funding in 2020.
London-based seed-stage VC Seedcamp was the most active fund in 2020: it closed 92 deals last year, almost double that of any other fund.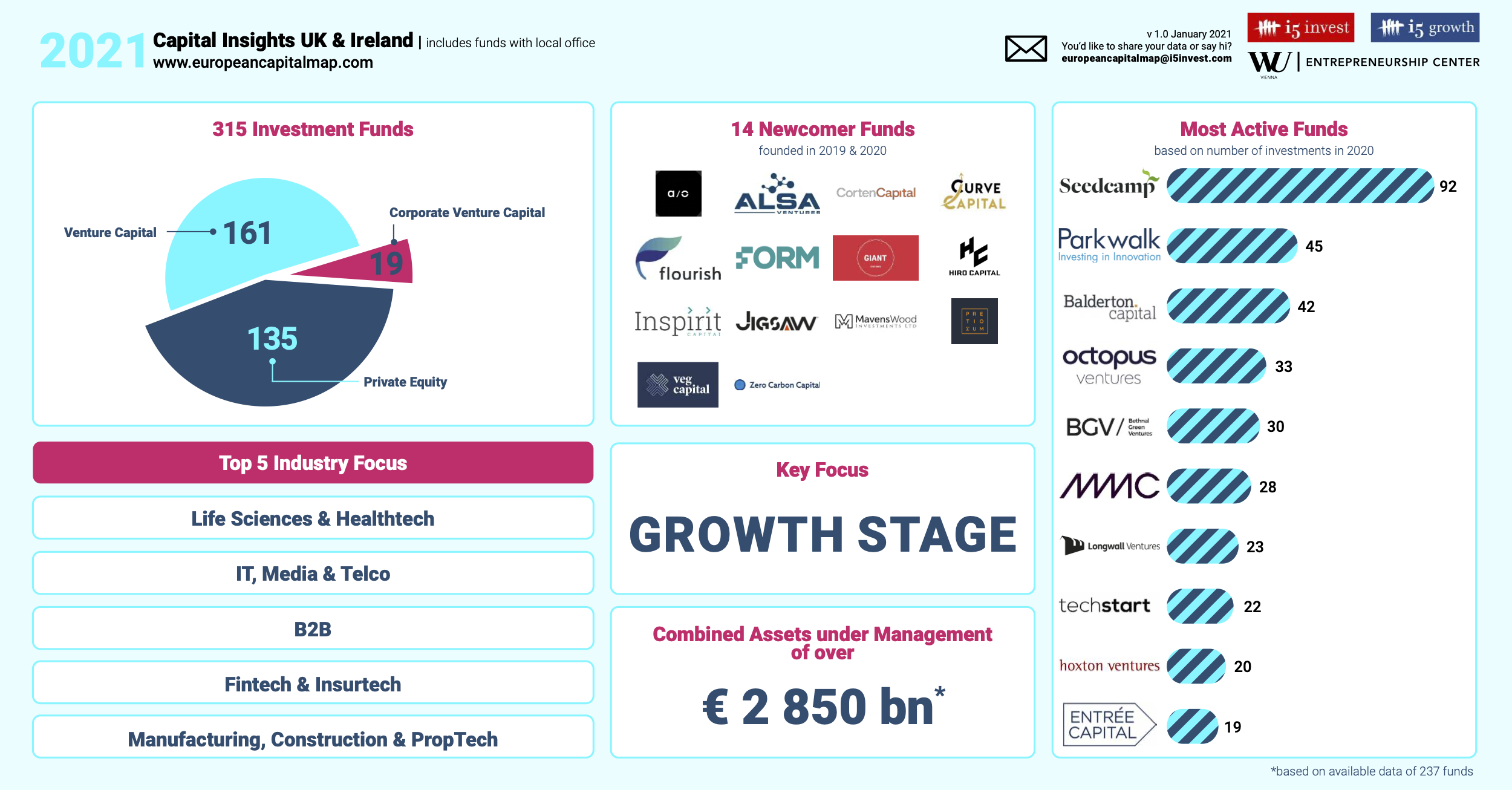 4. Swedish and Norwegian VC firms dominate in the Nordics
The report lists 54 VC funds in the Nordics. The five most active funds in 2020 were from Finland (Butterfly and Tesi) and Sweden (Luminar Ventures, Spintop Ventures, Accent Equity).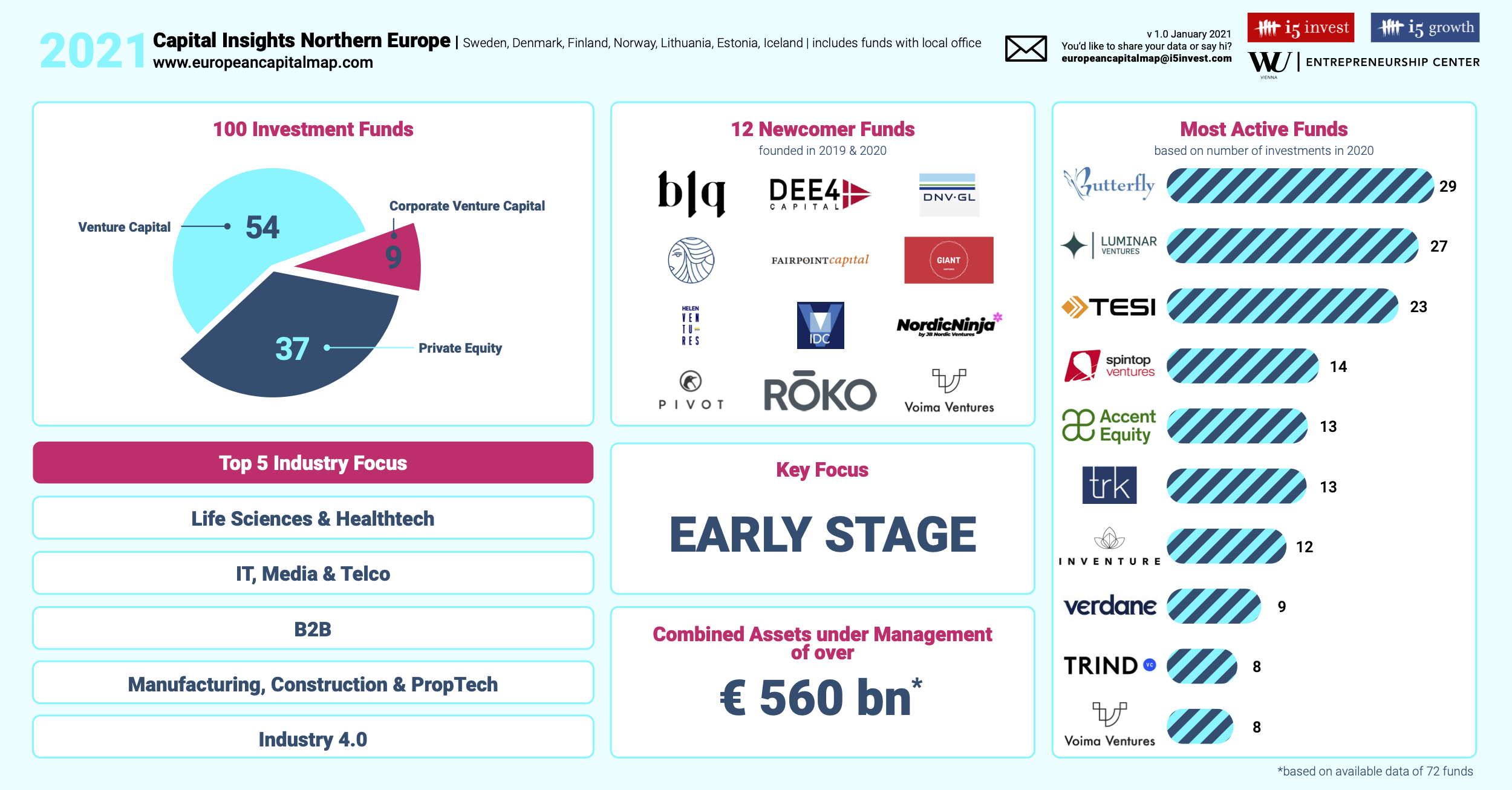 5. The Netherlands is leading the Benelux ecosystem
The Benelux is the European region with the highest ratio of private equity funds to VC firms.
Dutch VC firms Rockstart and Innovation Industries, Luxembourg's Hiro Capital and Adara Ventures and Belgian PE & VC fund Gimv closed the highest number of deals in the region last year.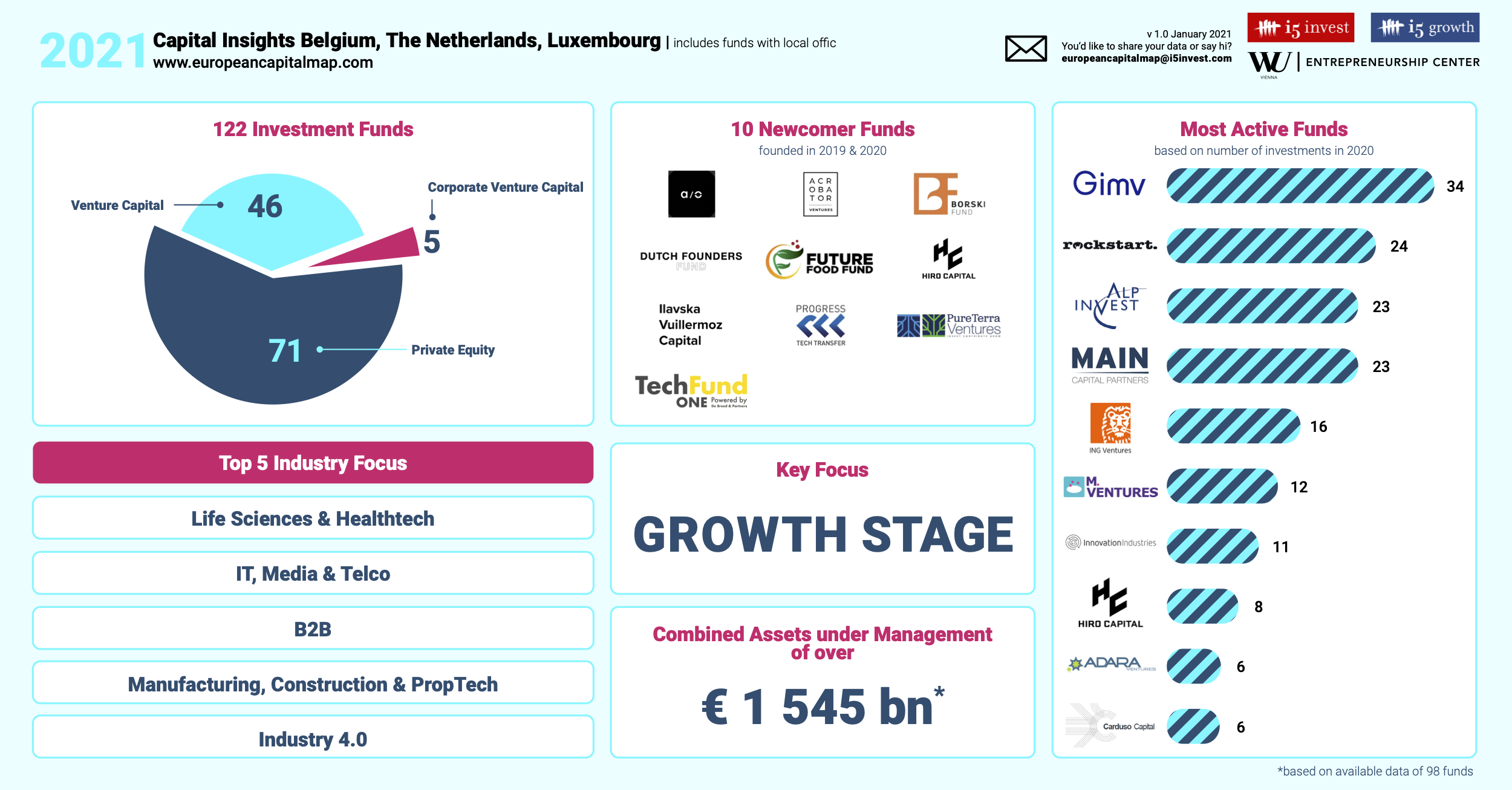 6. Half of the most active funds in southern Europe are based in France
Southern Europe saw just eight new funds launch in 2019 and 2020, falling behind other regions. 
Half of the most active funds are based in France, Europe's third largest ecosystem by capital raised in 2020, according to Atomico's State of European Tech report.
Paris-based seed VC Kima Ventures was Europe's third most-active in 2020.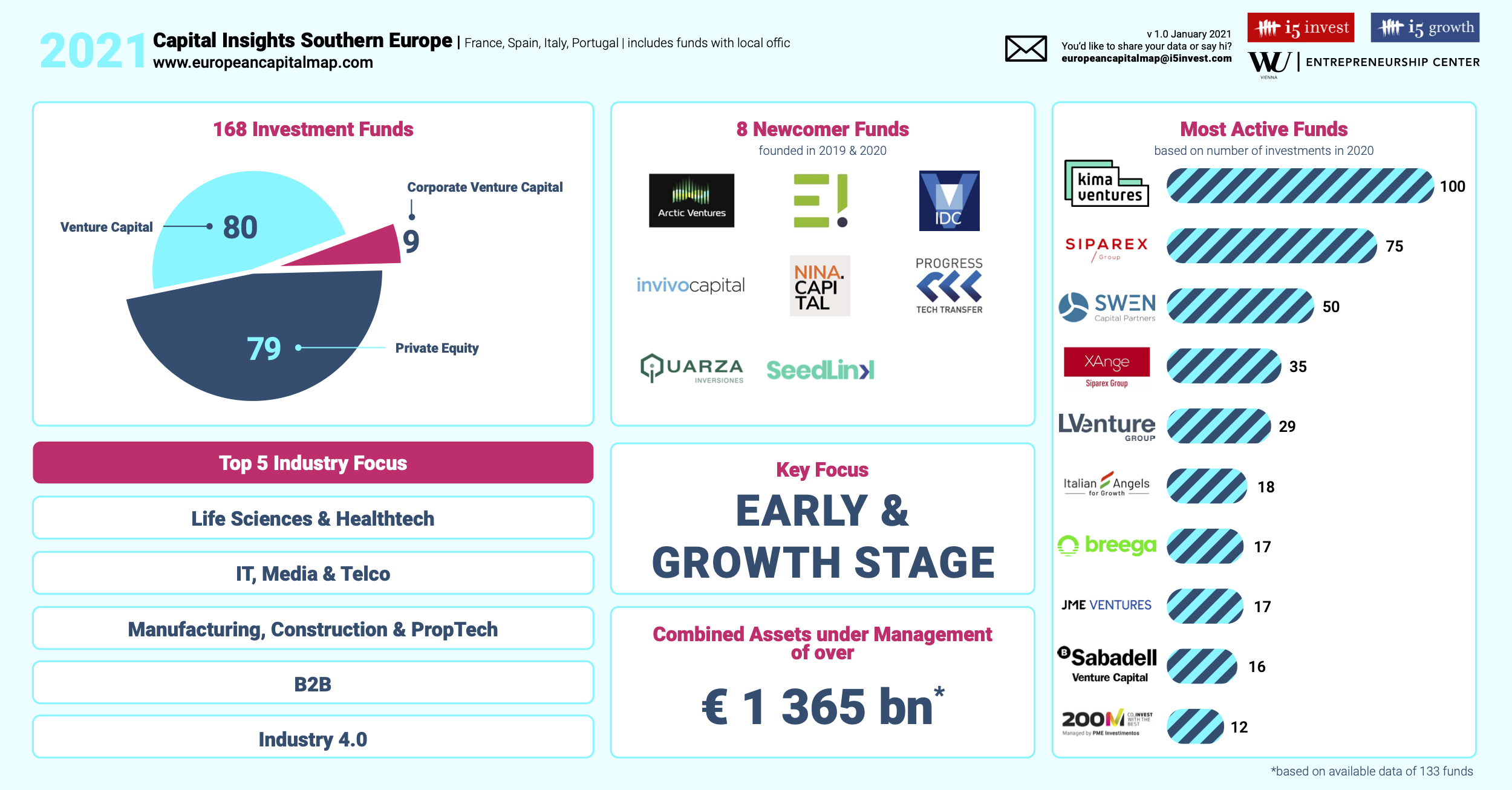 7. Eastern Europe is the most underfunded region
Budapest-based HIVentures dominated the investment scene with 200 deals in 2020, 4x more than the second most active fund Zagreb-based Fil Rouge Capital. That makes it the most active VC fund in Europe in 2020.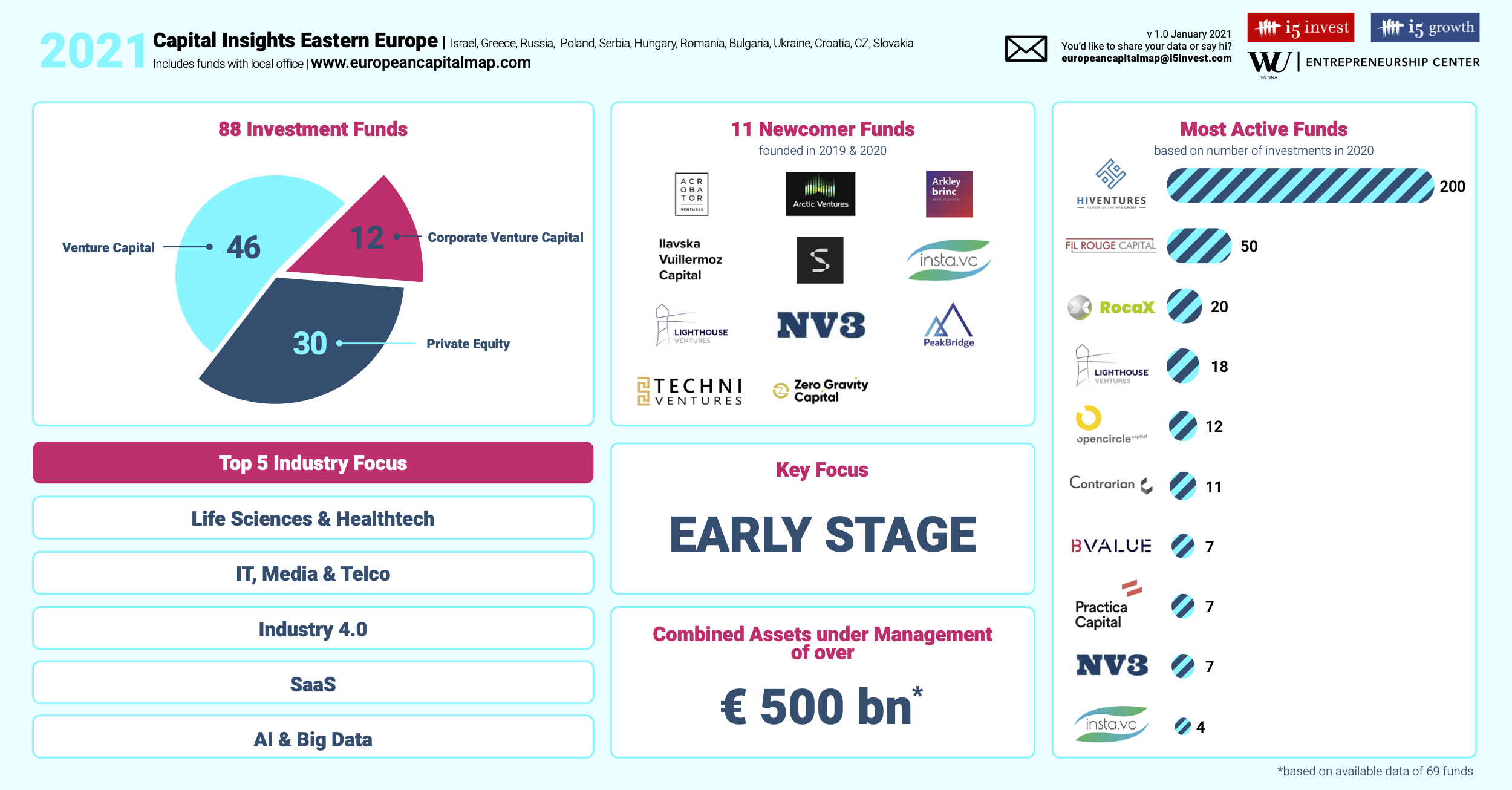 How were the data sourced?  European Capital Map used data from private equity, venture capital and corporate venture capital firms who agreed to publicly share their information and have a European presence (ie. have an office and focus on Europe).