TikTokers, influencers, video game streamers, newsletter writers: what do they have in common? They're all part of the "creator economy". 
And, as the number of people embracing careers as so-called creators has grown, a whole bunch of startups have sprung up to help them monetise their passion. 
They're also, increasingly, focusing on applying Web3 technologies to the creator economy — NFTs, the metaverse and the like.  
So far, though, startups building Web3 tools for creators are based mostly in the US. A report released on Wednesday by VC firms Antler and Speedinvest mapped 144 recently founded creator economy startups; only 18 were Europe-based. 
It's worth noting that the list is not exhaustive. And if you're building a creator economy startup, Sifted would love to hear from you.
Euro vision
According to Antler, there are now 15 creator economy companies globally worth over $1bn. One, Domestika, was originally founded in Spain but has since moved to the US. Jellysmack was founded by a trio of French founders but is also US-headquartered. Another, Vietnam's Sky Mavis (Axie Infinity maker), has a Norwegian cofounder. But there is no pure Europe-based creator economy unicorn.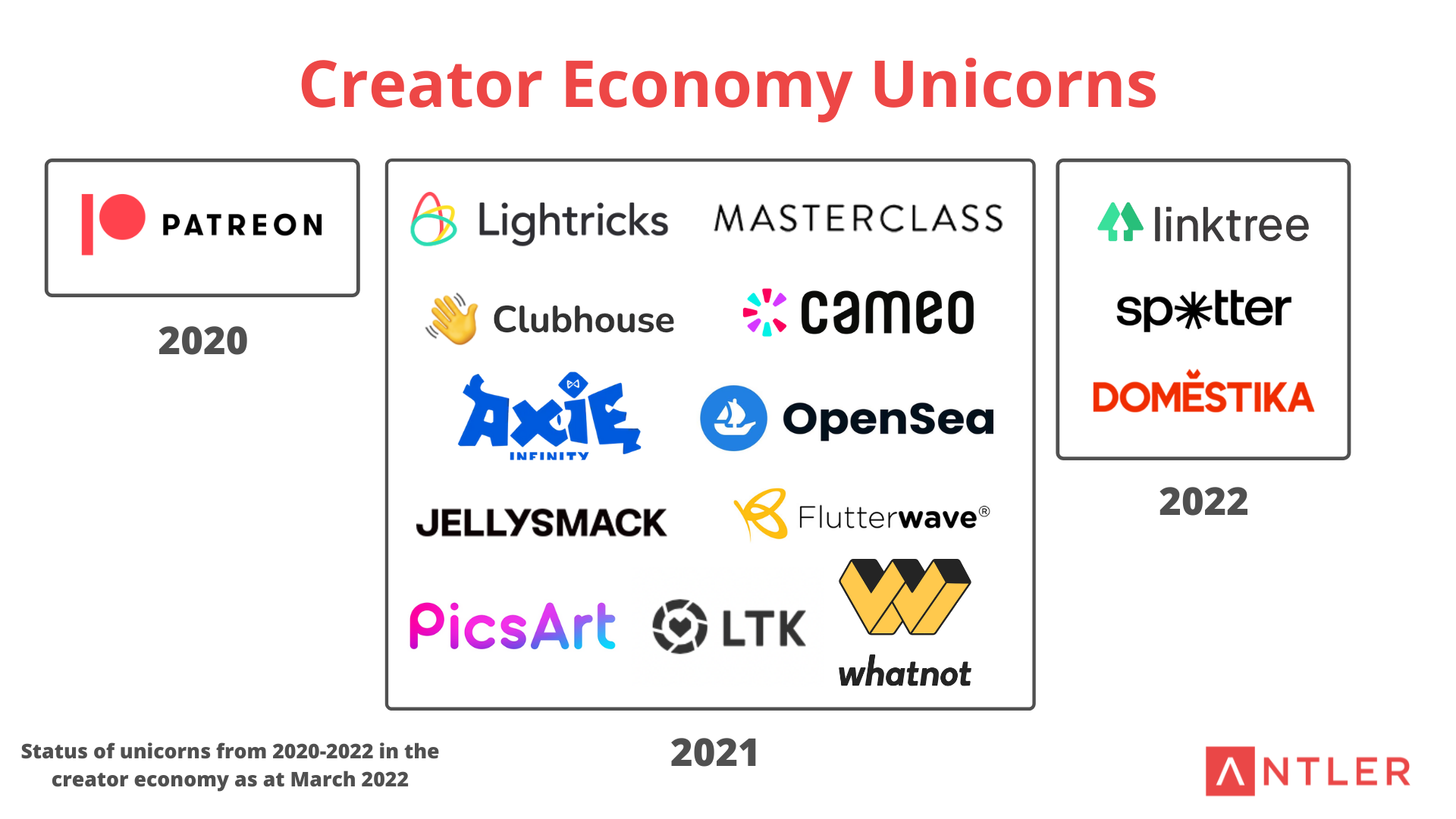 That means Europe's missing out on a slice of a global market estimated at a little above $100bn today (although, for comparison, the global entertainment and media market is $2tn).
Ollie Forsyth, global community manager at Antler, said different consumer behaviours and mindsets likely explain the relative lack of maturity in Europe's creator economy ecosystem. 
"We sometimes see the US mindset as 'Let's do this' [versus] Europeans who do not always have the same mentality," he said. "Most of the creator economy companies including in our reports are born in the US. The region the startup launches in is the region they will most likely start marketing in." 
Of the European companies included in the report, the UK's Admix is the best funded. The in-game advertising company raised a $25m Series B last year and has raised over $35m in total. That was followed by Estonia's Ready Player Me, which has raised nearly $30m from investors including Startup Wise Guys, Tiny VC and Taavet+Sten. 
Meanwhile, the best-funded US startups have raised millions more. US crypto payments startup MoonPay, for example, raised $555m last year.
Web3 and the creator economy
So what exactly does the next generation of creator economy startups look like? 
The first generation built tools for influencers of the Instagram and YouTube age — like editing for multiple videos across YouTube, Instagram and Twitch, like US unicorn Jellysmack. 
But recently founded companies want to bridge the gap between creators and fans — or, to use the preferred term, create a community. Shifting away from big platforms like YouTube to more decentralised options is at the heart of what people mean when they say Web3. 
In Web2, a creator was someone with a lot of followers that made a lot of money. For me, that's not

enough
This mindset shift, plus a whole lot of keen investors, is driving more creator economy startups to embrace Web3 technologies like the metaverse (connect virtually with your community!) and non-fungible tokens (own a piece of your community!). 
"In Web2, a creator was someone with a lot of followers that made a lot of money. People thought that was the peak of the creative economy. For me, that's not enough," says Chengxi Wang, a Chinese entrepreneur who is raising a seed round for her virtual avatar company Miiji in the UK. 
"Whether it's our physical looks or our role in society… these are inevitably limited by the physical world. But the metaverse gives us a different level of freedom. You can take a different appearance, you can be fully expressive." 
Miiji's first customers will likely be game streamers who want to have an avatar instead of showing their real face. Miiji works in-browser (I demoed it over Zoom) and has built-in ways for viewers to interact with avatars on screen, such as setting them on fire or pushing them off a chair. 
Creators go international
Some other companies and investors are more sanguine about the opportunities in Web3. 
"I see companies jumping on [Web3] very quickly and adapting very fast," says Klára Losert, cofounder of Czech community management startup Talkbase. "But what we always need to do as founders is to learn the best lessons from each of these areas."
That means Talkbase will "empower creators and communities that want to go this way" even if it doesn't mean becoming a full-blown Web3 startup. Talkbase gives tech startups and creators tools to manage their communities including ways to manage ambassadors or events. 
Losert tells Sifted that Talkbase is about to close a seed round and says investors are still hot on the space. 
"You wouldn't not follow a creator just because they're from Europe versus if they're from the US. That's the same for the tools for creators," she says. "As we're seeing investors flowing from the States to Europe, we'll also see creator tools flowing across continents." 
Investor Sasha Kaletsky, cofounder of Creator Ventures with entrepreneur and creator Caspar Lee, agrees that the creator economy won't be swallowed up by Web3 anytime soon.
"The platform ownership and disintermediation that Web3 unlocks is compelling for those investing and building in the creator economy," he tells Sifted.
"But equally, large swathes of the creator economy — including influencer marketing, which is still the majority of social media creators' primary source of income — are resolutely Web2, and that will not change for the foreseeable future."
He notes that France and the UK, in particular, are "hotbeds for innovation" in Europe's creator economy.
Antler/Speedinvest list of recently-founded European creator companies 
Management 
Gem.xyz (HQ is Singapore, but the founder is Brussels-based): Founded in 2021, Gem.xyz lets anyone buy and sell NFTs across different NFT marketplaces. 
Passionfroot (Germany): Founded in 2021, Passionfroot is a browser-based, no-code tool that helps creators keep track of their projects, clients and cashflow. The company raised a €3m pre-seed round last December, the largest for a European creator economy startup at that stage. 
NFT Marketplaces 
Fan Interactions 
Talkbase (Czech Republic): Founded in 2021, Talkbase is a platform for community management. Users can schedule events and meetups for their community, manage ambassador and advocate programmes and track community member information. 
Low/No Code 
Beyond (Germany): Founded in 2021, Beyond gives businesses tools to launch their own NFTs or tokens and manage communities, no code required. Cofounder Katia Yakovleva wrote on Web3 and marketing in Sifted earlier this month. 
Payments 
Earnr (UK): Earnt is a finance and tax app for creators, founded in 2020. 
Design 
Bildr (UK): Bildr is a no-code tool for creators building apps and browser extensions. 
Customuse (UK): Founded in 2021, this company helps creators make and sell virtual apparel on social media platforms like Snap and in games like Roblox 
Community Tokens 
CrowdPad (UK): Headquartered in London, CrowdPad lets creators mint their own virtual "coins" and give benefits to people who hold them. 
Play to earn 
Admix (UK): Admix helps brands advertise in games. It raised $25m in October from Elefund (a US fund that invested in Robinhood and Calm), Notion Capital, Force over Mass, Speedinvest and others. 
Goals (Sweden): a play-to-earn football game where players can be rewarded with NFTs. Founder Andreas Thorstensson says the company has raised $19m but has not said from whom. 
Realm (UK): Lets anyone create their own play-to-earn metaverse or "realm". 
Metaverse 
Miiji (UK): Founded in 2021, this company is building virtual avatars for the metaverse. 
Ready Player Me (Estonia): Ready Player Me is another avatar startup that lets people create full-body avatars for the metaverse. It raised a $13m Series A round in January, led by Taavet+Sten, the investment firm led by the cofounder of Wise and the cofounder of Teleport. 
Music 
Dropstar (Germany): This company, founded in 2021, lets artists and musicians make NFTs of their artwork and creators which can then be traded. 
Pianity (France): Founded in 2021, Pianity is a music NFT platform. 
Sonomo (Netherlands): This Amsterdam-based music investing platform lets retail investors invest in royalties from digital streaming. 
Stage 11(France): Stage11 is making music experiences for the metaverse.