Europe's unicorn herd has outgrown China's, following a bumper year of VC investments into the region. Since 1990, Europe has created 296 unicorn companies, worth more than $1bn in total, whereas China's created a total of 276. 
According to new data from Dealroom, Europe has produced 72 new unicorns in 2021 — more than 3x that of China's 22. Europe is also the fastest-growing region for VC investment globally, having attracted €49bn of investments so far in 2021 — exceeding China, the US and all of Asia. 
This means that for the first time since 2016, Europe is ahead of China in the number of unicorns created or $1bn exits —  another sign of the enormous momentum in the European tech and entrepreneurial ecosystem.
"European tech has hit a purple patch in 2021," says Yoram Wijngaarde, founder and CEO of Dealroom. "While records for VC investment are being broken everywhere, no developed ecosystem is growing as fast as Europe. Outproducing China on unicorns is also an important milestone."
The tech boom is also being spearheaded by European cities; of the 170 'unicorn cities' — cities with one or more unicorns — globally, 65 are in Europe. 
Some of the new unicorns created this year include crypto trading platform Bitpanda, digital bank Starling, payments company Saltpay and digital lender Lendable. On-demand grocery delivery startup Gorillas hit a $1bn valuation only nine months after launching.
Europe's competitors
However, the US is still maintaining its lead, having created 1000+ unicorns since 1990. This year alone, it created 275 unicorns — nearly as much as Europe has in the past three decades. And VC investment into the US isn't slowing down; with $140bn of investments pouring into the country so far this year, 2021 is set to be yet another record year. 
While Europe last exceeded China's unicorn count in 2016, it's continued to outpace the country with VC investments in 2021.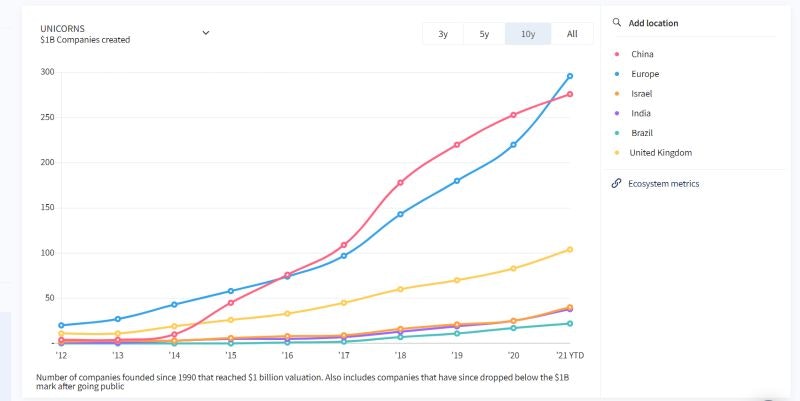 A European breakdown
Within Europe, the UK is leading the unicorn surge, with 20 companies hitting unicorn status in 2021 alone. This year, the country also became the first in Europe to create 100 unicorns in total, following insurtech Tractable's $1bn valuation in June. Fintech Starling and renewable energy provider Bulb were also among the prominent companies to hit unicorn status this year, as the country saw a whopping $5.7bn in fintech investment in the first half of 2021 — 34% more than the total raised by UK fintechs in 2020. Now, it trails the US and China globally. 
Germany is second with 46 unicorns — less than half of that of the UK — but has also produced 14 unicorns this year, the second highest number in Europe. 
Following this, France, as one of Europe's prominent tech hubs, has created 10 unicorns this year — with ManoMano and Alan securing hefty funding this year, and raising its valuation to over €2.4bn and €1.4bn respectively.  
Although the continent is pacing itself for a profitable second half of the year, it still remains in competition with China's burgeoning startup ecosystem, which is undergoing a "massive structural and cultural shift... as it moves towards deeptech and AI," says Wijngaarde.