For better or worse, it was Wonga that first put "challenger lenders" on the map. The UK payday lender's meteoric rise saw it become a household name before its collapse last year after a string of irresponsible, inflated loans.
Yet the controversy has not halted the wider industry's appeal among investors. From Latvia to London, VCs are pumping money into the new El Dorado of European fintech: specialised debt providers.
This month alone, large funding rounds were announced by Sweden's Capcito and Lendify, as well as by UK's Sonovate, an invoice lender for SMEs with over 750 active clients. Banks are also watching closely, with Goldman Sach's equity arm being a notable funder in Lendable, recently ranked the UK's sixth fastest-growing private tech company.
Money for money
These investors may be tapping into a serious cash-cow.
In the UK, the challenger-lender industry grew to £6.1 billion in 2017, according to a study by the Cambridge Centre for Alternative Finance (CCAF). The CCAF also estimated that 29% of all new loans issued to SMEs came from challenger lenders in 2017. PwC predicts that figure will rise to nearly 40% in the next decade.
As a result, challenger lenders are eating into the most profitable area for conventional banks. A McKinsey report in 2015 showed that new competitors could cut banks' profits from consumer-lending by 60% by 2025. Meanwhile, banks' revenues from loans to SMEs are predicted to diminish by up to 35%. These currently make up banks' largest individual revenue stream, as shown below.
Source: Financial Times
McKinsey's prediction assumes lending startups can implement new technology far easier than bureaucracy-laden banks. And crucially, this technology means challenger lenders could theoretically offer better rates, speed and service, as well as cater to borrowers long excluded by banks' out-dated credit-rating system.
This hypothesis is already being demonstrated overseas, with US-based SoFi, the personal-lender, now valued at $4.5 billion.
Who is winning in Europe
Europe's standout star is arguably Sweden's Lendify, which offers large personal loans to low-risk, local customers. The startup has developed its own credit-scoring system and to date has a lent over £224m (2.7bn SEK), offering consumers ~1% less interest than neighbouring banks. Lendify is also looking to break into the mortgages market.
Lendify undercuts banks by using a low-cost operational model made up of "a proprietary IT-system." It also accesses customer data to assess their credit-risk, which allows them to provide tailored pricing models - for now.
The Swedish startup also evidently has a strategy of 'grow slowly with a highly selective clientele.' The alternative strategy for challenger lenders is to offer loans to higher risk parties at higher rates for (potential) higher reward. This is especially tempting in a recession when big banks tighten their books, but naturally risks more casualties like Wonga.
Elsewhere, VCs' influx of funds has propelled a much wider lender ecosystem, mapped out below: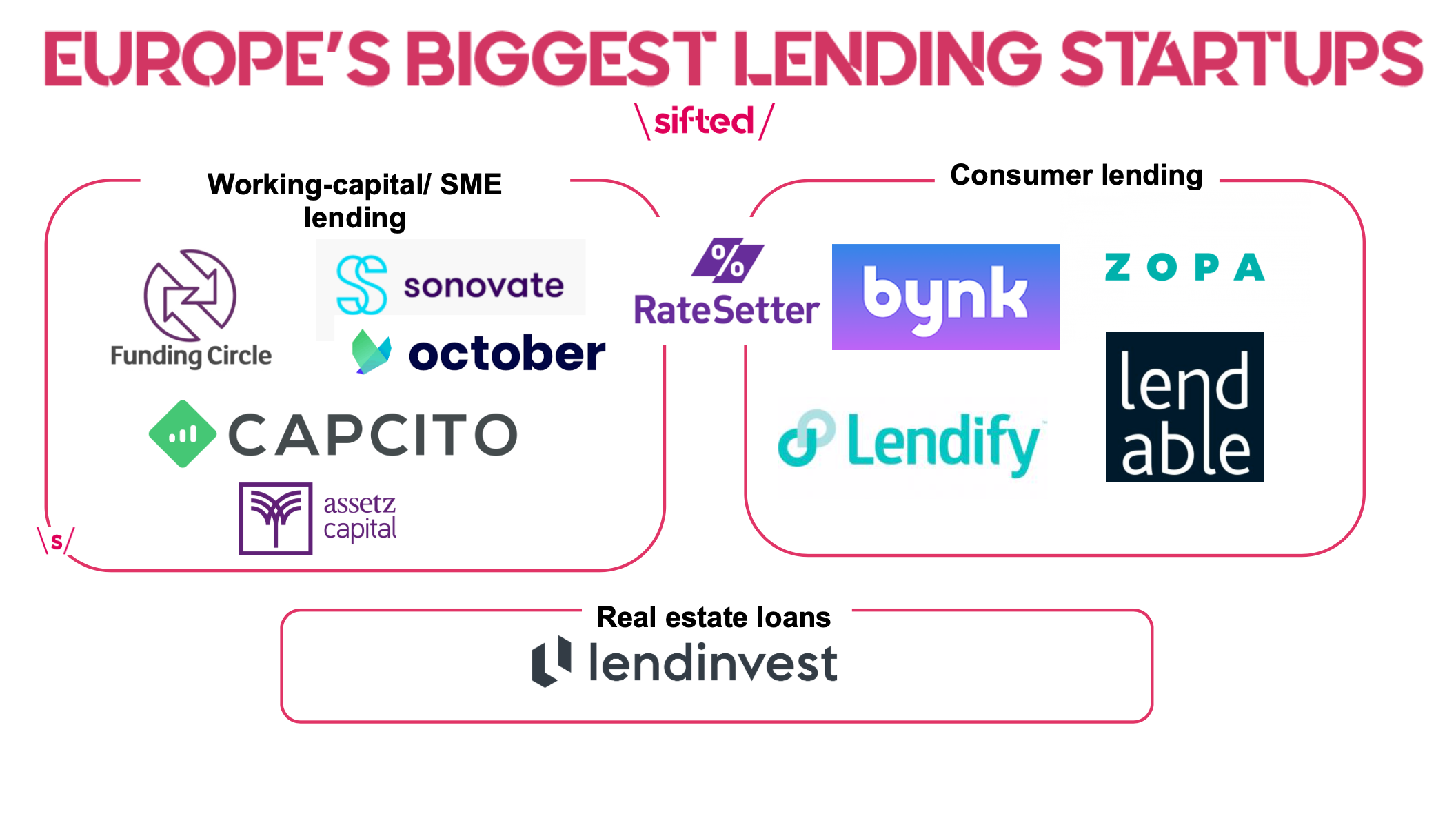 Source: Sifted
A popular model among those featured above is the peer-to-peer (P2P) platform. The idea is to connect retail lenders with other borrowers, although most still rely on institutional capital. Either way, the platform itself assumes very little risk from the borrowers.
P2P lender Funding Circle was the first major UK fintech to IPO last year. Meanwhile, Manchester-based P2P platform Assetz Capital says it has built up a book of 35,000 lenders, who "have earned over £80m in interest" to date. 
Crucially, these platforms had had some preliminary green lights from authorities, with Zopa becoming the UK's first regulated P2P consumer lender. And in terms of supply, Latvia's P2P site Robo.cash says millennials make up more than half of its lenders, who are choosing low-risk lending over betting on the stock market.
Tough competition
Still, there are big challenges ahead for these so-called alternative lenders. 
Firstly, major banks still have the unique advantage of having historic links to large, international, reliable borrowers. They're also catching up by launching digital spinoffs, like Nationwide's EsmeLoans, which has lent £70m to SMEs in just 4 months.
Second, established multinationals such as PayPal and Stripe now also lend to businesses that use their services. PayPal for instance has lent over $10 bn to SMEs globally, including Europe.
Meanwhile, consumer cash-advances are increasingly available from the likes of Amazon, Shopify, and Klarna. This means large tech companies could start kicking smaller newcomers out or raise entry costs.
Fourth, more competition is also on its way from the larger challenger banks, who began as challenger currents-accounts but are now moving into the age-old business of building up a large balance sheet and then renting their capital out. Challengers OakNorth and Metro currently top the leaderboard with their hefty property loans.
Challenger banks may also bolt ahead by adopting Open Banking, a tool which asks borrowers to share their spending data with participating lenders in return for quicker, cheaper loans.
"Challenger banks are the most likely to get serious about Open Banking - which is going to be disruptive," says ID Co's James Varga. "That might then prompt major banks to integrate it, which could blow alternative lenders out of the water."
That begs the question; is it only a matter of time before challenger-lenders lose their competitive advantage over banks? If so, how much time do they have before banks adopt smarter tools to re-invent credit assessments?
One to watch
Alternative lenders may have serious obstacles to jump over, but they still hold strong appeal among groups of borrowers who banks decline.
One such group is "freelancers" or gig-economy workers, who Paris-based Mansa are seeking to target when they launch later this year.
Backed by President Macron's former advisor, Mansa will target "consultants, drivers, engineers, designers, copywriters, photographers", who do not have fixed monthly salaries and therefore do not fit banks' traditional credit-rating model. 
"Klarna, Monzo; they all use the same scoring model as banks and also they don't loan off their own books," Mansa's co-founder Ali Rami tells Sifted. "Banks have been built for the traditional work-force,"
The 19-year-old Sciences Po drop-out added Mansa will use its own scoring model to carefully select clients, hoping to offer large loans at around 20% APR. This is where it will differ from the UK's Portify, which currently only offers micro-loans to gig-workers. 
Crucially, Mansa has already partnered with major companies like WeWork to tap into its freelancer client-base. The incentive for their partners, Rami says, is they can offer lending perks to their gig-workers and retain their loyalty.
The company is now eyeing a €10-20m Series A and a €3-5m debt funding round, before raising again later in the year.