Every year since 2005, global management consultancy Boston Consulting Group has compiled a list of the world's most innovative companies based on interviews with innovation executives (this year it canvassed 36.5k of them).
Companies are scored by their financial performance and criteria, such as how much they are disrupting their industry and how they are viewed by their peers.
Here are six key lessons from the study.
1. European companies are falling behind on innovation
Once again, no European companies are in the top 10 most innovative companies.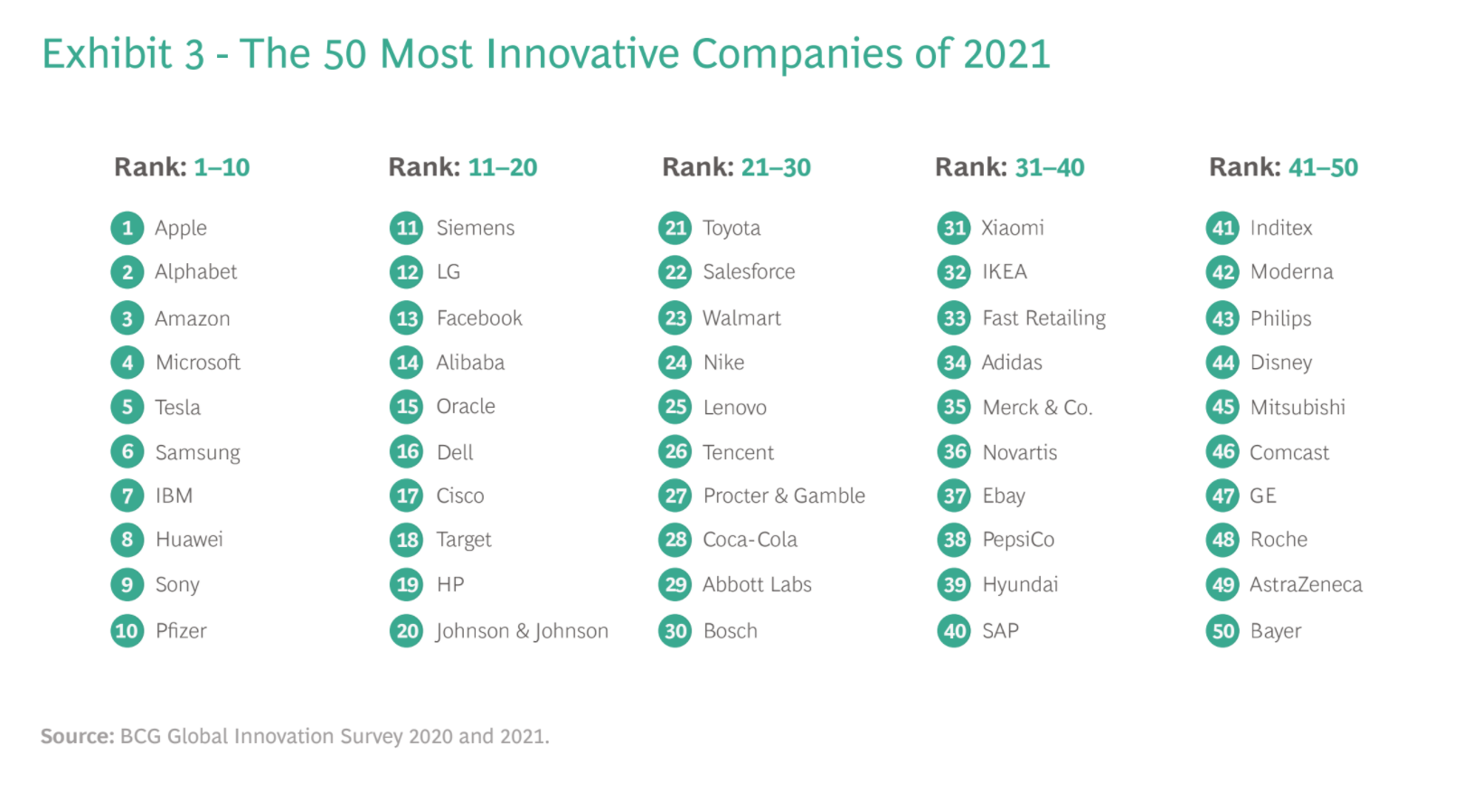 At first glance, they seem to be moving in the right direction, as Siemens comes in at #11, still outside the top 10, but far higher than #21 position it held last year. 
But, Konstantinos Apostolatos, BCG managing director and, one of the authors of the report, says European companies are far weaker in their commitment to innovation.
"In areas like AI, robotics and quantum computing, the real breakthroughs aren't originating in Europe and they don't get scaled up here," he says. Part of it boils down to basic spending.
"Europe ranks significantly behind in R&D spend. European CEOs are also less committed to innovation than their US and Chinese counterparts. They are more conservative and experiment less with new startups."
A number of companies like ABB, Airbus and Volkwagen have fallen out of the rankings.
On the positive side, when European companies innovate, they tend to get higher returns on that innovation, and can have a relatively greater disruptive impact in their industries.
Several European companies are inching higher up the rankings (Bosch for example moves from from #33 to #30). IKEA is a new entry at #32, and Adidas, Merck, Novartis, SAP, Inditex, Philips, Roche, AstraZeneca and Bayer are also in the top 50 list.
In a pandemic year, it is perhaps unsurprising so many pharmaceutical companies make the list — but, says Apostolatos, it also reflects the fact that pharma companies are coming to grips with big shifts, such as the move to personalised medicine, and outcome-based treatments.
Apostolatos believes Europe should focus on a few areas where it could still retain global leadership — for example, innovating around retail and luxury goods, agritech and some parts of the pharma industry.
2. The Covid-19 pandemic has made companies more focused on innovation
BCG reported a 10 percentage point increase (to 75%) in the number of executives who said innovation is a top-three priority. For one-third, it was the number one priority.
Apostolatos says he has seen a lot of CEOs whose focus has been sharpened by the recent crisis.
"In many industries they have been through so many rounds of cost-cutting that they had lost the DNA of how to grow the company," he tells Sifted. A big shift in business models — for example shifting to selling online, has pushed them out of the cost-control mode and into the creation of new ideas.
3. They are willing to spend more money on innovation
Some 60% of companies plan to boost investment in innovation, one-third of them significantly.
That was true for both companies in industries like travel and tourism (58% planning to boost spending), as well as for those that were surviving the pandemic better — like pharmaceuticals and software (64% planned increased spending).
4. Some 65% of companies work with startups or new ventures in some way
It could be through an open innovation programme, and accelerator or a CVC investment arm, but 45% of these companies are dissatisfied and say that these efforts haven't delivered meaningful impact.
We know this is very well at Sifted — and we've written quite a lot about why things go wrong.
[/box]
5. Innovative companies tend to have the c-suite involved in innovation
This seem kind of obvious: if innovation doesn't get endorsement from top management, it isn't going to get very far. But it is still interesting to see the chart of how stark the contrast is between innovation leaders and laggards.
Apostolatos says often it is not the case of CEOs not caring about innovation, but that their attention gets lost in a sea of day-to-day problems.
"I meet some CEOs who say they have just five priorities, which is great — there is a lot of focus. But more often it is CEOs with 1k top priorities. I am always surprised at how much management time is wasted on small problems," says Apostolatos.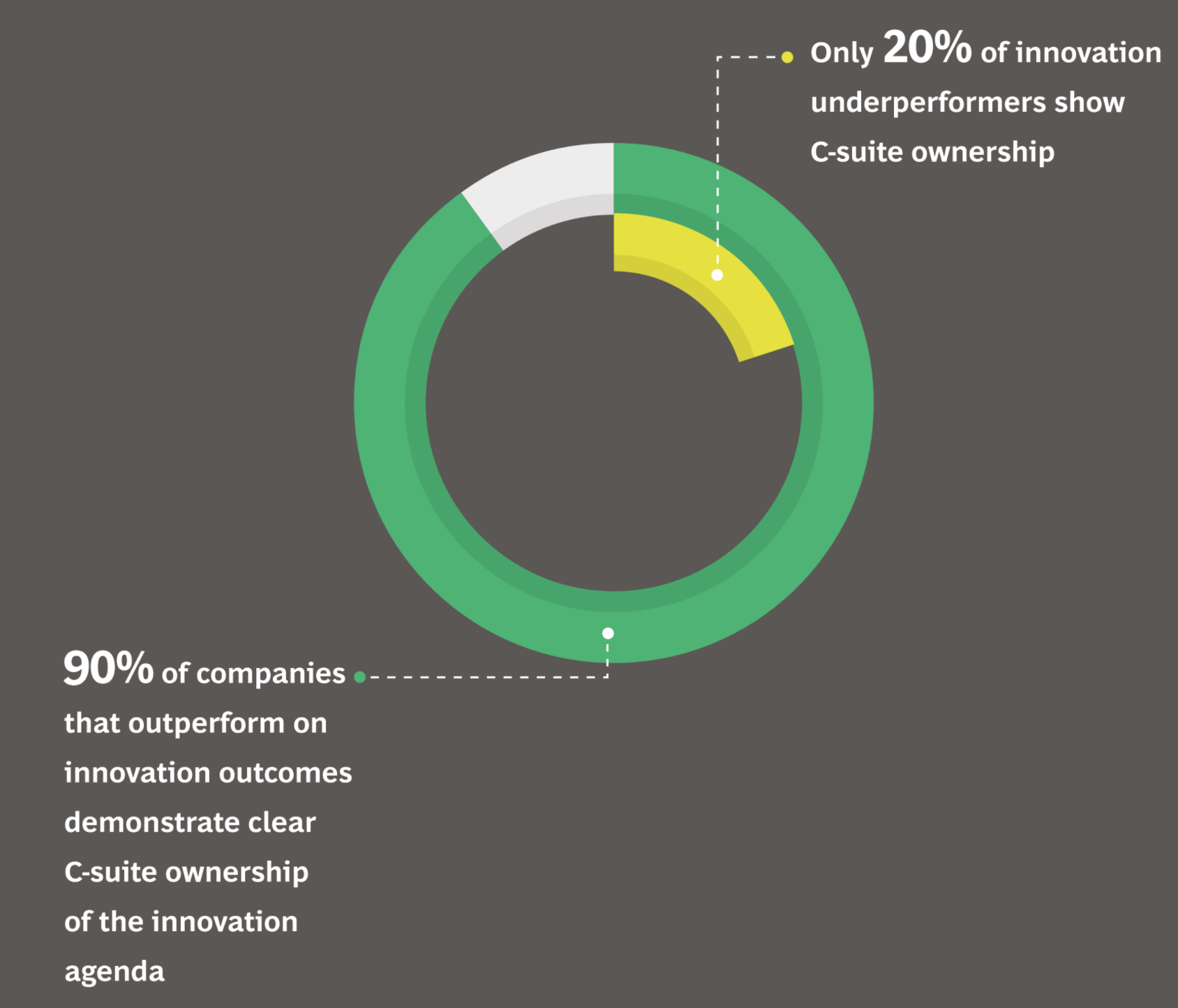 6. Innovation projects fail because marketing and R&D have trouble working together
31% of innovation leaders polled cited this as the biggest obstacle to getting a return in innovation. An introverted R&D team has trouble explaining what they are creating, while the sales team only focuses on short-to-medium-term hits.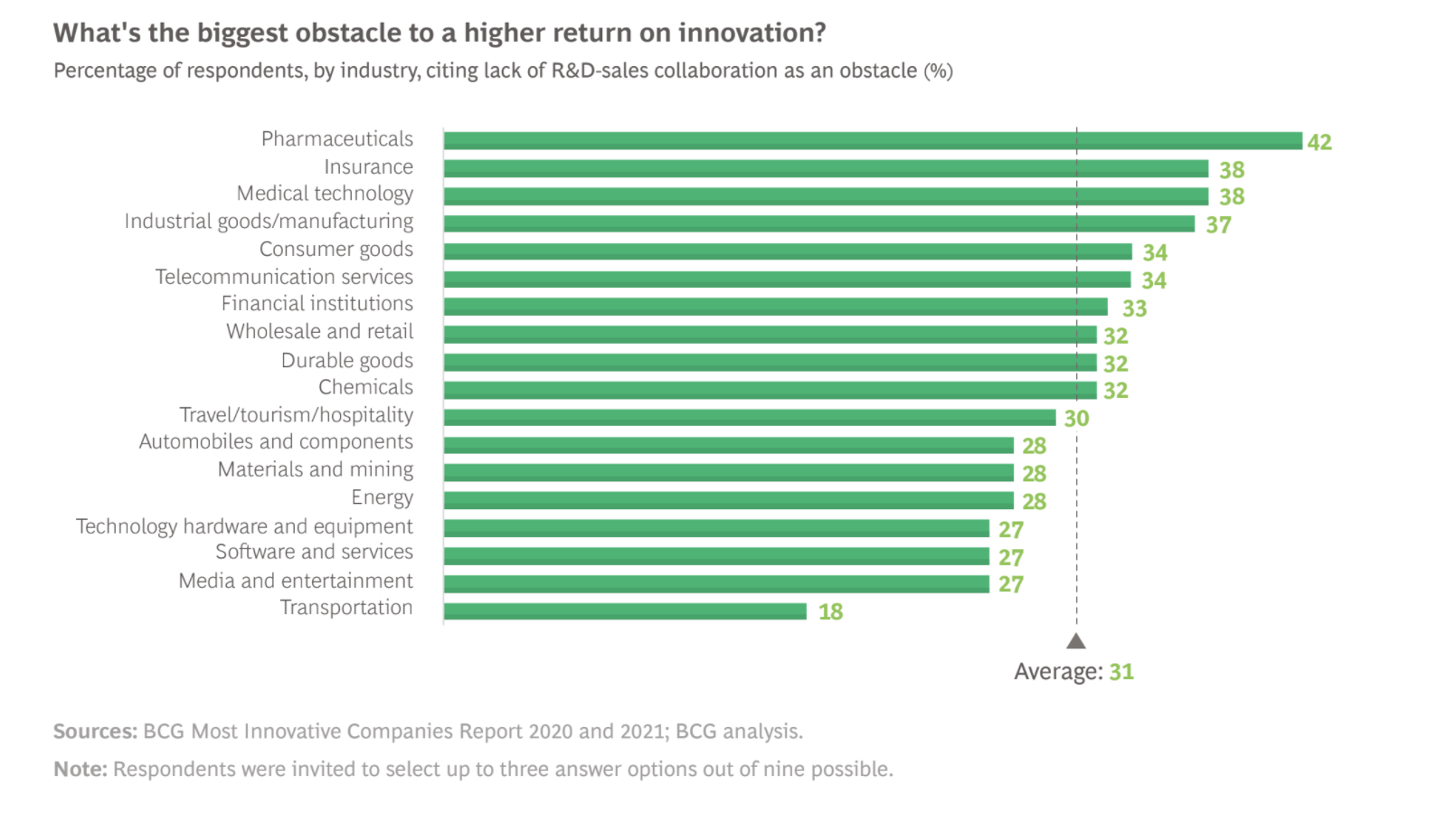 This is an old problem, says Apostolatos.
Some of the best examples for how to get around it come from companies like Amazon and Google, where they create temporary, multi-functional teams that come together to solve a very specific customer problem. Engineers and marketers work together for six months, present the solution and then disband. It helps to break down the silos in the company. More companies should try it, says Apostolatos.
"I am always surprised by the disconnect. We are moving to new business models but our organisational structures are still stuck in the 1990s," he says.