Europe's escooter sector exploded three years ago, as dozens of operators launched in cities across the continent and investors poured money in.
Now, although the pace of launches and investment has slowed, there's still plenty going on. Operators continue to land new partnerships and launch in new territory, especially as cities turn to micromobility as a way to get people moving in a 'greener' way post-Covid.
And so, to keep you in the loop on the newest developments in the European escooter market, Sifted has whipped up this handy guide. We'll continue to update it with the latest as and when we hear it.
And if you see something that's not in here, drop us an email at connor@sifted.eu. 
*This article was last updated on October 6
Known companies in this space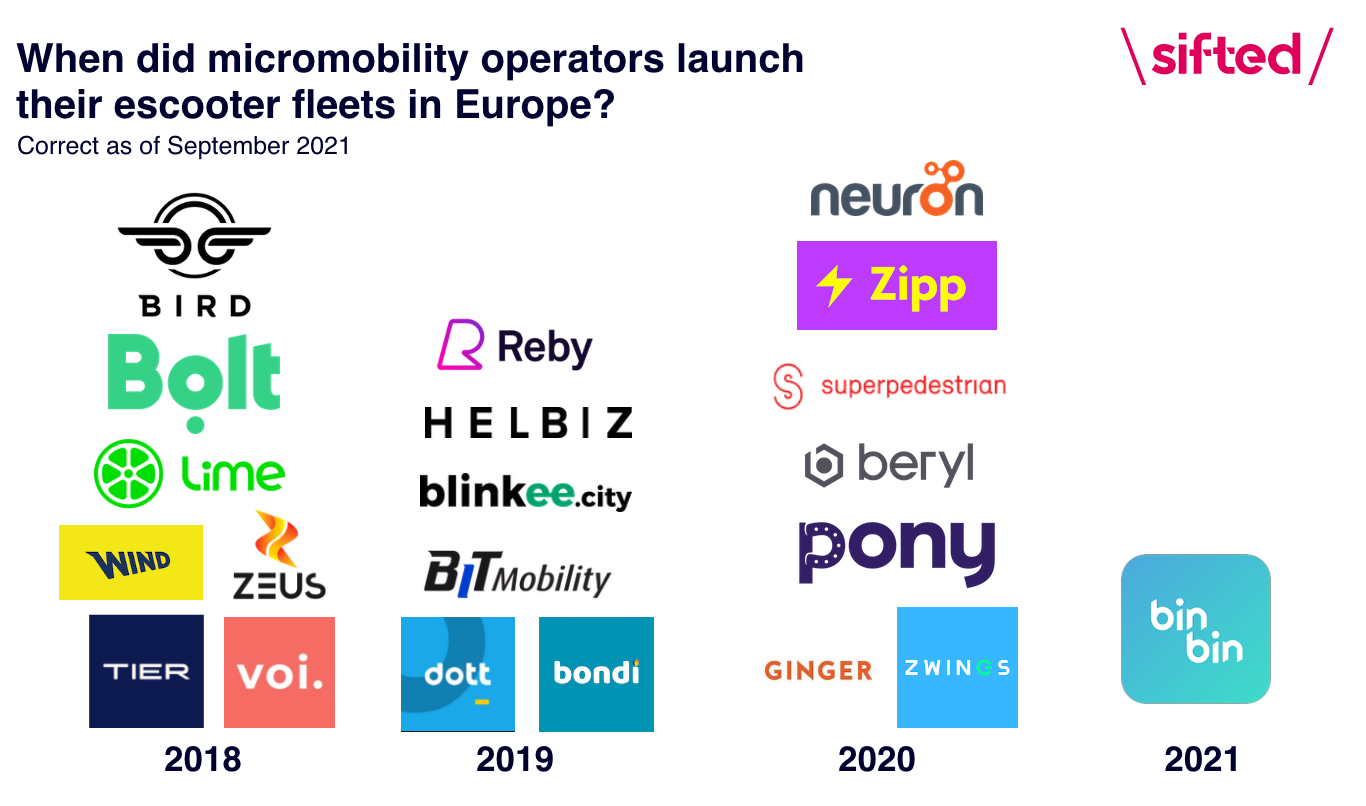 European escooter startups launched en-masse in 2018, starting with Berlin-based unicorn Tier and Stockholm-based Voi. Today, Tier operates in 130 European cities and Voi in more than 70.
Berlin-based Wind, Dublin-based Zeus and US-based Lime also launched in various European cities throughout 2018.
More followed suit in 2019. Dutch startup Dott launched its first escooter pilot at startup campus Station F in Paris, and has since expanded into 28 cities. Operators such as Italy's Bit and Poland's Blinkee.city also launched in various cities that same year.
New company launches have since calmed down. The latest launch appears to be Dublin-based Zipp Mobility, which began escooter trials in the UK in August 2020.
Latest funding rounds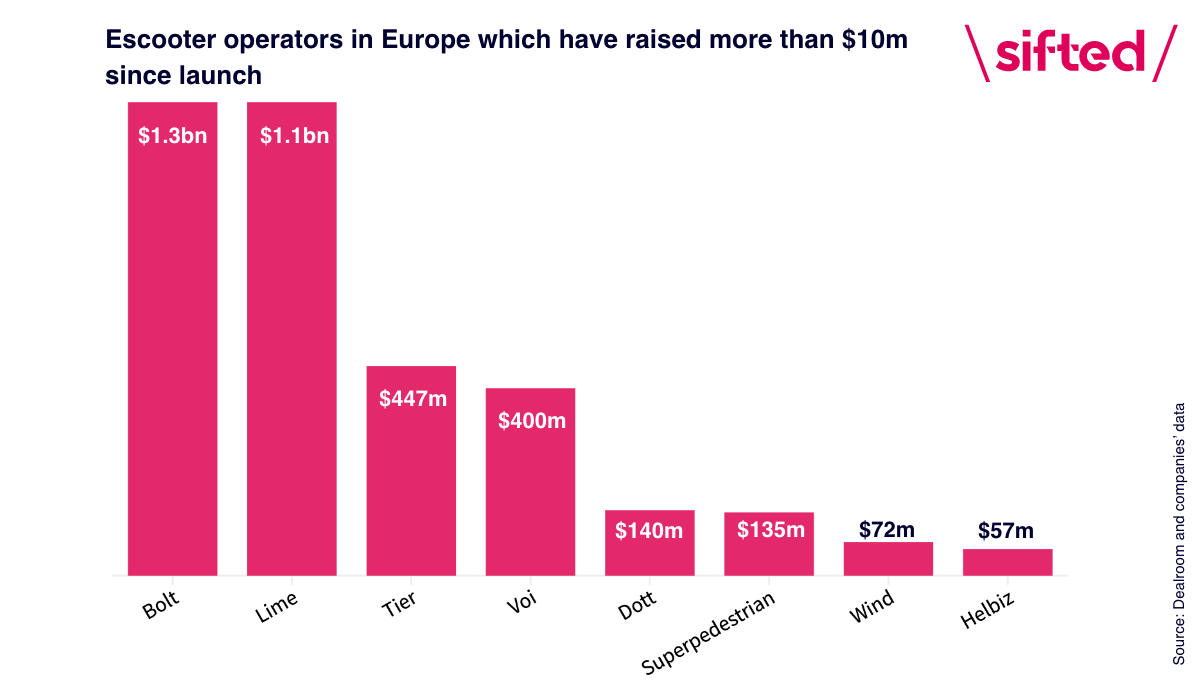 Escooter startups operating in Europe have collectively raised over $4bn to date. The ones that have raised the most include Bolt ($1.3bn), Tier ($443m) and Voi ($400m).
Capital is still being pumped into European escooter operators. In April, Belgium-based Dott raised $85m in a Series B round led by family office Sofina.In June, Sweden-based Vässla raised $11m and, in August, Voi landed $45m while Ireland-based Zipp Mobility raised €1.3m in seed funding. Tier also bagged $60m in debt financing from Goldman Sachs, just seven months after raising a $250m Series C round, the largest ever for an escooter operator in Europe.
Latest market expansions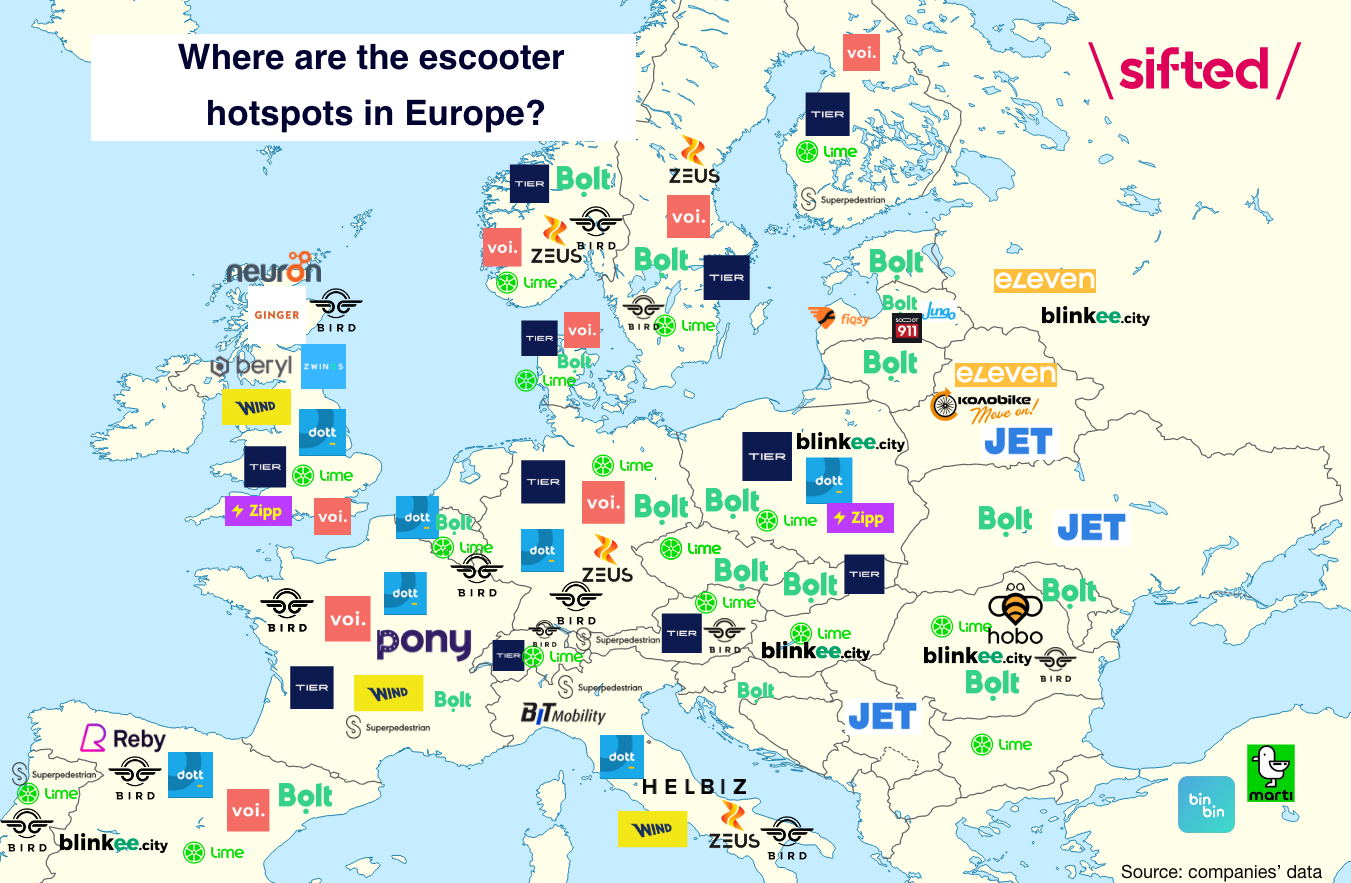 European escooter operators continue to expand into new markets and increase the size of their fleets.
This summer, Zeus and Bolt moved into the Italian market.
Zeus also launched in Sweden in July, while Zipp launched in Poland.
Some operators are also expanding further afield; Tier is dipping its toes in the Middle East with its recent expansion into Bahrain.
Not just escooters
Many of Europe's escooter operators increasingly provide other micromobility services too — in 2020, Tier launched emopeds, while in January 2021, Voi launched ebikes. Dott is set to launch an ebike service in London sometime this year. 
Meanwhile, other mobility companies are muscling in on the escooter rental market.
Ride hailing giant Bolt, which was founded in 2013, launched its first fleet of escooters in Paris in 2018. Since then, the company has launched ebikes, a car rental service and speedy grocery delivery. 
UK-based Beryl, which provided pedal bikes to rent at first, entered the world of escooters after setting up its first fleet in Norwich last year. In July, it expanded its escooter fleet to the Isle of Wight. Its trial in Norwich is due to end this month, but may be extended into March next year.
French startup Pony began life as a pedal bike company, but expanded into ebikes and escooters in 2020. 
Scooter partnerships
As scooter operators have grown, they've also started to land some notable partnerships.
Tier joined forces with Google Maps to help its users locate escooters. Wind has a deal with French public transport giant SNCF, whereby customers can book an escooter through the SNCF app. Voi has partnered with transport app Moovit in the UK, as well as Google Maps. 
Lime bagged a partnership with insurance company Allianz to create an insurance programme around its products. Wind is also partnered with Allianz. Other insurance partnerships include Dott and London-based insurtech Zego. Zego also joined forces with the UK's Ginger as it rolled out its first escooter trial.  
Voi and Tier have joined forces with Irish mobility insights startup Luna Systems to carry out research on their escooters and the pedestrians using them. 
In August, Tier started working with Captur, a London-based AI startup doing automated checks on rentals (like escooters), so Tier riders in London can report an issue by scanning a QR code on the escooter. 
Regulation
Regulation around escooters has come a long way. 
In 2020, the UK finally announced that it would begin trialling escooter rental schemes. (They had been illegal until then.) In May 2021,  Dott, Tier and Lime won the hotly contested tender to deploy thousands of escooters in London.
Ireland is also set to regularise escooters on its roads very soon, which has got operators fighting for a spot in the market.
Other parts of Europe, like Germany, Sweden and Belgium have weakened their escooter regulations too.
Safety concerns still remain a pressure point for policymakers, however. In July, the Finnish government lowered escooter speed limits from 25kmph to 15kmph after reports of increased hospitalisations related to escooter accidents.
Oslo City Council also revised escooter regulation recently due to safety concerns, banning escooter rental in the city between 11pm and 5am.
An escooter-related incident involving the death of a boy in Milan last month prompted the city's mayor draw up four bills tightening the rules for escooters in the city. It included making helmet wearing on escooters mandatory and banning under 18s from using them.
More scooter startups are getting involved in legislation. A collective of operators — including Voi, Wind, Lime and Tier — formed the Micro-Mobility Trade Association in February, an initiative to help guide and shape regulation and policy around escooters across Europe.
Green credentials
Another focal point besides regulation is sustainability.
Most escooter operators are transitioning to swappable batteries to make their services more sustainable. This removes the need for scooters to be picked up by vans and taken long distances back to warehouses to recharge.
Tier, Voi, Zeus, Zipp and Wind told Sifted last month that 100% of their fleets are now equipped with swappable batteries.
Operators are also focused on reducing their carbon emissions by tweaking how — and where — their scooters are made.