Europe now has seed funds coming out of its ears — but European growth funds are few and far between. The result? European investors accounted for just 30% of investors in $50m+ rounds raised by European startups in 2021. 
Enter EQT Growth, a new €2.4bn fund which will back 20 to 25 European and Israeli scaleups with cheques of €50m to 200m. It plans to hold stakes of between 5 and 40% in these businesses. 
The fund has already made seven investments. Its portfolio includes Lithuanian secondhand fashion marketplace Vinted and Swedish music company Epidemic Sound. 
It's part of the wider EQT Partners investment company — which includes a venture capital arm, EQT Ventures — but has a separate team and investor base.
EQT Growth partner Carolina Brochado, who was previously a partner at both SoftBank Vision Fund and Atomico, sat down with Sifted to talk about M&A, IPOs and sizing markets.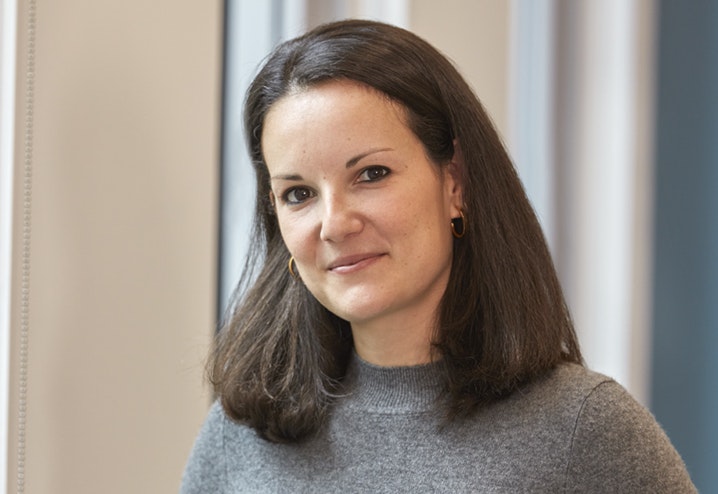 Investment criteria
Like many earlier-stage VCs, the EQT Growth team develops theses on certain markets to figure out if it thinks it's worth making an investment in that area. 
At the moment, these theses fit into four broad areas: health, climate, consumer and enterprise. 
Within climate, the team is particularly interested in:
ESG — "Anything from carbon accounting all the way to supply chain ratings — we think those are going to be really big one day";
The electrification of everything, from homes to vehicles;
Foodtech — in particular novel kinds of food production, such as plant or synthetic meat production;
Food enablement — the picks and shovels, businesses like restaurant software startup Deliverect.
In healthtech, it's focused on software, the digital delivery of help and smart medical devices.
Beyond business models, Brochado says great founders usually share several attributes: 
Tenacity — "This one you can tell if early on they've created lots of hacks to sort problems. They're often not solving problems by throwing money at them."
Adaptability 
Data-driven — "They have their numbers at their fingertips — they're not making businesses decisions based on a kind of 'my aunt bought something like this once' feeling."
Humility — "Maybe this is my female bias, but I love a humble entrepreneur. Those people will be a talent magnet, and will delegate."
Figuring out what investments to make
Unlike early-stage investors, growth-stage investors don't have to spend too much time gazing into crystal balls. 
Instead, says Brochado, they're looking for market trends (ie. the rise of circular and secondhand fashion) and shifts (ie. reduced stigma around secondhand items) — and then trying to find companies that sit at the intersection (ie. Vinted). 
The good thing about investing at a later stage, says Brochado, is that "you know the market is there". A growth investor's job isn't to predict the future; it's to size a market and understand how fast it's growing, and then figure out whether what's made startups in that area successful to date will make them successful for years to come.
We're blessed in growth — we have

data
In Vinted's case, the questions were: "How fast is secondhand fashion growing, online and offline? How fast is first-hand fashion growing? And is fashion generally going online?"
"We're blessed in growth — we have data," adds Brochado. "So [when assessing an investment] we look at historical trading data, and spend a lot of time with the management team, to find out what's the secret sauce." 
EQT Growth also conducts surveys, particularly for consumer businesses, to understand buying behaviours in different markets and "triple check" a startup's net promoter score (NPS).
If timings had been different, Brochado says she would've loved to invest in Munich-based SaaS giant Celonis, French healthtech unicorn Doctolib, or Hinge Health, a now $6.2bn-valued Californian healthtech startup she invested in while at Atomico. "They've all become really big, and disrupted really big sectors." 
Working together
Once investments have been made, EQT Growth promises to be really hands on. Brochado sits on just three boards — Vinted, Mambu and ManyPets — and so says that's a pledge she "hopes we can live up to". 
"We don't have 15 portfolio companies each — so we can spend our entire time supporting these companies." 
EQT Growth likes to take board seats — and Brochado likes to sit on boards where:
Board members come prepared and are up to speed on the topics to be discussed (the best CEOs, she says, have pre-discussions about the agenda with board members);
Strategy is front and centre — "What you want to avoid is a board meeting about reporting — this an opportunity for the management team to come out of the weeds";
Members of the exec leadership team are brought along — for example, for the chief product officer to present the company's roadmap;
Objectives are set and conclusions are reached — and you don't move on otherwise.
In practice, EQT Growth's wider team is able to help with several key areas: 
Talent — from recruiting ("we can get discounts with big recruiters") to thinking about organisation structure;
Capital markets — helping companies think about debt. "With the cost of equity being so high now, debt starts to make sense — you don't need to put a price on a company at a moment when it's hard to put a price on anything. If you're a larger company, and the business is profitable in some markets, then you're pretty good credit. In those cases, debt is a good way to finance M&A or get working capital." 
IPO — helping teams think about IPO preparedness, and doing everything right in the lead up to and negotiations around an IPO, such as adding independent and more diverse board members, and getting the right accounting systems in place;
Sustainability — helping startups track, measure and set ESG objectives.
There's also Motherbrain, EQT's internal machine learning platform, which is worked on by more than 25 engineers. It helps the EQT Ventures team source new companies to invest in, helps the EQT Growth team track trends and, for their portfolio companies, helps them find potential competitors and M&A opportunities, says Brochado. 
To M&A or not to M&A
At growth stage, M&A can make a lot of sense, she adds — although to do it well, companies need to have a plan.
"M&A can't be reactive; it has to be an actively managed programme, and thought through across the organisation. The CPO, the CTO, the COO… they all need to be involved," says Brochado.
"You have to think: What are areas adjacent to your product, or interesting geographies? How big are these markets? What is the maths between buying versus building?" 
In short: buying another company can be a good way to enter a new market speedily, or expand your product offering. 
It's not a simple process though. "Typically, a business considering M&A needs to have a corporate development person. It needs to have product market fit, and needs to be humming in at least one market — otherwise absorbing another team becomes difficult," says Brochado.