Maxime Legardez Coquin makes merging with another company sound like a walk in the park.
His startup Everoad, a French freight forwarding company he founded in 2016, merged with the almost identical German company, Sennder, in June 2020.
The process began six months earlier. "I remember it was Christmas Eve and I was in the north of France with my family," Coquin told Sifted. "I spoke to David [Nothacker, Sennder's founder] on the phone and said: 'Hey, Everoad is the number one in the French market; Sennder is number one in Germany and other markets too — with amazing traction and a nice amount of money raised.'"
"Why don't we merge and consolidate the European market?"
Mergers and acquisitions can be good for founders and investors: they help companies pool resources, access new customers and grow in size and visibility. Global online marketplace Etsy recently snapped up shopping app Depop for $1.6bn to target younger shoppers. Meanwhile, Sennder announced its third acquisition last month of Cars&Cargo, a French cargo and trucking logistics provider, to expand its network of commercial shippers and carriers and broaden its reach across Europe.
But while M&As might make sense from a business perspective, they can feel disastrous for employees. 
In some situations, a startup's culture can change dramatically, one employee of an acquired company told Sifted. Often, management is "systematically replaced" by people from the acquirer and the existing teams are "subsumed" into other groups within the acquirer's business. 
"This creates the conditions whereby in any given group, the acquirer's culture is represented in greater numbers than the acquired companies," they said. 
When this happens, employees "can feel isolated in an alien culture," unable to "propose new or alternative ways of looking at, or doing things."
So, is there any way to keep employees happy through a merger? Sifted spoke to three founders who have steered their companies through an M&A process about what they did to support their employees. 
Transparency first
Coquin, who went from CEO of Everoad to managing director of Sennder in Paris, says that being open and informative is the only way to quell employee fears over a company acquisition.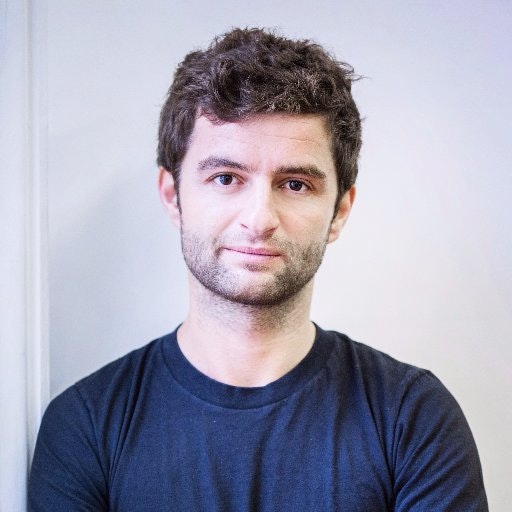 During Everoad's merger with Sennder, employees had questions about how the merger would affect the company's mission and work culture, whether their job or salary would be affected — and, indeed, whether or not they'd be fired, as is sometimes the case in company mergers. 
Everoad was fully integrated into the 'Sennder family' and operates under the Sennder name. The two teams were merged together, with employees now working from offices in Berlin and Paris. During the merger, 5% of Everoad's team chose to leave. 
At the beginning, it wasn't entirely clear how things would operate post-merger — even for the management. 
Employees want to know what tomorrow will look like, and sometimes it will be impossible to tell them straight

away.
"Employees want to know what tomorrow will look like, and sometimes it will be impossible to tell them straight away," says Coquin. "But the key is to be transparent about that, and communicate intensively to the team about what's happening at every stage of the acquisition process."
Stephen Weich, CEO of German drinks delivery startup Flaschenpost, which was acquired by family baking goods business Dr Oetker in November last year, agrees: "Mergers are an enormous cultural change for employees, and a common mistake in these processes is lack of communication." 
Flaschenpost "tried not to fall into this trap" by constantly checking in with, and reassuring, its employees.
"We set up a big townhall meeting to inform the employees about the next steps — always with the rationale that Flaschenpost is still in the growth phase and that no one will be laid off because we need everyone we can get."
"If you're not transparent from the beginning, you lose trust instantly."
Blending cultures
Dr Oetker's acquisition of Flaschenpost marked one of the largest tech exits Germany has ever seen, at a rumoured purchase price of €1bn. 
The idea was to merge Dr Oetker's own beverage delivery service, Durstexpress — essentially a copycat of Flaschenpost — with the more tech-savvy startup, and operate under the Flaschenpost name. That meant Flaschenpost gained 4k additional employees, and now has a team of 13.5k people in 32 warehouses, serving 170 cities in Germany.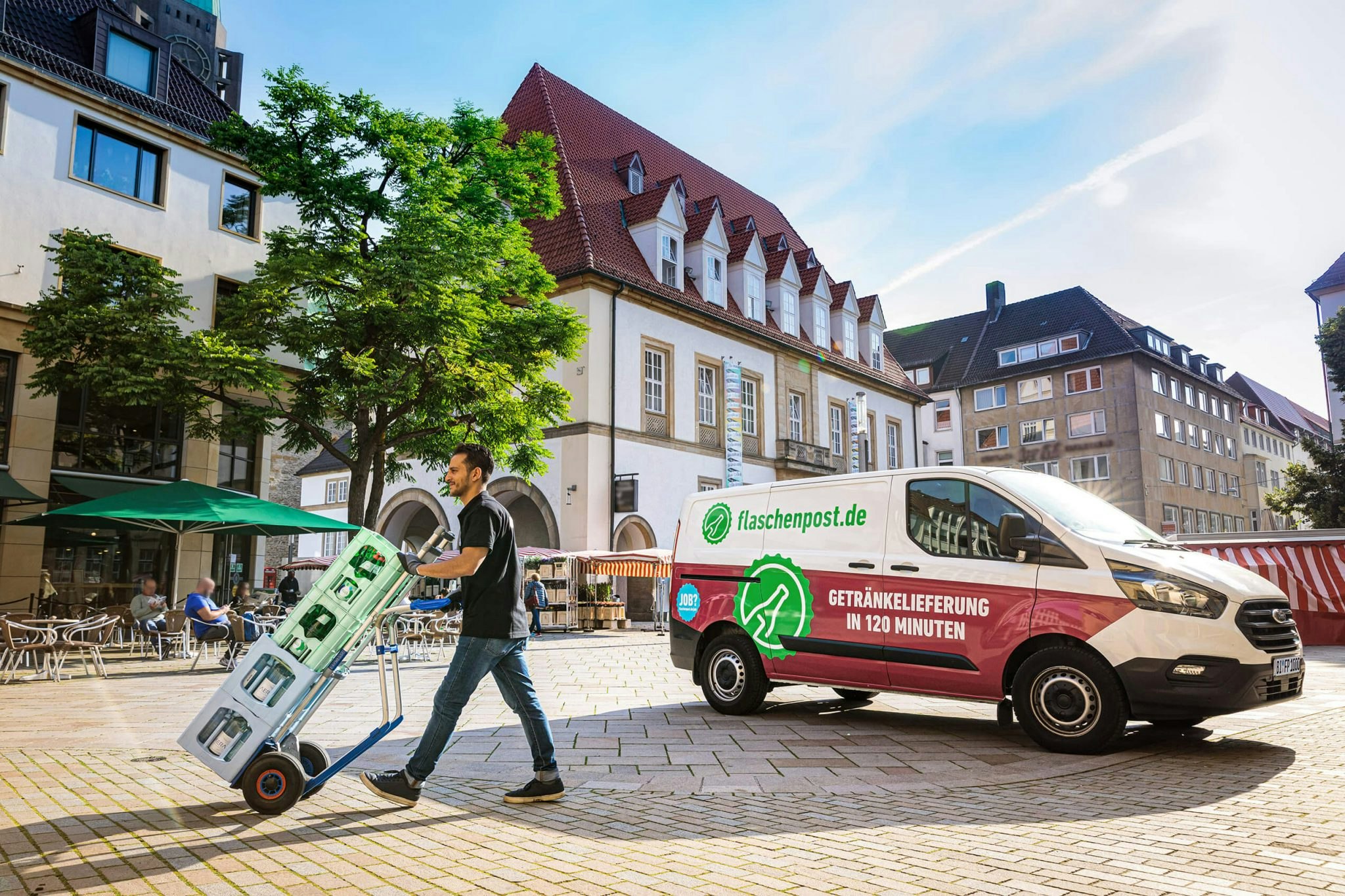 Over the course of the integration, a few warehouses were closed in favour of a "more advantageous neighbouring infrastructure," says the company. Though it says new employment opportunities were given to the affected staff "as far as possible." Reports from German press tell a different story.
Merging the two companies together has admittedly been no small feat, says Weich, and employees have had to endure a lot of changes. 
Currently, Durstexpress' logistics, warehouses, employees and departments — from HR to marketing — are being transferred to Flaschenpost. Durstexpress is also being integrated into Flaschenpost's tech system — including its navigation system and routing algorithm. 
So, when it comes to employees, how did Flaschenpost help them get on with their stepsiblings from Durstexpress?
"We teamed up with our Durstexpress colleagues as early as possible to allow both teams to personally interact and be involved in projects together," says Weich.
For example, in logistics, Flaschenpost created new mixed teams and defined new shift and team leaders with both Flaschenpost and Durstexpress employees, at the sites that have been merged. 
"We've also created a new format called 'crew camp' in order to help employees from the different organisations get to know each other business-wise and also privately," says Weich, adding that teams "spending time together" informally is the only way to really help employees gel.
As part of the crew camp, employees participated in joint functional team meetings, private virtual chats, company-wide quiz games and other so-called "motivational events" throughout the integration process.
Sell the vision
Before employees can support change in an organisation, they have to understand its rationale, says Coquin. Leaders must be clear to their employees about why the merger or acquisition is taking place and how it will strengthen the company. 
You need to convince your employees of what an incredible opportunity a merger can be, and communicate an idea of

togetherness.
"During an M&A, the founder of the acquired startup becomes the prime ambassador for their teams," says Coquin. "You need to convince your employees of what an incredible opportunity a merger can be, and communicate an idea of togetherness."
Coquin tried to explain to his employees that Everoad and Sennder have the same DNA, mission and values, and that together, they could build something "incredibly successful."
"At the very beginning, you need to communicate the fact that the company you're merging with shares a common goal," says Weich. This is especially important when the two respective companies have previously been competitors, which was the case for Durstexpress and Flaschenpost. 
"You need to break down these boundaries and explain the fact that you're going to be even more successful as one team. This is the foundation of defining one, consolidated culture."
Not every employee will be on board with mass organisational change. 
Coquin says that some employees saw the announcement of the merger as a good time to leave the company and "do something different," while others felt they weren't suited to a large, "globally ambitious" organisation. 
This turnover, Coquin adds, is "natural," for mergers, and can't always be helped. 
"But we are proud to see that it inspired some colleagues to undertake an entrepreneurial journey."
Be clear on expectations
Priya Shah, cofounder of London-based video creation platform SauceVideo, says that adjusting employee expectations is key during an M&A process. Her startup was acquired by cloud infrastructure platform Oracle in April 2020, and now forms part of Oracle's content management.
"Being absorbed into a large corporation certainly took a lot of time for us — there's a lot of things to merge together, especially on the technology side," says Shah. 
Your employees should expect that things will take a while — especially as running your business while being acquired basically doubles your

workload.
"Your employees should expect that things will take a while — especially as running your business while being acquired basically doubles your workload."
It's also important to give your employees a realistic idea of what things will look like post-merger. For example, Shah says that startups being acquired by a corporation will discover pretty quickly that decision-making is a lot slower.
"When you make a decision about marketing or product development, for instance, and you then decide to do something different, it's not as easy or quick to pivot. Decisions are made for the longer-term. As a startup, that can be tough."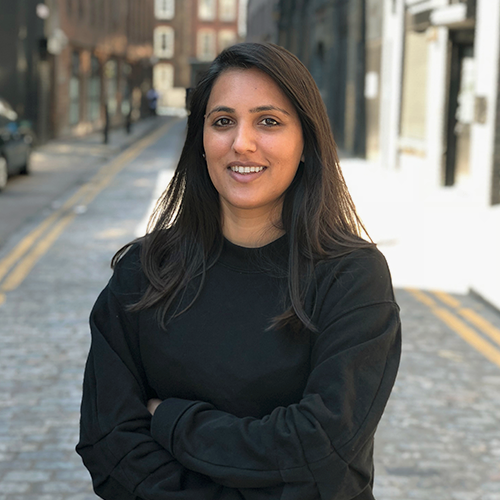 Overall, it's important for leaders to assure their employees that their startup isn't just going to be swallowed up by the corporation — and that their identity as a company will be preserved.
"Losing our culture — as well as the control over our product that we worked so hard to build — was definitely a concern for us at Sauce. Especially as we were a small team of nine people when we were acquired, and Oracle is so vast," says Shah.
"However, if you stand up, be authentic and confident, and encourage your employees to do the same, then it's possible to make the relationship work."