Four weeks ago, Stepan Veselovskyi didn't think he'd be exchanging direct emails with Elon Musk. But now, the CEO of Lviv IT Cluster is preparing for the worst, as his city in western Ukraine braces itself for the war to arrive on its doorstep.
"I really was shocked when I got the email. It was really impressive that he did this by himself. Because he could easily just forward the email and ask his assistant to deal with it," he tells Sifted.
The internet is still running well in Lviv, but Veselovskyi says it's important to have a backup plan in case Russian forces get closer to his city and disrupt connectivity. That's why he got in touch with Musk to arrange a delivery of Starlink internet terminals to his city. Starlink is an internet system developed by Musk's SpaceX, which can provide connectivity in hard-to-reach places via low-orbit satellites.
Musk had already been delivering Starlink terminals to the Ukrainian government in Kyiv, after Mykhailo Fedorov, the Minister of Digital Transformation, tweeted him calling for support.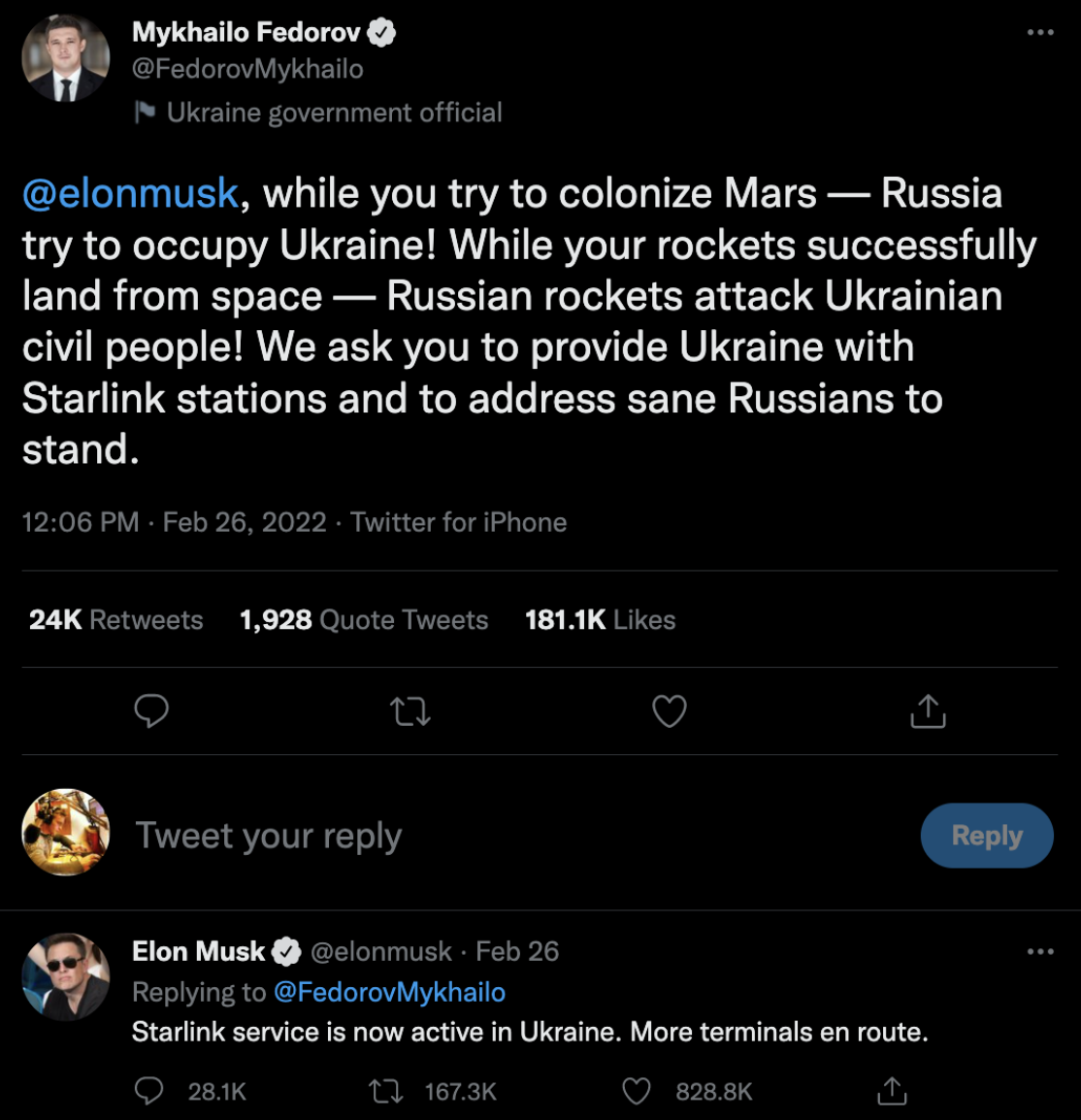 Veselovskyi says that the government is now distributing these terminals around central and eastern Ukraine, while his organisation is overseeing their rollout in the west of the country.
"If Russia hacks our internet system here, or physically damages our cables and other internet facilities, we can use [Starlink], and we will be all connected," he says. "It's very important for business, it's very important for critical infrastructure here in the city to be connected."
Veselovskyi explains that he was introduced directly to Musk by a business contact in VC and a friend of the SpaceX CEO: "My friend, he put Elon in CC and wrote 'Слава Україні' or 'Glory to Ukraine', and then put in the message, 'Please meet my best friend Elon Musk.' And after two days I got a direct response from him, so I was a bit shocked."
👉 Read: How the tech community can help Ukraine
"It was a pretty normal conversation — I described the need which we have now in the western part of Ukraine, he asked some questions, we exchanged a few emails about everything. And after that, his team contacted me and then we were done," he says, swivelling the camera to show a room stacked full of Starlink terminals.
Veselovskyi says that Musk gave him a special wartime deal on the cost of the technology, but won't disclose the size of the discount. Sifted contacted SpaceX to comment on the delivery of terminals but hasn't yet received a response.
Resilience
Veselovskyi adds that he has been preparing detailed instructions for workers at key infrastructure sites such as power plants to follow in the case that the regular internet goes down: "If there is no internet, they just open the instructions, 'What should I do? 10 steps'. Three minutes later, we all are connected."
He says it's important to use the terminals carefully, as they can become easy targets for Russian airstrikes.
But it isn't just keeping key infrastructure going that the new Starlink terminals are useful for. Veselovskyi says that their arrival has served as an invaluable proof of resilience for his region's tech community.
"A few company owners called me last week, and said, 'Stepan, we've had really hard conversations with our clients, because they started implementing their business contingency plans and were going to cut business with us. And after we told them about your initiative with Starlink and Elon Musk preparing a backup internet in the region, it saved these clients for us," he says.
And as his city gets ready to defend itself, Veselovskyi is grateful that they've now got the technology to keep things running smoothly, even under the toughest of circumstances.