Scooter startups like to bang on about how e-scooters are a wonderful alternative to cars in cities. They're more fun, they're healthier, they're more "green". 
Except they're not that green. 
Look at this graph from Lufthansa Innovation Hub. It shows (estimated) carbon emissions per transport type. 
The greenest mode of transport of all is, of course, travelling by foot. Next up the humble bike, followed by its electric sister the e-bike. Way down in 14th place is the dockless electric kick scooter, with 126g of carbon emissions per km. 
That makes it less green than buses, trams, trains and even electric cars.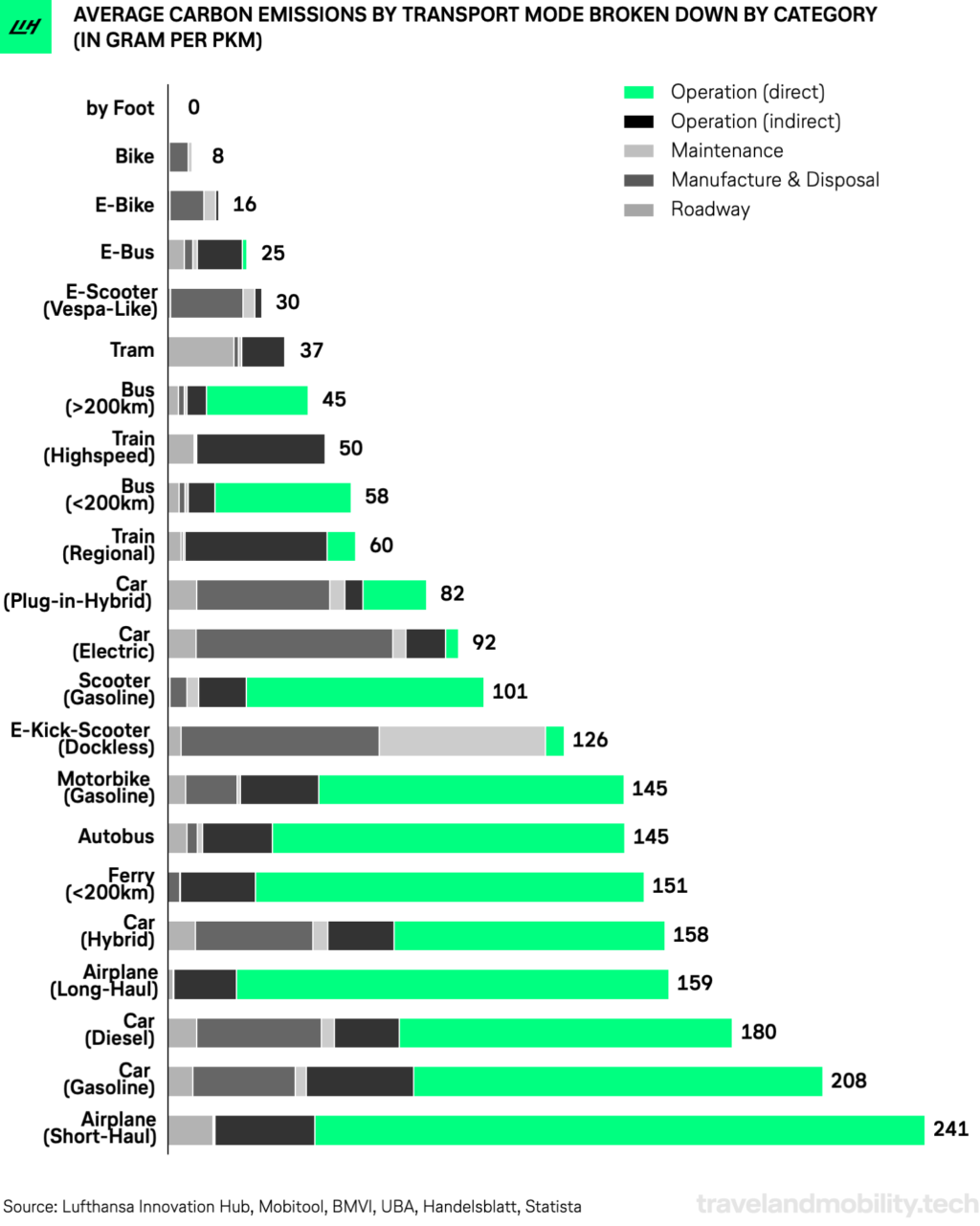 The maintenance, manufacture and disposal of electric scooters is mostly to blame. The short lifespans of the scooters which first appeared on the streets of Europe has been well documented; the latest models of scooters are expected to survive for longer. Nevertheless, a whole load of scooters are still heading to landfill. 
Most scooters are made in China and therefore need to be transported to Europe (not-so-green). Once in Europe they require frequent maintenance, i.e. fleets of diesel vans driving around cities collecting low-battery scooters to recharge at warehouses. Some scooters now have swappable batteries, which makes maintenance less gas-guzzling as batteries can be swapped on-street rather than carrying scooters to warehouses for recharging — but does require scooter firms to buy double the number of lithium-ion batteries, which come with their own environmental complications and are notoriously tricky to recycle. 
Comparing the scooter startups' "green" credentials
Some scooter startups do seem to be greener than others, however. We grilled six scooter operators in Europe — Tier, Wind, Dott, Voi, Circ and Lime — on their environmental impact. Here's how they fared. 
1. Transition to swappable batteries
In the lead on the transition to swappable batteries, which broadly speaking are better for the environment, is Barcelona-based Wind. 65% of its fleet already have them and it expects to have the full fleet transitioned within the next three months. 
This is, however, less of a feat for Wind than for some of its competitors; Wind is operational in just over 15 cities, while Voi and Circ are both operational in 40 cities, Tier in 45 and Lime in 50 cities in Europe. 
Sifted Newsletters
Sifted Newsletter
3x a week
We tell you what's happening across startup Europe — and why it matters.
Stockholm-based Voi has just launched its first swappable battery scooter in Paris, while Berlin-based Circ has scooters with swappable batteries in Linz, Essen, Munich and Paris. US company Lime will start trialling swappable batteries in Paris in 2020. 
Around 20% of Berlin-based Tier's scooters have swappable batteries and the plan is to fully transition the fleet by April 2020. 
Dott, based in Amsterdam, is operational is only five cities in Europe. It's been testing out the operating model for swappable batteries on 1% of its fleet since October but plans to have 70% of its fleet switched over by the first three months of 2020. 
"We will probably not be at 100% for one or two years," says Dott. Based on loss rates it predicts that its older models of scooter will last for another 18 to 43 months — and won't replace them until they no longer work. 
2. Maintenance
Once scooter operators have transitioned fleets to swappable batteries they will no longer require as much warehouse space for recharging.
But they will still need space to carry out maintenance. Many operators are transitioning to green energy to fuel their warehouses and the vans which collect scooters from the streets. 
Dott is currently strides ahead (although, remember it is operational in only a handful of cities). All of its warehouses use 100% renewable energy from local providers. To collect scooters it uses 10% electric vehicles currently, but will use 100% electric vehicles by April 2020. To redistribute scooters around the city it uses 100% electric bike trailers provided by French startup K-Ryole. 
In second place is Lime, which uses over 80% electric vehicles to collect and maintain its fleet, and plans to use 100% electric vehicles by mid 2020. 
Voi, Wind, Tier and Circ all plan to move their warehouses to green energy in 2020. They're also moving towards using more electric vehicles; however, all of them say that sometimes their green efforts are hindered by the third parties they work with. 
"There are not that many third-party logistics services offering electric vans," says Voi, which uses 50% e-vehicles to collect scooters in France and 100% e-vehicles in Italy, but is lagging behind in Germany and the Nordics. "Buying electric vans is a big investment for the suppliers in this area and the availability of fully electric vehicles is still small."
"One of the main challenges at the moment is the limited availability, the limited range and yet-to-develop charging infrastructure for e-cargo bikes and rental e-cargo vans," says Circ.
"In some warehouses that we have rented we have no direct influence on the electricity," says Tier. "We are talking to the landlords to find solutions here." 
Wind has the most ambitious time frame of these three: it plans to fully transition to green energy in its warehouses within three months. It also says it will be using 100% electric vehicles to collect its scooters within three months (that's a lot to achieve in that time frame). 
3 Manufacturing and disposal
A huge chunk of scooters' carbon emissions are tied to how (and where) they are manufactured — "Production is responsible for 60% of Voi's impact," says the company. 
Dott is leading the way with plans to produce its e-bikes in-house in Europe in 2020, and its e-scooters in 2021. Other scooter companies will continue to buy vehicles manufactured in Asia. 
Tier received flack in November when it admitted to air freighting 5,000 scooters to Germany (a far less green mode of transport than rail or sea) but now has a policy in place to only use rail transportation. Dott transports 90% of its scooters to Europe by train and 10% by sea. Voi uses trains, while Wind transports its scooters to Europe by sea. Circ uses both train and sea. 
Wind is the haziest when it comes to details around recycling and reuse. "We may reuse spare parts and recycle," says the company, which will also not disclose how many scooters have been lost, decommissioned or recycled since launch. 
Dott is the most transparent, telling Sifted that 10% of its fleet have been lost since launch and 0.5% retired. It says it has recycled spare parts ("aluminum, plastic, electronic, battery, engine") from all of its decommissioned scooters.
Voi says 90% of its retired scooters are recycled — "first used for parts and then for recycling" — and that "a very low single digit percentage" of the fleet have been lost or decommissioned. 
Circ didn't disclose how many scooters it has decommissioned but does, reassuringly, say "our staff are also trained to handle scooters with care to prevent damage during deployment and collection".
Lime says it currently recycles 100% of the metal components of a scooter, 99% of the battery and 67% of the packaging, working with certified recycling companies in each city. 
Tier is the only scooter company to refurbish scooters to sell on to customers. It says a "four-digit number" have been sold so far; it plans to sell many more in the pre-Christmas period. 
4 Carbon emissions policy
When it comes to their carbon emissions strategy there's a whole lot of variation.
Voi is currently completing a life cycle assessment of its service, measuring total Co2 emissions and environmental impact along the value chain. It says it is striving to reduce Co2 emissions by improving scooter lifespan through repairs and better hardware. 
Dott has also assessed its carbon footprint, using an independent research organisation (but the results are not yet public). In 2019 it offset 100% of its carbon footprint (including manufacturing and transport of scooters). 
Tier has committed to going carbon neutral in 2020. An independent agency, ClimatePartner, predicted that it will emit 90,000 tonnes of Co2 next year; Tier plans to offset this completely via certified climate protection projects. 
Lime says it's actually reducing carbon emissions by offering customers a greener mode of transport. "A recent study in France showed how over 330+ metric tonnes of Co2 emissions were avoided via the use of Lime e-scooters, with a further 92 metric tons saved in London through our e-bike scheme," the company says. 
Wind and Circ provided fairly lacklustre answers. 
"We're currently in the process to be climate neutral certified," says Wind. "We also take the environment seriously within the company, organising beach clean-ups alongside management meetings."
Circ is also vague: "We are currently assessing strategies to become carbon neutral in the long run."