Large corporations are increasingly looking to team up with startups in order stay innovative. Partnering with an agile startup is seen as a way to dip a toe into new technologies quicker than a large, bureaucratic organisation, saddled with legacy systems, is able to.
Startups are also increasingly looking to partner with corporates. Not only are the corporate venture arms of companies a growing source of funding, but large businesses can help smaller companies get access to markets, widen their distribution networks.
"Increasingly I am seeing startups that are not looking for money but need help with growing their reach, increasing their sales channel, or even getting regulatory knowledge, such as how to deal with getting approval from the Food and Drug Administration," says Inken Braunschmidt, chief innovation and digital officer at Halma.
"Sometimes what they want from a larger company is just engineering facilities and help with access to workshops and prototyping." 
Halma is a FTSE100-listed group of technology companies which began a company-wide digital transformation programme in 2017. As a result it is seeking out around 10 to 15 partnerships with startups every year. A large part of Braunschmidt's role is to find and manage these.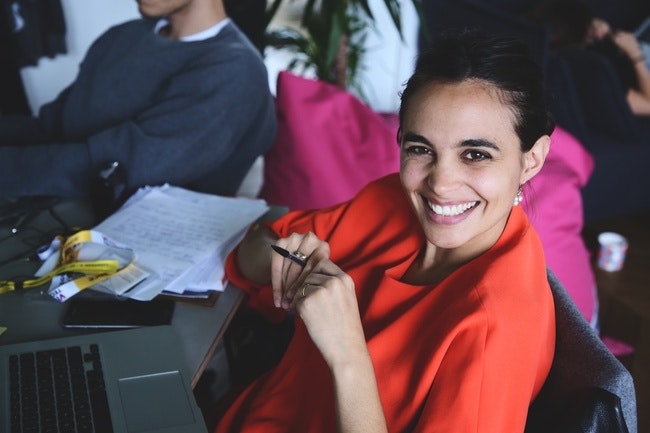 On the other side of the fence, and with a different perspective, Sarah Pedroza is co-managing partner of Hello Tomorrow, a consultancy that helps deeptech startups find corporate partners. She sees the issue from the point of view of the startups. She says that startups working on deeptech projects are particularly open to corporate partnering.
"If you compare it to how Facebook went to market, they were students who created a webapp and they just put it out there, they didn't need a partner. But if you are bringing a new drug to market or launching a flying car, you can't do that on your own," she says.
Sifted asked both Braunschmidt and Pedroza for their advice on how to make a corporate-startup partnership work. We've distilled it here:
1) Get scouting help
Corporations will probably need professional help in finding startup partners. There are a number of organisations that have created a business out of searching for early stage startups and vetting them. With more than 100m new businesses launched each year (according to the Global Entrepreneurship Monitor) this is no longer something that is possible to do manually with a small team.
Halma has partnerships with a number of organisations, such as OurCrowd in Tel Aviv to help it scout for suitable startup partners. Hello Tomorrow does this as part of its business, sifting through thousands of early-stage startups each year to find ones it thinks have promise. Another option is a company like Danish company Valuer.ai, which has a network of 3600 scouts to find promising companies and a machine learning algorithm that analyses which of these would be a best fit for a particular corporation.  
2) Don't window shop
Braunschmidt says she sees a lot of big company executives at technology conferences or on tours of innovation centres who are not there with a clear purpose. Braunschmidt calls it "startup tourism". "You see them at conferences and events, people who are there because someone told them it was a hot area. But they are not there to do deals," she says. This wastes everyone's time.
Braunschmidt herself has a system of very clear targets for any startup event she attends. "If I meet 80 startups I might follow-up with 50 of them and expect to come out with 10 things — ranging from investing in them to partnering on projects. That would be my expectation."
3) Know exactly what — and who — you are investing in
As much as AI algorithms can now do much of the sifting when it comes to finding companies, nothing can replace a meeting in person, says Braunschmidt. Be aware that while startups may have a great pitch deck and a shiny brochure, there may not be able to deliver what they promise.
At a previous company Braunschmidt recalls partnering with a blockchain company that had misrepresented how developed their product was. It took nine months for the her company to realise. "They kept asking us for more money, and it turned out they didn't have as much technology behind them as we had thought. That was a hard learning."
4) Make sure both sides know what they want from the deal
The startup partner needs to be clear what it wants from the deal, says Braunschmidt.  "Is it reach, access to a sales channel, regulatory knowledge?" If all a startup wants is funding it would be better off going to a venture capital investor, she says.  
5) Get the CEO on board
This seems obvious, but one of the most common reasons for an innovation partnership to fold is that senior management don't give it enough support.  "If the CEO and the board are not into it, it will never be able to get the resources it needs," says Braunschmidt.
"One big company we know of had their start up programme in a separate location with none of their other business units involved," says Pedroza. "They didn't secure budgets for the collaborations and took too long to find sponsors, so one startup went bankrupt and the other left."
6) Make decisions faster
"The timing of a large corporation doesn't work for startups. Decisions can take a month to make but for startups this is a big gap. They make decisions in a day," says Pedroza. Timing is particularly crucial when it comes to being paid: "It can be a matter of life and death. Procurement systems often take two months to pay an invoice. This is really a problem."
She says Hello Tomorrow also sometimes has to step in to simplify contracts, for example, to make them easier for small companies without large administrative departments to handle.
7) Be ready to share
"The culture of secrecy can be hard to overcome, especially for the heavy industry sector which has traditionally had a mindset of protecting IP," says Pedroza. "It can be hard for people who have been working for a decade in the R&D lab to accept innovation from outside." Pedroza calls it 'not invented here syndrome', a mistrust of ideas that have not been generated in the corporation's own labs.  
Startups on the other hand may be used to working on open source projects and collaborating and will find a secretive corporation hard to work with. "If they aren't able to be more open there is no way startups will talk to them," Pedroza says.
8) Don't squeeze too hard
One of the biggest mistakes, says Braunschmidt, is to treat a startup partner just as a supplier. It is tempting for a big corporate to throw its weight around and negotiate a cutthroat deal. "Often corporates are very procurement oriented. They are trying to reduce cost. But that is not in the spirit of building collaboration," says Pedroza. After all, a dead (or bankrupt) startup partner is not much use to anyone.