In the world of green urban transport, nothing is hotter right now than the ebike. 
These two-wheeled, battery-powered vehicles accounted for just 4.2% of European bike sales in 2012, but today make up 17% of the market and are selling faster than electric cars.
The pandemic in particular has encouraged people to find new ways to move around cities. In 2020 alone, ebike sales in Europe shot up 52% to €10.6bn, according to the Confederation of the European Bicycle Industry.
As the popularity of ebikes rises, micromobility startups — both those selling vehicles directly to consumers and those operating sharing services — and their investors are keen to cash in.
Last month, Berlin-based Tier (which raised a €172m Series D round in October) acquired the German bike-sharing platform nextbike and its fleet of 115,000 regular and electric bikes.
Amsterdam-based hardware startup VanMoof became the world's best-funded ebike business following its $128m Series C raise in September, and Berlin ebike subscription service DANCE, meanwhile, raised €15m in September.
Belgian ebike maker Cowboy raised €23m in July 2020.
Adrien Roose, founder of Cowboy, says: "Not only have individuals been looking for new ways to move around, but governments have made major policy and infrastructure changes across cities in Europe [around cycling]. VC confidence has increased [along] with this shift in consumer behaviour." He adds that his investors see startups making ebikes more accessible as "key to helping people adapt to this change".
Sifted Newsletters
Sifted Newsletter
3x a week
We tell you what's happening across startup Europe — and why it matters.
Own, subscribe, share: Meet the ebike startups
The appetite for ebikes is there, but there are still some significant barriers that prevent consumers from actually hopping on. They are expensive pieces of kit to buy — VanMoof's S3 model, for example, costs €1,998 — and far more complicated to repair than a regular pedal bike. "It's just not the most straightforward vehicle to deal with," says Paula Hübner, a principal at VC firm La Famiglia, which invested in DANCE. She says that in order to make ebikes a more accessible product for the average person, startups must provide services that "take these headaches away". Several startups are doing so by offering their ebikes on subscription, rather than selling them outright, where users can keep the bikes at home and get access to extras like maintenance services and replacement vehicles in the case of theft. Dutch startup Swapfiets charges customers £75 per month to borrow its ebikes. DANCE's all-inclusive service package costs €79 a month, and includes smart features such as remote unlocking, GPS location tracking, theft protection and repair services, along with the bike itself. "The people who use ebikes, or are open to using ebikes, are different to people who are open to trying scooters" While Cowboy sells ebikes outright to consumers, it also offers insurance plans and last month launched an on-demand maintenance service. For €20 a month, customers can book Cowboy's roving mechanics to come and repair their bikes as often as they need. "In the event that repairs are ever required, we want to take away the stress of finding reliable tradespeople and managing those jobs ourselves," says Roose. Sharing ebikes is another way to lower the cost barrier for consumers. This summer, UK startup Human Forest relaunched its ebike-sharing service in London, following a false start in 2020 that saw it withdraw due to "mechanical" issues with its bikes. In July 2020, Estonian ride-sharing giant Bolt launched an ebike-sharing service in Paris, which can be booked alongside scooters and taxis via its app.  Last month Tier launched 500 ebikes in London, following similar launches in Paris, Eindhoven and York.  Tier's vice president and regional general manager Fred Jones says adding ebikes to its app will help broaden its potential customer base. "The people who use ebikes, or are open to using ebikes, are different to people who are open to trying scooters," he says. Tier's fleet now combines 4,000 bikes and ebikes with the 122,500 escooters and 3,500 emopeds already available to rent through its sharing platform. Jones says that scooters are better suited for shorter journeys, around 3km, while ebikes are better for longer distances. "They're more comfortable for longer journeys, they're more appealing to slightly older people, and better in hilly terrain," he says. "Ebikes are a convenient alternative to using a car for short or medium trips, especially to transport groceries or small

luggage."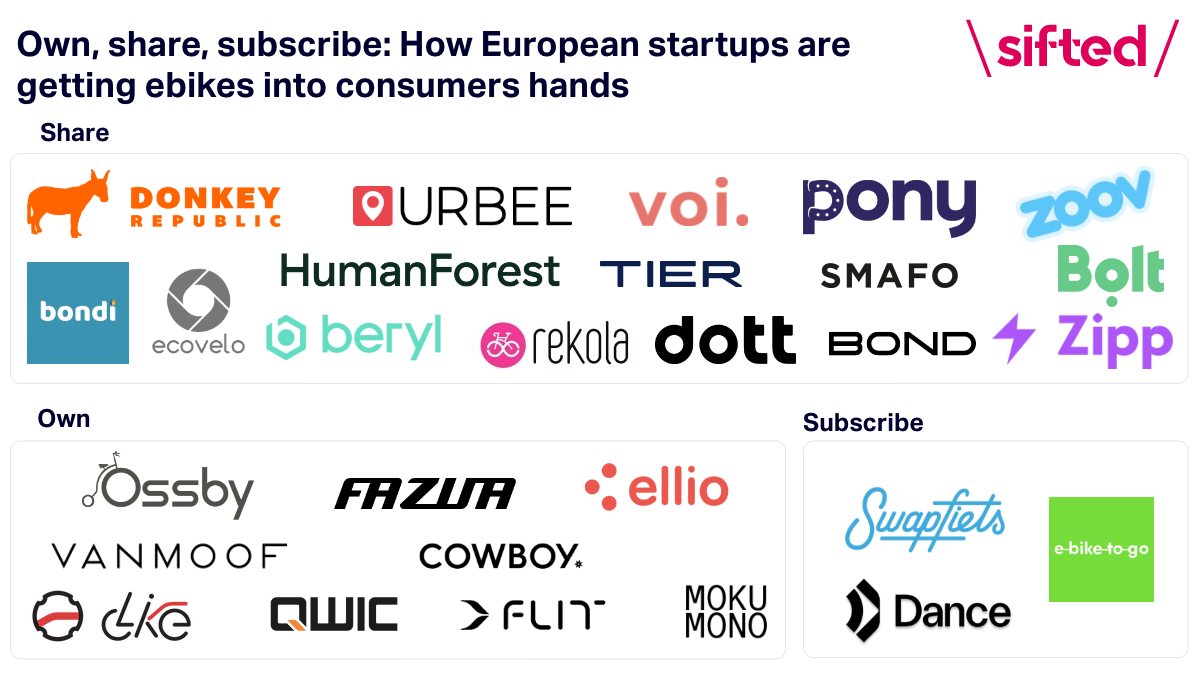 The green transport shift Another big challenge that ebike startups face is convincing people to shift away from carbon-guzzling modes of transport, rather than replacing greener options like walking or regular cycling.  The startups have done a lot of work on the convenience element of their service, but that's not the only problem people have with cycling. According to a study commissioned by VanMoof, 43% of people don't cycle because they don't feel safe.    Indeed, DANCE cofounder Eric Quidenus-Wahlforss anticipates that sharing services such as Tier's and Bolt's will struggle to get regular commuters on board. "There is uptake in almost every country, [but] a lot of those companies have observed that it's less commuters and more transient, opportunistic [travel] from tourists." A November report from the Urban Transport Group estimates that 100 million car and taxi trips in cities could be replaced by ebikes — but to achieve this scenario will require government interventions such as building new cycle lanes, providing secure cycle storage (particularly for those who live in small or shared apartments) and approving more shared ebike schemes. "More and more cities are waking up to [the fact] that they do have too many cars, and to solve their liveability problems micromobility is having a moment" The ebike startups will also have to make more effort to explicitly target car users. In Islington in north London, where Tier has launched its new fleet of ebikes, only 30% of residents own a car. UK startup Dash, which offers ebike subscriptions that are compatible with the UK Cycle to Work Scheme, says its "target audience is primarily based in central London" and therefore few users switch from a car to an ebike. "We see the biggest shift being people getting onto ebikes [to] avoid the Tube," says cofounder Jamie Milroy, who estimates this to be the case for 40-50% of customers. "Probably 20% are avoiding buses, and then the rest would be a combination of people shifting from a bike to an ebike, walking to an ebike, or driving to an ebike." Milroy says Dash is in the process of onboarding a corporate client with 50,000 employees just outside of London, which could be more successful in getting people to ditch their cars. "More and more cities are waking up to [the fact] that they do have too many cars, and to solve their liveability problems micromobility is having a moment — and ebikes are one of the major categories in that," Quidenus-Wahlforss says, optimistic that the infrastructure changes needed for ebikes to take off like wildfire will come. "The ebike is becoming a more viable alternative to the car, but subscription is nascent and just beginning." Sarah Drumm covers sustainability at Sifted and heads up our new sustainability-focused newsletter Sustain. You can sign up here. She tweets

from @sarah_drumm