All told it's been a recording breaking year for eastern European startups.
Back in October, Dealroom found that central and eastern Europe founded companies had already smashed the previous annual record for funding, with €4bn raised since the start of 2021, and the region on pace to see growth of 2.3x, from the previous all-time-high in 2019.
Dealroom also found that pre-series B funding rounds more than doubled in the first half of 2021, compared to 2020 figures.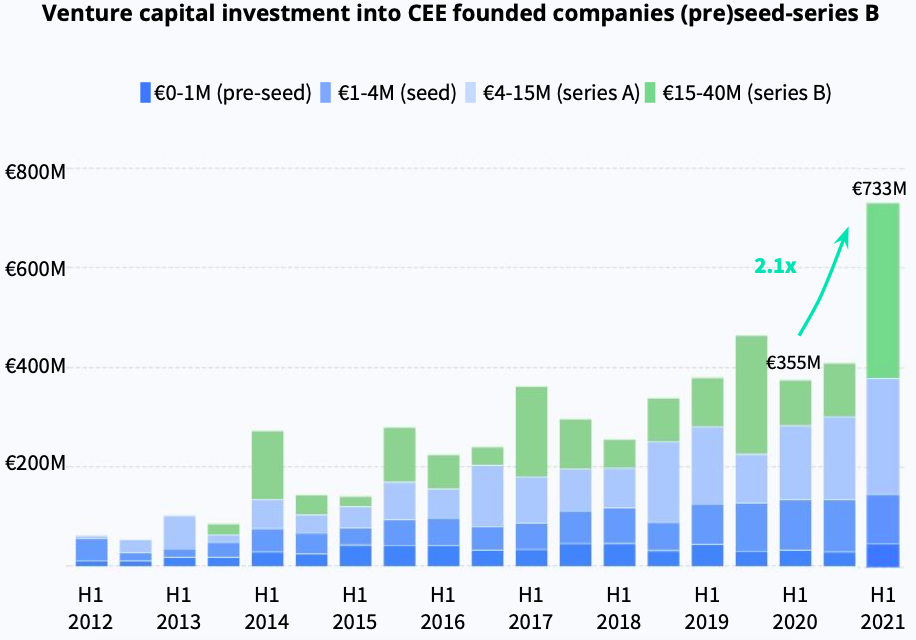 UiPath's massive IPO
Perhaps the biggest tech story out of eastern Europe in 2021 was the listing of Romanian robotic process automation (RPA) giant UiPath on the New York Stock Exchange in April, at a valuation of almost $36bn.
A key player in the booming RPA industry, which uses software robots to automate repetitive back-office tasks, UiPath was founded in Bucharest in 2015, on the foundations of DeskOver, a 10-year-old software outsourcing company. After years of struggling, the company's seen monumental growth; it now has a presence around the world, and has earned and raised huge amounts of money.
UiPath's IPO made some of its early investors an eye-watering return on their money. The three VC firms who participated in its seed funding round back in 2015 effectively turned $1.6m into at least $3.5bn (a roughly 2,200x return).
Sifted sat down with UiPath's CEO Daniel Dines for brunch back in summer 2021.
Rohlik becomes a unicorn, and other big raises
Eastern European startups have been raising ever-larger sums, and earlier in their development cycle.
In July, Czech online grocery startup Rohlik raised $100m, becoming the latest unicorn to come out of the region. This came just three months after its $230m Series B round.
In October, Prague-based SaaS startup Rossum announced $100m, one of the largest ever Series A rounds to come out of eastern Europe. Polish cryptocurrency payments startup Ramp also announced its own $52.7m Series A round in December.
Sifted Newsletters
Sifted Newsletter
3x a week
We tell you what's happening across startup Europe — and why it matters.
Sizeable Series B rounds have also taken place, including Bulgarian-founded fintech startup Payhawk raising $112m (at a valuation of $570m) in November, Latvian startup Lokalise, which bills itself as the leading continuous localisation platform, announcing a $50m round in December, and Romania's FintechOS, which assists legacy banks and insurers in accelerating their digital transformation, announcing a €51m round back in April. Hungarian mobile DevOps startup Bitrise raised $60m in Series C funding in November.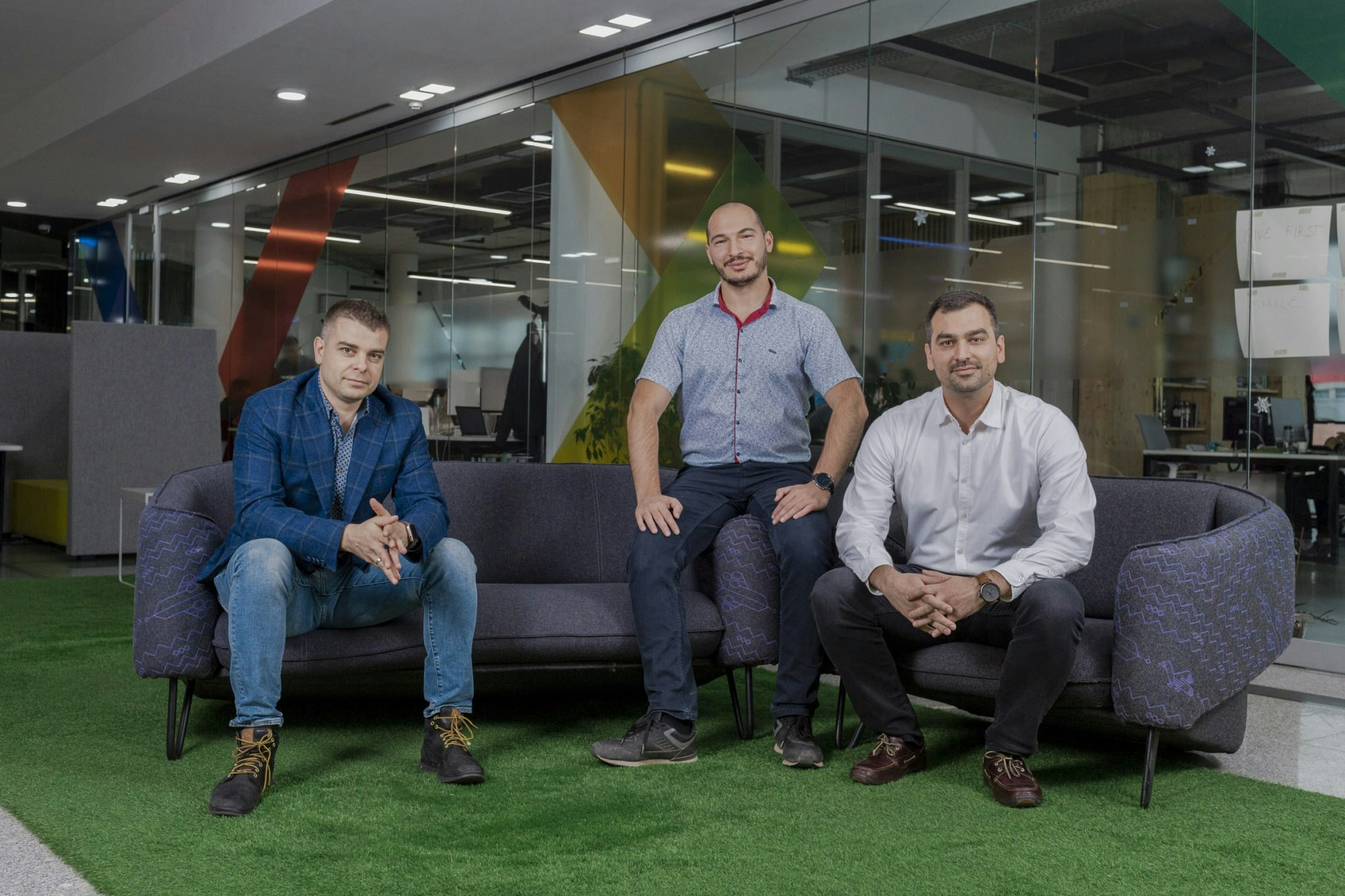 Even eastern Europe's seed rounds have been getting bigger; Romanian fintech startup FlowX.AI raised $8.5m in seed funding in November, having only been founded in late 2020.
(It's also clear that SaaS, and in particular fintech-related, startups have been among the big winners in 2021, at least when it comes to funding rounds.)
The growth of regional VC funds
Many of the leading VCs from across eastern Europe are now raising second or even third funds, and are now playing a larger role in funding startups from across the region.
In January, LAUNCHub Ventures completed the initial closing of a €70m fund, the largest ever launched in Bulgaria, and one of the largest to date in southeastern Europe.
Polish VC firm OTB Ventures unveiled a new $60m fund in July, and that same month London-based Untitled Ventures raised a €100m fund focused on deeptech startups founded by eastern European entrepreneurs who have or are looking to relocate their business to western Europe and the USA.
In short, CEE startups are no longer needing to look abroad for early-stage funding, which is a positive development for the ecosystem.
Female angels club
Another key development has been the establishment of an angel investment club dedicated to bringing more female investors onto cap tables of startups in central and eastern Europe.
While Lumus Investment Collective was initially launched in 2020, it made its first investments in 2021, and now aims to play an important role in fostering the rise of female angel investors, as well as more investments in female-led startups.
"Poland represents the biggest opportunity for improvement because it has only around 3% female investors — although there is a huge space for improvement everywhere," Vladimira Cincurova, one of Lumus' cofounders and a startup programme manager for Microsoft for Czech and Slovakia, central and eastern Europe, told Sifted back in July.
At the same time, female-founded startups received just a fraction of capital available in central and eastern Europe in 2020, according to March 2021 report from community platform European Women in VC, growth-stage fund Experior VC and early-stage VC Unconventional Ventures. We are yet to see figures for 2021, but it is clear that plenty more work needs to be done.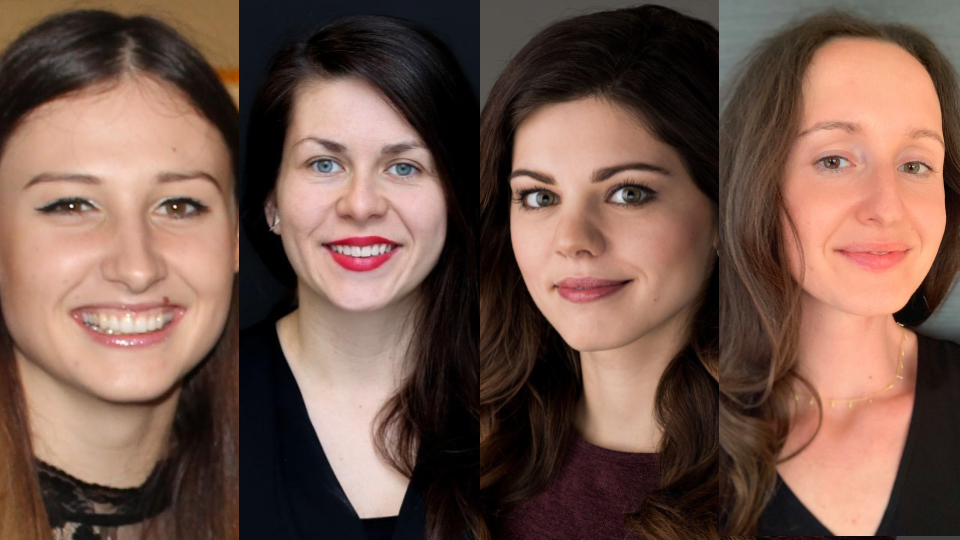 Equity crowdfunding
New EU regulations, which came into force in November, could play an important role for early-stage startups across Europe, especially in eastern Europe, where equity crowdfunding has yet to really take off.
The new regulations lay down rules for investment-based and lending-based crowdfunding, helping retail investors and others put money into companies. This is likely to drastically increase the availability of money for early-stage startups willing to take this route.
Crowdfunding platforms within the region — like Romania's Seedblink and Poland's Crowdway and Beesfund — are now hoping to capitalise on the opportunity, having watched the success of platforms like Seedrs and Crowdcube in the UK and others across western Europe and beyond.
Looking ahead
The above is just a small snapshot of 2021, and there are plenty of stories that Sifted hasn't covered over the past year, but that we are watching with keen interest: like electric hypercar manufacturer Rimac Automobili starting construction on a €200m headquarters in Croatia, which will be one of the largest combined R&D and production facilities in Europe when completed in 2023. It's a further sign of the potential for world-changing businesses that come out of eastern Europe.
Meanwhile, in December Romania became the latest in a long line of countries to offer digital nomad visas, joining the likes of Estonia, Croatia and Georgia in easing the path for remote workers to live and work in the country for up to 12 months at a time.
More eastern European countries are likely to follow, with an increasing number of countries around the world looking to attract those able to work from anywhere with a decent wifi connection. We expect to see plenty of similar announcements in the year ahead.
2022 and beyond
While 2021 began under an obvious cloud of worldwide uncertainty, it's fair to say that we have high hopes for 2022, and we're not alone: Sifted asked 11 founders, investors and community builders from across the region to give their own thoughts for 2022, and the predictions they gave point to an exciting year ahead.
So keep watching this space!