The travel sector is ready for a big old shake up — and it could be driven by a European startup.
Duffel, a UK-based travel tech startup, just raised $30m in a Series B funding round led by Index Ventures, bringing its total funding up to $56m. Its venture capital backers are an all-star lineup, including Blossom Capital, Kima Ventures and Benchmark Capital. 
The two-year-old company, which several observers expect to transform the travel sector, is now about to launch — and ready to explain what it actually does. 
Making travel innovation easier than ever
"We're building a new business to business platform for distributing flights," says Duffel cofounder and chief executive Steve Domin. Duffel is a middleman between the airlines and the businesses (like travel agents) which want to sell their flights, and other products too.
Its system connects with airlines' booking channels more extensively than those of incumbent operators like Amadeus and Sabre meaning it can sell other products like speedy boarding, airport transfer and seat selection as well as flights. Add-on products make up an increasing part of airline revenues (currently 10% for European low-cost carriers, a 105% increase over the past four years in Europe) but are mostly sold through airline's own websites at the moment.
Duffel is already integrated with American Airlines, British Airways, Aegean Airlines, Lufthansa, Vueling and Iberia — and there are more in the queue to join.
Airlines also sniff an opportunity to make more money out of business customers. "Airlines are interested in offering some services as part of a bundle," explains Domin. "Take an employee from McKinsey: they've booked an economy ticket but still want to get priority boarding and lounge access. That's not easy to do with existing systems." With Duffel mixing and matching becomes far easier.
If Duffel works as well as Domin says it could have a big impact on the travel sector more widely.
We want to enable new players to enter the travel

marketplace.
"We want to enable new players to enter the travel marketplace," says Domin. A huge number of airline bookings are still made offline — more than 50% in the US and just under 50% in Europe — while online travel agencies (OTAs) such as Expedia, Kayak and Opodo account for just 11% of bookings. 
There's huge scope for other kinds of businesses to get involved, from festivals to events marketplaces to golf trip booking platforms to hotels. "We've talked to a few football clubs as well," says Domin: what if after buying a ticket to an international match, you could tack on your flight to get there? "Basically, anything that you do once you have booked a flight could become a potential seller of travel."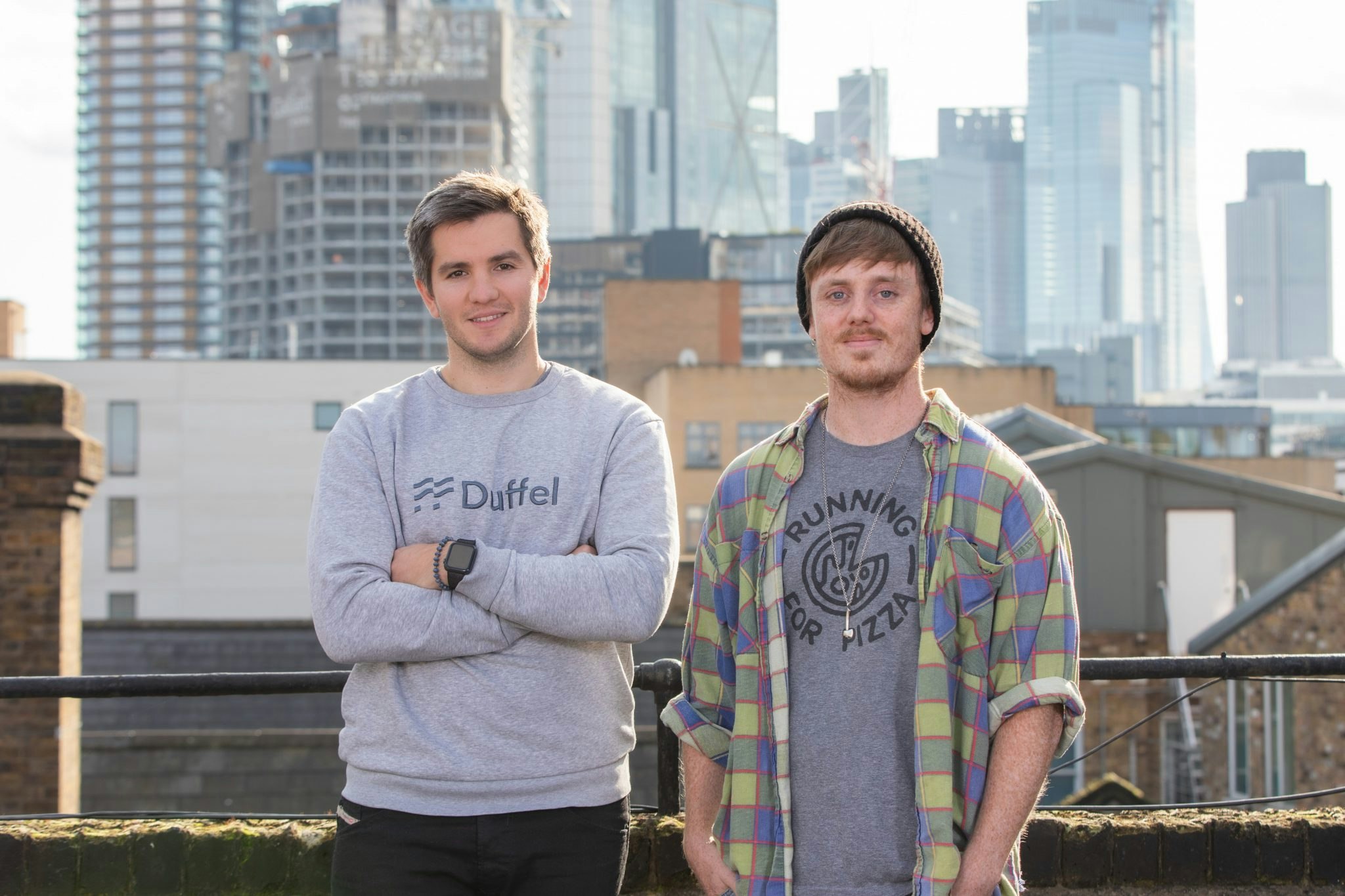 Just about every player in the travel and tourism space wants to 'own' more of the customer experience and bundle up several components of a trip but until now it's been almost impossible to do so. "It's historically been really hard to access this content," says Domin. He came up with the idea for Duffel when he and his cofounder Tom Bates came up against this very problem while trying to build a weekend getaway generator ("nothing super ambitious"). 
Now he wants to make that "super easy" for others in the same position — and build a far bigger business by taking a transaction fee on those sales. 
Stealthy operators
Duffel is going up against some formidable opponents. Amadeus, the leading competitor in Europe, took 580m bookings in 2018, made €4.9bn and had 19,000 employees. Duffel has 16 people in its team. 
As a result it's chosen to keep quiet about what it's up to until it's ready to launch. "We don't want to be noticed too much," says Domin. 
For the past few months Duffel has taken bookings with a limited number of partners, including a French online travel agency, a French and a US corporate booking tool and a chatbot product. It will continue to slowly bring onboard new sellers in North America and Europe over the coming months.
"We don't want to go too fast; there are a lot of things that come up as you start scaling." 
But working in stealth does have its downsides.
"It makes hiring a bit more difficult," says Domin. "As a founder you like to think that from the outside it feels really exciting and super cool and everyone would want to join your company, but actually no-one has any idea what you're doing so they don't want to join."
"Luckily enough a few of us have been in the London scene for a while now, so we could tap into our extended network and get some really good people." 
With the latest chunk of funding Duffel will be hiring "a lot of engineers" to help integrate new airlines and build new features. 
It's who you know
All this is quite a feat — especially for two first-time founders.
But Domin does have some handy connections.
Tom Blomfield, cofounder of digital bank Monzo and payments company GoCardless (where Domin was an early employee), introduced him to Ophelia Brown, founding partner at VC firm Blossom Capital. Blossom went on to lead Duffel's first $4.7m round of funding last summer, and then Brown introduced the team to the VC firm she previously worked at, Index Ventures, which led Duffel's latest $30m round.
Brown, one of the most respected young VCs in Europe, remains pretty involved with Duffel: "I'm probably in touch with her daily, or at least a few times a week," says Domin. "It's like having another partner in the business. Sometimes you need someone to be a rubber duck on a new strategy or a new idea — and obviously she's made us a lot of intros to airlines and to payments gateways." 
The three founders of GoCardless — Hiroki Takeuchi (who remains chief executive), Tom Blomfield (of Monzo) and Matt Robinson (now chief executive of proptech firm Nested) — have all helped Duffel too. 
"One of the benefits of joining GoCardless so early was that I got to see a lot of the mistakes myself and they've been good at sharing what, in retrospect, they would have done differently," says Domin. "We got to skip some of those things at Duffel." 
One of the hardest things about early-stage startups is that really focusing on one thing is much harder than it

seems.
"One of the hardest things about early-stage startups is that really focusing on one thing is much harder than it seems," says Domin. "In the early days there are opportunities everywhere and every opportunity feels like a massive opportunity. A customer talking about putting thousands of bookings through the system — that's a lot compared to where we are today — but it might be outside of our core focus and we shouldn't actually pursue that customer. At GoCardless we had to fight that temptation a lot."
"At Duffel I'm always reminded that this is an issue and [I am] more proactive in making sure we stay focused on the right thing."